Sesamum senecioides (Klotzsch) Byng & Christenh. (= Dicerocaryum senecioides (Klotzsch) Abels
Family: Pedaliaceae
Common names: devil's thorn, boot protectors, stud plant (Eng.); elandsdoring (Afr.); museto (Tshivenda)
Introduction
A prostrate perennial, with annual creeping stems and white to pinkish flowers. It takes over open spaces in grassland and it is used as substitute for soap and to wash hair, to make it soft.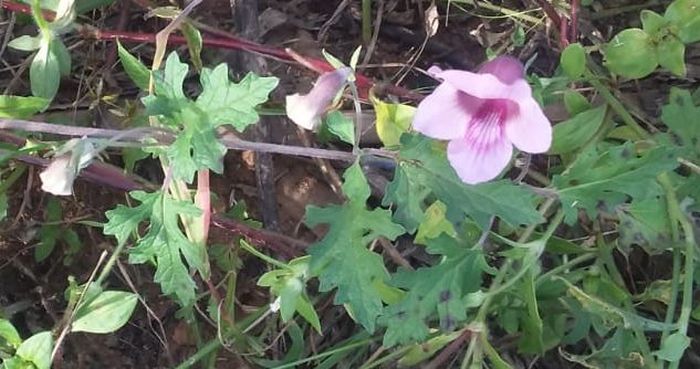 Description
Description
Sesamum senecioides is a small, prostrate perennial, with annual trailing stems. The leaves are opposite, ovate, wedge-shaped and deeply lobed. Underneath, the leaves are whitish and densely hairy, whereas the top surface is grey-green. Flowers are solitary, trumpet-shaped, white to pinkish.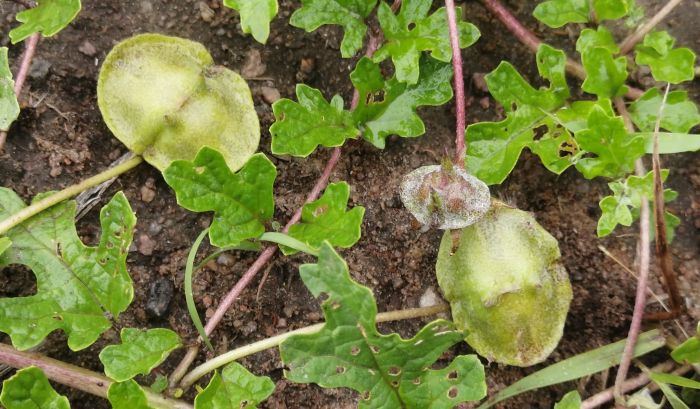 They have very distinctive, almost cirular fruits, up to 27 mm long, that have 2, thorn-like tips that become so hard when ripe, that they can easily penetrate an animal's foot, or a boot, hence its common name, the devil's thorn.
It is very similar to Sesamum eriocarpum, but the latter differs in having broader leaves that are not lobed and fruits that are densely hairy, particularly when young.
Conservation Status
Status
This species was automatically assigned the status of Least Concern (LC) as it was not selected in any screening processes as a species of conservation concern.
Distribution and habitat
Distribution description
Sesamum senecioides loves disturbed, sandy soil and bare ground, mostly in grassland. In South Africa is common in the Limpopo, in parts of Mpumalanga, North West and Northern Cape Provinces. It is also distributed in Malawi, Botswana, Mozambique and Zimbabwe.
Derivation of name and historical aspects
History
This species was previously placed in the genus Dicerocaryum. The species that were previously classified in Dicerocaryum are now considered to be genetically and morphologically indistinct from plants in the genus Sesamum and all species have thus been transferred. 
The name Dicerocaryum is derived from the Greek words dikera, meaning 'two horns' and karyon, meaning 'a nut', referring to the fruit with its 2, erect, straight, conical spines. The genus name Sesamum is the Greek and Latin name for sesame, Sesamum indicum. The species name senecioides, means 'resembling Senecio' but the reason for this name is unclear.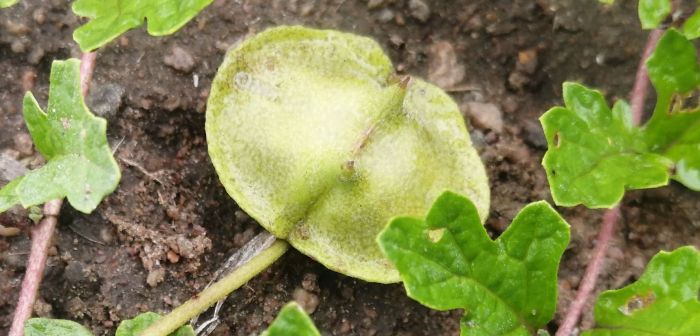 Ecology
Ecology
Sesamum senecioides seed dispersal is aided by the distinctive fruits, armed with a pair of sharp points, they easily penetrate animal hooves and shoes and thus, get carried away from the parent plant.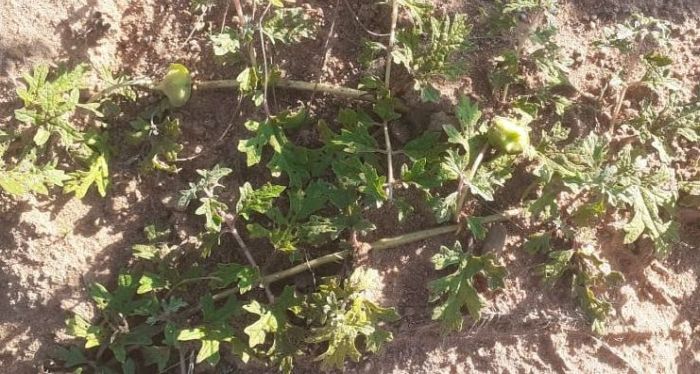 Uses
Use
Sesamum senecioides is used as a supplement, with Corchorus olitorius, as leafy vegetables by the Vhavenda people. It has also been used as medication and as a soap. It is used to wash hair and soften it, and it is reputed to stimulate hair growth. It is also used as a soil stabilizing plant that can prevent erosion, because it grows to form a mat-like structure over bare, sandy ground, during the rainy season.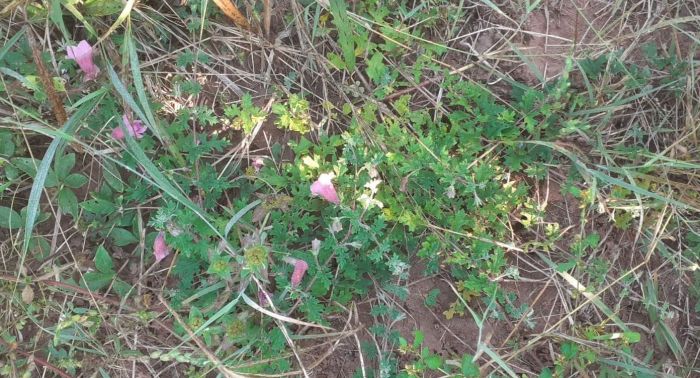 Growing Sesamum senecioides
Grow
Sesamum senecioides is best propagated by seeds and the best time to propagate is early summer. The seeds are held in a flattish capsule with 2 erect spines, and they are difficult to remove, because it becomes hard when it is ripe, so something must be used to open the fruit. Alternatively, sow the whole fruit and wait for it to disintegrate and break open.
It thrives when exposed to full sun light and grown in sandy soil. It can be grown as a groundcover, and is an interesting addition to the vegetable garden.
References
Christenhusz, M.J.M., Fay, M.F.F. & Byng, J.W. 2018. The Global Flora. A practical flora to vascular plant species of the world. Special edition. GLOVAP Nomenclature Part 1. Plant Gateway, Bradford.
Foden, W. & Potter, L. 2005. Dicerocaryum senecioides (Klotzsch) Abels. National Assessment: Red List of South African plants version 2020.1. Accessed on 2021/04/13.
Hyde, M.A., Wursten, B.T., Ballings, P. & Coates Palgrave, M. 2021. Flora of Mozambique: species information: Dicerocaryum senecioides. https://www.mozambiqueflora.com/speciesdata/species.php?species_id=152610. Retrieved 13 April 2021.
Hyde, M.A., Wursten, B.T., Ballings, P. & Coates Palgrave, M. 2021. Flora of Zimbabwe: species information: Dicerocaryum senecioides. https://www.zimbabweflora.co.zw/speciesdata/species.php?species_id=152610. Retrieved 13 April 2021.
Magwede, K., Van Wyk, B.-E. & Van Wyk, A.E. 2018. An inventory of Vhavenḓa useful plants. South African Journal of Botany (2018), https://doi.org/10.1016/j.sajb.2017.12.013
Rambwawasvika, H., Parekh, C.T., Naidoo, B. & Chiririwa, H. 2017. Extraction and characterisation of mucilage from the herb Dicerocaryum senecioides and its use a potential hair permanent. International Journal of Applied Chemistry 13(3): 691–705.
Credits
Meshack Nethavhani
MSBP
May 2021
updated September 2023
Acknowledgements: images of the fruits by Mashudu Nndanduleni.
Plant Attributes:
Plant Type: Ground Cover, Perennial
SA Distribution: Gauteng, Limpopo, Mpumalanga, North West, Northern Cape
Soil type: Sandy
Flowering season: Late Summer
PH: Acid
Flower colour: White, Pink
Aspect: Full Sun
Gardening skill: Easy
Special Features:
Drought resistant
Edible plant
Medical plant
Useful plant
Pioneer plant
Horticultural zones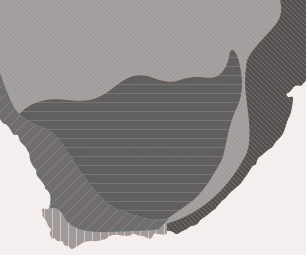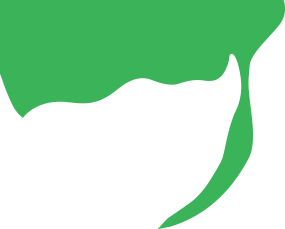 Zone 1 Coastal summer rainfall, frost free
Zone 4 Summer rainfall Karoo and Highveld, Frost in winter
Zone 5 Bushveld summer rainfall, Light frost
Google QR Code Generator