Solanum africanum Mill.
Family: Solanaceae
Common names: dune nightshade, drunken berry, drunken rope (Eng.); dronkbessie, dronktou (Afr.)
Introduction
A hardy creeper or shrub, with yellow-centered, purple, mauve or white flowers in midsummer to spring. It can be successfully utilized to cover a trellis or large, sandy, open patches in your garden.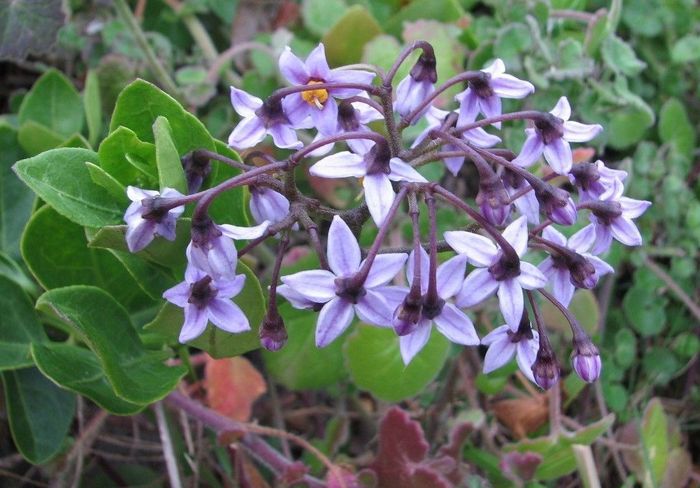 Description
Description
This plant can be grouped with the perennial, herbaceous creepers. It acts also as a shrub when a supporting framework, like other plant growth, is available. It can grow up to 3 m tall in ideal conditions. The plant sends out shoots in all directions, which is easily observed when growing flat on the ground, without a support to keep it upright, and it is perhaps because of this growth habit, that it is at times referred to as the drunken rope or berry. The green leaves are simple, ovate to elliptic or sometimes lanceolate. The apex (tip of the leaf) is acute and the margin is often entire, however, this can be occasionally lobed.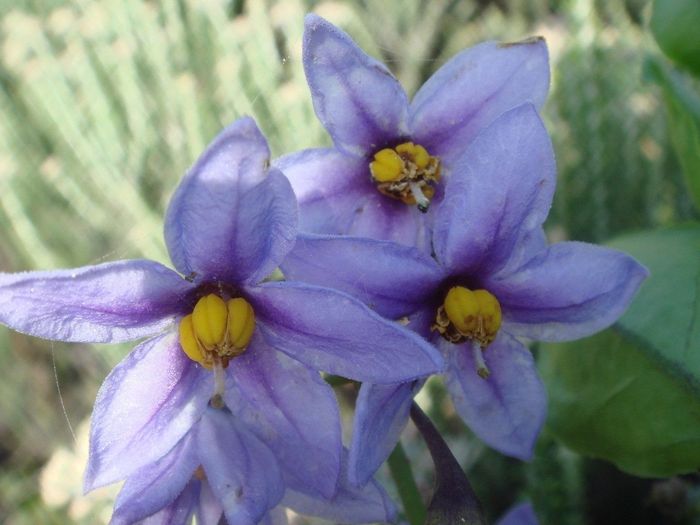 The flowers appear in hanging clusters of up to 30 flowers at the branch tips, from midsummer to spring (Jan. –Oct.). They are purple, mauve or white, with yellow centres.
The ± 15 mm diameter fruit takes the form of a globose berry, which shows a black colour when ripe.
Conservation Status
Status
According to the Red List of South African plants, the conservation status of this plant species is at a low risk and, therefore, assessed as Least Concern (LC).
Distribution and habitat
Distribution description
Solanum africanum is a South African endemic and is quite commonly found along the coastal dunes of South Africa, in the Eastern Cape, KwaZulu-Natal and the Western Cape. It grows well in soil with a good drainage; it grows optimally in areas with naturally sandy soils.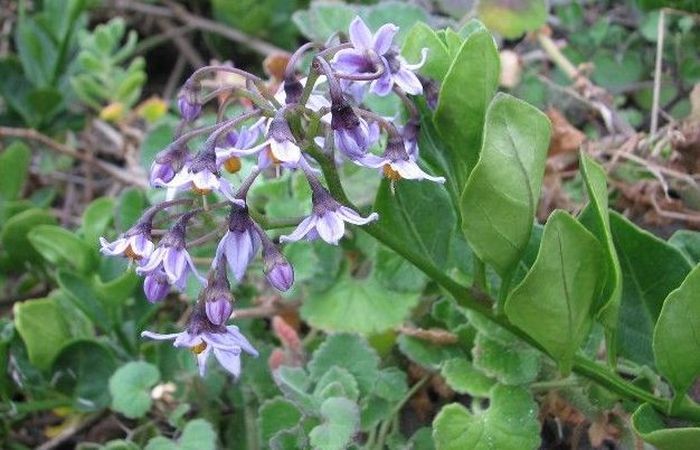 Derivation of name and historical aspects
History
The derivation of the genus name Solanum possibly stems from the Latin noun solamen, which means 'to comfort', this especially refers to the calming effects of some species of the Solanaceae, when eaten. The species name africanum refers to the continent, Africa, in Latin, where this species is found.
The Solanaceae is a family that has a worldwide distribution, being present on all continents except Antarctica; most species occur in South America and Central America. The Solanaceae represents a large group of flowering plants and includes shrubs, trees, annual and perennial herbs, epiphytes, and many agricultural crops and medicinal plants. Certain spices and weeds are also well known in this family. This family also includes some members that contain alkaloids which are highly toxic. The Solanaceae consists of about 98 known genera and about 2 700 species. The genus Solanum alone represents about 1 400 species, about 50 of these species occur in southern Africa and about 25 of them are recorded as indigenous.
Ecology
Ecology
Larvae of some species of Lepidoptera, for example butterflies and moths, utilize the plant as a food source. The berries are eaten by birds.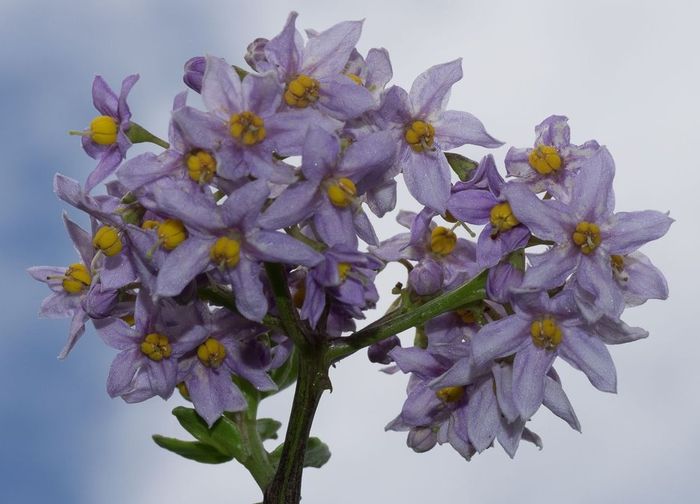 Uses
Use
Some Solanum species are used for the benefit of humans, for example to produce medicine and also for food, however, Solanum africanum is not known to fall in this category other than to serve  ornamental purposes and to help to stabilize loose ground surfaces, thus for filling the role of a secondary soil stabilizer.
Growing Solanum africanum
Grow
This plant will grow best in well-drained soil and in a full sun position. A slow release fertilizer containing a high potassium content added in spring will boost flowering during the summer months. Remove only old and dead wood from the plant when pruning. Pruning should be done very lightly because this plant does not recover well when cut back hard. Clematis and jasmine are good companion plants for this plant.
Solanum africanum can be easily propagated by taking semi-ripe cuttings from summer to early autumn. Make heel cuttings (heel cuttings are made where a stem is pulled off with a piece of the stem attached) about 10 cm long. Place cuttings directly into small pots filled with 70% river sand and 30% general compost. Place the pots in a warm sheltered area, but avoid direct sunlight and keep the growth medium moist. The cuttings will take about 4 weeks to develop roots. You may also propagate the plant by layering. Layering is a method of propagating a plant in which a shoot is covered with growth medium and fastened horizontally to form roots while still attached to the parent plant, thus mimicking the natural growth habit of the plant.
Solanums are generally tough plants, but aphids visiting the plant, need to be controlled by spraying a natural insecticide.
References
Gardening know how: Solanum plant family. https://www.gardeningknowhow.com/edible/vegetables/vgen/solanum-plant-family.htm Accessed 2019/08/21.
Goldblatt, P. & Manning, J. 2000. Cape Plants. A conspectus of the Cape flora of South Africa. Strelitzia 9. National Botanical Institute, Pretoria & Missouri Botanical Garden, Missouri.
Harris, G. & Harris, M.W. 1994. Plant identification terminology, an illustrated glossary. Spring Lake, Utah.
Hilton-Taylor, C. 1996. Red Data List of Southern African Plants. National Botanical Institute, Pretoria
Jaeger, P.-M.L. 1985. Systematic studies in the genus Solanum in Africa: 1–540. Ph.D. thesis, University of Birmingham. Unpublished.
Keys to Flora of southern Africa: Solanaceae. http://biodiversityadvisor.sanbi.org/wp-content/themes/bst/keys/e-key-20160604/Genera/G_Solanum.html. Accessed 2019/08/23.
Raimondo, D. et al. 2009. Red list of South African plants. Strelitzia 25. SANBI (South African National Biodiversity Institute), Pretoria.
Von Breitenbach, J., De Winter, B., Poynton, R., Van den Berg, E., Van Wyk, B. & Van Wyk, E. 2001. Pocket list of southern African indigenous trees: including selected shrubs and woody climbers. Briza Publications & Dendrological Foundation, Pretoria.
Welman, W.G. & Victor, J.E. 2002. Solanum africanum Mill. National Assessment: Red List of South African plants version 2017.1. Accessed on 2019/07/24.
Wikipedia: list of Solanum species. https://en.wikipedia.org/wiki/List_of_Solanum_species Accessed 2019/07/24.
Credits
Benjamin Festus
Kirstenbosch National Botanical Garden
Septenber 2019
Acknowledgements: images by Diana Stromberg from Steenbok Nature Reserve and Christine Wakfer from Fernkloof Nature Reserve, Hermanus.
Plant Attributes:
Plant Type: Ground Cover, Scrambler, Shrub
SA Distribution: Eastern Cape, KwaZulu-Natal, Western Cape
Soil type: Sandy, Loam
Flowering season: Spring, Late Summer, Autumn, Winter
PH: Acid, Neutral
Flower colour: Purple, White, Yellow, Mauve/Lilac
Aspect: Full Sun, Morning Sun (Semi Shade), Afternoon Sun (Semi Shade)
Gardening skill: Average
Special Features:
Attracts birds
Drought resistant
Poisonous
Hedge/screen
Horticultural zones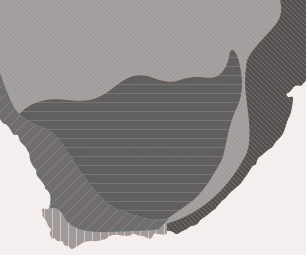 Zone 1 Coastal summer rainfall, frost free
Zone 2 Coastal winter rainfall, frost free
Google QR Code Generator