Stilbe ericoides (L.) L.
Family: Stilbaceae
Common names: pink stilbe (Eng.)
Introduction
Pink stilbe is an erect or straggling, resprouting, ericoid shrub with densely leafy, velvety branches and pink flowers in dense, rounded spikes at the tips of the branches, in winter and spring.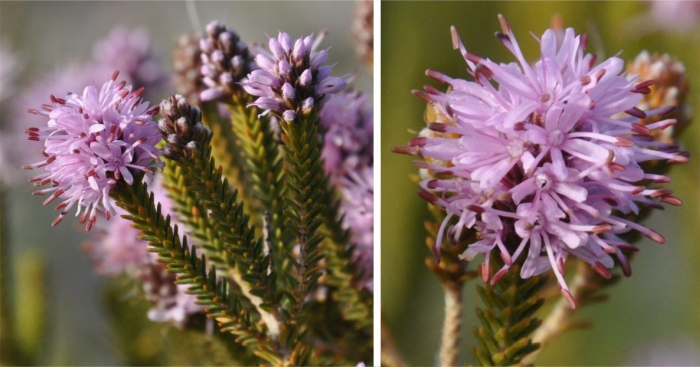 Description
Description
Stilbe ericoides is a 200–600 mm tall, upright or straggling shrub, with glabrous adult branches, branching primarily at the base. The leaves are 3–6 mm long, glabrous, truncate or minutely apiculate, upright or spreading and abruptly constricted at the base, linear-subulate to narrowly lanceolate, overlapping, ascending, in whorls of 3–5.
Stilbe ericoides has pink flowers in upright, cylindrical spikes, 13–19 mm long. Flower bracts are hairy or puberulous (slightly hairy), lanceolate with revolute margins. Bracteoles are 1 mm long, falcate, acuminate, acute, puberulous, linear-subulate, and have revolute margins that sheath towards the base. Calyxes are tubular, membranous, 5-toothed, glabrous, silky-pubescent, or silky-puberulous without. The teeth are narrowly deltoid, sharp, and shorter than the tube, with thickened villous edges. The corolla tube is 3–4 mm long and glabrous. The lobes are glabrous, measuring 3–7 mm in length, linear, obtuse, with a single median nerve branching towards the apex. The style is 3–7 mm long, while the stamens are 2–3 mm long. From early winter to early spring (April – September), Stilbe ericoides blooms.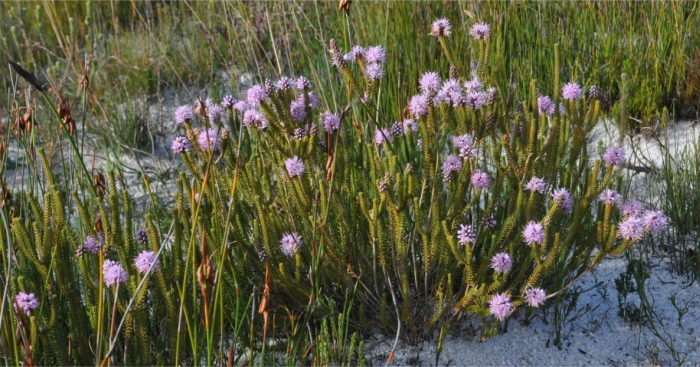 Conservation Status
Status
Distribution and habitat
Distribution description
Stilbe ericoides is endemic to the Cape Floristic Region and it grows on sandy flats or limestone hills in the coastal regions from Hopefield to De Hoop in the Western Cape, with herbarium specimens recording collections from the Malmesbury area, the neighbourhood of the Berg River and in the Swartland, on the Cape Flats, in Sand Fynbos at Wynberg, Newlands and Rondebosch near Cape Town, in fields near Smitswinkel Bay, in the Bredasdorp area, Elim, and in Swellendam and the surrounding mountains.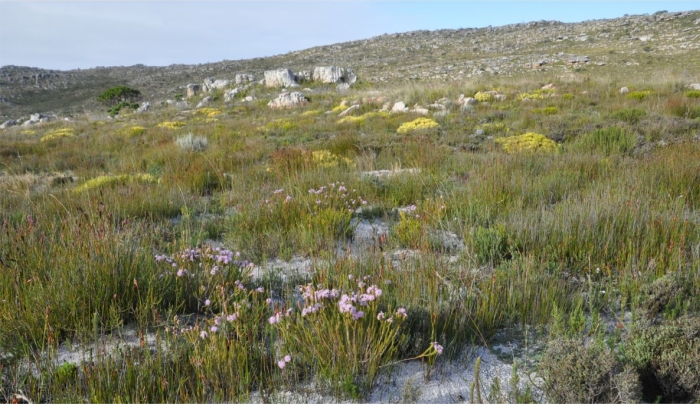 Derivation of name and historical aspects
History
The name Stilbe is derived from the Greek word, stilbo, which means 'shine or glisten', because the flowers glisten in the sunlight. The species name, ericoides, means 'looking like an Erica' which especially refers to the tough sclerophyllous leaves that look like those of plants in the genus Erica, commonly called heaths. Stilbe ericoides synonyms include Luehea ericoides (L.) F. W. Schmidt, Selago ericoides L. and Stilbe virgata Poir.
The genus Stilbe belongs in the order Lamiales, family Stilbaceae, it is a small genus that can only be found in the southern Western Cape of South Africa, containing 7 recognised species. Plants in the genus Stilbe have whorls of tightly crowded, overlapping, needle-like leaves, which cover the stems of these small plants.
The Stilbaceae is a family of 12 genera. Some botanists consider it to be a subfamily of the Verbenaceae. The other genera are: Anastrabe, Bowkeria, Campylostachys, Charadrophila, Euthystachys, Halleria, Ixianthes, Kogelbergia, Nuxia, Retzia and Thesmophora. They are mostly small, inconspicuous, ericoid shrublets with small white or pinkish flowers. Although they are common in the Fynbos Biome, they are rarely dominating and are easily overlooked. Several taxa are palaeoendemics, while some are uncommon, localized endemics. The flowers are nearly always extremely small (less than 10 mm), making dissecting and interpreting herbarium material challenging, and often leading to major misinterpretations of the floral anatomy.
Ecology
Ecology
This angiosperm family has no unisexual flowers; plants are hermaphrodite, and pollination is done by insects (entomophilous).
Sandstone Fynbos has Stilbe ericoides as a component, and fast-moving fynbos fires are no match for this resprouter. Despite the fact that the plant's above-ground sections may be destroyed, the lignotuber (a rounded woody growth at or below ground level on some shrubs and trees that grow in areas subject to fire or drought, containing a mass of buds and food reserves) often survives and the plant regrows after the fire.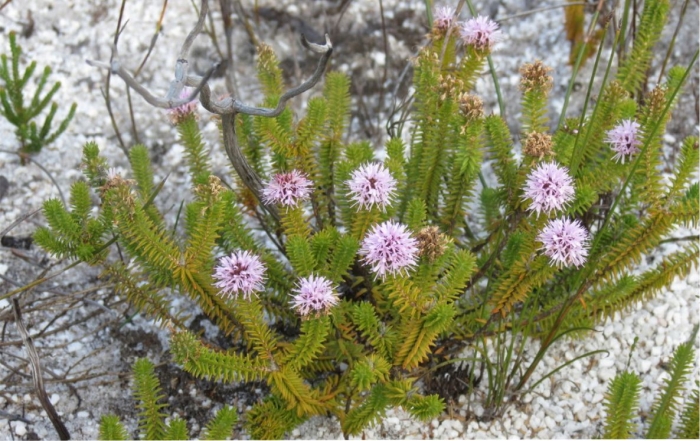 Uses
Use
There are no known traditional or medicinal uses associated with the Stilbe ericoides plant, but due to its resprouting capabilities, it can be used as a reference species for ecological restoration after a prescribed burn. It is not a well-known garden ornamental, but would be a good choice for water-wise fynbos gardens on sandy flats.
Growing Stilbe ericoides
Grow
Stilbe ericoides requires a well-ventilated, sunny location with well-drained, sandy, acidic soil in order to thrive. Once or twice a year, feed with well-rotted compost and mulch. Slow-release fertiliser can also be applied in tiny amounts or in diluted form. Plants with more branches, a compact structure, and more blooms are produced by pinching the tips of immature plants. It can also be grown in containers if adequately hydrated.
Stilbe ericoides can be propagated from seeds or cuttings. Planting seeds in the autumn is an excellent idea (April to May). Treat seeds with Instant Smoke Plus Seed Primer, a smoke-water solution, or expose seed trays to the smoke of burning fynbos plants to improve germination (in a tent). It is critical to use an acidic, well-drained sowing medium. Because the seeds are small, only a thin coating of clean sand is needed, or the seeds can be mixed with dry sand and spread on top of the sowing media in a thin layer. Water with a fine rose to avoid shifting the seeds and keep the trays damp but not wet and out of direct sunlight in a warm but not hot location. Germination takes 1 to 2 months and seedlings must be transferred when they are roughly 10 mm tall.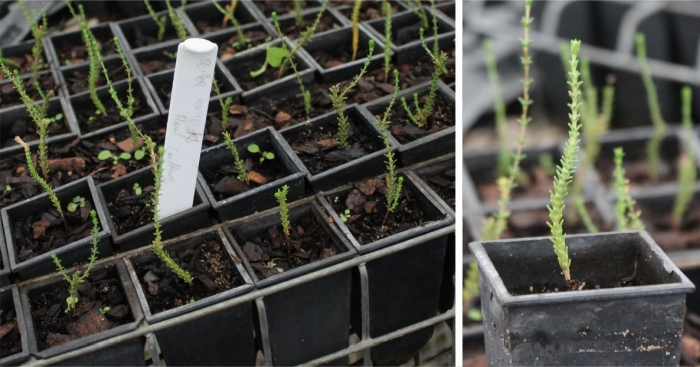 Take semi-hardwood tip stem/straight or heel/nodal cuttings in late winter to spring, or in the summer. Apply rooting hormone to the cuttings and set them in a sterile, well-drained, well-aerated, and well-ventilated rooting medium. To make 50–70 mm long cuttings, a root-stimulating hormone such as auxin powder or IBA is used. Before propagation, visible floral portions are removed, and cuttings are soaked in a seaweed extract solution and hydrated. The cuttings are planted in a fynbos-friendly substrate (such as a mixture of fine-milled bark and perlite). By first forming a thin hole with a sterile wire and then placing the cutting in the hole, the surplus powder is permitted to stay on the cutting, where it will be injected in the wet medium. The cuttings tray is labelled before being placed in the propagation mist house.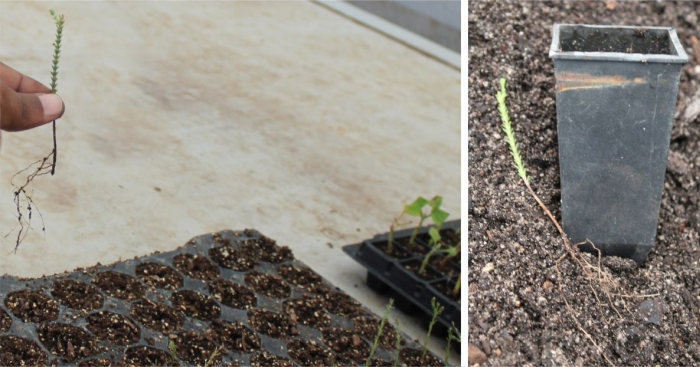 The mist house is heated to a comfortable 22–25°C and sprayed with water every 15 minutes for 5 seconds to maintain the rooting media moist and the leaves cool and moist. The bench is also heated, and the temperature is set at 22–25°C. After 2–3 months, the cuttings are hardened off for a week in the shade before being potted into 2 kg nursery bags with a fynbos soil mix. They are watered on a regular basis and given organic fertilisers once a month to promote growth before being planted in the garden when they are ready.
Stilbe ericoides, which grows in sandy, acidic soil, requires a sunny location with good air circulation. During the summer, it prefers warm, sunny, well-ventilated conditions and must be fed and watered on a regular basis. Companion plants include Mimetes, ericas, buchus, brunias, and restios.
References
Clarke, H. & Mackenzie, B. 2007. Common wild flowers of Table Mountain. Struik Publishers, South Africa.
Goldblatt, P. & Manning, J. 2002. Cape plants: a conspectus of the Cape flora of South Africa. Strelitzia 9. National Botanical Institute, Pretoria and Missouri Botanical Garden, St Louis.
Jackson, W.P.U. 1977. Wild flowers of Table Mountain. Howard Timmins, Cape Town.
Lindley, J. 1853. The vegetable Kingdom. The structure, classification and uses of plants, illustrated upon the natural system. Stilbaceae, pp. 607. Accessed via Biodiversity Heritage Library.
Manning, J.C. & Goldblatt, P. 2013. Plants of the Greater Cape Floristic Region. 1: The Core Cape Flora. Strelitzia 29. South African National Biodiversity Institue, Pretoria.
Pearson, H.H.W. 1912. Stilbe Berg. in Thiselton-Dyer, W.T. (ed) Flora capensis Vol. 5(1): 183-186. Accessed via Biodiversity Heritage Library.
Raimondo, D., Von Staden, L., Foden, W., Victor, J.E., Helme, N.A., Turner, R.C., Kamundi, D.A. & Manyama, P.A. (eds) 2009. Red list of South African plants. Strelitzia 25. South African National Biodiversity Institute, Pretoria.
Rourke, J.P. 2000. A review of generic concepts in the Stilbaceae. Bothalia 30(1): 9-15.
Yeko, S. 2022. Stilbe vestita P.J.Bergius. (Stilbaceae). PlantZAfrica. Online: http://pza.sanbi.org/stilbe-vestita.
Credits
Kamogelo Solomon Modimola
Kirstenbosch National Botanical Garden
(MSc Candidate, University of Cape Town – Dept. of Environ. & Geo. Sciences)
July 2022
Acknowledgements: the author thanks Mrs Erica (Siqamo Yeko) for her continuous support, Mashudu Nndanduleni for helping locate and observe the species, and Alice Notten for providing images of the plant in flower in habitat on the Cape Peninsula.
Plant Attributes:
Plant Type: Shrub
SA Distribution: Western Cape
Soil type: Sandy, Loam
Flowering season: Spring, Winter
PH: Acid
Flower colour: Pink
Aspect: Full Sun
Gardening skill: Challenging
Special Features:
Drought resistant
Horticultural zones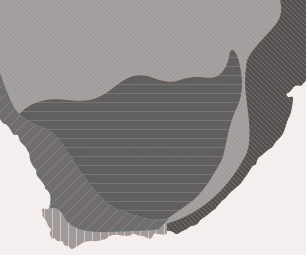 Zone 2 Coastal winter rainfall, frost free
Google QR Code Generator