Stilbe vestita P.J.Bergius
Family: Stilbaceae
Common names: grey stilbe
Introduction
Stilbe vestita is a fynbos shrub with upright stems that are covered with closely packed, needle-like leaves, and have dense spikes of small white flowers at the tips in winter, spring and early summer, the protruding stamens giving them a fluffy, bristly appearance. It grows in fynbos in the mountains at the extreme southwestern tip of South Africa.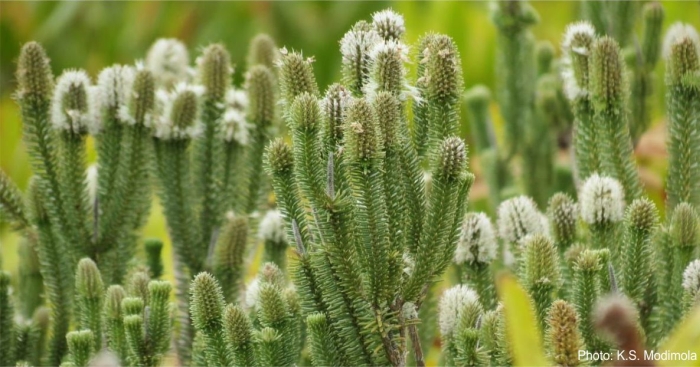 Description
Description
Stilbe vestita is a robust, ericoid shrublet, that ranges from 0.5 to 1.5 m in height, with a single main stem, sometimes multi-stemmed, and a lignotuber. The leaves are ericoid with revolute edges, linear-subulate to narrowly lanceolate, ascending, in whorls of 3–5. The inflorescence is a thick, sessile spike, 10–40 mm long. Flowers are white, sessile, with a single anterior bract that protects the two opposing foliaceous floral bracts. The calyx is tubular, generally firm, with 5 free lobes that are occasionally slightly bent abaxially. The corolla is tubular, 5-merous, bilabiate, with 2 upright, glabrous, distal lobes and 3 smaller, glabrous, anterior lobes. The throat is encircled with thick, white pubescence and is seldom glabrous. There are 4 equal stamens present, but the posterior stamens are missing. The filaments are glabrous and filiform while the anthers are basifixed. The stamens protrude past the corolla tube.The style is filiform, glabrous and slightly adaxially curved. The apex is occasionally minutely bilobed. The ovary is oblong, laterally compressed, potentially 2-chambered but the abaxial chamber is abortive; the adaxial chamber has a single basally attached ovule. The fruit is cylindric, brown, glossy, laterally compressed, dehiscing into 2 valves at the apex. The seeds are ovoid and straw-coloured. Flowering time is mainly in winter, spring and early summer (July to December).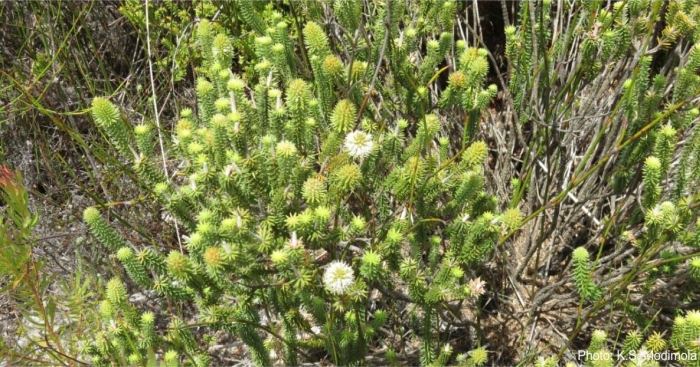 Conservation Status
Status
Distribution and habitat
Distribution description
Stilbe vestita grows on inclines and blooms in sporadic clusters on damp sandstone slopes from Table Mountain to Houwhoek, in the Western Cape.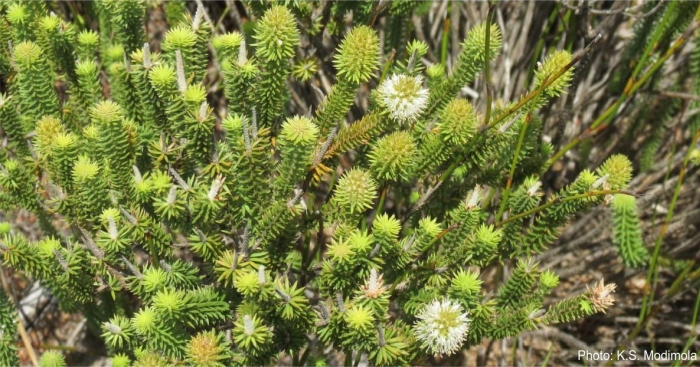 Derivation of name and historical aspects
History
The name Stilbe is taken from the Greek, stilbo which means 'shining'. The species name vestita is Latin and means 'clothed'.
The genus Stilbe belongs in the order Lamiales, family Stilbaceae, it is a small genus that can only be found in the southern Western Cape of South Africa, containing 7 recognised species. Plants in the genus Stilbe have whorls of tightly crowded, overlapping, needle-like leaves, which cover the stems of these small plants.
The Stilbaceae is a family of 12 genera. Some botanists consider it to be a subfamily of the Verbenaceae. The other genera are: Anastrabe, Bowkeria, Campylostachys, Charadrophila, Euthystachys, Halleria, Ixianthes, Kogelbergia, Nuxia, Retzia and Thesmophora. They are mostly small, inconspicuous, ericoid shrublets with small white or pinkish flowers. Although they are common in the Fynbos Biome, they are rarely dominating and are easily overlooked. Several taxa are palaeoendemics, while some are uncommon, localized endemics. The flowers are nearly always extremely small (less than 10 mm), making dissecting and interpreting herbarium material challenging, and often leading to major misinterpretations of the floral anatomy.
Ecology
Ecology
The flowers are pollinated by insects (entomophilous).
Stilbe vestita is a constituent of Sandstone Fynbos. The lignotuber, a thickened, underground stem, allows the plant to survive fast-moving fynbos fires. Although the above-ground parts of the plant may be burned, the lignotuber often survives and the plant resprouts after the fire.
Uses
Use
There are no known traditional or medicinal uses associated with the Stilbe vestita plant.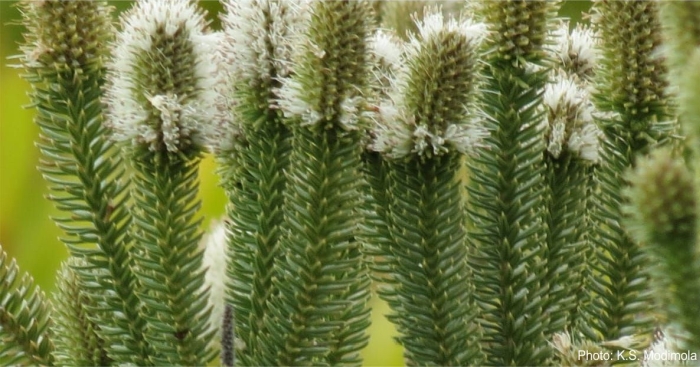 Growing Stilbe vestita
Grow
To thrive, Stilbe vestita needs a well-ventilated, sunny position with well-drained, sandy, acidic soil. Feed with well-rotted compost and mulch once or twice a year. Slow-release fertilizer can also be used in diluted or small volumes. Pinching the tips of young plants generates a plant with more branches, a compact form, and more blooms. If properly hydrated, it can also be utilized in containers.
Seeds or cuttings can be used to propagate Stilbe vestita. Autumn is a good time to plant seeds (April to May). To enhance germination, treat the seeds with Instant Smoke Plus Seed Primer, a smoke-water solution, or expose the seed trays to the smoke of burning fynbos plants (in a tent). It is essential to use a well-drained, acidic sowing medium. Because the seeds are small, only a light layer of clean sand is required, or the seeds can be mixed with dry sand and put in a thin layer on top of the sowing media. To avoid moving the seeds, water with a fine rose, and keep the trays damp but not wet and out of direct sunlight in a warm but not hot place. Germination takes 1 to 2 months, and seedlings must be transplanted when they are around 10 mm tall.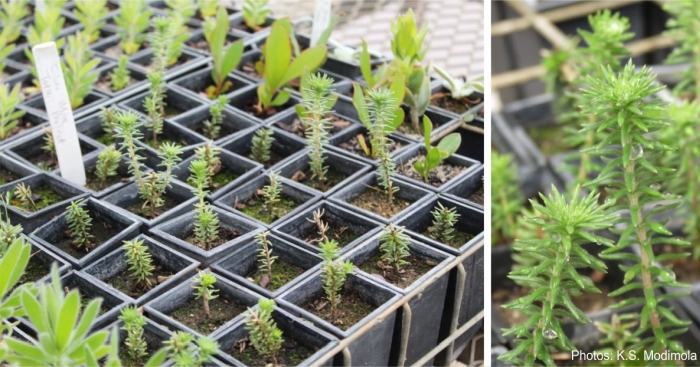 In late summer to autumn, or in the spring, take semi-hardwood tip or heel cuttings. Apply rooting hormone and place in a sterile, well-drained, well-aerated, and well-ventilated rooting media. A root-stimulating hormone, such as auxin powder or IBA, is used to produce 50–70 mm long cuttings. Visible flower parts are removed before propagation, and cuttings are immersed in a seaweed extract solution and watered. The cuttings are planted in a substrate that is fynbos-friendly (such as a mixture of fine-milled bark and perlite). The surplus powder is allowed to stay on the cutting, where it will be inserted in the wet medium, by first creating a thin hole with a sterile wire and then placing the cutting in the hole. Before being placed in the propagation mist house, the cuttings tray is labelled.
The mist house is heated to a warm temperature of 22–25°C and sprays water for 5 seconds every 15 minutes to keep the rooting media moist and the leaves cool and moist. The bench is also heated and kept at a comfortable 22–25°C temperature. The cuttings are hardened off for a week in a shady place after 2–3 months before being potted into 2 kg nursery bags with a fynbos soil mix. They are regularly watered and given organic fertilizers once a month to encourage growth before being planted in the garden once they are ready.
Growing in sandy, acidic soil, Stilbe vestita demands a sunny area with sufficient air circulation. It's ideal for fynbos gardens, especially those located on damp, sandy slopes, or with a stream or seepage region in their garden . It enjoys warm, sunny, well-ventilated environments and has to be fed and watered on a regular basis during the summer. Mimetes, ericas, buchus, brunias, and restios are examples of companion plants.
References
Clarke, H. & Mackenzie, B. 2007. Common wild flowers of Table Mountain. Struik Publishers, South Africa.
Foden, W. & Potter, L. 2005. Stilbe vestita P.J.Bergius. National Assessment: Red List of South African Plants version 2020.1. Accessed on 2022/03/22.
Jackson, W.P.U. 1982. Wildflowers of Table Mountain, revised edition. Howard Timmins, South Africa.
Manning, J.C. & Goldblatt, P. 2013. Plants of the Greater Cape Floristic Region. 1: The Core Cape Flora. Strelitzia 29. South African National Biodiversity Institue, Pretoria.
Modimola, K.S. & Yeko, S. 2021. Erica amoena J.C.Wendl. (Ericaceae). PlantZAfrica. Online. http://pza.sanbi.org/erica-amoena.
Pearson, H.H.W. 1912. Stilbe Berg. in Thiselton-Dyer, W.T. (ed) Flora capensis Vol. 5(1): 183-186. Accessed via Biodiversity Heritage Library.
Rourke, J.P. 2000. A review of generic concepts in the Stilbaceae. Bothalia 30(1): 9-15.
Credits
Siqamo Yeko
Kirstenbosch National Botanical Garden
April 2022
Acknowledgements: the author thanks K.S. Modimola for his support and for providing pictures of Stilbe vestita in propagation and in the field, and Alice Notten for providing the image of a flowerhead with a possible pollinator.
Plant Attributes:
Plant Type: Shrub
SA Distribution: Western Cape
Soil type: Sandy, Loam
Flowering season: Spring, Early Summer, Winter
PH: Acid
Flower colour: White
Aspect: Full Sun
Gardening skill: Average
Special Features:
Horticultural zones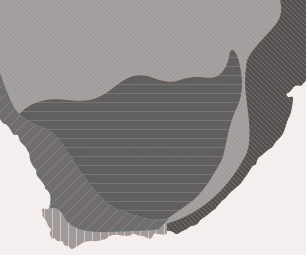 Zone 2 Coastal winter rainfall, frost free
Google QR Code Generator