Stoebe L.
Family: Asteraceae
Common names: hartebeeskaroobos (Afr.)
Introduction
Not everyone will recognize members of this genus as belonging to the Asteraceae. There are no showy ray flowers and the white or pink disc flowers are very small. The florets are, however, aggregated into globose or spike-like inflorescences that can be very showy en masse.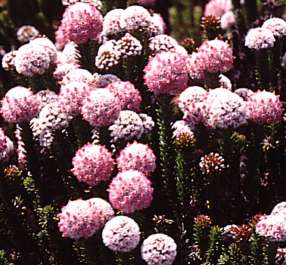 Description
Description
In a recent revision (Koekemoer 2002), the genus was re-defined to include only the species with white or pink disc florets. Species with unobtrusive, reddish florets (e.g. S. plumosum) were transferred to Seriphium L.
Plants are erect, prostrate, or scrambling woody shrubs. Leaves are small, often ericoid and twisted and characterized by a woolly-hairy upper surface, a character that is unique to Stoebe and a group of related genera. This characteristic can be used to distinguish this group from species of Helichrysum which are very similar vegetatively. The leaves of Helichrysum are hairy all over or on the lower surface only.
Flower heads are 1-flowered, the florets white or pink, with 5 well-developed, spreading lobes protruding from the involucral bracts. The flower heads are aggregated into round or spike-like inflorescences at the end of branches. Nectaries are present. Pappus bristles are plumose and present in all species except S. montana and S. schultzii.
Conservation Status
Status
Although some species are quite rare and are fairly localized, they are not threatened or endangered.
Distribution and habitat
Distribution description
The genus is endemic to South Africa and restricted to the winter-rainfall area. It is mainly found in the mountainous and coastal regions of the Western Cape with a few species spreading into Eastern and Northern Cape. It is commonly found on rocky ridges or flat areas from sea level to 2 200 m.
Derivation of name and historical aspects
History
The genus name Stoebe is derived from the Greek stoibe meaning stuffing.
The genus consists of 16 species, of which the species listed below are more often seen.
Ecology
Ecology
Flowering times vary from species to species with peak flowering ranging from September to March. It is not uncommon to find plants flowering outside their normal flowering times. Most species are pioneers on disturbed soil such as roadsides. They are also one of the more prominent species to germinate after a fire. They can be dominant in a burnt area for up to three years after which they may be replaced by more vigorous shrubs.
Pollination is mainly by bees and flies and dispersal of seeds by wind and water.
Uses
Use
Very little is known about the economic and cultural value of the genus. It was used for packing wine jars and making brooms (Jackson 1990). According to Rees (1819) it was also used for bedding, but he was of the opinion that the hard, rigid shrubs were unfit to make a bed except for a rhinoceros or hippopotamus!
Growing Stoebe
Grow
Many of the species have horticultural potential as foliage or bedding plants, but this potential has yet to be explored. See Seriphium plumosum for more information regarding cultivation.
Species
S. aethiopica (Juniper-leaved stoebe)
A very rigid, erect shrub up to 1.6 m tall, with tightly packed terminal inflorescences and white florets. Leaves variable: from broadly cymbiform to narrowly triangular. Distributed throughout the Western Cape, eastwards to Uniondale and Avontuur and northwards to the Cederberg, growing in dense, moist or dry fynbos at altitudes of 100-1 900 m and flowers from September to November.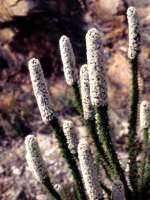 S. alopecuroides (katstert slangbos, cat's tail stoebe)
A robust, erect shrub up to 1.8 m tall. Branches very leafy with numerous short side branches. Capitula in thick finger-like terminal spikes of up to 150 mm long and 20 mm in diameter. Florets white. Distributed in the Western Cape up to Matjiesfontein in the north and Uniondale in the east; also in the Eastern Cape as far as Uitenhage, growing on moist mountain fynbos slopes at altitudes of 100-1 200 m and flowering from August to November.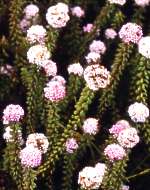 S. cyathuloides
Erect or procumbent shrub up to 0.8 m tall, becoming straggly with age. Leaves variable: from ericoid to broad and flat. Capitula in terminal heads of up to 25 mm in diameter. Florets white or pink. Cypselas hairy. Distributed in the Western Cape south of the Langeberg Mountain Range from the Peninsula to Albertinia, growing on flats and mountainous coastal areas below 500 m and flowering from November to January.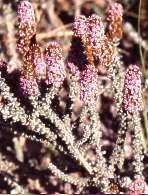 S. muirii (krulblaarslangbos)
Low, spreading shrubs up to 0.8 m tall. Branches often in whorls and candelabrum-like. Leaves greyish, densely hairy, flat, curling inwards. Capitula in terminal spikes up to 40 mm long and 10 mm wide. Florets bright pink. Distributed around Stilbaai and Bredasdorp along the coast on limestone ridges below 100 m. A very attractive foliage plant, it is becoming more prolific along roadsides. It flowers from March to April.
S. nervigera (steekblaarslangbos)
Small, erect, stiffly branched, rigid shrublets up to 0.3 m tall. Leaves not twisted, pungent, with a prominent midrib. Capitula loosely arranged in small numbers, bracts up to 8 mm long. Florets white, deeply lobed. Distributed in the Western Cape with disjunct distributions around Riversdale and Albertinia in the east and Rocher Pan in the northwest, growing in deep sand or gravel on sandy flats from sea level to 900 m and flowering from March to April.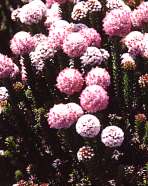 S. rosea
Much-branched, densely leafy shrub up to 0.5 m tall. Leaves rigid, ericoid, keeled with a prominent midrib, tips pungent. Capitula in very dense, terminal round inflorescences. Florets bright pink with small incurved lobes. Pappus prominently displayed. Endemic to the Cape Peninsula. Known only from two localities: Constantiaberg and Rooihoogte (Cape of Good Hope Nature Reserve), growing in rocky ridges below 600 m and flowering from January to February.
S. schultzii
Wiry, profusely branched shrublet up to 0.3 m tall. Leaves very small, diamond-shaped, tightly pressed to the stems, with fringed margins. Capitula in small or larger terminal inflorescences of up to 15 mm diameter. Florets white or pink. Distributed in the Western Cape from De Hoop and Bredasdorp to Gans Bay and inland to Caledon, often in seasonally moist areas and along roadsides and flowering from October to November.
References
Jackson, W.P.U. 1990. Origins and meanings of names of South African plant genera. Ecolab, Botany Department, University of Cape Town.
Koekemoer, M. 2002. Systematics of the Metalasia group in the Relhaniinae (Asteraceae-Gnaphalieae). Unpublished Ph.D. thesis. Rand Afrikaans University, Johannesburg.
Rees, A. 1819. The Cyclopedia or Universal Dictionary of Arts, Science and Literature 34. London. Author Marinda Koekemoer, National Herbarium June 2004
Credits
Marinda Koekemoer
National Herbarium Pretoria
June 2004
Plant Attributes:
Plant Type: Shrub
SA Distribution:
Soil type:
Flowering season:
PH:
Flower colour:
Aspect:
Gardening skill:
Special Features:
Horticultural zones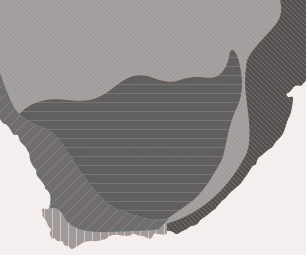 Google QR Code Generator