Stoeberia arborea Van Jaarsv.
Family: Aizoaceae
Common names: tree mesemb ( Eng. ); rooi-vye, boomvygie (Afr.)
Introduction
Stoeberia arborea is the largest member of the Mesembryanthemaceae. It is a woody, ascending shrub, 2 to 5 m tall and bearing small white flowers. Stoeberias differ from other genera of the mesemb family by their tall growth and often flattish, wind-dispersed seed.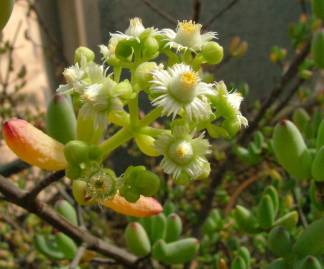 Description
Description
Erect, much branched, woody shrub, 2-3 (5) m tall (almost small tree size), bearing a single main stem up to 0.2 m in diameter. Wood white, reddish in mature plants and when dry, hard and brittle. Bark grey longitudinally fissured; younger branches succulent, reddish green, terete, about 2.5 mm in diameter.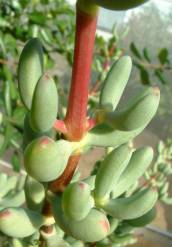 Leaves in opposite pairs, sessile, succulent, ascending, sickle-shaped, oblong club-shaped, 20-35mm, bluish to reddish green, evenly covered with translucent dots, The leaf pairs are fused at their bases and form a short, distinctive, succulent sleeve down the stem (for up to 4 mm). Leaves of younger plants (and when growing in the shade) up to 55 mm long. The leaves are obscurely triangular in cross section with a blunt keel toward the end; the end (apex) blunt (rounded), and bearing a reddish, small, hard point.
Flowers are arranged in a dense compound inflorescence somewhat pyramidal or rounded in outline with up to 27 flowers, 20-55 x 40-60 mm (Figures 1 & 3). Bracts are club-shaped, leaf-like and becoming deciduous when fruits ripen. Flowers are top-shaped in outline, the upper part dome-shaped, 6 x 5-7 mm. Sepals are triangular, 3 mm long, 2.5 mm broad at the base. Petals are white, linear 3 mm long and spreading when open. Stamens and staminodes in a dense cone (yellow centre). Capsule 5 x 4 mm, valve wings 1 mm long at widest point; once opened, unlike most other mesembs, it remains open. The seed is pear-shaped, minutely papillate, 0.75 mm. Flowering time: July-August.
Stoeberia arborea is a distinct species differing from other stoeberias in several diagnostic features. In habit, it is distinguished by its tall, erect growth larger than all other species, in fact, it is the tallest of all Mesembryanthemaceae. The leaf arrangement and fruiting capsules differ in other species. Its flowers are also the smallest in the genus. Stoeberia carpii differs by its long ascending large leaves and long branches bearing large white flowers (largest in the genus).
Conservation Status
Status
Stoeberia arborea is rarely seen in cultivation or the field simply because it is seldom found growing close to major roads. It is quite widespread on the mountain slopes but is nowhere common.
Distribution and habitat
Distribution description
Stoeberia arborea is one of a small genus consisting of six species and they are endemic to the winter rainfall succulent karroo region (most species confined to the Richtersveld) which includes parts of the Western Cape and Northern Cape as well as southern Namibia. It grows in deep gorges and kloofs, often on southern and eastern slopes. It can be seen north of Koeboes along the foothills of the Vanderster Mountains in deep gullies. Associated species noticed here on the lower western slopes in the kloof (just north of a well known foot path (used by local pastoral Nama people to trek up Vandersterberg) includes the blombiessie (Menodora juncea), klapperbos (Nymania capensis), Polemanniopsis marlothii, Didelta carnosa, Rhus incisa, Abutilon pycnodon Hochr., Senecio elegans, S. cephalophorus, the powder brush (Haemanthus coccineus), botterboom (Tylecodon paniculatus), Ceraria namaquensis, Montinia caryophyllacea, Ficus cordata, F. ilicina, Crassula macowaniana and Prenia sladeniana.
Rainfall is mainly during winter (May to September) and averages between 250-400 mm per annum. The summers are dry and very hot (up to 40 degrees on hot days). Winters are cooler but warm during the day and if frost occurs, it is very light and for short periods.
Derivation of name and historical aspects
History
The genus Stoeberia was named by two German botanists, Kurt Dinter (1886-1945) and Gustav Schwantes (1881-?) in 1927, to commemorates the late Mr E. Stoeber from Luderitz. The specific epithet arborea pertains to its large, tree-like size.
Uses
Use
Stoeberia arborea is well known to the people of the Richtersveld by the common name rooivye or rooi-t'kooi due to its useful, hard, brittle, reddish firewood, which yields good coals for a braai (barbecue), hence the common name.
Growing Stoeberia arborea
Grow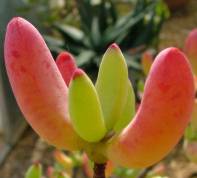 Stoeberias respond well to cultivation at Kirstenbosch and S. arborea, and S. frutescens, in spite of the heavy winter rainfall, have been grown with success on the Matthews rockery. Although conditions are not ideal some plants survive well. Here S. frutescens has a life span of about 5-10 years. S. arborea is longer lived, about 7-15 years. S. carpii appears to be a long lived species having grown in the glasshouse for more than 30 years. Plants of Stoeberia do not re-sprout if heavily pruned.
Stoeberia arborea are readily grown from cuttings rooted in sand. Keep in a sunny corner. Rooting should take place within a month.
Stoeberia arborea is best grown as a container plant away from its succulent karroo habitat. In karoo regions and where the climate permits, it should be able grow on out of dours. Use a mixture of gravel and sand, with ample loam or clay added. Plant in full sun or where sufficient light abounds. Keep containers in a sunny situation, only water from autumn to spring and dry off during summer or water sparingly. Containers should be well drained. Place a gravel layer at the bottom of container. During the cool months a liquid organic fertilizer can occasionally be added. Plants can remain in the same container for a number of years. Pests include the caterpillar of the tiger moth. It is easily controlled by hand or spraying or dusting with a contact poison.
References
Van Jaarsveld, E.J. 1994. A synopsis of the genus Stoeberia . Aloe 31: 68-76.
Hartmann, H.E.K 1996. Miscellaneous taxonomic notes on Aizoaceae. Bradleya 14: 29-56.
Credits
Ernst van Jaarsveld
Kirstenbosch National Botanical Garden
September 2005
Plant Attributes:
Plant Type: Shrub, Succulent, Tree
SA Distribution: Northern Cape, Western Cape
Soil type: Sandy
Flowering season: Spring, Winter
PH: Acid, Neutral
Flower colour: White
Aspect: Full Sun
Gardening skill: Easy
Special Features:
Drought resistant
Horticultural zones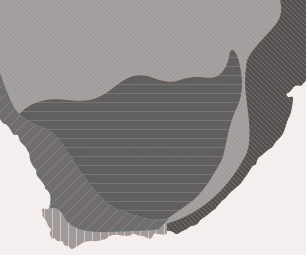 Zone 2 Coastal winter rainfall, frost free
Zone 3 Winter rainfall Karoo, light frost
Google QR Code Generator