Tecomaria capensis (Thunb.) Spach
Family: Bignoniaceae
Common names: Cape honeysuckle, tecomaria (Eng.); Kaapse kanferfoelie, trompetters (Afr.); malangula (Swazi); umsilingi, icakatha (Xhosa); lungana, incwincwi, uchacha, udodo, ugcangca, imunyane (Zulu); molaka (Sotho)
Introduction
Tecomaria capensis is an attractive ornamental garden plant commonly used for screening and decorative purposes, and can also be trimmed to form a hedge.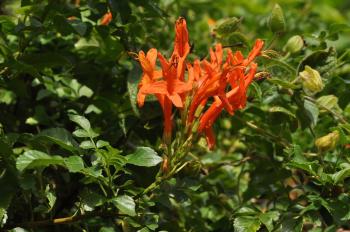 Description
Description
Cape honeysuckle is a fast growing, scrambling, multi-stemmed shrub which may grow up to 2-3 m high and spread more than 2.5 m. It is an evergreen plant in warm regions but loses its leaves in colder ones. It has pinnately compound, glossy leaves that have oval leaflets with blunt teeth. Flowering time for this shrub is very erratic and it often flowers all year round. Flowers are tubular in showy many-flowered heads and vary in colour from red, deep orange, yellow to salmon.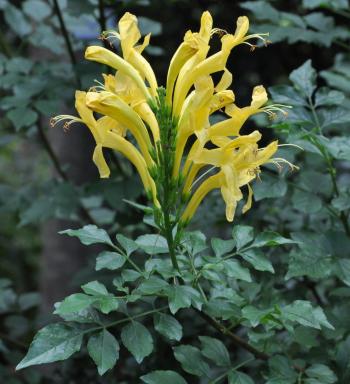 Conservation Status
Status
Least Concern (LC). Tecomaria capensis is not threatened.
This species is cultivated in many countries around the world and has naturalised in parts of Australia, where it is listed as invasive.
Distribution and habitat
Distribution description
This shrub is widely distributed throughout Limpopo, Mpumalanga, along the KwaZulu-Natal and Eastern Cape coasts, and in Swaziland and Mozambique. It occurs in bush or scrub, occasionally on forest margins.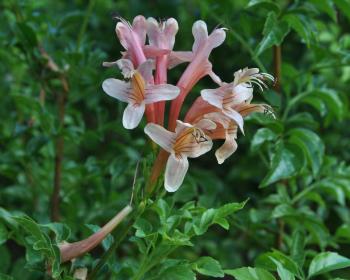 Derivation of name and historical aspects
History
The genus Tecomaria was sunk into Tecoma because the leading botanists working on the family considered that the differences in the flowers between Tecomaria and Tecoma were not enough to justify keeping them apart and they should be treated as one. Hence Tecomaria capensis becameTecoma capensis. However, recent molecular studies show that Tecomaria is in fact most closely related to Podranea and not Tecoma, which means that it can no longer be lumped together with Tecoma, and the genus Tecomaria is reinstated. This is a case where the DNA evidence overturns decisions made on genetic relationships that are based just on morphology (how the plants look). (John Manning, pers. comm.)
The genus Tecomaria is named for its resemblance to the New World genus Tecoma. Tecoma is a contraction of the Mexican name for one of the species: tecomaxachitl. The species name capensis means 'of or from the Cape'.
Ecology
Ecology
This species attracts and is pollinated by nectar-feeding birds, especially sunbirds. The flowers are also visited by honeybees and butterflies. Seeds have 2 membranous wings and are dispersed by wind.
The leaves are browsed by game and stock animals.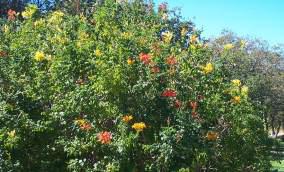 Uses
Use
This attractive garden plant is a popular garden shrub and is often planted specifically to attract birds and butterflies to the garden. It is also commonly planted as a hedge, both formal (clipped) and informal. Farmers also plant it, or encourage its growth, along fences as additional grazing for stock.
The bark is used in traditional medicine to relieve pain and sleeplessness, to bring down fevers, to treat chest ailments such as bronchitis, to treat stomach pains, diarrhoea and dysentery and to encourage the flow of milk in nursing mothers. Leaves are also used to treat diarrhoea and gastro-enteritis. Dried and powdered bark is rubbed around the teeth to treat bleeding gums.
Growing Tecomaria capensis
Grow
Tecomaria capensis is widely cultivated and very easy to propagate from cuttings or by removing rooted suckers or runners during the active growth phase. In areas prone to frost young plants should be protected. It is remarkably tolerant of periods of drought, and is well suited to water-wise gardens.
Cape honeysuckle can be planted in semi-shade to full sun. It withstands clipping and can be trained into a neat hedge, or allowed to bush out into a more informal hedge. To keep this shrub clean and tidy, it must be pruned back in late winter to promote new growth and flowers. Plants can be pruned back heavily if required, and will resprout. The application of a balanced fertilizer after pruning will enhance the growth and flowering.
References
Germishuizen, G., 1997, Wild Flowers of Northern South Africa, Fernwood Press, Cape Town
Goldblatt, P. & Manning, J. 2000. Cape Plants. A conspectus of the Cape flora of South Africa. Strelitzia 9. National Botanical Institute, Pretoria & Missouri Botanical Garden, Missouri.
Hutchings, A., Scott, A.H., Lewis, G. & Cunningham, A.B. 1996. Zulu medicinal plants: an inventory. University of Natal Press, Pietermaritzburg.
Jackson, W.P.U. 1990. Origins and meanings of names of South African plant genera. University of Cape Town.
Pooley, E. 1998. A field guide to wild flowers Kwazulu-Natal and the eastern region. Natal Flora Publications Trust, Durban.
Raimondo, D. et al. 2009. Red list of South African plants. Strelitzia 25. SANBI (South African National Biodiversity Institute), Pretoria.
Roberts, M. 1990. Indigenous healing plants. Southern Book Publishers, Halfway House, Johannesburg.
Pacific Island Ecosystems at Risk (PIER). http://www.hear.org/pier/species/tecoma_capensis.htm accessed 6 April 2016
Credits
Thompson T Mutshinyalo
Walter Sisulu National Botanical Garden
March 2001
and Alice Notten
Kirstenbosch NBG
April 2016
 
Plant Attributes:
Plant Type: Scrambler, Shrub
SA Distribution: Eastern Cape, KwaZulu-Natal, Limpopo, Mpumalanga, Western Cape
Soil type: Sandy, Loam
Flowering season: Sporadic/All year
PH: Neutral
Flower colour: Red, Yellow, Orange
Aspect: Full Sun, Morning Sun (Semi Shade), Afternoon Sun (Semi Shade)
Gardening skill: Easy
Special Features:
Attracts birds
Drought resistant
Hedge/screen
Medical plant
Feeds honeybees
Horticultural zones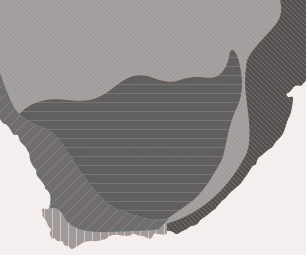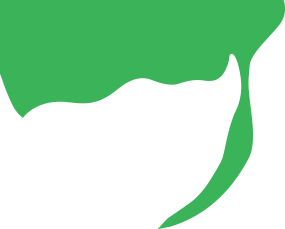 Zone 1 Coastal summer rainfall, frost free
Zone 2 Coastal winter rainfall, frost free
Zone 3 Winter rainfall Karoo, light frost
Zone 4 Summer rainfall Karoo and Highveld, Frost in winter
Zone 5 Bushveld summer rainfall, Light frost
Google QR Code Generator