Tephrosia pondoensis (Codd) Schrire
Family: Fabaceae
Common names: Pondo poison-pea (Eng.); pondogifertjie, basterkurkbos (Afr.)
SA Tree No: 226.1
Introduction
Pondo poison-pea is a rare species that is found in low numbers and is seldom encountered in the wild. This is the only Tephrosia with a tree-like habit.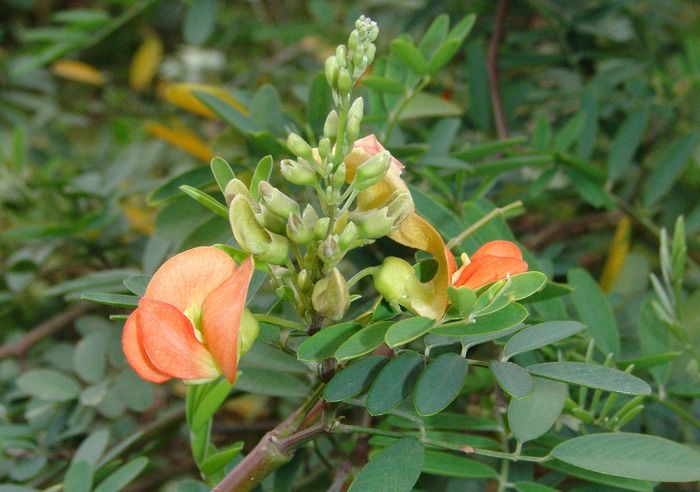 Description
Description
Tephrosia pondoensis is shrub or small tree, 3–5 m in height and with a 4 m spread. Branchlets angled, sparsely hairy at first. Leaves compound, up to 80 mm long; leaflets in 3 or 4 pairs, plus a terminal one; upper surface hairless, underneath hairless or slightly hairy, apex rounded, flattened or notched and petiole up to 20 mm long.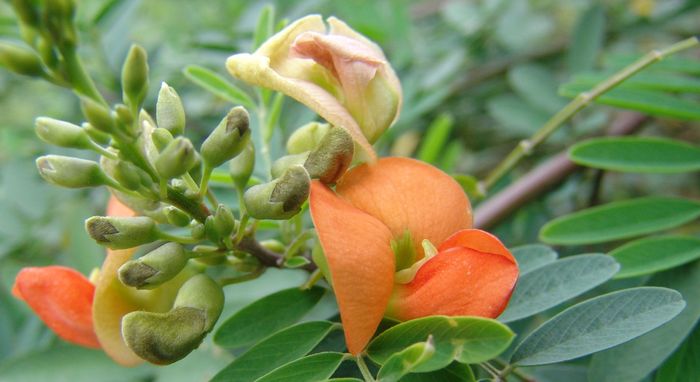 Flowers pea-shaped, large, up to 20 mm long, orange, in compact terminal sprays, with buds covered in hairs, flowering in early summer (November–December).
Fruit a pod, flat, narrow, 60–80 mm long, green, maturing to brown, in late summer (February – March), splitting to release seeds.
Conservation Status
Status
This species has been Red Listed as Endangered (EN). Because of frequent grassland fires, heavy grazing by cattle and goats in forest margins, and harvesting of firewood, the survival of this species is being threatened.
It is a protected tree in terms of the South African National Forest Act, Section 15(1) of the National Forests Act, 1998, which states: 'No person may cut, disturb, damage or destroy any protected tree or possess, collect, remove, transport, export, purchase, sell, donate or in any other manner acquire or dispose of any protected tree or any forest product derived from a protected tree, except under a license or exemption granted by the Minister to an applicant and subject to such period and conditions as may be stipulated'. 'Contravention of this declaration is regarded as a first category offence that may result in a person who is found guilty of being sentenced to a fine or imprisonment for a period up to three years, or to both a fine and imprisonment'.
Distribution and habitat
Distribution description
A restricted species occurring over an area of about 1 250 km², known from a few small isolated subpopulations, each consisting of fewer than 100 mature individuals. It occurs on sandstone formations on dry evergreen forest margins growing mainly on south facing slopes, on moister slopes or drainage lines and open grasslands in full sun. This tree is endemic in Pondoland, in the Eastern Cape and southern KwaZulu-Natal.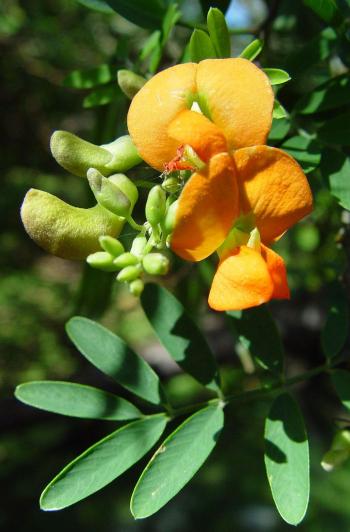 Derivation of name and historical aspects
History
The generic name Tephrosia is derived from a Greek word tephros, meaning 'ash-coloured', referring to the greyish colour given to the leaves by their dense covering of trichomes (a hair-like outgrowth from the leaf epidermis). The specific name pondoensis refers to the Pondoland region where it originates.
In the 1980s it was collected by Dr Brian Schrire, a botanist of the South African National Biodiversity Institute at the KwaZulu-Natal Herbarium, in Durban who then worked at the Royal Botanic Gardens, Kew until his retirement in 2016. In 1985 he renamed the plant from Mundulea pondoensis, to its current name.
Tephrosia belongs in the Fabaceae, a cosmopolitan family which is only absent in Antarctica and has a high diversity in southern Africa, particularly in the winter-rainfall areas of the southern and southwestern Cape and the Northern Cape of South Africa. It is known to be the third largest family globally, with 650 genera and 18 000 species in the world. In South Africa there are 155 genera, which consist of 1 516 species. Well know genera in this family include Vachellia, Aspalathus, Schotia, Indigofera and Bauhinia, to name a few.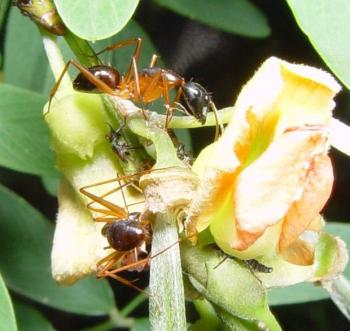 Ecology
Ecology
This shrub is said to be visited by carpenter bees that are assumed to do the pollination, and large red ants that resemble sugar ants, also visit the inflorescences and seem to get some reward from the base of each flower.
Uses
Use
Tephrosia pondoensis is highly exploited for firewood and also for wood used as building materials. It is said that the powdered root if put in water will poison fish.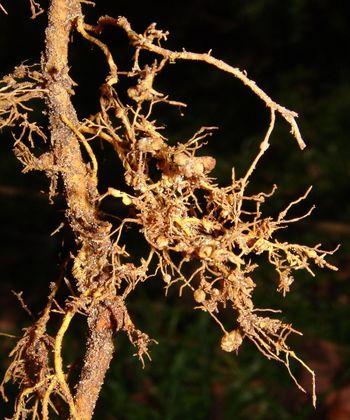 This family is known for its economical use in agricultural industry. Plants in this family are used to fix nitrogen in the soil through symbiotic relation with rhizobium bacteria fertilizing the soil. This family provides a source of protein in people and animals diet, by consuming edible seeds containing high amount of minerals.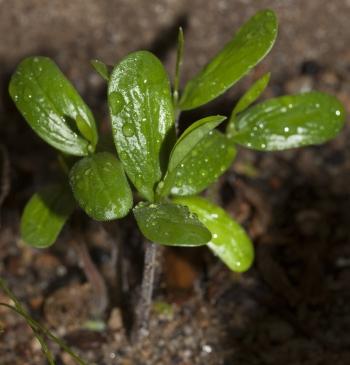 Growing Tephrosia pondoensis
Grow
In cultivation, this is a worthwhile plant to have in your garden, as it keeps your garden showy in summer with its striking orange flowers and beautiful drooping pods, after flowering. Plant it as a backdrop or to give height in the centre of garden beds, in partly shaded areas or in a sheltered spot directly in full sun. It is suitable for small gardens.
Tephrosia pondoensis is best propagated from seed. Select healthy seeds; pods that show signs of fungal growth should not be used. Soak seeds in freshly boiled water for approximately thirty seconds in order to break down the hard seed coat and promote imbibition (absorption of water by seed). Most seeds will germinate 8–10 days after sowing. As with many other legumes, this species prefers to be planted out into the ground and does not do well in containers, but can be grown on in pots to achieve a good size for planting. When planting, prepare a hole twice the size of the root ball, then prepare a mix of 2 parts compost with 2 parts dug out soil and 2:3:2 fertilizer, to give a burst of new growth. Water once to twice a week to get the plant established.
References
Coates Palgrave, K. 2002. Trees of southern Africa. Struik, Cape Town.
Koekemoer, M., Steyn, H.M. & Bester, S.P. 2015. Guide to Plant Families of southern Africa. Strelitzia 31. 2nd ed., 2nd print. South African National Biodiversity Institute, Pretoria, South Africa.
Pooley, E. 1993. The complete field guide to trees of Natal, Zululand and Transkei. Natal Flora Publication Trust, Durban.
Pooley, E. 1998. A field guide to wild flowers Kwazulu-Natal and the eastern region. Natal Flora Publications Trust, Durban.
Von Staden, L. & Abbott, A.T.D. 2007. Tephrosia pondoensis (Codd) Schrire. National Assessment: Red List of South African plants version 2017.1. Accessed on 2018/10/22.
The South African National Department of Agriculture, Forestry and Fisheries website, http://www.daff.gov.za/daffweb3/Branches/Forestry-Natural-Resources-Management/Forestry-Regulation-Oversight/Sustainable-Forestry/Protected-Trees. Accessed 18/06/2018.
Credits
Mpendulo Gabayi
Kirstenbosch National Botanical Garden
and Geoff Nichols
Freelance Horticulturist
November 2018
Plant Attributes:
Plant Type: Shrub, Tree
SA Distribution: Eastern Cape, KwaZulu-Natal
Soil type: Sandy, Loam
Flowering season: Early Summer
PH: Acid
Flower colour: Orange
Aspect: Full Sun, Morning Sun (Semi Shade), Afternoon Sun (Semi Shade)
Gardening skill: Average
Special Features:
Poisonous
Useful plant
Horticultural zones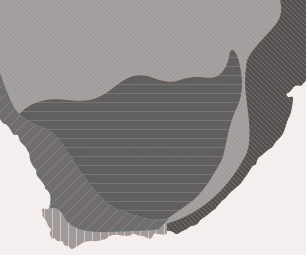 Zone 1 Coastal summer rainfall, frost free
Google QR Code Generator