Thamnochortus acuminatus Pillans
Family: Restionaceae
Common names: goldhead thatchreed (Eng.)
Introduction
A dwarf, densely tufted restio, which shows off its large inflorescences, golden-tan sheaths and bracts in spring, when flowering. 
Description
Description
Thamnochortus acuminatus is a tufted evergreen perennial that grows from 0.2 to 0.5 m high. It makes a compact, dense, tuft, 0.1 to 0.4 m wide. It has a compact, short rhizome or stolon roots, and unbranched, slender culms (stems), covered with velvety, silver-grey hairs (pubescent) and with clusters of sterile branches at the nodes. Sheaths are 70–100 mm long, tan, papery and overlapping to hide the culms.   
The female inflorescences are 40–70 mm long, racemose, with 1 or 2 to 5 spikelets, whereas the male inflorescences are 20–50 mm long, with 6–10 or 11–20 spikelets. When flowering, the spikelets are completely covered with golden-tan spathes (modified bracts), extended to the flower. Male spikelets always hang downwards and female spikelets face upwards, with long, silver hairs. Fruit is a nut, 2 mm long, with a wing formed by the persistent perianth.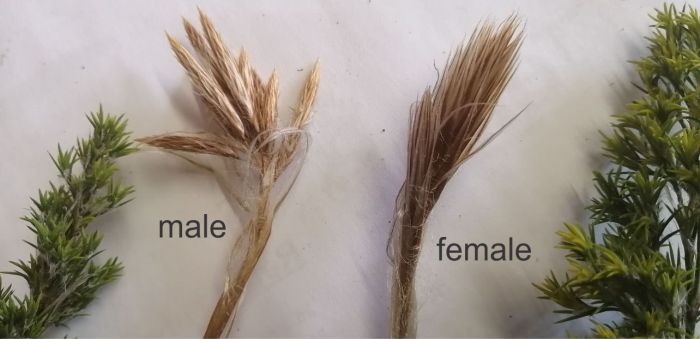 Thamnochortus acuminatus flowers in spring (September or October) and releases the seeds early summer (November or December) before the next cohort of flowers are produced. 
Thamnochortus acuminatus is most closely related to T. fruticosus, T. cinereus and T. rigida, with their silvery, large female spikelets and pubescent culms. The differences are that T. acuminatus sheaths overlap on the culms, female spikelets are silvery-brown and the tufted growth form. 
Conservation Status
Status
The status of Thamnochortus acuminatus is assessed as Least Concern (LC) on Red List of South African plants).The population seems stable.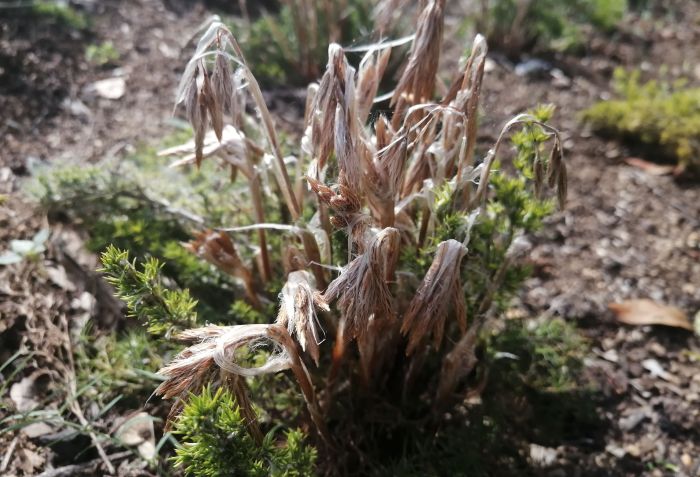 Distribution and habitat
Distribution description
Thamnochortus acuminatus is widely distributed in the Western Cape, from Matroosberg, south of Voetpadsberg, along the Swartruggens to the eastern ranges of the Cederberg, and another population found near Pakhuis. This species commonly occurs in the Provincial Conservation Areas and National Parks, at the altitude of 1 100–2 100 m above sea level. The species is found growing in small groups or as individuals, in well-drained soils, derived from Witteberg quartzites and from Peninsula Formation sandstones, on sandy plains and on rocky slopes. Wide stands also occur in the Suurvlakte, southern Cederberg, dominating on rocky slopes and deep sand on sandy plains. 
Derivation of name and historical aspects
History
Thamnochortus is derived from the Greek word thamno, meaning 'bush', and chortus, meaning 'green herbage', and the species name acuminatus means tapering from inwardly curved sides, to a narrow point. 
Restionaceae is the family name of restios. The name is derived from the Latin restis, which means 'rope' or 'cord' and alludes to the use of these plants in southern Africa. Restionaceae has 400 species in about 40 genera and most of the species occur in winter rainfall regions on nutrient-poor, sandy soils in South Africa and Australia, with a few outliers in the north of Africa, Madagascar, Indo-China and Chile. The genus Thamnochortus has approximately 33 species that occur in the Cape Floristic Region and few species in the Eastern Cape.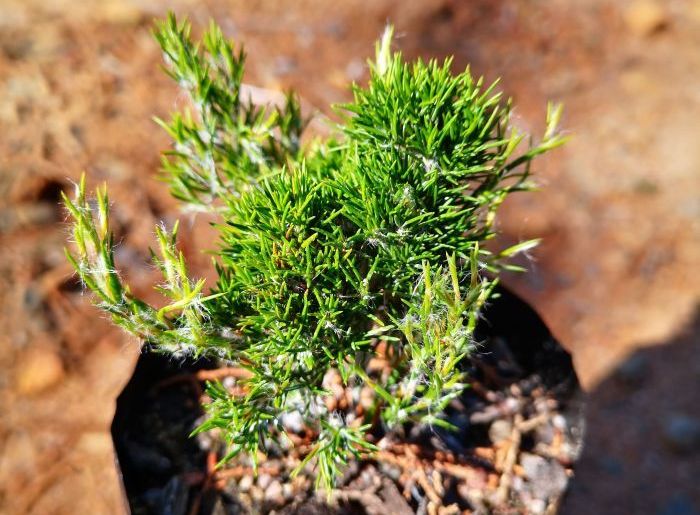 Ecology
Ecology
The seeds are covered by the wings that are formed by lateral sepals and are dispersed by the wind into different areas. During the ripening period, the seeds can be seen blowing along in the wind.  
Restios are dioecious (female and male plants are borne on separate plants). They are wind-pollinated plants. The male and female plants in the natural habitat grow in groups. This means that the pollen from male plants must be carried by wind and find the female flower, drop and settle on the feathery styles for fertilization to occur. The male plants produce masses of pollen for effective pollination. 
Restios do not have leaves as in other plants. Their leaves are reduced and form leaf-like structures called, sheaths. Restios produce cylindrical stems, called culms, which are the only green part of the plants and they perform the photosynthesis function. 
Because of its limited spreading by means of rhizomes, Thamnochortus acuminatus plants are killed by fire and regenerate by seed.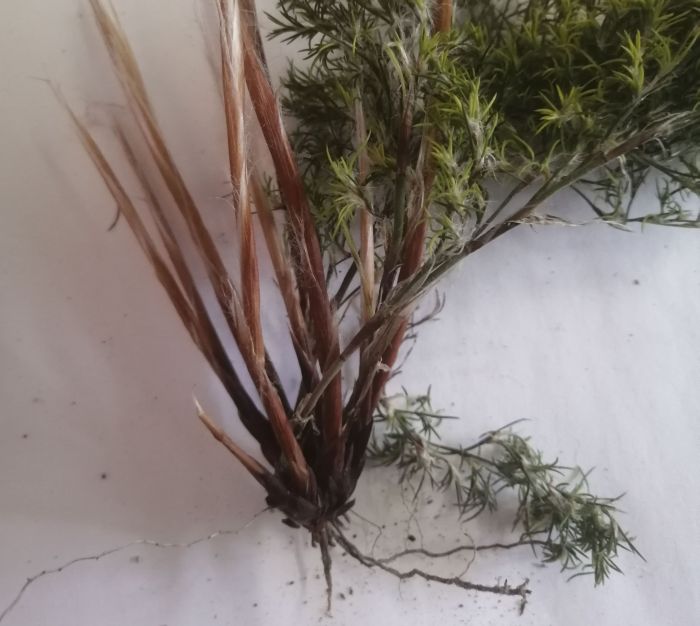 Uses
Use
This is a small restio, ideal for small gardens. Plant this species with other small fynbos companion plants, such as Geranium incanum, Limonium peregrinum, Helichrysum cymosum and Lobelia valida, to attract butterflies and bring vibrant blue colour to your garden. They are good filler plants and do well planted as a border, specifically where the path is solid, to prevent cutting the bed edges, which will lead to breaking the culms and damaging of the plants. 
Growing Thamnochortus acuminatus
Grow
Thamnochortus acuminatus is propagated by seed. The seed respond very well when sown in autumn and early winter when the temperature drops to 5–10ºC at night and 15–20ºC in the day. It is important that your seed be collected when mature for successful germination. The seed treated with smoke derived from burning dry and wet fynbos plant material, helps to break the seed dormancy and stimulate germination. Treatment can be done in a smoking tent or use the Kirstenbosch Seed Primer smoke packets. Soak the seeds or dust them with fungicide and water the sown seeds with fungicide once a week, to prevent fungal infection. 
Lay the seeds on well-drained fynbos soil and cover with a fine, sieved, fynbos soil mixture. Ensure that all seeds are covered and watered using a fine spray, to avoid losing seeds from being blown or washed away. Within the period of 4 weeks, seeds will begin to sprout. Feed the seedlings with organic fertilizer during the growing season, to prevent yellowish and unhealthy growth. Keep your seedlings moist, not dry or too wet, as it helps to prevent fungal infestation. 
This is a slow-growing restio and the seedlings are ready to plant in the open ground after a period of 2 years. The young plants begin to flower in the third year, with less flowers and abundance the following year. The best time to plant the seedlings is in autumn or early winter, the beginning of the rainy season. Plants prefer full sun in a well-drained, acidic soil, and plenty of air movement. Mulch the bed to reduce water evaporation, keep the roots cool and prevent weed growth. Always prune any branch of other plants growing over this spectacular species. 
References
Bavuma, P. 2015. Thamnochortus spicigerus (Thunb) Spreng. PlantZAfrica. Online. http://pza.sanbi.org/thamnochortus-spicigerus.
Brown, N.A.C. & Duncan, G.D. 2006. Grow fynbos plants. Kirstenbosch Gardening Series. South African National Biodiversity Institute, Cape Town.
Brown, N., Jamieson, H. & Botha, P. 1998. Grow restios. Kirstenbosch Gardening Series. National Botanical Institute, Cape Town.
Dorrat-Haaksma, E & Linder, P.H. 2012 Restios of the fynbos Struik Nature, Cape Town.
Linder, H.P. 2011. The African Restionaceae: an IntKey identification and description system. Version 6. Contributions from the Bolus Herbarium 19.
Linder, H.P., Turner, R.C. & Pillay, D. 2006. Thamnochortus acuminatus Pillans. National Assessment: Red List of South African plants version 2020.1. Accessed on 2020/06/15.
Credits
Mashudu Nndanduleni
Kirstenbosch National Botanical Garden
June 2020
Plant Attributes:
Plant Type: Restio
SA Distribution: Western Cape
Soil type: Loam
Flowering season: Spring
PH: Acid
Flower colour: Brown
Aspect: Full Sun
Gardening skill: Average
Special Features:
Drought resistant
Feature plant
Horticultural zones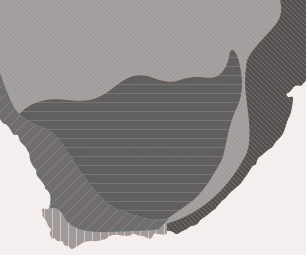 Zone 2 Coastal winter rainfall, frost free
Zone 3 Winter rainfall Karoo, light frost
Google QR Code Generator