Thespesia acutiloba (Baker f.) Exell & Mendonça
Family: Malvaceae
Common names: small-leaved portia tree, wild tulip tree, small-leaved tulip tree (Eng.); kleinblaarportiaboom, kleinblaartulpboom, wildetulpboom (Afr.); umthombe (isiXhosa); ibicongo, iphuphume (isiZulu)
SA Tree No: 465
Introduction
An attractive tree with handsome foliage, showy lemon-yellow flowers in summer and decorative red fruits. This tree is not well known among the general public, however, it is worth the effort to plant in the domestic garden because of the many benefits that it offers.
Description
Description
Thespesia acutiloba is a low-growing, semi-deciduous tree; it only reaches a height of 3–4 m in the home garden, but may grow up to 6 m high in its natural environment. The bark of the tree becomes deeply furrowed as it matures and presents a grey colour. The branches of the tree grows from the base and gives it a bushy appearance; branchlets are grey and scaled. The 3-lobed, ivy-like leaves, are 70 × 60 mm and nearly circular, and covered with fine hairs. The leaf is dark green and quite shiny on the upper surface and tends to be paler green on the underside.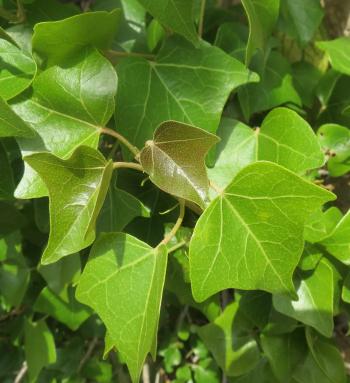 The scaled petiole can grow up to 40 mm long. The flowers can grow more than 50 mm in diameter and usually surprises one by appearing before the leaves on the branches, in summer to autumn (from January to April). They look similar to hibiscus flowers, but do not have a central dark spot, do not open as widely and close in the late afternoon. They turn pinkish brown as they mature. The almost spherical fruits are carried on a cup-shaped calyx, with long stalks, giving it almost the appearance of an acorn. The fruits can be up to 15 mm in diameter, are somewhat fleshy and bright red when mature in late summer and autumn.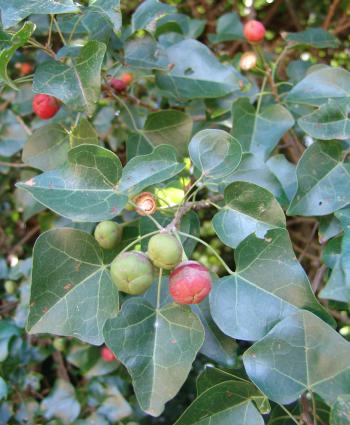 Conservation Status
Status
Distribution and habitat
Distribution description
Thespesia acutiloba occurs naturally in coastal Mozambique and in South Africa in KwaZulu-Natal, as well as tropical Africa. This tree loves to grow in woodlands and fringes of mangrove swamps, as well as coastal and riverine forests.
Derivation of name and historical aspects
History
Thespesia is a genus in the hibiscus family, Malvaceae, and is quite closely related to Gossypium (cotton).The Malvaceae family is made up of trees, shrubs and herbs and contains about 243 genera and more than 4 220 species; there are eighteen species of Thespesia.
The name Thespesia derives from the Greek word thespesios, which means 'divine'. During Captain Cook's expedition in 1769, T. populnea was collected. This tree was regarded as a sacred tree and was planted around religious practice sites. The species name acutiloba, is Latin and refers to the pointed leaves of the plant.
Ecology
Ecology
This tree provides food and shelter for a range of wild life. Many fruit-eating birds are attracted to the bright red fruits, and are particularly popular with the Redwinged and Blackbellied Starlings, and Crowned Hornbill.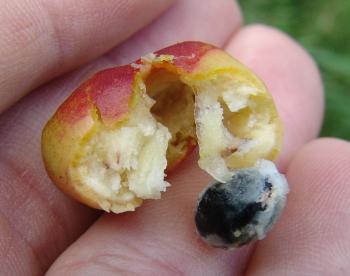 Uses
Use
The wood of this tree is quite useful to create musical instruments and was traditionally used to make spears. It is also recorded that when the roots are soaked in bath water, it will not only refresh you, but protect you from evil spirits as well. The flower petals are a source of dye and the wood fibre is ideal material to make durable robe.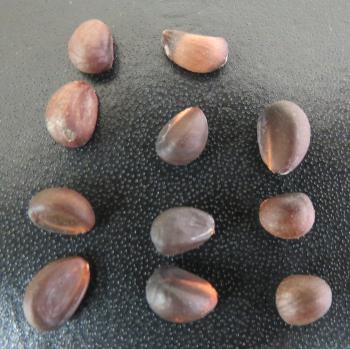 Growing Thespesia acutiloba
Grow
Thespesia acutiloba is known to withstand long periods of drought conditions. This tree's low growing habit qualifies it to be an ideal subject for small to medium gardens. This tree can also handle light frost well. It is also an ideal tree to grow in coastal gardens; it can withstand large amounts of salt spray. Its low-growing habit makes it also an ideal container plant, provided that the container drains well and ensures that it gets a regular feeding, by adding fine compost and a suitable slow release or a liquid fertilizer.
Thespesia acutiloba can be easily propagated by seeds or cuttings. Remove the seeds from the fruit before planting and let them air dry, avoiding direct sunlight. The seeds should be scarified (the seed coat penetrated), soaking them overnight in warm water may hasten germination. Prepare the seedling trays by using equal parts of sand and compost to fill up the trays. The next step is to cover the seeds lightly with a layer of sand and water well. Keep the medium moist, but not soaked; germination takes 14 to 28 days.
One can also propagate this tree from cuttings; take cuttings from semi-hardwood, and make the cutting about 300 mm long. Dip the cuttings into a growth hormone to encourage the root development process. River sand makes an ideal rooting medium. The cutting should be protected from direct sunlight until it is well established; roots start to develop after about 4 weeks.
This is a very hardy tree and generally has very little pests that attack it, however, it needs a regular pruning to keep it in shape, because it can grow a bit out of hand. Treat the seedling medium with a fungicide when sowing seeds to prevent damping off.
References
Boon, R. 2010. Pooley's trees of eastern South Africa, a complete guide. Flora & Fauna Publications Trust, Durban.
Coates Palgrave, K. 2002. Trees of southern Africa. Struik, Cape Town.
Jackson, W.P.U. 1990. Origins and meanings of names of South African plant genera. University of Cape Town.
Joffe, P. 2003. Easy guide to indigenous shrubs. Briza Publications, Pretoria.
Pooley, E. 1998. A field guide to wild flowers Kwazulu-Natal and the eastern region. Natal Flora Publications Trust, Durban.
Raimondo, D. et al. 2009. Red list of South African plants. Strelitzia 25. SANBI (South African National Biodiversity Institute), Pretoria.
Van Wyk, B. & Malan, S. 1997. Field guide to the wild flowers of the Highveld. 2nd edition. Struik Publishers, Cape Town.
Van Wyk, B. & Van Wyk, P. 1997. Field guide to trees of southern Africa. Struik, Cape Town.
Von Breitenbach, F. 1990. National list of indigenous trees. Second revised edition. Dendrological Foundation, Pretoria.
Wikipedia: Malvaceae. https://en.wikipedia.org/wiki/Malvaceae. Accessed on 2016/11/30.
Credits
Benjamin Festus
Kirstenbosch National Botanical Garden
January 2017
Plant Attributes:
Plant Type: Shrub, Tree
SA Distribution: KwaZulu-Natal
Soil type: Sandy, Loam
Flowering season: Late Summer
PH: Acid, Neutral
Flower colour: Yellow
Aspect: Full Sun
Gardening skill: Easy
Special Features:
Attracts birds
Drought resistant
Good potplant
Useful plant
Horticultural zones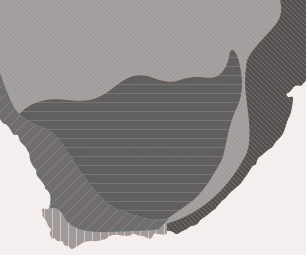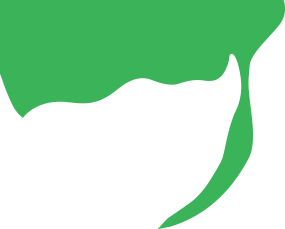 Zone 1 Coastal summer rainfall, frost free
Zone 2 Coastal winter rainfall, frost free
Zone 3 Winter rainfall Karoo, light frost
Zone 4 Summer rainfall Karoo and Highveld, Frost in winter
Zone 5 Bushveld summer rainfall, Light frost
Google QR Code Generator