Tritoniopsis triticea (Burm.f.) Goldblatt
Family: Iridaceae
Common names: mountain pipes (Eng.); rooibergpypie, klipuintjie, berguintjie, karkarblom (Afr.)
Introduction
A bright red, spiky-looking flower growing among the fynbos in a dry rocky area, caught my eye as I was walking along the contour path above Kirstenbosch in late summer.
Description
Description
Tritoniopsis triticea is a winter-growing, deciduous, bulbous plant that grows 500-900 mm high. The rootstock is a deeply buried corm that is shaped like a flattened sphere, and is covered with tunics of coarse fibres. Leaves are linear, three veined, with a long cylindrical false petiole, and are usually dry at flowering time. The upper leaves are thread-like, dry and brown.
The scarlet flowers are in a dense spike and appear mainly in late summer to autumn (Jan.-Apr.). The perianth tubes are 250-300 mm long, the dorsal tepal is the longest at ± 15 mm long, the others slightly shorter, ± 12 mm long. The flower colour varies from pink to red depending on the amount of shade received-those in the shade have darker red flowers while those in the sun are light red to pinkish.
The fruit is a capsule containing several light, spongy, irregularly shaped seeds.
Tritoniopsis triticea may be confused with Disa ferruginea, the red cluster disa, as they both have dense spikes of vivid red flowers at the same time of the year. But it is easy to tell them apart-the individual flowers of D. ferruginea are distinctly disa-like with spurred hoods.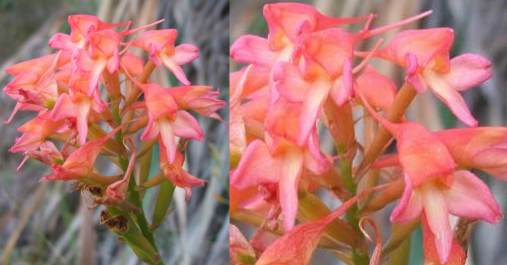 Conservation Status
Status
Tritoniopsis triticea is not listed on the Red Data list of South African Plants (7 Aug 2006).
Distribution and habitat
Distribution description
It occurs naturally on rocky granite and sandstone slopes in the Western Cape, from the Cape Peninsula and the Porterville Mountains to Mossel Bay. On Table Mountain it is frequent in dry, stony ground on the upper slopes and plateaux.
Derivation of name and historical aspects
History
Tritoniopsis means resembling the genus Tritonia and triticea means of wheat. Tritoniopsis belongs in the Iridaceae, commonly known as the iris family. There are 29 species in this genus and they are all endemic to the Cape Floral Kingdom.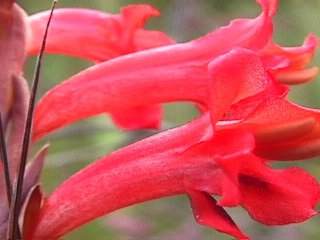 Ecology
Ecology
Various agents, depending on the flower type, pollinate the flowers of Tritoniopsis. Bees pollinate the short-tubed species, whereas the long-tubed species are pollinated by a range of other pollinators. The long-tubed, pink-flowered species are pollinated by long-proboscid flies; T. nervosa with its long-tubed, fragrant cream-coloured flowers is pollinated by moths; and the long-tubed, red-flowered species, such as T. triticea, are mainly pollinated by sunbirds, but are very likely also visited by the Table Mountain Beauty butterfly, Aeropetes tulbaghia. The light, spongy seeds are dispersed by the wind. Porcupines eat the corms.
Growing Tritoniopsis triticea
Grow
Tritoniopsis triticea is difficult to grow because the corms tend to rot easily as they are adapted to the well-drained, nutrient-poor soils of the Cape (Graham Duncan pers. comm.) ; moles and porcupines eat the corms; nevertheless, the species is striking enough to encourage perseverance in trying to grow it. It is best planted in a well-drained, sunny rockery that gets little summer water, or on a slope in a water-wise fynbos garden. If these conditions cannot be met, this species could be tried in a deep container and staked when in flower.
Plant the corms in autumn, 3-4 cm deep with 6-8 cm spacing in well-drained soil. If planting in a container, use an acid, sandy growing medium such as three parts medium-grained river sand and one part fine acid compost or finely milled acid bark, and place them in a well-ventilated, sunny location. Give them a good soaking every seven to ten days during the growing period (autumn-winter-spring), and be careful not to over-water. When in flower, the stems can be staked to prevent them from falling over. This species requires protection when grown in very cold climates.
Propagation from seed: sow seed when it is ripe, in autumn-winter in a well-drained, sandy soil mix: 2 parts sand and 1 part milled bark. Cover them with a thin layer of fine-milled bark. Allow seedlings to stay undisturbed in the original container until the next season.
References
Du Plessis, N. & Duncan, G. 1989. Bulbous plants of southern Africa. A guide to their cultivation and propagation. Tafelberg, Cape Town.
Jackson, W.P.U. 1990. Origins and meanings of names of South African plant genera. University of Cape Town Printing Department, Cape Town.
Manning, J., Goldblatt, P. & Snijman, D. 2002. The colour encyclopaedia of Cape bulbs. Timber Press, Portland-Cambridge.
Maytham Kidd, M. 1996 Cape Peninsula.South African Wild Flower Guide 3, edn 4. Botanical Society of South Africa, Cape Town.
Smith, C.A. 1966. Common names of South African plants. Memoirs of the Botanical Survey of South Africa No. 35.
Credits
Xolelwa Lusithi & Alice Notten
Kirstenbosch National Botanical Garden
December 2006
Plant Attributes:
Plant Type: Bulb
SA Distribution: Western Cape
Soil type: Sandy
Flowering season: Late Summer, Autumn
PH: Acid
Flower colour: Red
Aspect: Full Sun
Gardening skill: Challenging
Special Features:
Attracts birds
Attracts butterflies
Good potplant
Horticultural zones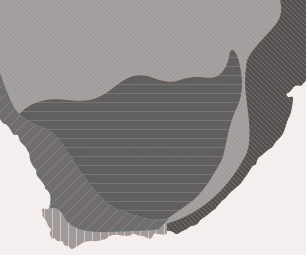 Zone 2 Coastal winter rainfall, frost free
Zone 3 Winter rainfall Karoo, light frost
Google QR Code Generator