Tulbaghia simmleri Beauverd
Family: Alliaceae
Common names: sweet wild garlic, sweet garlic, fragrant tulbaghia (Eng.); soetwildeknoffel, aandblommetjie (Afr.)
Introduction
Tulbaghia simmleri is a desirable and rewarding garden plant, with decorative and sweetly fragrant flowers, and it is easy to grow.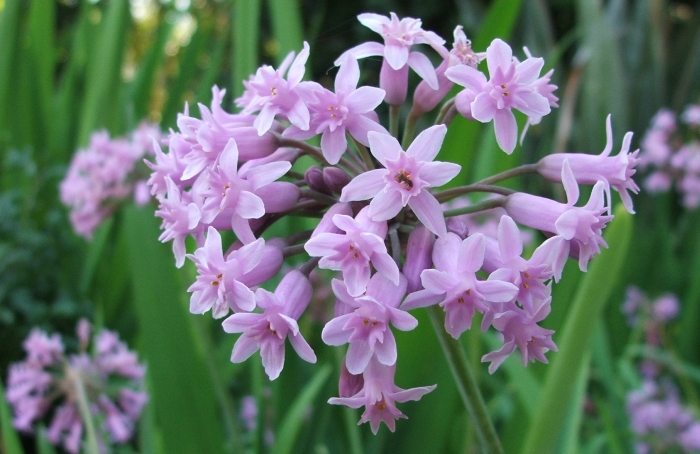 Description
Description
Tulbaghia simmleri is a slender, erect, clump-forming, evergreen perennial to 250 mm, with a bulb-like rootstock. Leaves are grey-green, flat and strap-like. The inflorescence is an umbel of pink to mauve-pink, occasionally white, strongly fragrant, tubular flowers.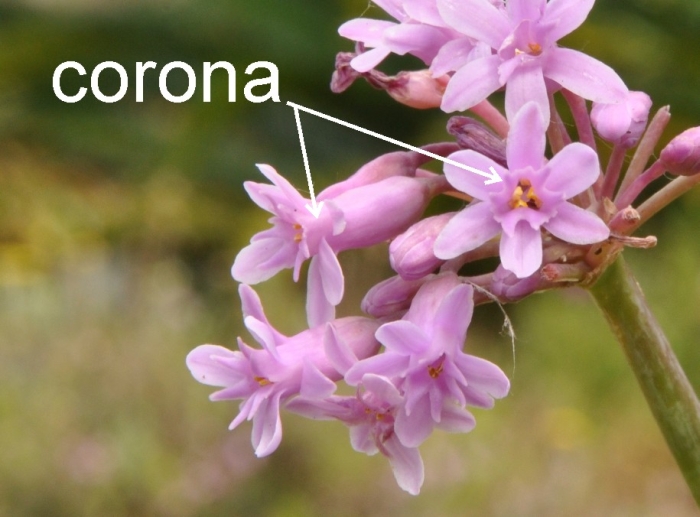 Each flower is made up of six, somewhat fleshy perianth segments (also called tepals), with a raised crown-like structure in the middle - called the corona. In T. simmleri the corona is made up of 6 lobes which are united to form a tube for about one third of its length. The lobes have pointed tips, giving the corona an attractively frayed edge.
According to Fabian and Germishuizen 1997, it flowers in spring-summer-autumn (September to May) in its summer-rainfall habitat, whereas at Kirstenbosch, with its winter-rainfall climate, it flowers during the winter months into spring, May-September.
In comparison with Tulbaghia violacea (Wild Garlic) that many gardeners are familiar with, T. simmleri leaves are wider and thicker, and not as strong smelling, and T. violacea has only three small corona lobes that don't form a tube, whereas the corona in T. simmleri is a more noticeable feature of the flower.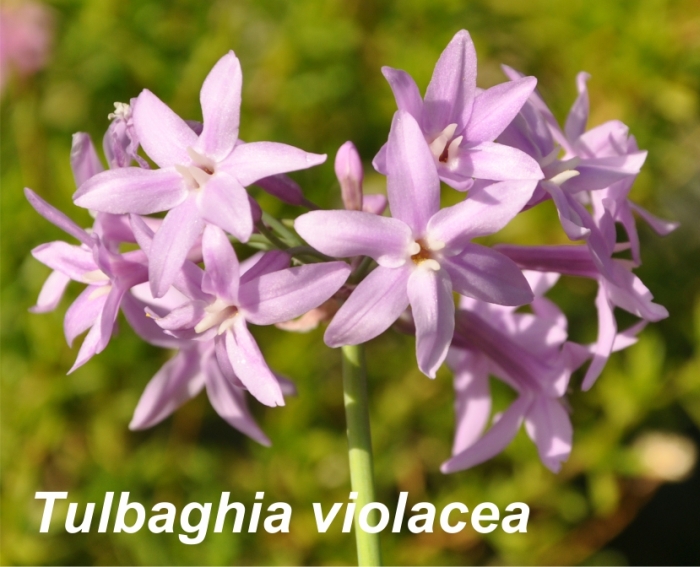 Conservation Status
Status
Least Concern (LC). The Tulbaghia simmleri population is stable and not threatened.
Distribution and habitat
Distribution description
Tulbaghia simmleri is endemic to a relatively small area in the northern Drakensberg of Mpumalanga and Limpopo, where it occurs as isolated plants on rocky ledges or in fairly dense colonies in light but humid mountain forest at moderate altitudes (960-1120m).
Derivation of name and historical aspects
History
The genus Tulbaghia was named by Linnaeus after Rijk Tulbagh, Governor of the Cape Colony 1751-71. He was born in Holland in 1699, enlisted with the Dutch East India Company and sailed to South Africa in 1716 and died in Cape Town in 1771. He corresponded with Linnaeus over a long period, and sent him more than 200 plant specimens. This genus was first described from material sent by Tulbagh in 1769.
This species is named after Paul Simmler, chief gardener of the Boissier Collections in Geneva, who cultivated the specimens collected in the Transvaal by H.A. Junod. It was first described in 1908 by the Swiss botanist Gustave Beauverd (1867-1942) who based the description on material collected by Junod. In the 1907 Bulletin de l'Herbier Boissier Beauverd makes a special mention of Mr. Simmler, the skillful gardener who cultivated a single living specimen of Streptocarpus junodii, also collected in the Transvaal by Junod, and it is from this specimen, which bloomed in 1907, that he made the description of Streptocarpus junodii.
Synonyms for this species are T. pulchella P.E.Barnes, T. daviesii Grey and T. fragrans I.Verd.
The genus Tulbaghia consists of 21 species found in Africa, mostly in southern Africa. They are characterised by the strong onion or garlic smell given off by their leaves and flower stems when bruised or cut. The best known garden ornamental is probably Tulbaghia violacea (Wild Garlic), although T. simmleri is also widely cultivated.
Ecology
Ecology
With its strongly sweet-scented flowers, the pollinator of Tulbaghia simmleri is likely to be a butterfly or moth.
Uses
Use
Uses and cultural aspectsTulbaghia simmleri is a lovely long-lasting cut-flower, and will scent a room with its strong sweet fragrance. If grown as a potplant it can be brought indoors while in flower.
Tulbaghia simmleri is not generally used in traditional medicine, but is sometimes used as a substitute for T. violacea or T. alliacea. The latter are both known as Wild Garlic, and their bulbs and leaves are used to treat fever, colds, coughs, 'flu, asthma, TB, rheumatism and stomach problems, and the leaves are eaten fresh or cooked. The much weaker garlic-like smell in the leaves of T.simmleri would indicate that it contains a lower concentration of the active sulphur compounds and would thus make a less effective medicine.
Growing Tulbaghia simmleri
Grow
Tulbaghia simmleri is easy to cultivate. It prefers a position in light shade, or partial shade such as morning sun and afternoon shade. Plant it in well-drained, good garden soil. They are best left undisturbed to form large clumps and need only be divided when the clumps are too thick and flower quality decreases. They look good in rockeries, herbaceous borders, or massed to form a groundcover, and are suitable for containers. T. simmleri is drought tolerant and will grow in almost any soil, but will perform better with regular watering and composting. T. simmleri is moderately frost-hardy but will be damaged by frost, and is not hardy to prolonged freezing temperatures.
Propagate by seed and division. Sow seeds in spring, in deep seed trays, and plant out the seedlings in their second year. They can be expected to flower during their second or third year.
References
Beauverd, G. 1907. Une nouvelle Gesnériacée du Transvaal. Bulletin de l'Herbier Boissier 7: 699-700.
Beauverd, G. 1908. Un nouveau Tulbaghia du Transvaal. Bulletin de l'Herbier Boissier 8 :988.
Du Plessis, N., & Duncan, G. 1989. Bulbous plants of Southern Africa. A guide to their cultivation and propagation . Tafelberg, Cape Town.
Fabian, Anita & Germishuizen, Gerrit. 1997. Wild flowers of northern South Africa . Fernwood Press, Cape Town.
Jackson, W.P.U. 1990. Origins and meanings of names of South African plant genera . U.C.T. Printing Dept., Cape Town.
Van Wyk, B.-E., Van Oudtshoorn, B., Gericke, N. 1997. Medicinal plants of South Africa . Briza Publications, Pretoria.
Vosa C.G. 2000. A revised cytotaxonomy of the genus Tulbaghia , (Alliaceae). Caryologia 53: 2 (83-112).
The Eponym Dictionary of Southern African Plants: http://www.calflora.net/southafrica/1P-S.html accessed 26 August 2013
The International Plant Names Index, Author Details: http://www.ipni.org/ipni/idAuthorSearch.do?id=15847-1&back_page= accessed 26 August 2013
Wikipedia: http://en.wikipedia.org/wiki/Ryk_Tulbagh accessed 26 August 2013
Credits
Alice Notten
Kirstenbosch National Botanical Garden
September 2013
Plant Attributes:
Plant Type: Bulb
SA Distribution: Limpopo, Mpumalanga
Soil type: Sandy, Loam
Flowering season: Spring, Early Summer, Late Summer, Autumn
PH: Acid, Neutral
Flower colour: Pink, Mauve/Lilac
Aspect: Full Sun, Morning Sun (Semi Shade), Afternoon Sun (Semi Shade)
Gardening skill: Easy
Special Features:
Drought resistant
Fragrant
Good potplant
Medical plant
Horticultural zones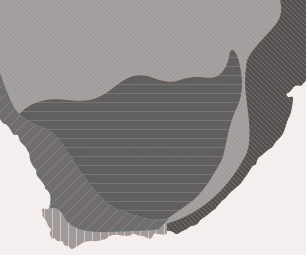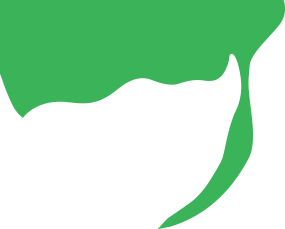 Zone 1 Coastal summer rainfall, frost free
Zone 2 Coastal winter rainfall, frost free
Zone 3 Winter rainfall Karoo, light frost
Zone 5 Bushveld summer rainfall, Light frost
Google QR Code Generator