Vangueria esculenta S.Moore
Family: Rubiaceae
Common names: Chirinda wild-medlar, forest wild-medlar, (Eng.); Chirinda-wildemispel, bosmispel, blinkblaarmispel (Afr.); mobilo (Lobedu)
SA Tree No: 702.1
Introduction
Vangueria esculenta is an ideal tree or shrub for smaller gardens, with glossy foliage and an interesting shape, and its flowers release a pleasant sweet scent throughout the summer months.
Description
Description
This small, deciduous tree can reach a height of 2–6 m in the domestic garden environment, yet when growing in its natural habitat, it can exceed 12 m in height. The bark appears to be grey and smooth and tends to be subject to flaking as the tree matures. The short branches contribute to the compact appearance of the tree. Yellow to brownish hairs covers the branchlets. The leaves are elliptical to ovate-shaped and about 20–140 × 50 mm in size, and thinly textured. They could be covered in hairs, or the hairs may be totally absent.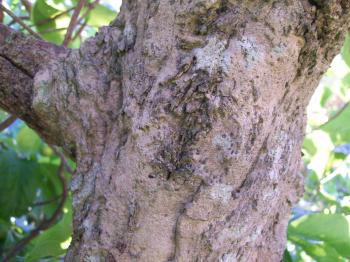 The flowers are small, up to 10 mm in diameter, sweetly scented, white, yellow or pale green, in sparse flower heads, in early summer. The backwards curving of the corolla (the inner envelope of the flower) lobes of the flowers, cannot go unseen by the naked eye. The tree produces pendulous (downward hanging) clusters of green fruits, yellow-brown when ripe, which are almost spherical, and can grow up to 25 mm in diameter.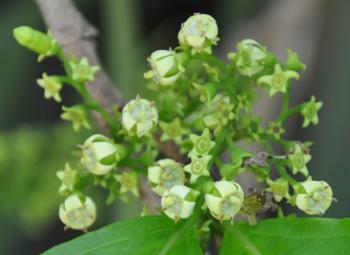 In South Africa, Vanqueria madagascariensis and V. randii var. chartacea, are often confused with V. esculenta. V. esculenta differs from the other two in terms of the number of flower heads, bark colour and texture, leaf size, texture and also fruit size and colour as well as the natural habitat occurrence, which is evergreen forest.
Conservation Status
Status
According to the website http://redlist.sanbi.org checked on the 2016/06/08 the conservation status of this plant is Least Concern (LC).
Distribution and habitat
Distribution description
Vangueria esculenta is better known to occur in the Chirinda Forest in Zimbabwe, at altitudes of 1 100–1 800 m. This tree also grows in Malawi and Mozambique, but to a lesser extent. This tree is also well established in South Africa in Gauteng, Limpopo and Mpumalanga. It occurs in evergreen forest, dune forest and at forest margins.
Derivation of name and historical aspects
History
Vangueria is a generic name that was derived from the Madagascan name for Vangueria edulis: voa vanguer. The name esculenta (Latin) means 'edible', which refers to the edible fruit.
The genus Vangueria contains over 50 species distributed in tropical Africa and Madagascar, with 10 species native to southern Africa. It belongs in the Rubiaceae (gardenia family); this family has more than 11 000 species, which include shrubs, trees and herbaceous plants, with more than 611 genera currently recorded.
Ecology
Ecology
Insects are responsible for the pollination of this plant. The dispersal of seeds is by birds that eat the fruit and drop the seeds in different locations. Squirrels and various other animals have also been observed eating the fruits and thus spreading the seeds.
Uses
Use
The plant produces edible fruits which are eaten fresh or dried by people. They are also eaten by birds and will thus attract birds to the garden.
The healing process of tick-bite sores on livestock can be increased by the application of pulped leaves to the affected area.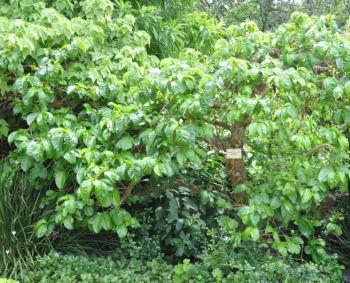 Growing Vangueria esculenta
Grow
This tree will grow well when receiving sunlight for most of the day. It can withstand long periods of drought when established; it prefers soils with good drainage and it can be used as a windbreaker.
Propagation is by seed or cuttings. Cuttings taken in spring and from the present year's growth yield best results. River sand makes an ideal rooting medium, and a good rooting hormone will stimulate root development.
Remove the fruit from the seeds and sow them in spring. Soak the seeds in water for 24 hours before sowing. Use a general soil mix which consists of 2 parts river sand: 1 part loam: 1 part well-rotted compost; the mix should be sieved well. It is important that the mixture drains well to prevent it from becoming waterlogged. The mixture should be kept moist, but not soaked, at all times. Do not place the seed in direct sunlight; the seeds will germinate successfully at temperatures of 25°C. To prevent pre- or post-emergence damping off, a fungicide can be applied to the seeds; this will increase the success rate of germination.
Seedlings are often attacked by spider mites and aphids and can be controlled by using a suitable insecticide. Avoid collecting seeds from the ground for sowing because these are often parasitised.
References
Coates Palgrave, M. 2002. Keith Coates Palgrave Trees of southern Africa , edn 3. Struik, Cape Town.
Foden, W. & Potter, L. 2005. Vangueria esculenta S.Moore. National Assessment: Red List of South African plants version 2015.1. Accessed on 2016/06/08.
Fox, F.W. & Norwood Young, E. 1982. Food from the veld: edible wild plants of southern Africa. Delta Books, Cape Town.
Harris, G. & Harris, M.W. 1994. Plant identification terminology, an illustrated glossary. Spring Lake, Utah.
Steel, B. & Behr, K. 1986. A small tree for rocky gardens — Vangueria infausta , wild medlar. Veld & Flora 72: 89.
Van Wyk, B. & Van Wyk, P. 1997. Field guide to trees of southern Africa. Struik, Cape Town.
Venter, F. & Venter, J.A. 2012. Making the most of indigenous trees. Briza Publications, Pretoria.
Von Breitenbach, F. 1990. National list of indigenous trees. Second revised edition. Dendrological Foundation, Pretoria.
Credits
Benjamin Festus
Kirstenbosch National Botanical Garden
July 2016
Plant Attributes:
Plant Type: Shrub, Tree
SA Distribution: Gauteng, Limpopo, Mpumalanga
Soil type: Sandy, Loam
Flowering season: Early Summer
PH: Acid, Neutral
Flower colour: Green, White, Yellow
Aspect: Full Sun, Morning Sun (Semi Shade), Afternoon Sun (Semi Shade)
Gardening skill: Average
Special Features:
Attracts birds
Fragrant
Edible plant
Medical plant
Horticultural zones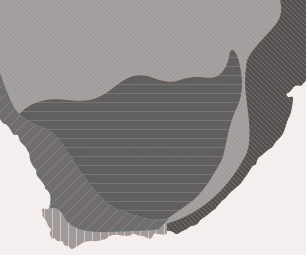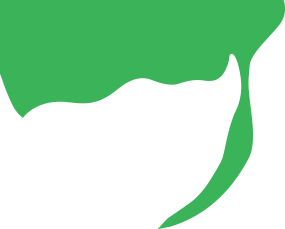 Zone 1 Coastal summer rainfall, frost free
Zone 2 Coastal winter rainfall, frost free
Zone 3 Winter rainfall Karoo, light frost
Zone 4 Summer rainfall Karoo and Highveld, Frost in winter
Zone 5 Bushveld summer rainfall, Light frost
Google QR Code Generator