Vepris carringtoniana Mendonça
Family: Rutaceae
Common names: winged white-ironwood; coastal white-ironwood (Eng.); vlerksteelwitysterhout, kuswitysterhout (Afr.), umozane (isiZulu)
SA Tree No: 261.1
Introduction
The winged white-ironwood is a truly beautiful tree that varies greatly in height, depending on climate and rainfall. Its leaves are densely covered with gland dots, and it is one of the best choices for small gardens.
Description
Description
Vepris carringtoniana is a small, deciduous tree, up to 2.0–3.5 m, tall. Its main stem is slender, smooth with pale bark. It consists of tri-foliate leaves, up to 100 mm long and the leaflets, 15–50 × 6–15 mm, which lack stalks. The colour of the leaflets is dark olive green above, pale green beneath and the leaf margins are scalloped, in-rolled and the veins are conspicuous on both surfaces and densely gland dotted, pungent scented when crushed. The stalk is broadly winged.
Flowers are small, creamy yellow, in short terminal bunches. The winged white-ironwood produces the male and female flowers on separate trees from October to November. It bears fleshy orange fruit that is covered in gland dots from January to February.
Conservation Status
Status
According to the Red List of South African plants, Vepris carringtoniana was not screened as potential taxa of conservation concern, and was given an automatic status of LC (Least Concern). It is, therefore, considered not to be under any immediate risk of extinction.
Distribution and habitat
Distribution description
It occurs naturally on dry, sandy soils in scrub and thorn thickets, more exposed near the coastal regions of Maputaland (northern KwaZulu-Natal) and southern Mozambique. This plant also occurs in eastern Limpopo and Mpumalanga Provinces. It varies greatly in height, depending on climate and rainfall.
Derivation of name and historical aspects
History
Vepris carringtoniana falls under the buchu family, Rutaceae. Its synonym is  Teclea pilosa (Engl.) I.Verd. There is some doubt as to which genus this species belongs. The ovary is 1-celled as in Teclea whereas in stamen number, the species agrees with Vepris. In separating Teclea from Vepris too much emphasis appears to have been placed on stamen number relative to petal number, whereas, the character of the gynoecium is of more significance.
The genus name Vepris is derived from the Latin, meaning 'spiny shrub', but as the genus has no spines, the meaning is unclear. Carringtoniana  is a reference to Prof. Carrington Costa, of whom no details are available. Teclea was named after Tekle or Takla Haimanout, ancient Ethopian emperor. The genus Teclea was published in 1843 by French botanist Alire Raffeneau Delile and pilosa is applied to plant species with long soft hairs.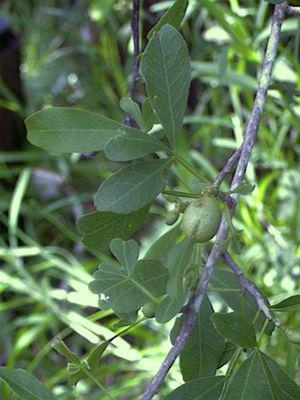 Uses
Use
It is heavily browsed by goats and game. The wood of Vepris carringtoniana is used for house poles, sticks and clubs. A root decoction is taken as a tonic and for treating malaria. The bark decoction is used to treat cardiac pains and the vapours of a root bark are applied in cases of eye complaints. The ground roots are taken against hookworm. The fruits are edible.
Growing Vepris carringtoniana
Grow
The winged white-ironwood grows extremely well in coastal gardens and it tolerates windy conditions. It grows in full sun or semi-shade and it is semi-hardy to frost if it is planted in a sheltered position away from freezing winter winds. This tree grows easily from seed and the young plants transplant well. It adapts to most well-drained garden soils. Make sure that a large amount of compost is incorporated in the hole when planting.  Mulch well and water regularly for the first year or two, to hasten the growth of your tree.
References
Coates Palgrave, M. 2005. Keith Coates Palgrave trees of southern Africa edition 3. Struik, Cape Town.
Glen, H. 2004. Sappi what's in a name?. Jacana Media (PTY) Ltd. Johannesburg. 13, 53, 68.
Louppe, D et al. 2008. Resources of tropical Africa 7: timbers 1. Flora of tropical East Africa. PROTA Foundation, Backhuys Publishers, CTA Wageningen, Netherlands. 578-579.
Pooley, E. 2003. The complete field guide to trees of Natal, Zululand and Transkei, Edn 1. Natal Flora Publication trust. Pp.188, 189.
Ross, J.H. 1973. Flora of Natal. Memoirs of the Botanical Survey of South Africa no. 39: 214.
http://Redlist.sanbi.org
http://www.calflora.net/southafrica/1T-Z.html
Credits
Aluwani Tshiili
KwaZulu-Natal Herbarium
August 2015
Plant Attributes:
Plant Type: Tree
SA Distribution: KwaZulu-Natal, Limpopo, Mpumalanga
Soil type: Sandy, Loam
Flowering season: Spring
PH: Neutral
Flower colour: Cream, Yellow
Aspect: Full Sun
Gardening skill: Easy
Special Features:
Edible plant
Medical plant
Useful plant
Horticultural zones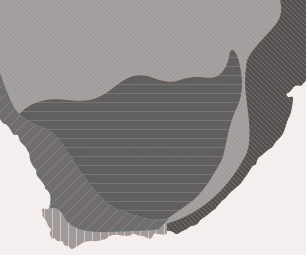 Zone 1 Coastal summer rainfall, frost free
Zone 2 Coastal winter rainfall, frost free
Google QR Code Generator