Villarsia goldblattiana Ornduff
Family: Menyanthaceae
Common names: yellow bogbean
Introduction
Villarsia is a genus of aquatic flowering plants in the family Menyanthaceae. Villarsia is largely restricted to Australia, but some species are found in Southeast Asia, and three species occur in South Africa, all in the Fynbos Biome.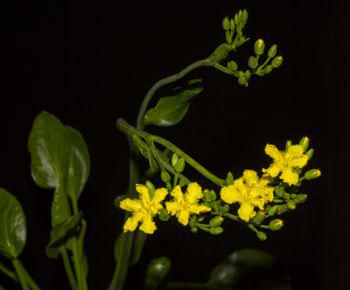 Description
Description
Villarsia goldblattiana is a robust, non-stoloniferous perennial, with erect, evergreen leaves on 120–320 mm long petioles, emerging from near the base of the plant, below ground level. The plant grows up to 600 mm tall. The leaves are bright green, thick, fleshy and waxy with ovate-oblong leaf blades, 40–90 mm long and 15–80 mm wide.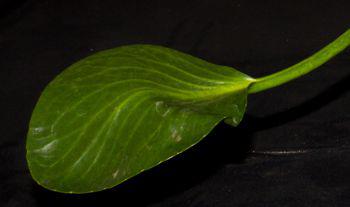 The flowers are numerous, 16–55, arranged in paniculate cymes, which is a compound inflorescence that is increasingly more strongly and irregularly branched from the top to the bottom, and where each branching has a terminal flower. The flowers are small, yellow, consisting of 5 lobes and attractive fringed margins, with hairs on parts of the upper surface. Flowers appear from October to December. There are 3 to 8 ovules per ovary, producing smooth, yellow seeds 15–20 mm in diameter.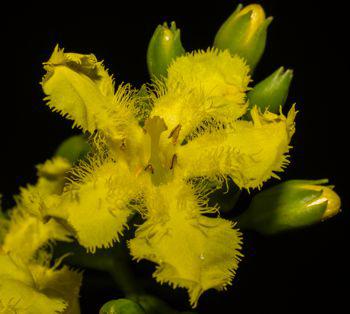 Conservation Status
Status
Villarsia goldblattiana has a very restricted range limited to approximately 10 locations on the southern Cape Peninsula. The populations are stable, but potentially threatened by alien plant invasion. It is currently classified as vulnerable.
Distribution and habitat
Distribution description
Villarsia goldblattiana occurs in the Fynbos Biome and is endemic to the southern Cape Peninsula. It grows in shallow water of marshes from near sea level at Cape Point up to 600 m on the slopes above Noordhoek. It is common near the stream on the Silvermine plateau in the central Cape Peninsula, growing in black, peaty, boggy soils that are saturated for most of the year. These soils may dry out in late summer, but remain slightly damp below the surface.
Derivation of name and historical aspects
History
The genus is named for the French botanist, Dominique Villars (1745–1814). Robert Ornduff of the Department of Integrative Biology at the University of California, named this species after well-known botanist, Peter Goldblatt, for his significant contributions to southern African botany, and in appreciation for his assistance in his study of Villarsia in South Africa.
Ecology
Ecology
Villarsia goldblattiana grows abundantly in shallow, standing or slow-moving water of marshes. It grows in sticky, black, boggy and acidic soils derived from sandstone. This species regenerates vigorously from its underground parts after fire, and flowers freely in early summer. The primary effect of fire is to remove shading caused by the overlay of fynbos shrubs. Plants also flower where the vegetation has been cleared such as along pathways. Each flower only opens for one day. The yellow flowers appear to attract small beetles and bees.
Uses
Use
Villarsia goldblattiana has no known medicinal uses. It has a strong ornamental leaf arrangement and attractive flowers, but has been overlooked as a garden plant. It is easy to grow and has horticultural potential as a bog plant.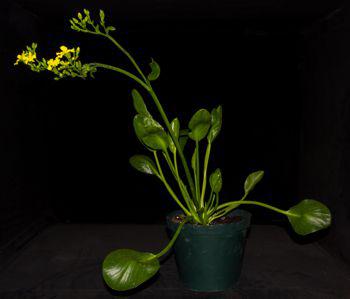 Growing Villarsia goldblattiana
Grow
Seed collected from habitat proved easy to germinate in a well-drained, sandy, acidic medium; the same procedure adopted when germinating fynbos species. The latest fynbos potting mix consists of 8 parts decomposed pine bark and 3 parts river sand. The potting medium should be acidic with an optimum pH between 5.0 and 6.5. Seeds are smoke treated in a sealed tent in the Kirstenbosch nursery, or with instant smoke primer. The seed is small and must only to be lightly covered. Use a fine gentle spray when watering and keep the trays moist and in a warm position. Seed germinates in about six weeks. It is not certain if the smoke treatment improves germination, as no comparative tests have been done.
Prick the seedlings out into small grow plugs when they are 1 cm tall. Feed once a week with a dilute organic fertilizer. Pot the young plant out, when they have filled the container. Villarsia goldblattiana grows well in the same nursery conditions one grow fynbos in. The plants can be grown in full sunlight or under light 40% shade. They grow easily and respond to feeding with liquid or pellet, organic fertilizers. Despite being bog plants they appear to prefer to be grown drier in the nursery, and therefore, the plants should not be kept too wet nor grown as a water plant.
Villarsia goldblattiana grows and flowers well in containers, but should rather be planted in wet garden situations next to ponds, along streams or in boggy areas to show them to their full potential. This species should be planted in groups for better effect. It has only recently been grown at Kirstenbosch National Botanical Gardens and is not yet available in the horticultural trade. It should be available at our Annual Plant Fair in the future.
References
Manning, J. & Goldblatt, P. 2012. Plants of the Greater Cape Floristic Region 1: the Core Cape Flora. Strelitzia 29. South African National Biodiversity Institute, Pretoria.
Ornduff, R. 1999. A new species of Villarsia (Menyanthaceae) from South Africa. Novon Vol. 9, No. 3. pp. 407–409. Missouri Botanic Garden Press, Missouri.
http://Redlist.sanbi.org
Credits
Anthony Hitchcock
Kirstenbosch NBG
July 2015
Plant Attributes:
Plant Type: Aquatic, Perennial
SA Distribution: Western Cape
Soil type: Sandy, Loam
Flowering season: Early Summer
PH: Acid
Flower colour: Yellow
Aspect: Full Sun, Morning Sun (Semi Shade), Afternoon Sun (Semi Shade)
Gardening skill: Average
Special Features:
Wet sites
Horticultural zones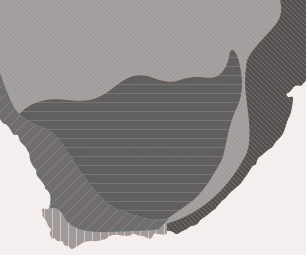 Zone 2 Coastal winter rainfall, frost free
Google QR Code Generator