Willdenowia teres Thunb.
Family: Restionaceae
Common names: None recorded.
Introduction
Willdenowia teres belongs to a genus of 12 species of restio, 6 of which occur on the Cape Peninsula. It is a tall rhizomatous plant with male and female inflorescences on separate plants.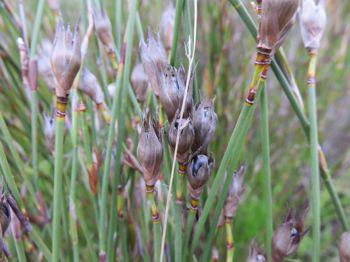 Description
Description
Willdenowia teres is a clumped, rhizomatous perennial, 0.3–1 m high. The leaves or culms are smooth and sparsely branched, with sheaths loosely wrapped around the culm, the upper third membranous and decaying on the older culms.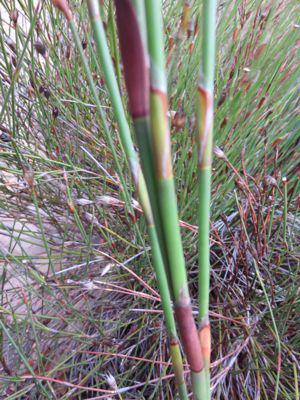 The plant is dioecious - male and female inflorescences occur on different plants. On the male plant the inflorescence has indefinite spikelets branching into racemes, partially enclosed in a large spathe (leaf like bract that encloses a flower cluster), 10–60 mm long, 9–20 mm wide. In the female plants, the inflorescence is linear,  25–110 mm long and 4–15 mm wide, with 1 or 2–5 spikelets. The spathes are as long as the spikelets or even sometimes longer. Female spikelet is 7–10 mm long, with a fleshy pedicel. The fruit is a smooth, dark brown nut, sometimes sparsely pitted with an obvious elaoisome (fleshy green structure attached to the seed). The flowering season is mainly from July to October. The seed is released from November to June.
Conservation Status
Status
This species is widely distributed in South Africa and is not under any threat by any means in the wild and is of LC (Least Concern) according to the Red list.  http://redlist.sanbi.org.
Distribution and habitat
Distribution description
This species is widely distributed in the Western, Northern and Eastern Cape Provinces. In the Western Cape it is mainly found in the Cape Floristic Region. In the Northern Cape it occurs in Namaqualand and the northern Mountains. The species has an unusual allopatric speciation distribution pattern: from Karoopoort eastwards to the Kouga Mountains, with numerous collections from the drier Swartberg mountains. The second pattern is from the Cape Peninsula to Bredasdorp. This species is found in two distinct habitats: sandy plains along the coast, and inland on mountain slopes.
Derivation of name and historical aspects
History
Willdenowia is a small genus of flowering plants in the family Restionaceae, endemic to the fynbos  regions of South Africa.
Willdenowia is named for Captain Ludwig Willdenow, 1765-1812, a German botanist who amassed an important herbarium. Teres means cylindrical, or circular in transverse sections from the Latin teres or teretis, meaning smooth, round or rounded off.
Ecology
Ecology
Seed dispersal is by ants. The nut carries an elaoisome (the fleshy green structure attached to the seed) that attracts ants. The elaoisome is rich in lipids and proteins and maybe variously shaped. The ants take the seed to their waste-disposal area, which is rich in nutrients from the ant frass and dead bodies, where the seeds germinate. This type of seed dispersal is termed myrmecochory from the Greek, myrmex, meaning 'ant'  and kore, meaning 'dispersal'. This type of symbiotic relationship appears to be mutualistic, more specifically dispersive mutualism according to R.E. Ricklefs in2001, as the plant benefits because its seeds are dispersed to favourable germination sites, and also because it is planted (carried underground) by the ants (https://en.wikipedia.org/wiki/Elaiosome).
Growing Willdenowia teres
Grow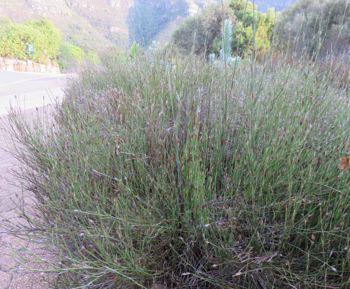 Like most restios, this plant also grows from seed, although the germination rates have proven very low. However, smoke treatment is advised as it improves and stimulates germination. Seed must be sown around April–May (late autumn), in a mixture of milled bark and sand (fynbos mixture).  Sow seeds in trays with the fynbos mixture and lightly covered with sand. Grow in a sunny spot in well-drained, sandy soil, once established.
At Kirstenbosch National Botanical Garden, it is planted en masse at the restio garden with other restios. New growth can be stimulated by pruning as part of general maintenace at any time of the year, especially when plants look old and untidy.   Remove all old brown  and dead stems.
References
Dorrat-Haaksma, E & Linder, P.H. 2012 Restios of the fynbos Struik Nature, Cape Town.
Jackson, W.P.U. 1990. Origins and meanings of names of South African plant genera. University of Cape Town.
Linder, H.P. 2001. The African Restionaceae. Contributions from the Bolus Herbarium 20 (on CD Rom).
Manning, J. & Goldblatt, P. 2012. Plants of the Greater Cape Floristic Region 1: the Core Cape Flora. Strelitzia 29. South African National Biodiversity Institute, Pretoria.
Website http://restionaceae.e-monocot.org/taxonomy/term/1123
Website https://en.wikipedia.org/wiki/Willdenowia_(plant)
Credits
Sisanda Velembo
Kirstenbosch NBG
July 2015
Plant Attributes:
Plant Type: Restio
SA Distribution: Eastern Cape, Western Cape
Soil type: Sandy
Flowering season: Spring
PH: Acid
Flower colour: Brown, Cream
Aspect: Full Sun, Morning Sun (Semi Shade), Afternoon Sun (Semi Shade)
Gardening skill: Challenging
Special Features:
Hedge/screen
Pioneer plant
Horticultural zones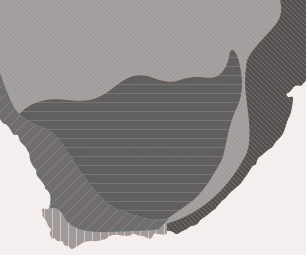 Zone 1 Coastal summer rainfall, frost free
Zone 2 Coastal winter rainfall, frost free
Google QR Code Generator