Xerophyta retinervis Baker
Family: Velloziaceae
Common names: black-stick lily ( Eng.); besembos, bobbejaanstert (Afr.); sifunti (Swazi); isigqumana, isiphmba (Zulu)
Introduction
Xerophyta retinervis is a fascinating plant with blackened stems in the winter months but totally transformed in the early summer when covered with masses of pink flowers, especially after fire. A hillside covered with numbers of these plants in flower is a memorable sight, although short-lived, as the blooms only last for a few weeks. The species is well adapted to survive extreme conditions such as drought, fires, and very cold temperatures. Extensive traditional uses include medicinal, magical and household.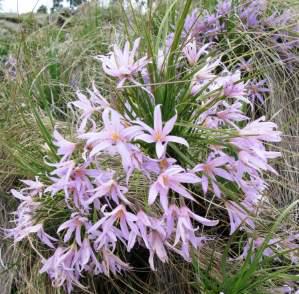 Description
Description
Xerophyta retinervis is a deciduous perennial up to 1.8 m tall, with thick, branched stems densely covered with closely packed, fibrous, persistent leaf bases, black from persistent fire charring.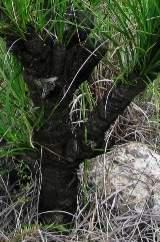 Densely packed roots grow down through the entire length of the main stem until they reach the ground, where they spread out and assume the normal role of anchorage. Long, strap-shaped, keeled leaves occur in tufts at the tips of stems. White to mauve scented flowers are borne in groups on slender stems in spring and early summer (September to November), especially after fire. The capsule is covered with rough hairs.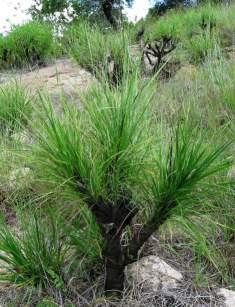 Conservation Status
Status
Xerophyta retinervis is not threatened. However, continuing harvesting of the plants (which are used as bases for epiphytic orchids) is reason for some concern.
Distribution and habitat
Distribution description
Widespread but never abundant, Xerophyta retinervis occupies a very specialised ecological niche in seasonally high rainfall regions, growing in grasslands on rocky outcrops and cliffs with shallow soil. It can survive long periods of desiccation, as well as very cold conditions. This species is distributed through KwaZulu-Natal, Mpumalanga, Gauteng, Limpopo, North-West and Swaziland.
Derivation of name and historical aspects
History
There are ±50 species in this genus, of which nine occur in South Africa. The genus name is derived from the Greek xeros, meaning 'dry', and phytos, meaning 'plant', referring to the ability of the genus to withstand desiccation. The Latin word retinervis means 'with a network of veins'.
Specimens collected by Burke & Zeyher in the Magaliesberg near Pretoria in Gauteng were used by Baker for the original description of the species as Xerophyta retinervis in 1875. This plant has subsequently been known as Vellozia retinervis and Barbacenia retinervis, but is currently referred to by its original name.
Ecology
Ecology
One of the most remarkable characteristics of Xerophyta species is that they are able to survive long periods without water. Once the leaves of the X. retinervis are air-dry, they can remain viable for prolonged periods. The dry winter season lasts 5 to 6 months. When it rains again, the plants rehydrate completely and remarkably resume their full metabolic functions within 24 to 72 hours.
In KwaZulu-Natal, Xerophyta retinervis is the host plant for the rare epiphytic orchid Polystachya zuluensis, which has lilac flowers very similar to its host. Interestingly, the two species flower at different times.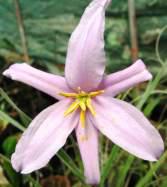 Uses
Use
Xerophyta retinervis has many traditional applications. The roots are smoked to relieve asthma, and smoke from the whole plant is used to stop nosebleeds. Stem bark preparations are reported to have anti-inflammatory and analgesic properties. The active ingredient, called amentoflavone, is also found in gingko extract. It is also used as a charm against lightning.
The tough, fibrous stems are used extensively in traditional home craft for making brushes and mats, and to make rope for hut and screen building. European settlers used small blocks of stem as pot scourers and scrubbing brushes. Stems are also used extensively by illegal gatherers as a base for many species of epiphytic orchids.
A group of scientists at the University of Cape Town are now using Xerophyta viscosa, a sister species to X. retinervis which exhibits similar 'resurrection' characteristics, as a source of genes that code for proteins responsible for this phenomenon. Their work focuses on characterising how certain genes, suspected to confer stress tolerance in plants, are expressed in this particular plant.
Growing Xerophyta retinervis
Grow
Xerophyta retinervis is seldom found in cultivation, but has been successfully grown by keen plantsmen. It is certainly a fascinating addition to any collection. Probably best grown as a specimen plant in wide, shallow containers, it also provides the ideal base for many species of indigenous epiphytic orchids and ferns.
Confiscated plants, used as epiphytic orchid bases by illegal gatherers brought to the KwaZulu-Natal National Botanical Garden, have sometimes been successfully resuscitated by potting them into sand in shallow, well-drained containers and placing them in a mist house for prolonged periods. These plants had been cut off at the base, but presumably the extensive root system within the fibrous stem allowed continued uptake of water and nutrients.
However, the best way to propagate Xerophyta retinervis is by seed. There are specialist nurseries that sell the seed through the internet or, if you know of a source, collect the seed when the capsules have split open in summer. Sow into a seedling mix that can hold water and place the seedling tray in a container of water. Germination takes two to four weeks, and seedlings should be left to become rootbound, and then divided just before the second growing season. Plant into shallow soil or containers where the plants can be left for many years without repotting, as growth is very slow. In his informative and beautifully illustrated book on growing threatened plant species of South Africa, Geoff Nichols (2005) relates that he has been growing X. retinervis in association with Cyanotis speciosa, Polystachya zuluensis and the fern Cheilanthes viridi in a shallow ceramic washbasin for about twenty years, never needing to repot it.
References
Ayensu, E.S. 1973. Biological and morphological aspects of the Velloziaceae. Biotropica 5: 135-149.
Dyer, R.A. 1942. Vellozia retinervis. The Flowering Plants of Africa 22: t. 856.
Farrant, J.M. 2000. A comparison of mechanisms of dessication tolerance among three angiosperm resurrection plant species. Plant Ecology 151: 29-39.
Nichols, G. 2005. Growing rare plants. A practical handbook on propagating the threatened plants of southern Africa. Southern African Botanical Diversity Network Report No. 36. SABONET, Pretoria.
Pooley, E. 1998. A field guide to the wild flowers of KwaZulu-Natal and the Eastern Region. Natal Flora Publications Trust, Durban.
Van Wyk, B-E., Van Oudtshoorn, B. & Gericke, N. 1997. Medicinal plants of South Africa. Briza Publications, Pretoria.
Credits
Isabel Johnson
KwaZulu-Natal National Botanical Garden
June 2008
Plant Attributes:
Plant Type: Perennial
SA Distribution: Gauteng, KwaZulu-Natal, Limpopo, Mpumalanga, North West
Soil type: Loam
Flowering season: Spring, Early Summer
PH:
Flower colour: White, Mauve/Lilac
Aspect: Full Sun
Gardening skill: Average
Special Features:
Attracts butterflies
Drought resistant
Fragrant
Medical plant
Useful plant
Horticultural zones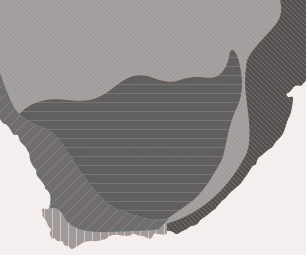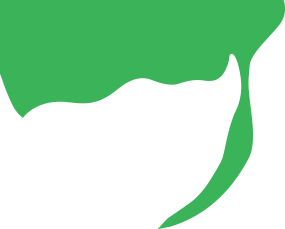 Zone 1 Coastal summer rainfall, frost free
Zone 4 Summer rainfall Karoo and Highveld, Frost in winter
Zone 5 Bushveld summer rainfall, Light frost
Google QR Code Generator