Xylotheca kraussiana Hochst.
Family: Achariaceae
Common names: African dog rose (Eng.); umbalekani, isishwashwa (Zulu); umdubu (Xhosa); Afrikaanse hondsroos (Afr.)
SA Tree No: 493
Introduction
The African dog rose, Xylotheca kraussiana, is a multi-stemmed shrub or small tree that forms a good focal point in a garden with its beautiful flowers and woody fruits. Its natural distribution is confined to the eastern part of southern Africa.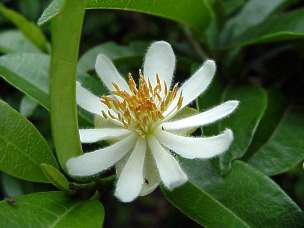 Description
Description
It is a spineless, multi-stemmed shrub or small tree, usually between one and seven metres tall, but occasionally up to ten metres.The bark is light grey and smooth. The leaves are alternate, dark green on the upper surface, paler beneath, with or without hairs on both surfaces, elliptic in shape and with leaf stalks up to 10mm long. The flowers are large, up to 70 mm in diameter, sweetly scented, with brilliant white petals and a mass of bright yellow anthers in the centre — the feature which led to its English common name of African dog rose.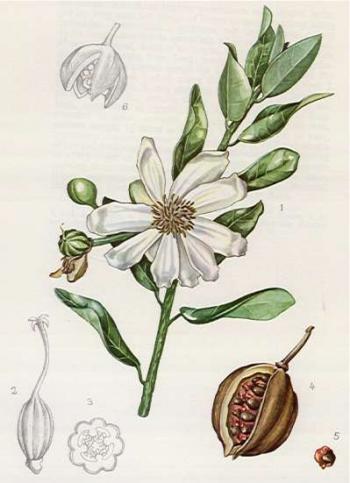 The flowers can be male or bisexual. Flowering is often prolific with the flowering season extending from spring to summer.
The fruit is a woody capsule, ovoid in shape, often with longitudinal ridges. Initially green in colour, it ripens to yellow and then dehisces/splitsinto ± 8 rather thick sections, revealing the reddish blackseeds, each covered by a bright red, hairy, edible aril.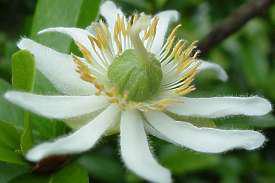 Distribution and habitat
Distribution description
The species occurs naturally in the eastern region of southern Africa, from theTranskei to Mozambique, in coastal bush and forest, but also in sand forest and bushveld. It is suitable for cultivation, particularly in the warmer, frost-free areas of the country.
Derivation of name and historical aspects
History
The atttractive woody fruit capsules are the link to the word Xylotheca, with xyl meaning woody, and theca meaning case. The specific name kraussiana honours Dr C.F.F. Krauss (1812-1890), a German naturalist, who later became director of the Stuttgart Natural History Museum. Krauss came to the Cape in 1838 and did much plant  collecting in Natal in 1839 and 1840.
Xylotheca kraussiana is the only species of Xylotheca in South Africa. Another species, Xylotheca tettensis, is found in eastern Zimbabwe and Mozambique. It differs in having obovate to broadly oblong leaves and seeds that are in a yellowish or scarlet pulp; no aril is present. The other ± eight species of Xylotheca occur in the rest of Africa and Madagascar.
Xylotheca kraussiana also resembles Oncoba spinosa, but Oncoba has spiny branches and globose, indehiscent fruits.
Ecology
Ecology
Xylotheca kraussiana is a good plant to bring nature back to your garden. Joffe (2001) notes that Crested, Pied and Blackcollared barbets, Redfaced and Speckled mousebirds, Redwinged and Glossy starlings, louries and bulbuls may be attracted by a fruiting tree.Van Wyk & Van Wyk (1997) note that it is the larval food for the butterflies Acraea oncaea and A. petraea.
Uses
Use
Xylotheca kraussiana is available in the nursery trade, but one may have to search for a plant as there do not seem to be enough to keep up with demand.
Growing Xylotheca kraussiana
Grow
Xylothecakraussiana is a handy component in an herbaceous shrubbery, where it can be pruned back if necessary. It can also form a delightful part of a bush clump in a garden, e.g. with Strelitzia nicolai (wild banana), Burchellia bubalina (wild pomegranate) and Peddiea africana (poison olive). It is best grown in areas that are frost-free, or it can be tried in a very protected area of the garden in colder areas. It usually requires conditions with filtered light, but sometimes more sun is needed. It can be grown as a container plant and, as Joffe (2001) notes, "it makes an excellent container plant for a sheltered patio, where the lovely flowers can be appreciated close at hand".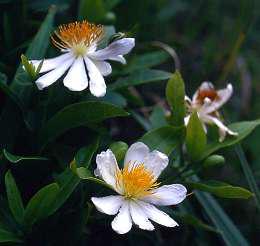 It is propagated from seed. The aril should be removed from the seed, the seed then sterilized and planted in a seedling compost mix — a mixture of river sand and compost. Germination is usually good, but the seedlings are prone to root shrivel. As soon as the seedlings develop their first proper leaves, they should be transplanted taking great care not to damage the tap root. An alternative is to plant two or three seeds ina seedling bag, and then remove the less vigourous seedlings at a later stage. Once the plant has become established in the bag, it can then be planted out. An excellent way to give this plant a good start in life is to plant it in a hole that has been used for your biodegradable kitchen waste.
References
Botha, C. & Botha, J. 1995. Bring Nature back to your garden. Natal region of the Wildlife and Environment Society, Durban.
Bredenkamp, C.L. 2003. Xylotheca. In G.Germishuizen & N.L. Meyer, Plants of southern Africa: an annotated checklist. Strelitzia 14: 561. National Botanical Institute, Pretoria.
Bredenkamp, C.L. 2002. Flacourtiaceae. In O.A. Leistner, Seed plants of southern Africa: families and genera. Strelitzia 10: 304-307.
Coates Palgrave, M. 2002. Keith Coates Palgrave Trees of southern Africa, edn 3. Struik, Cape Town.
Germishuizen, G., Meyer, N.L., Steenkamp, Y. & Keith, M. (eds) 2006. A Checklist of South African plants. Southern African Botanical Diversity Network Report No. 41. SABONET, Pretoria.
Gunn, M. & Codd, L.E. 1981. Botanical exploration of southern Africa. Balkema, Cape Town.
Joffe, P. 2001. Creative gardening with indigenous plants. A South African guide. Briza Publications, Pretoria.
Killick. D.J.B. 1976. Flacourtiaceae. Flora of southern Africa 22: 58-60. Botanical Research Institute, Pretoria.
Killick, D.J.B. 1969. Xylotheca kraussiana var. glabrifolia. The Flowering Plants of Africa 39: t.1535. Botanical Research Institute, Pretoria.
Palmer, E. & Pitman, N. 1972. Trees of southern Africa, vol. 3. Balkema, Cape Town.
Pooley, E. 1993. Trees of Natal, Zululand and Transkei. Natal Flora Publications Trust, Durban.
Van Wyk, B. & Van Wyk, P. 1997. Field guide to trees of southern Africa. Struik, Cape Town.
Wild, H. 1960. Flora zambesiaca 1: 272-275. Crown Agents for Oversea Governments and Administrations, London.
Credits
Rosemary Williams
KwaZulu-Natal Herbarium
August 2004
Plant Attributes:
Plant Type: Shrub, Tree
SA Distribution: KwaZulu-Natal, Limpopo
Soil type:
Flowering season: Spring, Early Summer, Late Summer
PH:
Flower colour: White
Aspect: Full Sun
Gardening skill:
Special Features:
Attracts birds
Attracts butterflies
Fragrant
Good potplant
Horticultural zones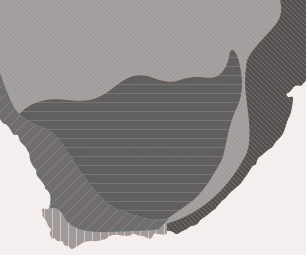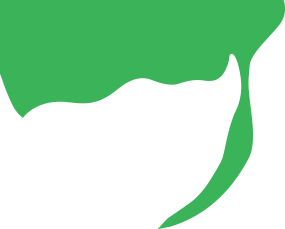 Zone 1 Coastal summer rainfall, frost free
Zone 5 Bushveld summer rainfall, Light frost
Google QR Code Generator