Aloe framesii L.Bolus
Family: Asphodelaceae
Common names: Strandveld speckled aloe (Eng.); strandveld gespikkelde-aalwyn (Afr.)
Introduction
This attractive aloe will enhance contrast in any garden setup with its colourful flowers and astonishing leaves, which are covered with many spots and have a variety of colour forms. Aloe framesii does well when planted on sunny slopes with good drainage, in hot, dry conditions and has minimal water requirements.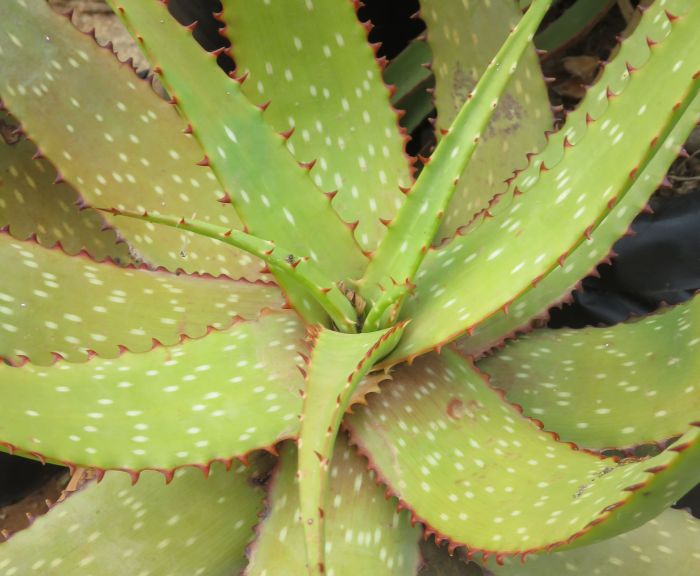 Description
Description
Aloe framesii is a slow growing, succulent plant, with multibranched stems growing along the ground. This species forms dense groups of up to 20 rosettes. The leaves of these rosettes are long and narrow and are with or without numerous white spots on the undersides and upper sides of the leaves. Leaves vary from grey-green to light green and have reddish brown teeth on the margins.
Aloe framesii flowers are orange-red with greenish tips, borne in midwinter, from June to July. The single, sometimes 3-branched, inflorescences are between 700 and 800 mm long. Flowers are tubular with the stamens and style protruding from the mouth. Fruit capsules ripen in sequence, with the lower, older flowers ripening first, followed by the younger flowers. Ripe capsules split open revealing small winged seeds.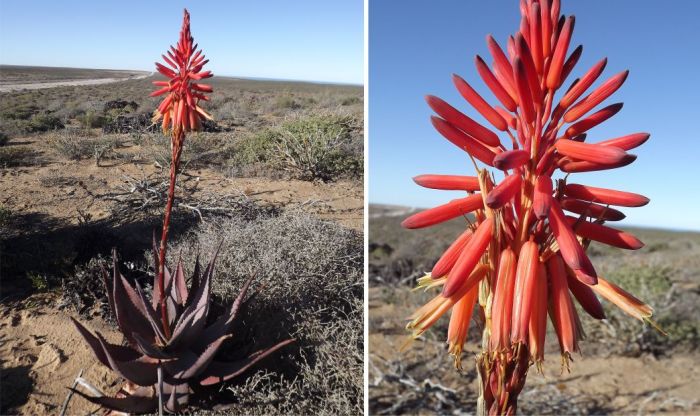 Aloe framesii is closely related to A. khamiesensis, A. knersvlakensis and A. microstigma. Aloe khamiesensis does not occur on the coast, but rather inland and it is a much taller, single-stemmed species. Aloe knersvlakensis is also an inland species that grows on rocky ridges, and has short floral bracts. Aloe microstigma occurs mostly in the Klein Karoo, is smaller in size and has heavily spotted leaves.
Conservation Status
Status
According to the Red List of South African plants website, this species is threatened and has a conservation status of Near Threatened (NT). The number of A. framesii plants is declining because of habitat loss caused by coastal development, mining and agriculture.
Distribution and habitat
Distribution description
Aloe framesii occurs on the western coast of South Africa in the Western and Northern Cape. This species is usually found in sandy areas between Saldanha and Port Nolloth, at altitudes of 100 m. These distribution habitats fall within South Africa's winter rainfall area, where the summer weather is dry, hot and frost free.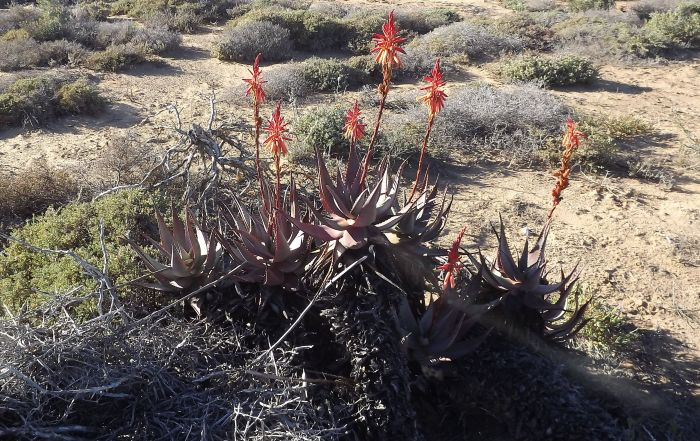 Derivation of name and historical aspects
History
This attractive aloe was named after Percy Ross Frames (1863–1947), who first collected the plant in Namaqualand, just north of Port Nolloth (Van Wyk & Smith, 2005). This species also has 2 synonyms: Aloe amoena and A. microstigma subsp. framesii.  The Latin word amoena means 'beautiful', referring to the beauty of this species. Microstigma refers to the many small white spots on the leaves of this species from the Latin words mikros, meaning 'small' and stigma, meaning a 'mark' or 'blemish' .
Aloes are one of the more recognizable succulents known, with over 600 species in this genus. It belongs to the family Asphodelaceae, which has several other genera, including, Astroloba, Kumara, Aloidendron, Gasteria and Haworthia. The name Aloe derives from the Greek word aloé, which describes the bitter taste of the juice found in aloe leaves.
Ecology
Ecology
The leaves of Aloe framesii hold plenty of water, and supply the plant with moisture during long periods of drought. The colour of the leaves also changes from greenish to a bluish tint, that also assists the plant to reduce moisture loss. This species has a shallow root system that allows the plants to take up water in minimal rain conditions. Flowers produce nectar which attract and supply food to bees, who are the main pollinators. Seeds of Aloe framesii are light and small and are dispersed by wind.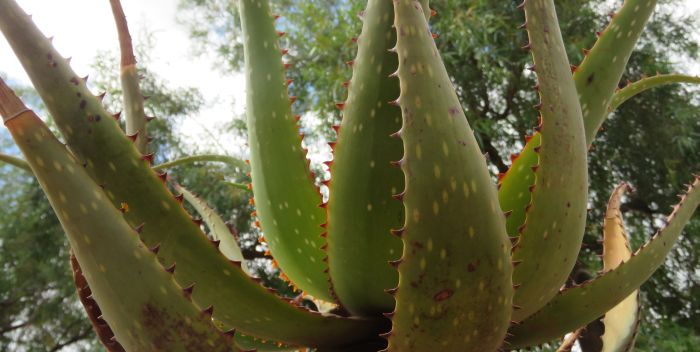 Uses
Use
Although many other aloes are used for their medicinal value, there are no records of Aloe framesii being used medicinally. This species is mainly used as an ornamental plant in garden landscapes. It does well in rockeries and gives excellent contrast in any garden setup.
Growing Aloe framesii
Grow
Aloe framesii is mainly propagated by seed, because of the ease of germination. Many aloe seeds may be infested with insects that feed on them, take precaution and only select healthy seeds. Tiny holes in the capsule and fruit is a good indication that the seed might be infested and not viable. This species can also be propagated by cuttings or truncheons. Cleanly remove a branch from the parent plant and leave it to dry for a couple of days. Plant the cutting directly in clean coarse sand and transplant to a well-drained soil medium of 1 part well rotted compost and 2 parts river sand, once rooted.
Sow seed in the warmer months of the year (beginning in September). Fresh seed is always the best to use. Sow seed in coarse, river sand and cover the seed with a layer of sand about 2 mm deep. Do not sow seed too deep as it can rot. Keep the medium moist at an optimum temperate of 25ºC. Seed will germinate within 2 to 3 weeks. Treat small seedlings with a fungicide as they are prone to damping off. Seedlings can be transplanted once they have reach 2 to 3 cm, into bigger containers with a soil that consists of 1 part well rotted compost and 2 parts river sand.
This species grows very slowly, but even its small size is very attractive, making it ideal for containers and small gardens. In cultivation it might get attacked by white scale, but a good insecticide should get rid of the problem.
Aloe framesii plants are best planted on sunny slopes and need sufficient space, as they form multiple rosettes. This species does not do well in areas with frost. It needs well-drained soil conditions and does well in rockeries and waterwise gardens.
References
Jackson, W.P.U. 1990. Origins and meanings of names of South African plant genera. University of Cape Town.
Oliver, I.B. 1993. Grow succulents. Kirstenbosch Gardening Series. National Botanical Institute, Cape Town.
Smith, G.F. & Van Wyk, B. 2008. Aloes in southern Africa. Struik, Cape Town.
Van Wyk, B-E. & Smith, G. 2005. Guide to aloes of South Africa. Briza Publications, Pretoria.
Von Staden, L. 2018. Aloe framesii L.Bolus. National Assessment: Red List of South African plants version 2020.1. Accessed on 2020/12/09.
Credits
Ricardo Riddles
Karoo Desert National Botanical Garden
January 2021
Plant Attributes:
Plant Type: Succulent
SA Distribution: Northern Cape, Western Cape
Soil type: Sandy
Flowering season: Winter
PH: Acid
Flower colour: Green, Red, Yellow
Aspect: Full Sun
Gardening skill: Average
Special Features:

Attracts birds

Drought resistant

Feature plant

Feeds honeybees
Horticultural zones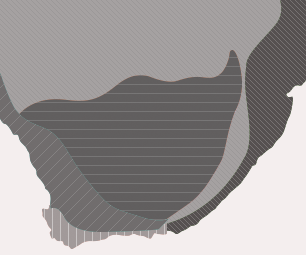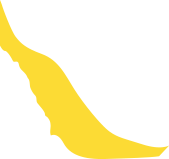 Zone 2 Coastal winter rainfall, frost free
Zone 3 Winter rainfall Karoo, light frost
Google QR Code Generator