Erica inflata Thunb.
Family: Ericaceae
Common names: balloon heath, inflated erica (Eng.); ballonheide (Afr.)
Introduction
Erica inflata is one of the brightest ericas and displays a profusion of umbels of urn-shaped flowers, varying from pale pink to dark rosy-pink, throughout the hottest and driest part of the year, from Ceres to Cedarberg. Although it may resemble certain other ericas, its inflorescence, petiole, leaves, pedicels, and other distinctive plant elements, make it stand out proudly and present itself as the balloon heath.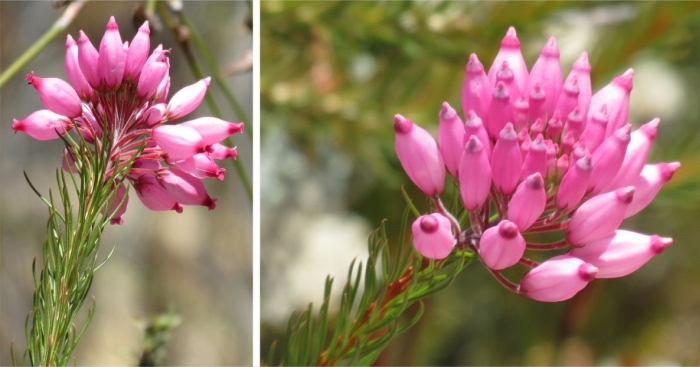 Description
Description
Erica inflata is an erect shrub which grows to a height of about 900 mm. Numerous, tall, slender, frequently virgate, and leafy branches are present. Petioles are long and extremely slender. Leaves are narrowly linear, acute, mucronate or aristate, glabrous, flat above, convex and faintly sulcate below, 4-nate or scattered, 10-20 mm long, including the petiole, suberect or incurved, not crowded, often pointing to one side. The flowers are on 12-14 mm long, slender, pubescent, crimson peduncles in numerous, dense umbels. The sepals are 2-3 mm long, lanceolate or subulate, acuminate, glabrous or pubescent, crimson or pallid, aristate, while the bracts are middle, slender, red. Corolla is ovoid-urceolate, 6-8 mm long, constricted in the neck, dry, glabrous, with light to dark pink tubes and darker throat and lobes. About 1 mm long, stellately spreading lobes that eventually become brown and close. Anthers are 1 mm long, lateral, semi-ovate or broad, subcuneate, purple, and appendiculate. The pores are between 0.3 and 0.4 times the length of the cell, whilst the capillary, significantly involute awns are inserted above the middle of the cell and are either longer than or equal to it in length. Oblong-turbinate, glabrous, and on a prominent, broad, shortish stipe; style is subexserted and the stigma is capitate. Erica inflata displays a profusion of flowers which vary from pale pink to a very dark rosy-pink from spring to autumn (September to May).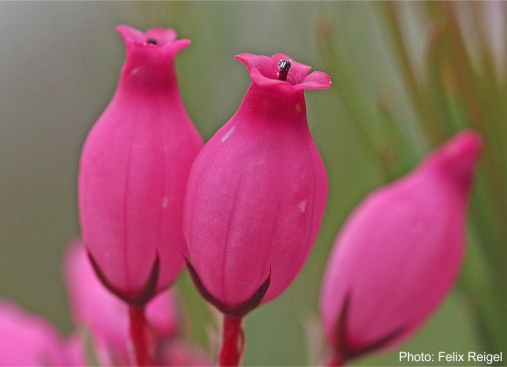 Conservation Status
Status
Erica inflata is not threatened and its population is stable. It is assessed as Least Concern (LC) according SANBI's Red List of South African Plants.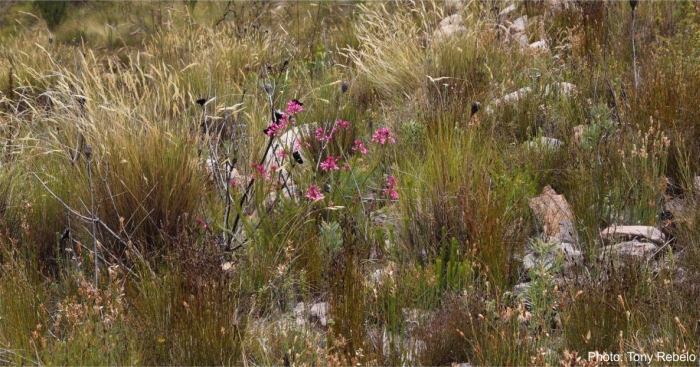 Distribution and habitat
Distribution description
This species is endemic to the Cape Floristic Region in the Western Cape Province. Erica inflata occurs mainly on the mountains north of Ceres from Michell's Pass through the Bokkeveld to the Cedarberg, where it usually grows on the lower mountain slopes in dry sandy places. Rainfall ranges from an average of 250–800 mm per annum, and the most rain falls during winter between May and September. It often snows on the higher parts were this species grow, and in summer it is very hot and dry and can reach temperatures as high as 40°C. Lightning is the most common cause of periodic veld fires. South-easterly winds predominate in the summer while north-westerly winds indicate the possibility of rain during winter. Like many other species from this area, E. inflata flowers at the hottest and driest time of the year. It has been recorded from the Piketberg Mountain.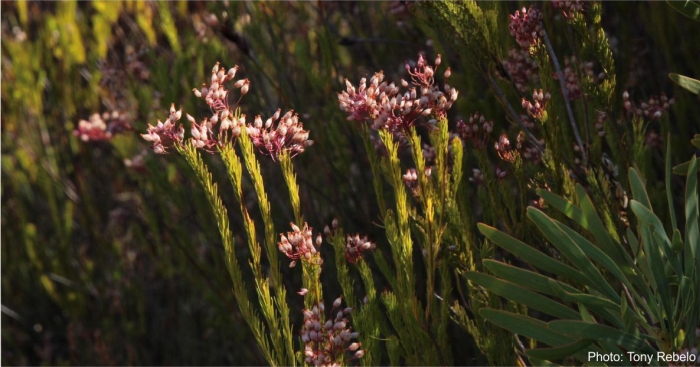 Derivation of name and historical aspects
History
The genus Erica is the largest of the genera in the Cape Floristic Region, with around 860 species. It occurs in Africa, Europe and the Middle East, but the bulk of species are confined to the southern tip of Africa, where roughly 760 species are indigenous to South Africa, some 660 species occur in fynbos and about 104 are unique to the Western Cape. The genus name, Erica, comes from the Greek word ereiko, a name used for heather; it means 'to break', and possibly refers to the stems that are brittle and break easily. The species name inflata is derived from a Latin word inflatus, meaning 'swollen' or 'inflated' referring to the flowers. Thunberg first collected the species on his journey through the Bokkeveld in 1773.
The species resembles E. obliqua in the section Pachysa on the surface. The sticky blooms and significantly smaller, more sparse growth of the latter species set it apart. Despite being on long petioles and being delicate, the leaves of E. inflata are frequently placed to one side of the stem. It shares many characteristics with E. sonora, Compton's plant from the Gifberg in Vanrhynsdorp, including its growth pattern, leaves, and inflorescence. However, the latter species is distinct from the former in that it has shorter pedicels, smaller flowers with a considerably larger globose corolla that is largest above the middle, and short and broad anther crests. The appendages of E. inflata are long and thin.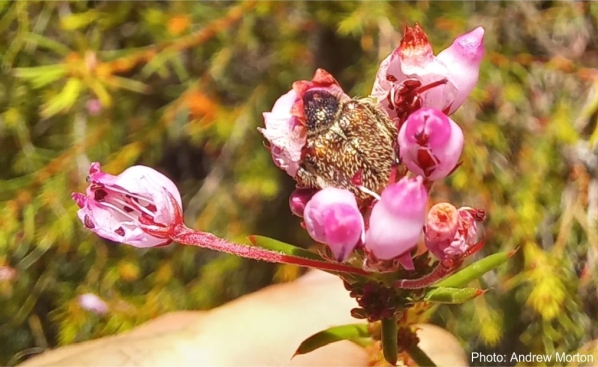 Ecology
Ecology
In general, the plants of this species are very floriferous. Growing to a height of up to 900 mm, bearing umbels of pale pink to dark red flowers on fairly lax pedicels. This makes it suitable for pollination by small insects, probably ants, flies with long-probiscises, moths (Helicoverpa armigera was observed on the flower) and/or monkey beetles when male beetles are wrestling over a female beetle, in this way they get covered in pollen and help to pollinate flowers. These pollinators emerge in spring in high numbers and no doubt are an important source of food for birds, other insects and spiders. Seeds are shaken out of the ripe capsules by wind and scattered near the parent plant. The plants may occur singly or, if conditions are favourable, in large populations which produce a fine display when in full bloom. In a season extending from spring (September) through to autumn (May), they flower throughout the hottest and driest part of the year.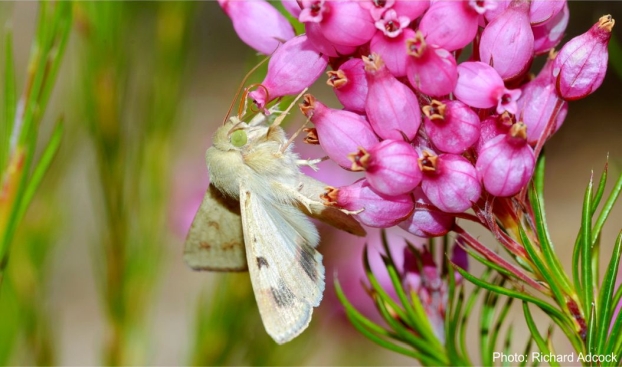 Uses
Use
There are no known magical or medicinal uses associated with Erica inflata, however, it can add value to a fynbos garden, because in large groups it shows a fine display when in full bloom and it flowers over a long period. It makes a showy cut-flower, but is not very long-lasting in the vase and wilts after a few days, particularly in hot weather.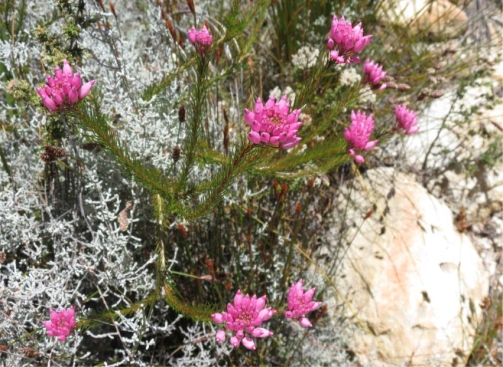 Growing Erica inflata
Grow
For optimum growth, Erica inflata needs a well-ventilated, sunny area with well-drained, sandy, acidic soil. Spread mulch over the soil and feed it once or twice a year with well-rotted compost. It is also possible to use slow-release fertilizer in very small or diluted doses. Pinching the tips of young plants results in a plant with more branches, a more compact habit, and more blooms. If properly hydrated, it can also be utilized in containers.
One may grow Erica inflata from seeds or cuttings. Sow seeds in autumn (April to May). To enhance germination, treat the seeds with Instant Smoke Plus Seed Primer, a smoke-water mixture, or expose the seed trays to burning fynbos plant smoke (in a tent). An acidic, well-drained sowing medium is essential. Because the seeds are so little, they only require a thin layer of clean sand to cover them. Alternatively, the seeds can be mixed with dry sand and distributed in a thin layer on top of the sowing medium. The trays must be kept out of direct sunlight, moist but not wet, in a warm but not hot place, and watered with a fine rose to prevent disturbing the seeds. One to two months are needed for germination, and seedlings need to be transplanted when they are around 10 mm tall.
Take semi-hardwood tip or heel cuts in the spring, late summer, or fall. Place in a sterile rooting medium that is well-drained, well-aerated, and well-ventilated after applying rooting hormone. A root-stimulating hormone, such as auxin powder or IBA, is used to create cuttings that are 50–70 mm long. Cuttings are trimmed of any visible flower parts before being treated in a seaweed extract solution and watered. The cuttings are planted in a substrate that is favourable to fynbos (such as a mixture of fine-milled bark and perlite). The surplus powder is allowed to stay on the cutting where it will be inserted in the wet medium by first creating a small hole with a sterile wire and then inserting the cutting into the hole. Before being placed in the propagation mist house, the cuttings tray is labeled.
The mist house is heated and kept at a comfortable temperature of 22–25°C; it sprays water for 5 seconds every 15 minutes to keep the leaves cool and moist and the rooting media moist. Additionally heated, the bench is kept at a cosy 22–25°C temperature. After two to three months, the cuttings are potted into 2 kg nursery bags with a fynbos soil mixture after being hardened off for a week in a shaded area. When they are prepared, they are planted in the garden after receiving regular irrigation and a monthly application of organic fertilisers to encourage development.
Erica inflata prefers sandy, acidic soil in a sunny area with sufficient air circulation. It's ideal for fynbos gardens, especially those on hot, sandy flats in the summer. It enjoys settings that are warm, bright, and well-ventilated and needs regular watering during the summer. Additional pincushions, ericas, buchus, and restios are examples of companion plants.
References
Adcock, R. 2018. Observation of Erica inflata, Grootwinterhoek Wildnerness Area. iNaturalist, Online. https://www.inaturalist.org/observations/18522673.
Baker, H.A. & Oliver, E.G.H. 1967. Ericas in southern Africa. Purnell & Sons, Cape Town.
Goldblatt, P., Bernhardt, P., Manning, J. 1998. Pollination of petaloid geophytes by monkey beetles (Scarabaeidae: Rutelinae: Hopliini) in southern Africa. Annals of the Missouri Botanical Gardens 85(2): 215–230.
Goldblatt, P. & Manning, J. 2000. Cape Plants. A conspectus of the Cape flora of South Africa. Strelitzia 9. National Botanical Institute, Pretoria & Missouri Botanical Garden, Missouri.
Guthrie, F. & Bolus, H. 1905. Ericaceae. Flora capensis 4(1). ): 99–100. Accessed from the Biodiversity Library: https://www.biodiversitylibrary.org/item/15242#page/113/mode/1up.
Morton, A. 2020. Observation of Erica inflata, Bergrivier Municipality. iNaturalist, Online. https://www.inaturalist.org/observations/65642000.
Oliver, E.G.H. & Oliver, I.M. 2002. The genus Erica (Ericaceae) in southern Africa: taxonomic notes 1. Bothalia. 32 (1). doi:10.4102/abc.v32i1.461.
Picker, M.D. & Midgley, J.J. 1996. Pollination by monkey beetles (Coleoptera: Scarabaeidae: Hopliini): flower and colour preferences. African Entomology 4(1): 7–14.
Raimondo, D., Von Staden, L., Foden, W., Victor, J.E., Helme, N.A., Turner, R.C., Kamundi, D.A. & Manyama, P.A. (eds) 2009. Red list of South African plants. Strelitzia 25. South African National Biodiversity Institute, Pretoria.
Rebelo, A.G., Siegfried, W.R. & Oliver, E.G.H. 1985. Pollination syndromes of Erica species in the south-western Cape. South African Journal of Botany 51(4):270–280
Rebelo, T. 2017. Observations of Erica inflata, Cederberg. Naturalist, Online. https://www.inaturalist.org/observations/9158096 & https://www.inaturalist.org/observations/11341772.
Riegel, F. 2017. Observation of Erica inflata, Grootwinterhoek Wilderness Area. iNaturalist, Online. https://www.inaturalist.org/observations/95386450.
Schumann, D., Kirsten, G. & Oliver, E.G.H. 1992. Ericas of South Africa. Fernwood Press, Vlaeberg.
Thunberg, C.P. & Schultes, J.A. 1823. Flora Capensis, sistens plantas promontorii Bonae Spei Africes. Pages 365–366. Accessed from the Biodiversity Library: https://www.biodiversitylibrary.org/item/21802#page/427/mode/1up.
Credits
Kamogelo Solomon Modimola & Siqamo Yeko (Mr. & Mrs. Erica)
Kirstenbosch National Botanical Garden
September 2022
Acknowledgements: the authors dedicate this article to their children, Boepeotso Thandolwethu Prince & Hlosi Olerato Amoena, and thank Tony Rebelo for providing the images of Erica inflata in its natural habitat, Rickard Adcock and Andrew Stephen Morton for providing the images of Erica inflata with a moth and beetle respectively, and Felix Riegel for providing the close-up image of the flowers of Erica inflata, from their observations on iNaturalist. All other photos by Kamogelo Solomon Modimola.
Plant Attributes:
Plant Type: Shrub
SA Distribution: Western Cape
Soil type: Sandy, Loam
Flowering season: Spring, Early Summer, Late Summer, Autumn
PH: Acid
Flower colour: Pink
Aspect: Full Sun
Gardening skill: Challenging
Special Features:

Attracts butterflies

Drought resistant
Horticultural zones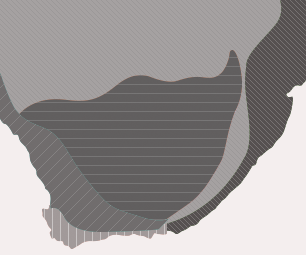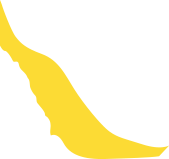 Zone 2 Coastal winter rainfall, frost free
Zone 3 Winter rainfall Karoo, light frost
Google QR Code Generator