Erica walkeria Andrews
Family: Ericaceae
Common names: Swellendam heath, quality heath, Walker's heath (Eng.); swellendamsheide (Afr.)
Introduction
Erica walkeria is a densely leafy, shrubby heath with masses of starry, pink, urn-shaped flowers in small heads in spring, and makes a rewarding potplant or garden plant, ideal for fynbos gardens.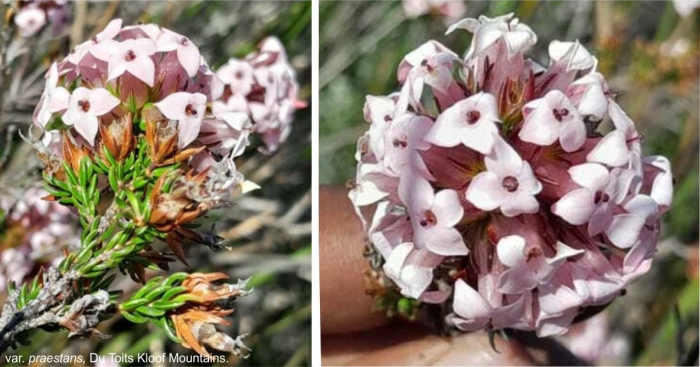 Description
Description
Erica walkeria is an upright shrub that grows about 300 to 450 mm tall, but can reach up to 1.2 m. The stems are brown, shrubby, flexuose-erect, the majority of the branches slender, densely leafy and bearing flowers. The leaves are in fours, spreading, linear, smooth, naked and gleaming, with very short stalks. The flowers are pink, urn-shaped with four lobes forming a star around the mouth, presented in fours at the ends of branches, in small, level-topped, sessile heads, giving off the scent of honey when in full bloom. The calyx is double; the 3 outer sepals are awl-shaped, with skinny margins; the 4 inner sepals are twice as long, 5–7 mm long, oblong, lanceolate or suboblanceolate, acute, dry and membranous (scarious), the margin minutely fringed and serrated, appearing torn (ciliate-lacerate), thickly keeled at the apex and pressed against the flower. Bracts and sepals are often inwardly curved and bent at the tip like a hook (uncinately incurved). The corolla tube is urn-shaped, 6–10 mm long, polished, shining, rosy pink or red; segments are broad, nearly egg-shaped (ovate to suborbicular), forming a star, recurved, rarely mealy above, and about 2.5 mm long. The anthers are oblong, brown, beardless (without awns or muticous), inside the corolla tube, the pore half the length of the cell. Erica walkeria blooms in the spring, from August to October.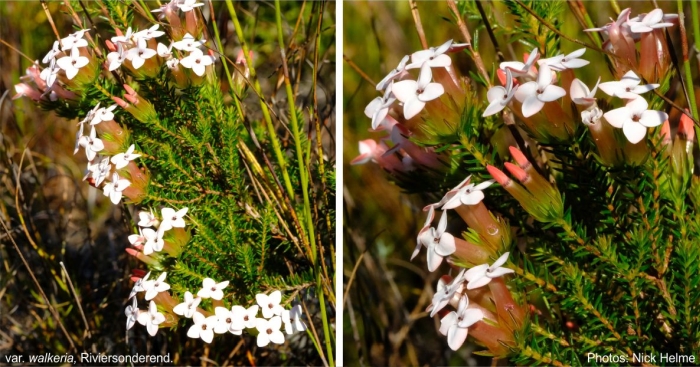 One variety is recognised, var. praestans, which is a more robust plant, up to 1.2 m tall, with larger corolla segments that are about half as long as the corolla tube. The type variety is smaller in all respects. Erica walkeria may be confused with Erica fastigiata or pink-flowered forms of Erica daphniflora.
Conservation Status
Status
Erica walkeria is not threatened according SANBI's Red List of South African Plants, both var. walkeria and var. praestans are assessed as Least Concern (LC).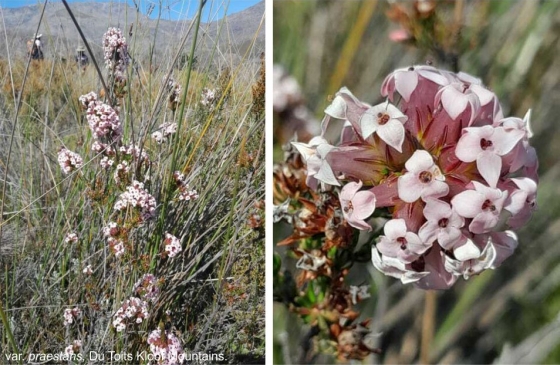 Distribution and habitat
Distribution description
The Cape Floristic Region in the Western Cape Province is home to this species. Erica walkeria is found primarily in the Du Toits Kloof Mountains, its distribution ranging from Ceres to the Drakenstein Mountains and eastwards to Robertson and Swellendam, from where it gets its name. The variety praestans occurs in the Du Toits Kloof Mountains and Slanghoek area. Rainfall averages between 250 and 800 mm per year, with the most rain falling during winter, between May and September.
Derivation of name and historical aspects
History
The genus Erica is the largest of the genera in the Cape Floristic Region, with around 860 species. It occurs in Africa, Europe, and the Middle East, but the bulk of them, ±760 species, are indigenous to South Africa and most of these are confined to the southern tip of Africa, where roughly 660 species occur in fynbos and ±104 are unique to the Western Cape. The genus name, Erica, comes from the Greek word ereiko, a name used for heather; it means 'to break', and possibly refers to the stems that are brittle and break easily. This species is named after an Englishman from Liverpool, Mr Walker. The variety name praestans is Latin and means 'excellent' or 'outstanding'.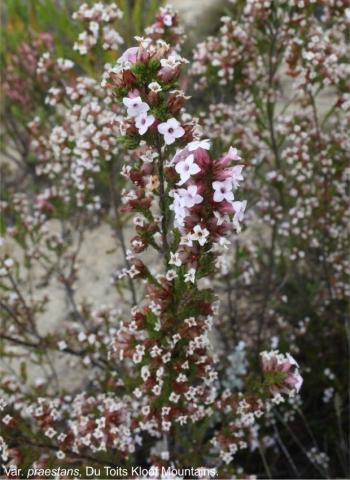 Ecology
Ecology
This species' plants are generally very floriferous, bearing masses of honey-scented, urn-shaped pink flowers that are suitable for pollination by small insects, such as ants, flies with long-proboscises, moths, and/or monkey beetles; when male beetles wrestle over a female beetle, they get covered in pollen and help to pollinate flowers. These pollinators emerge in large numbers in the spring and are undoubtedly an important source of food for birds, other insects, and spiders. Wind blows the seeds out of the ripe capsules and scatters them near the parent plant. When in full bloom, the plants can be found singly or in large populations that produce a stunning display.
Uses
Use
There are no known magical or medical uses associated with Erica walkeria, however, it can add value to a fynbos garden because in large plantings, it shows a fine display when in full bloom and it is suitable for containers. It is also traded by flower shops and horticulturists as a cut-flower used in bouquets and as a long-lasting fynbos decoration.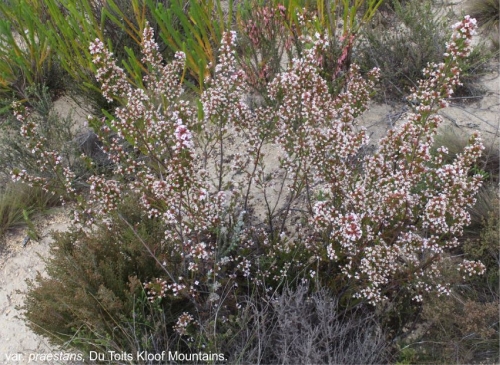 Growing Erica walkeria
Grow
For optimum growth, Erica walkeria needs a well-ventilated, sunny area with well-drained, sandy, acidic soil. Spread mulch over the soil and feed it once or twice a year with well-rotted compost. It is also possible to use slow-release fertilizer in very small or diluted doses. Pinching the tips of young plants results in a plant with more branches, a more compact habit, and more blooms. If properly hydrated, it can also be utilized in containers.
You may grow Erica walkeria from seeds or cuttings. Sow seeds in autumn (April to May). To enhance germination, treat the seeds with Instant Smoke Plus Seed Primer, a smoke-water mixture, or expose the seed trays to burning fynbos plant smoke (in a tent). An acidic, well-drained sowing medium is essential. Because the seeds are so small, they only require a thin layer of clean sand to cover them. Alternatively, the seeds can be mixed with dry sand and distributed in a thin layer on top of the sowing media. The trays must be kept out of direct sunlight, moist but not wet, in a warm but not hot place, and watered with a fine rose to prevent disturbing the seeds. One to two months are needed for germination, and seedlings need to be transplanted when they are around 10 mm tall.
Take semi-hardwood tip or heel cuttings that are 50–70 mm long in spring, late summer, or autumn. Place in a sterile rooting medium that is well-drained, well-aerated, and well-ventilated after applying rooting hormone. A root-stimulating hormone, such as auxin powder or IBA, is recommended. Cuttings are trimmed of any visible flower parts before being treated in a seaweed extract solution and watered. The cuttings are planted in a substrate that is favourable to fynbos (such as a mixture of fine-milled bark and perlite). The surplus powder is allowed to stay on the cutting where it will be inserted in the wet medium by first creating a small hole with a sterile wire and then inserting the cutting into the hole. Before being placed in the propagation mist house, the cuttings tray is labelled.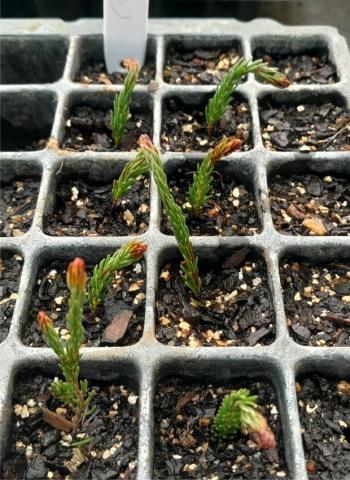 The mist house is heated and kept at a comfortable temperature of 22–25°C; it sprays water for 5 seconds every 15 minutes to keep the leaves cool and moist and the rooting medium moist. Additionally heated, the bench is kept at a cosy 22–25°C temperature. After two to three months, the cuttings are potted into 2 kg nursery bags with a fynbos soil mixture after being hardened off for a week in a shaded area. When they are ready, they are planted in the garden after receiving regular irrigation and a monthly application of organic fertilisers to encourage development.
Erica walkeria prefers sandy, acidic soil in a sunny area with sufficient air circulation. It is ideal for fynbos gardens, especially those on hot, sandy flats in the summer. It enjoys settings that are warm, bright, and well-ventilated and needs regular watering during the summer. Pincushions, proteas, ericas, buchus, and restios are recommended companion plants.
References
Andrews, H.C. 1805. Coloured engravings of heaths, Vol 2. Retrieved from the Biodiversity Heritage Library at https://www.biodiversitylibrary.org/item/266699.
Andrews, H.C. 1845. The heathery, or, A monograph of the genus Erica, Vol. 2. Retrieved from the Biodiversity Heritage Library at https://www.biodiversitylibrary.org/item/265965.
Baker, H.A. & Oliver, E.G.H. 1967. Ericas in southern Africa. Purnell & Sons, Cape Town.
Goldblatt, P. & Manning, J. 2000. Cape Plants. A conspectus of the Cape flora of South Africa. Strelitzia 9. National Botanical Institute, Pretoria & Missouri Botanical Garden, Missouri.
Goldblatt, P., Bernhardt, P., Manning, J. 1998. Pollination of petaloid geophytes by monkey beetles (Scarabaeidae: Rutelinae: Hopliini) in southern Africa. Annals of the Missouri Botanical Gardens 85(2): 215–230.
Guthrie, F. & Bolus, H. 1905. Ericaceae. Flora capensis 4(1). Retrieved from the Biodiversity Heritage Library at https://www.biodiversitylibrary.org/item/15242.
Helme, N. 2020-07-25. Observation of Erica walkeria, Riviersonderend. iNaturalist. Online. https://www.inaturalist.org/observations/54376403.
Picker, M.D. & Midgley, J.J. 1996. Pollination by monkey beetles (Coleoptera: Scarabaeidae: Hopliini): flower and colour preferences. African Entomology 4(1): 7–14.
Raimondo, D., Von Staden, L., Foden, W., Victor, J.E., Helme, N.A., Turner, R.C., Kamundi, D.A. & Manyama, P.A. (eds) 2009. Red list of South African plants. Strelitzia 25. South African National Biodiversity Institute, Pretoria.
Rebelo, A.G., Siegfried, W.R. & Oliver, E.G.H. 1985. Pollination syndromes of Erica species in the south-western Cape. South African Journal of Botany 51(4):270–280
Schumann, D., Kirsten, G. & Oliver, E.G.H. 1992. Ericas of South Africa. Fernwood Press, Vlaeberg.
Credits
Kamogelo Solomon Modimola
Kirstenbosch National Botanical Garden
December 2022
Acknowledgements: the author thanks Nick Helme for making his images available by via iNaturalist, all other images by the author.
The author dedicates this article to Boepeotso Thandolwethu Prince and Hlosi Olerato Amoena.
Plant Attributes:
Plant Type: Shrub
SA Distribution: Western Cape
Soil type: Sandy
Flowering season: Spring, Early Summer
PH: Acid
Flower colour: Pink
Aspect: Full Sun
Gardening skill: Average
Special Features:

Fragrant

Good potplant
Horticultural zones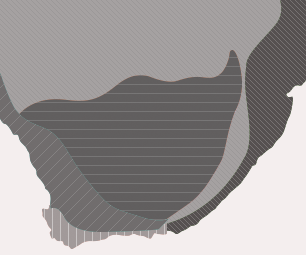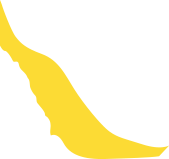 Zone 2 Coastal winter rainfall, frost free
Zone 3 Winter rainfall Karoo, light frost
Google QR Code Generator