Pelargonium lobatum (Burm.f.) L'Hér.
Family: Geraniaceae
Common names: vine-leaved pelargonium (Eng.); aandblom, aandkaneelbol, kaneelbol, nachtbloem (Afr.)
Introduction
This attractive, hardy, geophytic pelargonium is ideally suited for sandy fynbos gardens, rockeries or pots.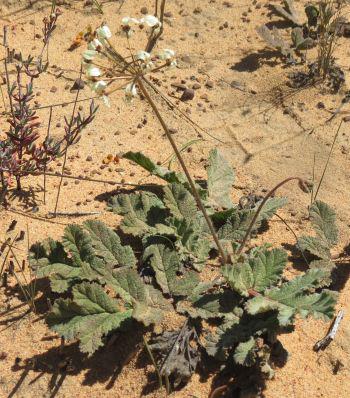 Description
Description
Pelargonium lobatum is a geophyte with large, hard and irregularly-shaped tuber covered with brown, scaly bark. Both the leaves and inflorescence sprout from a very short stem. The latter, as well as the bottom part of the petioles, are often subterraneous.
The softly hairy leaves are prostrate, ovate and somewhat lobed. They become very large with a diameter that can exceed 300 mm. In some cases it is possible for the normally 3-lobed or 3-partite leaves to be divided in a pattern of primary and secondary incisions of varying depths, which in extreme circumstances, result in separate leaflets. The leaves possess a cordate (heart-shaped) base and an unequally toothed, ciliate margin. They are distinctively veined, glandular and partially covered with soft hairs.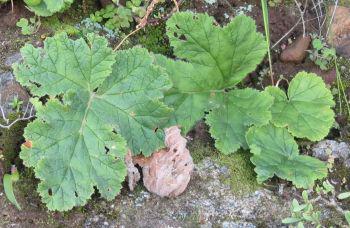 Flowers are borne on branched scapes which may reach up to 0.7 m. Star-like pseudoumbels with 6–20 flowers, between 15–18 mm long,develop on a peduncle. The petals are usually dark purple to almost black, with a dull, yellow-green margin and base, occasionally dull yellow or cream-coloured without black markings. Six of the ten filaments bear anthers. The hypanthium normally reaches between 25–35 mm long and is much longer than the pedicel.  
Flowering is in spring to early summer, from September to November. The flowers are clove-scented at night.
Conservation Status
Status
According to the Red List of South African Plants, checked on 1 September 2016, the conservation status of this plant is Least Concern (LC), although its population trend is decreasing. Many lowland subpopulations of this widespread species are being lost to urban development and crop cultivation. The subpopulations of the mountainous areas are not being subjected to the aforementioned threats.
Distribution and habitat
Distribution description
This species is widespread in the western and southern parts of the Western Cape and has been recorded from Graafwater to Knysna, where it is found in sandy flats or hill slopes amongst fynbos (shale and sand) and shale renosterveld.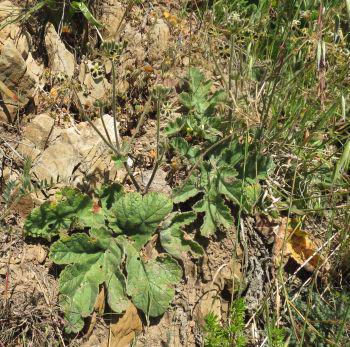 Derivation of name and historical aspects
History
The genus Pelargonium, is derived from the Greek word pelargos meaning 'stork', because the fruit resembles the shape of the beak of a stork. The specific epithet lobatum is derived from Latin, meaning 'lobed' and refers to the lobed leaves.
The genus Pelargonium belongs to the Geraniaceae, a family of 11 genera and 800 species in the subtropical and tropical world. Other well-known genera include: Monsonia, Geranium and Sarcocaulon. Pelargonium occurs in S, E and NE Africa, Australia, New Zealand, St Helena, Tristan da Cunha, Madagascar and Asia. Southern Africa is the hotspot of Pelargonium species diversity, and in the entire region, about 219 of the 270 species are found.
This group of plants has been an attraction to collectors and travelers since the years of exploration in the 1600 and 1700s around the coast of the African continent. Plants were taken to Europe early in the 17th century, where it became established in some of the gardens. Amongst the first species to arrive in England was Pelargonium triste. The Dutch botanist Hermann, collected P. cucculatum on Table Mountain in 1672 and in 1690 this species was established at the Royal Botanic Gardens, Kew, London. In Leyden, the Netherlands, ten species were already on record in 1687.
Records indicate that P. lobatum was cultivated as early as 1739 at the Chelsea Physic Garden (England). The species was originally described in 1759 by Burman (filius) as Geranium lobatum in Specimen botanicum de Geraniis (44) in Leiden.
Ecology
Ecology
The flowers are very fragrant at night. This scent is reminiscent of cinnamon, which gives credence to the two Afrikaans vernacular names of aandblom [loosely translated into English means evening-flower] and kaneelbol [cinnamon bulb].
It is postulated that moths are responsible for the pollination of this species.  
This species goes dormant and sheds all its leaves during the warm, dry summer months.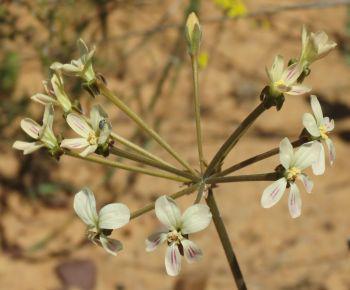 Uses
Use
Pelargonium lobatum is said to be edible. The buds and young leaves used to be eaten in former times. And this species is used in the same way as P. triste, i.e. the young roots are chopped in stews and soups and mixed with other vegetables like potatoes and onions. It is also used medicinally, in the form of a tea, as a treatment for dysentery, diarrhoea, nausea and digestive complaints.
The vine-leaved pelargonium is very popular with collectors.
Growing Pelargonium lobatum
Grow
Grow Pelargonium lobatum in well-drained soil, in rockeries or as a pot plant.
Pot plants thrive in a rich, well-draining medium. Feed plants once every second week with a balanced kelp-based fertilizer during active growth. During this period a slow-release fertilizer 3:1:5 could be applied at the beginning of the growing season, both to pots and in the garden. This species become dormant during the warm summer months and water should be significantly decreased during this period. Restrict watering to at least one good soak every second to third week.
This species can be propagated from seed or by division. Sow seed in autumn in a well-draining, growing medium. Seedlings can be potted in a well-drained, composted soil mixture. Divide plants by easing away the little off-sets from the adult plant, when the plant is not actively growing and pot them up.
Grow this pelargonium with other plants such as: Phylica ericoides, Pelargonium capitatum, P. cucullatum, P. betulinum and P. hirtum, Thamnochortis insignis, Restio dispar, Felicia filifolia and F. echinata, Lobelia valida, Syncarpha argyropsis, Salvia africana-lutea, Oedera imbricata, Chaenostoma subspicatum, Chrysocoma coma-aurea, Cotyledon orbiculata, Lampranthus aureus, Ursinia anthemoides, Senecio elegans and S. arenarius, Arctotis acaulos and A. stoechadifolia, Arctotheca calendula, Dimorphotheca pluvialis and Leysera gnaphaloides.
References
Fox, F.W. & Norwood Young, E. 1982. Food from the veld: edible wild plants of southern Africa. Delta Books, Cape Town.
Goldblatt, P. & Manning, J. 2000. Cape Plants. A conspectus of the Cape flora of South Africa. Strelitzia 9. National Botanical Institute, Pretoria & Missouri Botanical Garden, Missouri.
Roberts, M. 1990. Indigenous healing plants. Southern Book Publishers, Halfway House, Johannesburg.
Stearn, W. 2002. Stearn's dictionary of plant names for gardeners. Timber Press, Portland, Oregon.
Taylor, J. 1988. Geraniums & Pelargoniums. The Complete Guide to Cultivation, propagation & Exhibition. Crowood Press. Ramsbury.
Van der Walt, J J A. 1977. Pelargoniums of South Africa. Purnell, Cape Town.
Credits
Roger Oliver
Kirstenbosch National Botanical Garden
September 2016
Plant Attributes:
Plant Type: Bulb
SA Distribution: Western Cape
Soil type: Sandy, Clay, Loam
Flowering season: Spring, Early Summer
PH: Acid, Neutral
Flower colour: Black, Green, Purple, Cream, Yellow
Aspect: Full Sun
Gardening skill: Easy
Special Features:

Drought resistant

Fragrant

Good potplant

Edible plant

Medical plant
Horticultural zones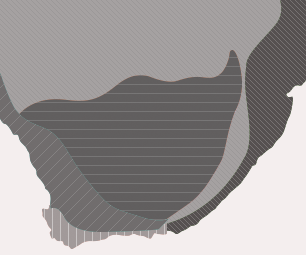 Zone 2 Coastal winter rainfall, frost free
Google QR Code Generator