Adenium swazicum Stapf
Family: Apocynaceae
Common names: summer impala lily, Swazi lily (Eng.); somerimpalalelie, Swazi-lelie (Afr.); sisila-sempala (SiSwati)
Introduction
A dwarf, succulent shrub with pretty, lily-like, pink flowers borne on thick branches from late summer to autumn; a good rockery plant and a useful medicinal plant.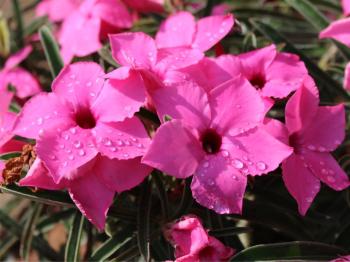 Description
Description
Adenium swazicum is a dwarf, succulent shrub, that grows up to 700 mm high. A deciduous plant that loses all leaves in winter. The leaves appear together with the flowers in summer. The basal stem is large and swollen, short, succulent and partially buried. It can grow up to 150 mm in diameter and produces several greenish to greyish branches.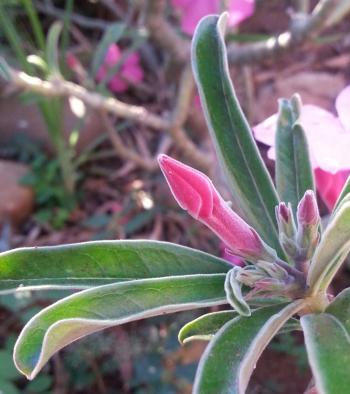 The leaves are simple and glossy green when young, narrow and long, up 100 mm long and 30 mm wide, clustered at branch ends. They are occasionally hairy underneath and often folded lengthwise (along the midrib). Flowers are showy, pink to deep reddish pink and appear mainly from late summer to autumn (Jan. to Apr.) with an average size of 60–70 mm in diameter. The fruits are pods that can grow up to 160 mm long and are brown when mature. Pods are horn-like, appearing in pairs of 2 attached together. The seeds are brown 12 to 14 mm long and 3 mm broad, and are attached to a dirty white tuft of hair. A. swazicum is a slow-growing plant, with a long life span.
Conservation Status
Status
Adenium swazicum is assessed as Critically Endangered (CR) on the Red List of South African plants. According to the Red List, the plant is declining in its natural habitat because of the establishment of sugar-cane plantations on about 50% of its range. Much of its natural habitat has sodic soils rich in sodium, which is also ideal for sugar-cane plantations. The increased harvesting of this plant for medicinal and horticultural purpose, is also a major cause. Traditional healers harvest the whole tuber for medicinal purposes and horticulturists harvest the whole plant in the wild, rather than collecting cuttings and seeds for propagation. Only about 10% of the population is currently protected in the Kruger National Park, in Mpumalanga. Based on the current scenario, it is estimated that this species will lose 80% of its wild population in the next 30 years. The Lowveld National Botanical Garden in Nelspruit, Mpumalanga, has made a huge effort to propagate this plant and makes plants available for restoration projects at local schools, and has promoted its conservation through educational programs.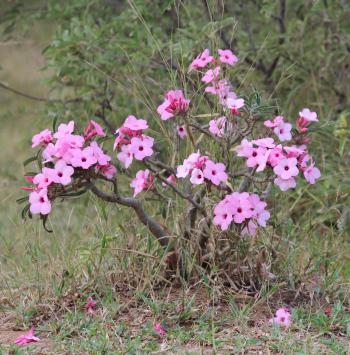 Distribution and habitat
Distribution description
The main habitat for Adenium swazicum is open, dry woodland and grassland. It occurs in Swaziland, southern parts of Mozambique and in South Africa where it occurs in Mpumalanga and northern KwaZulu-Natal. A.swazicum is very drought resistant and grows in well-drained sandy or deep clay soils, rich in sodium. It is sensitive to frost and grows in full sun areas. It doesn't require a lot of water. The large tuberous stem stores sap, which enables the plant to survive drought conditions and high temperatures.
Derivation of name and historical aspects
History
The genus Adenium was named after the geographical place in Arabia called Aden, where the first known and recorded plant was discovered. The species name swazicum means 'from Swaziland'. The siSwati name sisila sempala means 'tail of Impala' and refers to how the leaves, clustered at the tips of the branches, resemble the tail of an Impala.
This genus was established by JJ. Roemer and J.A. Schultz in Systema vegetation, in 1819. It consists of only about twelve species, including subspecies, occurring in Africa, Socotra and Arabia. Out of the twelve species, only five are recorded in southern Africa. All species are succulent and characterized by poisonous sap contained in the tuberous stem, bearing multiple branches above ground.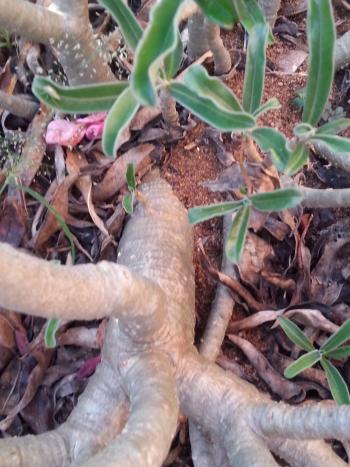 Ecology
Ecology
Adenium swazicum flowers appear to be pollinated by a fast-flying Hawk Moth, which visits the flowers at dusk. The showy pink flowers do not attract many daytime insect visitors. The seeds are dispersed by wind, the tuft of hair attached to the seeds help them float in the air and detaches itself from the seed when dry, thus dropping the seed. If the seed lands on good growing conditions, it will then germinate.
It has adapted to the Lowveld region and northern parts of KwaZulu-Natal in South Africa, which have warm temperatures and summer rainfall. Mature plants show a high tolerance to disturbances, such as fire and herbivory, because they resprout from their underground rootstock. A young plant takes at least 2 years to develop an underground tuber.
Uses
Use
The sap in the tuberous stem of Adenium swazicum is very toxic; in the old days it was smeared on the tips of arrows and used for hunting and killing game. It is believed that the animal shot with such a poisoned arrow, will die within 2 kilometers.
For medicinal purposes, the sap is diluted, as alone it is poisonous, and used to treat heart failure and skin diseases. The powdered stem is also used to kill parasites on domestic animals.
For horticultural purposes, A. swazicum produces beautiful pink flowers and creates a good aesthetic in the garden. The fleshy, succulent stem, with multiple branches, makes this plant a good subject for a rockery garden and it fits well with plants such as Pachypodium. It is also a handsome container subject.
Growing Adenium swazicum
Grow
The plant is easily propagated by seeds and stem cuttings. For seed sowing, use a sowing medium that is 3 parts compost and 1 part river sand with a pH of 6.5-6.9, and fill the container with it. Sow the seeds evenly, leaving a 20 to 30 mm space between them. Spread the sowing medium evenly, covering the seeds. Water gently, place in a semi-shaded area and keep moist by watering about twice a week. The optimum temperature for germination is between 20 and 35ºC. Germination takes place in about 1 to 2 weeks. You can expect a germination success rate of about 80%. Treat the seedlings with a low concentrate of insecticide, as they are susceptible to spider mite infestation.
For stem cuttings, make cuttings of about 100 mm long, cut flat at the base and slant on top, close to the bud. It is ideal to seal the tip with a tree seal to prevent rotting. Dip the bottom end in a soft-wood rooting hormone, to enhance germination success. Use the same growing medium as the seeds, but reduce watering until the cuttings have rooted. Rooting takes place from 2 to 4 weeks. Avoid propagating in winter, as the plant is dormant during this season. 
References
Batten, A. 1988. Flowers of southern Africa. Southern Book Publishers, Johannesburg.
Court, D. 1981. Succulent flora of southern Africa. Balkema, Cape Town.
Hurter, P.J.H., Lötter, M., Krynauw, S., Burrows, J.E. & Victor, J.E. 2009. Adenium swazicum Stapf. National Assessment: Red List of South African plants version 2017.1. Accessed on 2017/05/15.
Kruger, T.J. 1981 Trees, shrubs and climbers. Published by the author, Bethal.
Onderstall, J. 1998. Transvaal Lowveld and Escarpment. South African Wild Flower Guide 4. Botanical Society of South Africa, Cape Town.
Philips, E.P. 1926. The genera of South African flowering plants. Memoirs of the Botanical Survey of South Africa no.10. The Government Printer, Pretoria.
Plants of southern Africa online: http://posa.sanbi.org/searchspp.php, accessed 15 May 17.
Schmidt, E., Lötter, M. & McCleland, W. 2002. Trees & shrubs of Mpumalanga and Kruger National Park. Jacana, Johannesburg.
Van der Walt, K. 2016. Population biology and ecology of the critically endangered succulent Adenium swazicum. http://wiredspace.wits.ac.za/handle/10539/19365. Accessed via WIReDSpace 29 May 2017.
Wikipedia: Sodic Soil. https://en.wikipedia.org/wiki/Sodic_soil. Accessed on 29 May 2017.
Credits
Mufhati Bulannga
Lowveld National Botanical Garden
June 2017
Plant Attributes:
Plant Type: Shrub, Succulent
SA Distribution: Mpumalanga
Soil type: Sandy, Loam
Flowering season: Early Summer, Late Summer, Autumn
PH: Acid, Neutral
Flower colour: Pink
Aspect: Full Sun
Gardening skill: Average
Special Features:
Drought resistant
Good potplant
Poisonous
Medical plant
Horticultural zones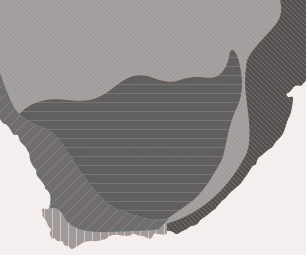 Zone 1 Coastal summer rainfall, frost free
Google QR Code Generator