Adromischus maculatus (Salm-Dyck) Lem.
Family: Crassulaceae
Common names: mottled pig's ears, calico hearts, chocolate heart, chocolate drop, cheetah heart (Eng.); bontplakkie (Afr.)
Introduction
An ornamental succulent with fairly flat, wedge-shaped, thick leaves, which are often beautifully marked with chocolate-brown spots, giving them a marbled appearance.
Description
Description
Adromischus maculatus is a low-growing, perennial, succulent, up to 350 mm tall, with fibrous roots, forming small clusters or mats. The stem is short, somewhat woody, decumbent to prostrate and up to 150 mm long.
The leaves are obovate, rounded, usually wedge-shaped, up to 35 mm wide and 70 mm long, with horny margins that continue to the base. They are glossy green, grey-green to grey-brown, sometimes almost scarlet from exposure to the sun, and with or without dark purple-brown spots. The leaves on young plants are often unspotted, and there are forms that do not develop spots.
Inflorescence is an erect, grey-green thyrse, 200–350 mm tall, with 1- or 2-flowered cymes, in midsummer (December to January).
The flowers are tubular, pale yellowish green. The corolla-lobes 2.5 to 5.0 mm long, acute, white or tinged pale pink, mauve along the margins, spreading to recurved. Lower lobes and throat with club-shaped hairs. Anthers not protruding from the corolla tube. Buds thin, straight, gradually tapered toward tips, spreading.
Conservation Status
Status
This species was not selected in any of 4 screening processes for highlighting any potential taxa of conservation concern, however, the species is not threatened and has a stable wild population, hence it is given an automated status of Least Concern (LC) on the Red List of South African plants. It is endemic to South Africa.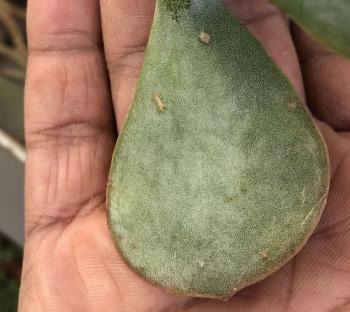 Distribution and habitat
Distribution description
Adromischus maculatus originates from the Western and Eastern Cape Provinces of South Africa, where it grows on sandstone slopes in the Langeberg Mountains, from near Worcester to north of George and eastwards to Uniondale.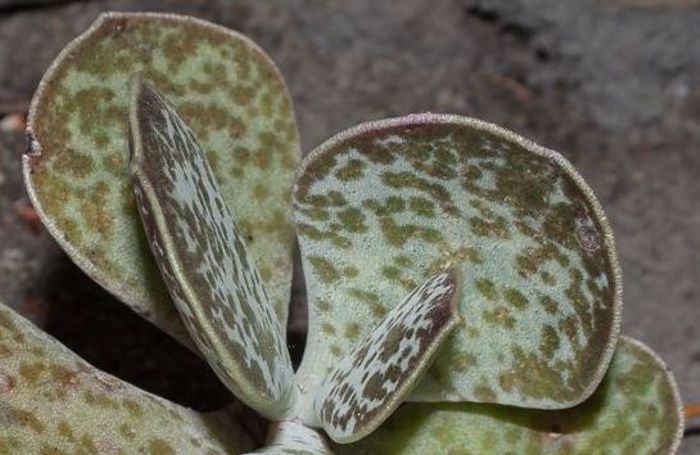 Derivation of name and historical aspects
History
Adromischus is a genus of succulents from the Crassulaceae, the third largest family of succulent plants. The name means 'thick stem' and comes from the ancient Greek adros, meaning 'thick' and mischus, meaning 'stem'. The species name maculatus means 'spotted', referring to the markings on the leaves.
The genus Adromischus contains 29 accepted species and is endemic to southern Africa, occurring in South Africa and Namibia. It was first described by Lemaire in 1852.
Adromischus is a popular pot plant and garden plant, and is a good starting point for the group as a whole. There are many varieties and forms available to gardeners. In the nursery trade, forms of Adromischus with more or less circular leaves are called Adromischus maculatus, and plants with longer, more squared-off leaves are called A. cooperi. Adromischus maculatus is frequently confused with A. trigynus but is quite distinct and in most horticultural forms is a tall, ascending plant.
Ecology
Ecology
In 2007, Greg Nicolson discovered how Adromischus alstonii is pollinated by bees belonging to the genus Amegilla, family Apidae, and how the plants are also visited by many ants that serve as the plant's protectors. Plants produce 2 sources of nectar, to attract both pollinators and protectors. The nectar in the flowers attracts the bee as the pollinator and the plant also produces nectar on the outside of the flowers that attracts ants. These aggressive and territorial insects are not the pollinators, but, in return for the nectar, they protect the plant from other destructive and unwanted insect visitors.
Adromischus alstonii inflorescences continued to secrete minute drops of nectar on the outside of the flower for a number of days after being removed from the plant, and it attracted invasive Argentine ants.
Although a similar study has not been done on Adromischus maculatus, it is possible that it follows the same strategy as A. alstonii.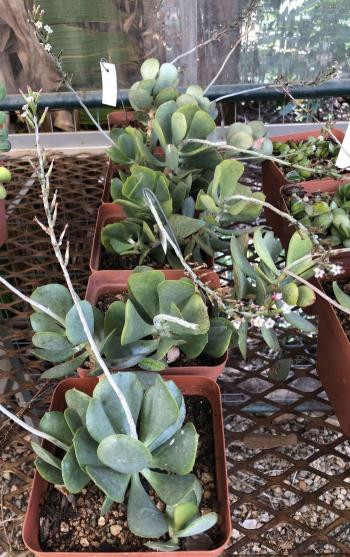 Uses
Use
Adromischus maculatus is not known to be used as a medicinal plant by the indigenous people of South Africa, however, it may be toxic to humans and animals if eaten.
Adromischus maculatus is a great succulent for beginners, and does well indoors with bright light, although it rarely blooms indoors. When planted outdoors, it forms small clusters and produces its white, tube-shaped flowers in summer. It can be grown in full sun, semi-shade or light shade, and is well suited to arid gardens, and water-wise fynbos gardens.
Growing Adromischus maculatus
Grow
Growing Adromischus maculatus is easy and simple. Begin by selecting a sturdy, healthy leaf. Then remove it from the stem of the mother plant, with a sharp knife. Once the leaf is off the mother plant, leave it for a few days, before placing the cut end in well-drained soil. The soil should be drenched thoroughly, and don't let the soil dry out until the plant roots and a leaf rosette has started to appear. Allow the plant to take its time to grow. It is important to transplant the new growth as soon as possible after the mother leaf has withered away. Plant it in well-drained (sandy) soil, enriched with well-rotted compost and place in a well-lit and well-ventilated area, such as on a sunny windowsill.
Adromischus maculatus is one of the species that easily drops its leaves and it can be challenging to grow a large specimen.
Adromischus maculatus is sensitive to over watering, and watering on the leaves should be avoided to prevent fungal problems. It is best to use the soak and dry method, i.e., let the pot soak water up from below and allow the soil to dry out completely between watering. It is recommended to water plants from spring to autumn. Adromischus maculatus tolerates cool frost free conditions in winter if kept dry.
References
Adromischus maculatus (Crassulaceae) in Flora of southern Africa, accessed via JSTOR https://plants.jstor.org/compilation/adromischus.maculatus
Berger, A. 1930 Crassulaceae in A. Engler & K. Prantl, Die Naturliche Pflanzenfamilien [Edition 2] 18a.
Charters, M.L. 2005–2016. California plant names: Latin and Greek meanings and derivations. A dictionary of botanical and biographical etymology. http://www.calflora.net/botanicalnames/pageV.html accessed 7 Nov 2016
Court, D. 1981. Succulent flora of southern Africa. Balkema, Cape Town.
Foden, W. & Potter, L. 2005. Adromischus maculatus (Salm-Dyck) Lem. National Assessment: Red List of South African plants version 2017.1. Accessed on 2019/12/03.
Goldblatt, P. & Manning, J. 2002. Cape plants: a conspectus of the Cape flora of South Africa. Strelitzia 9. National Botanical Institute, Pretoria and Missouri Botanical Garden, St Louis.
Higgins, V. 1964 Crassulas in cultivation. Blandford Press, London.
Llifle, The Encycopedia of Succulents, Adromischus maculatus. http://www.llifle.com/Encyclopedia/SUCCULENTS/Family/Crassulaceae/25598/Adromischus_maculatus. Accessed on 2019/12/03.
Nicolson, G. 2007. Pollination of Adromischus. Veld & Flora 93(2): 82, 83.
Plants of the World online, Adromischus Lem. http://www.plantsoftheworldonline.org/taxon/urn:lsid:ipni.org:names:12117-1. Accessed on 14/01/2020.
Succulents Network, Adromischus maculatus 'Calico Hearts'. https://succulentsnetwork.com/adromischus-maculatus-calico-hearts/. Accessed on 2019/12/03.
The Plant List, Adromischus. http://www.theplantlist.org/1.1/browse/A/Crassulaceae/Adromischus/ Accessed on 3 December, 2019.
World of Succulents, Adromischus. https://worldofsucculents.com/?genera=adromischus. Accessed on 2019/12/03.
World of Succulents, Succulentopedia, Adromischus maculatus (Calico Hearts). https://worldofsucculents.com/adromischus-maculatus-calico-hearts/. Accessed on 2019/12/03.
Credits
Katlego Selemela
Walter Sisulu National Botanical Garden
February 2020
Plant Attributes:
Plant Type: Succulent
SA Distribution: Eastern Cape, Western Cape
Soil type: Sandy, Loam
Flowering season: Early Summer
PH:
Flower colour: Green, White, Pink, Cream
Aspect: Full Sun, Morning Sun (Semi Shade), Afternoon Sun (Semi Shade)
Gardening skill: Easy
Special Features:
Drought resistant
Good potplant
Horticultural zones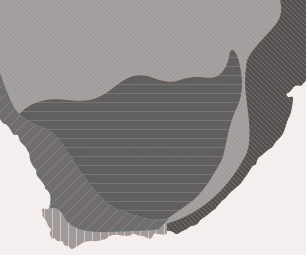 Zone 1 Coastal summer rainfall, frost free
Zone 2 Coastal winter rainfall, frost free
Zone 3 Winter rainfall Karoo, light frost
Google QR Code Generator