Adromischus triflorus (L.f.) A.Berger
Family: Crassulaceae
Common names: duck's foot, calico heart (Eng.); bontplakkie, eendevoet (Afr.)

Introduction
The spotted leaves of Adromischus triflorus would give any miniature or water-wise landscape a bit of texture and contrast. This evergreen species is compact and will fill any small open space in a landscape or in pots.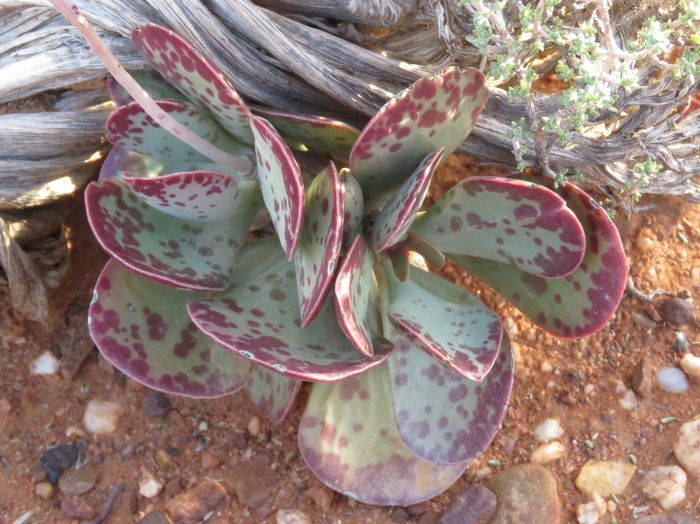 Description
Description
Adromischus triflorus is a slow-growing, perennial, succulent plant. This evergreen species grows up to 100 mm tall and when in flower, up to 350 mm. The stems grow along the ground with the growing tip ascending upwards. This little, branched species has succulent, almost heart-shaped leaves, containing many reddish brown spots, which mostly occur on the upper part of the leaves. The leaves of Adromischus triflorus also have horny margins, mostly on the upper apex of the leaves.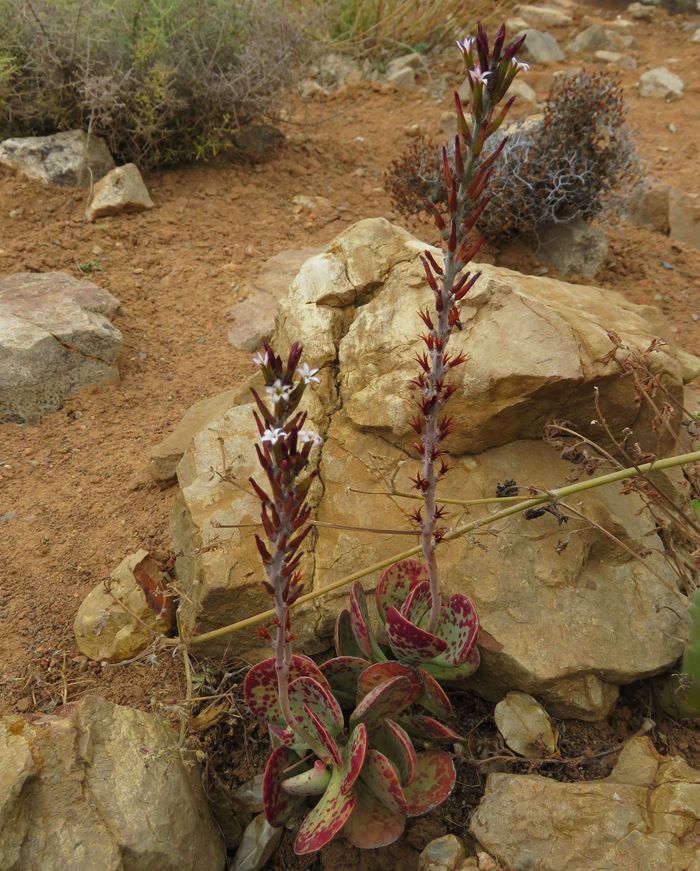 Adromischus triflorus produces up to 3 flowering spikes, sometimes branched and up to 10 mm long. The colour of the flowers range from white to pink and appears in the summer months. Seeds of A. triflorus are extremely small.
Adromischus triflorus can easily be confused with A. maculatus, but the upper horny margins of A. triflorus makes this species easily identifiable. 
Conservation Status
Status
According to the Red List of South African plants website, this species is not threatened and has a conservation status of Least Concern (LC).
Distribution and habitat
Distribution description
Adromischus triflorus is commonly found in the Little Karoo, but also grows in other parts of the Western Cape, which includes the Robertson Karoo and western Great Karoo. Plants occur in lower gravel soils or in rocky outcrops where they flourish. This species grows in climates of extreme heat and low rainfall. A. triflorus enjoys growing in a protected area, partially away from the sun, but can tolerate full sun.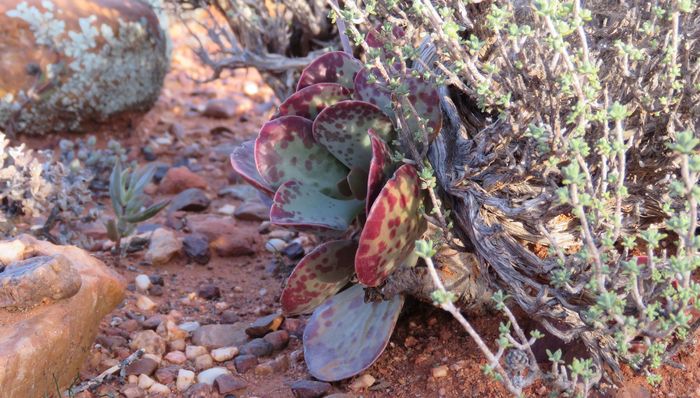 Derivation of name and historical aspects
History
Adromischus is derived from the Greek word adros, meaning 'thick' and miskhos, meaning 'a stalk', referring to the thick stems of this species. The species name triflorus refers to the 3 flowering spikes that this species produces in summer. The common name eendevoet, refers to the shape of the leaves, which resembles the feet of ducks.
The genus, Adromischus, comprises of small, succulent-leaved species, which are mostly covered in spots, which can be broad, flat or rounded. A. triflorus belongs to the family Crassulaceae, which contains a large number of succulent-leaved genera. Approximately 234 species occur in South Africa and mainly comprises of Cotyledon, Tylecodon, Adromischus and Crassula. Lemaire described this genus in 1852, separating it from Cotyledon, and divided the species of Adromischus into 2 groups (Court 2010).
Ecology
Ecology
Adromischus triflorus has thick, plump leaves that hold water for use during the non-rainy season in summer (Western Cape). This species also loves growing inbetween rock crevices that protects it from the harsh high temperatures. These crevices also provided a unique micro-climate, ideal for seed germination, as well as an area for high rain water absorption. A. triflorus has a very fibrous root system that allows this species to collect and absorb water very quickly.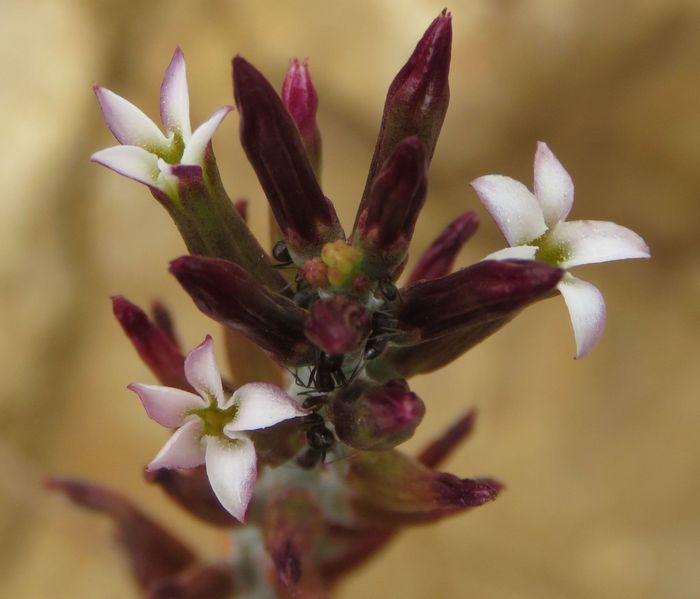 Flowers of Adromischus triflorus produce sweet nectar that attracts bees, which are the main pollinators. Ants have also been observed on several species, attracted to the nectar. The seeds of A. triflorus are dispersed by wind. 
Uses
Use
Adromischus triflorus is not known for any medicinal or cultural uses. This species is widely used in water-wise landscape, as well as xerophytic landscapes. It is also a popular plant in retail nurseriesbecause it provides colour, contrast and texture in the gardening environment.
Growing Adromischus triflorus
Grow
Adromischus triflorus can easily be grown from cuttings or seed and does not require any special modified greenhouses. Sow seeds in autumn. Use a shallow seedling tray with a mixture of coarse river sand (60%) and sieved compost (40%). Do not compact the soil in the seedling tray. Sow seed evenly onto the mixture and cover with a fine layer of sand, approximately 0.5 mm. Keep soil medium moist using a mist sprayer. Do not overwater. Place sowed seeds in an area receiving morning sun or sufficient light. Seeds will germinate within 2 weeks.
Remove sturdy leaf cuttings from the mother plant in spring to early summer. Allow the wound on the leaf cutting to dry out for a couple of days. A well-drained sandy mixture is sufficient to root A. triflorus leaf cuttings. Water cuttings using a fine mist sprayer. Always use sterilized equipment and soil mediums when propagating plants. Rooted cuttings should be transplanted into bigger containers, with a higher compost ratio. Place transplanted plants in a semi-shaded area with good air flow.
Adromischus triflorus are not particularly vulnerable to pest attack in the wild, but can be susceptible to white scale attack in the nurseries. A general insecticide can be used to eradicate this pest. This species is best used as a water-savings plant or can be used in miniature gardens, mixed succulent bowls and in rockeries.
References
Court, D. 2000. A revised Succulent Flora of southern Africa. Balkema, Rotterdam.
Frandsen, R. 2017. Succulents of southern Africa. Honeyguide Publications, Somerset West.
Jackson, W.P.U. 1990. Origins and meanings of names of South African plant genera. University of Cape Town.
Oliver, I.B. 1998. Grow succulents. Kirstenbosch Gardening Series. National Botanical Institute, Cape Town.
Vlok, J. & Schutte-Vlok, A.L. 2010. Plants of the Klein Karoo. Umdaus Press, Hatfield.lo
Credits
Ricardo Riddles
Karoo Desert National Botanical Garden
March 2020
Plant Attributes:
Plant Type: Succulent
SA Distribution: Western Cape
Soil type: Sandy, Clay, Loam
Flowering season: Early Summer, Late Summer
PH: Acid
Flower colour: Green, White, Pink, Yellow
Aspect: Morning Sun (Semi Shade), Afternoon Sun (Semi Shade)
Gardening skill: Easy
Special Features:
Drought resistant
Good potplant
Horticultural zones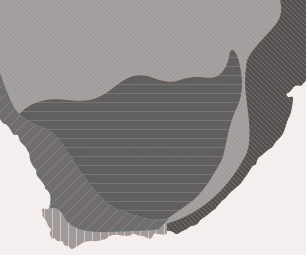 Zone 2 Coastal winter rainfall, frost free
Zone 3 Winter rainfall Karoo, light frost
Google QR Code Generator