Aloidendron barberae (Dyer) Klopper & Gideon F.Sm.
Family: Asphodelaceae
Common names: tree aloe (Eng.); boomaalwyn, mikaalwyn (Afr.); ikhala (Xhosa); umgxwala, indlabendlazi, impondonndo, inkalane-enkulu (Zulu)
SA Tree No: 28
Introduction
Aloidendron barberae is a striking sculptural tree aloe bearing a rounded, neat crown.  It was previously known as Aloe barberae.  It forms an excellent focal point in the garden. It is easily distinguished by its grey, smooth bark, green recurved leaves and salmon pink flowers in winter. It thrives in cultivation and is easily propagated. Due to its massive stem base, it should preferably not be planted close to any buildings.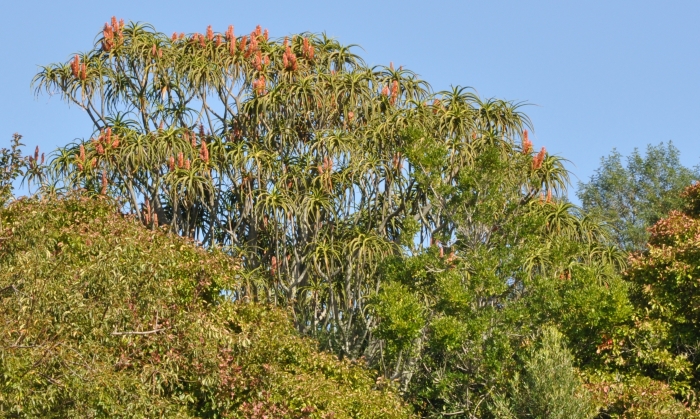 Description
Description
Aloidendron barberae  is Africa's largest aloe reaching up to 15 m in height and 0.9 m in stem diameter. The branching is forked or dichotomous and eventually forms a spreading, rounded crown.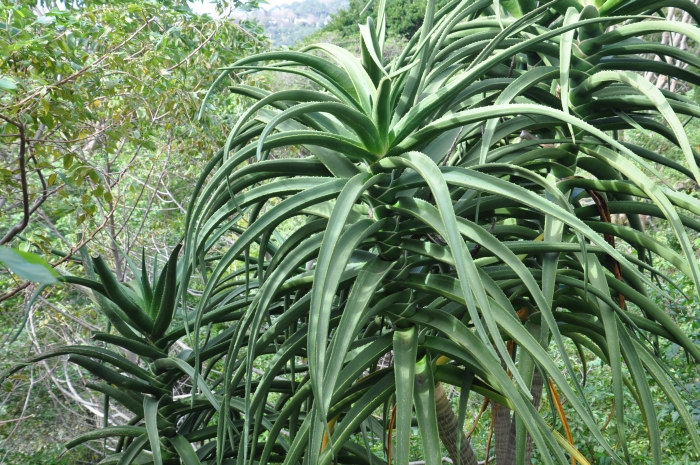 The leaves are arranged in a dense rosette, they are long, narrow, deeply channelled and curved. The leaf surface is dark green with a toothed margin.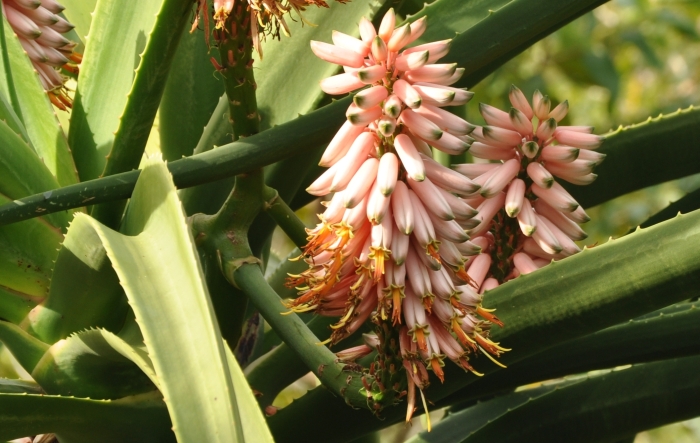 The inflorescence is simple or divided into three side branches. The racemes are cylindrical and its tubular flowers are salmon pink, green-tipped in bud, and appear in early to midwinter (May, June and July).
Conservation Status
Status
Aloidendron barberae is widespread and common, and is not threatened, and is thus given an assessment of Least Concernn (LC) on the Red List of South African Plants.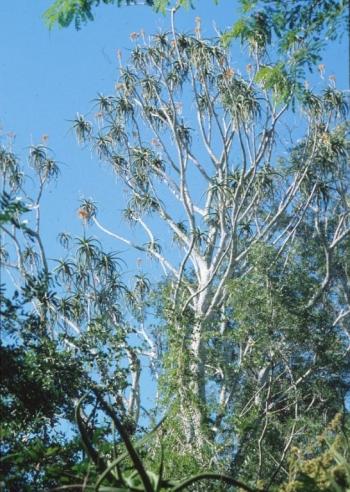 Distribution and habitat
Distribution description
Its habitat is subtropical coastal forests, kloofs and dry valleys in the summer rainfall eastern regions of southern Africa. Aloidendron barberae is widely distributed from near East London in Eastern Cape through the former Transkei area, KwaZulu-Natal, Swaziland and Mpumalanga and northwards to Mozambique and East Africa.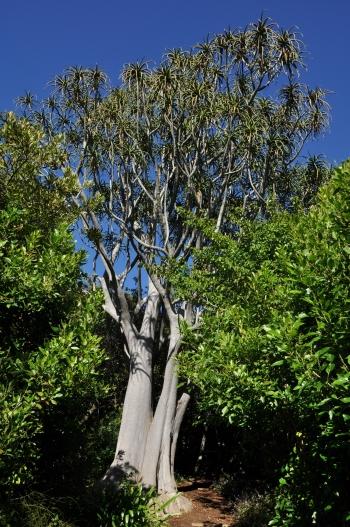 Derivation of name and historical aspects
History
This plant was first discovered by Mary Elizabeth Barber (181-1899), who was a naturalist, writer, painter and plant collector in the former Transkei (now Eastern Cape). She sent specimens of the plant and its flowers to the Royal Botanic Gardens at Kew, where it was named Aloe barberae by Dyer, in 1874, in her honour. This species was also found in the Tugela River Valley (KwaZulu-Natal) by the well known traveller, explorer and painter Thomas Baines (1820-1875), in 1873. He also sent a specimen to Kew, and his specimen was also named in his honour. In 1875 Dyer realised that they were the same species, and because A. barberae was named first, it is the valid name according to the International Code of Botanical Nomenclature. However, this species was known for many years, incorrectly, as Aloe bainesii.
The genus Aloe was reassessed and split into a few genera in 2013. The genus Aloidendron, meaning 'tree aloe' was formed and includes all the tree aloes, recognising that they are more closely related to each other than to other aloes.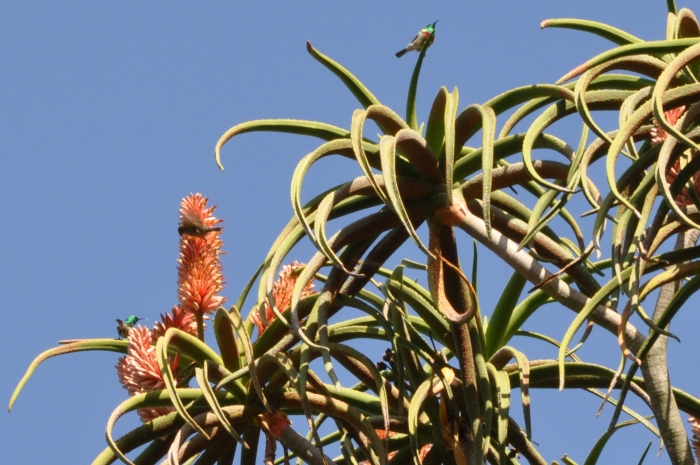 Ecology
Ecology
This tree grows in warm, well-drained river valleys and coastal forest where the climate is mild and rainfall is at least 1 016-1 524 mm per annum and with little or no frost. The seeds often germinate in the shade of other plants and eventually outgrow their companion plants. The soil is usually a loam and humus rich. In habitat the plants are pollinated by sunbirds. The capsules ripen in late spring and release their seeds, which are dispersed by wind.
Growing Aloidendron barberae
Grow
Aloidendron barberae is easily cultivated from truncheons as well as seed and smaller stem cuttings. It is fairly fast growing, but should be well watered and enough compost provided for optimal growth. It is sensitive to frost and in a frost-prone area should be protected in the first few years of its life. Always provide a sunny, well-drained site, on a slope is best. Enough space should be provided for its eventual size. The leaves may be attacked by aphids and scale insects, which are controlled with an oil-based spray.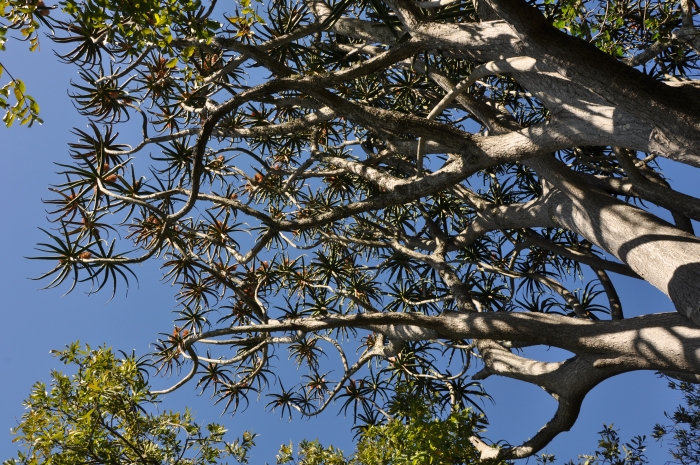 References
Coates Palgrave, M. 2002. Trees of Southern Africa. Struik Publishers, Cape Town
Leistner, O.A. 2000. Seed Plants of Southern Africa, Families And Genera, Strelitzia 10. NBI, Pretoria
Smith, G.F. et al. 1994. Aloe barberae to replace A.bainesii. Bothalia 24(1)34-35.
Nichols, G. 2001. A great sculptural species. Farmers Weekly 29June:p.87
Ernst Van Jaarsveld, Personal communication
Grace O.M., Klopper R.R., Smith G.F. et al. 2013. A revised classification for Aloe (Xanthorrhoeaceae subfam. Asphodeloideae). Phytotaxa 76(1)7-14.
Credits
Giles Mbambezeli
Kirstenbosch National Botanical Garden
June 2003
(Images by Alice Notten, Kirstenbosch NBG)
Updated 2016, 2019
 
Plant Attributes:
Plant Type: Succulent, Tree
SA Distribution: Eastern Cape, KwaZulu-Natal, Mpumalanga
Soil type: Sandy, Loam
Flowering season: Winter
PH: Acid, Neutral
Flower colour: Green, Pink, Orange
Aspect: Full Sun, Morning Sun (Semi Shade), Afternoon Sun (Semi Shade)
Gardening skill: Easy
Special Features:
Attracts birds
Feature plant
Feeds honeybees
Horticultural zones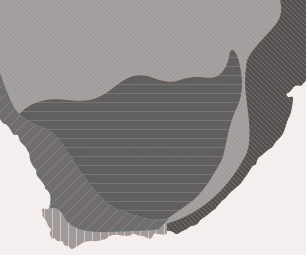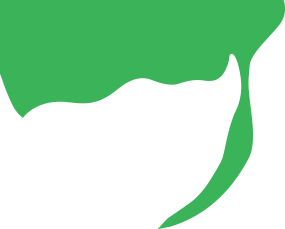 Zone 1 Coastal summer rainfall, frost free
Zone 2 Coastal winter rainfall, frost free
Zone 5 Bushveld summer rainfall, Light frost
Google QR Code Generator