Anemone bracteata (Harv. ex J.Zahlbr.) J.C.Manning & Goldblatt
Family: Ranunculaceae
Common names: blistering leaves (Eng.), brandblaar (Afr.), umvuthuza (isiZulu), umvuthuza (isiXhosa)
Introduction
Anemone bracteata is an understory plant, with densely hairy stems and leaf stalks, and greenish white flowers in summer; the whole plant is harvested and used for medicinal purposes.
Description
Description
Anemone bracteata is an erect, perennial herb that grows 350–900 mm tall, with a horizontal to ascending rhizome. The stem and leaf stalks are densely covered in hairs. Leaves are 150–225 mm in diameter, trifoliolate, with 3, short-stalked leaflets. Terminal leaflets are 23–90 × 16–58 mm. The upper surface is smooth except for the veins which are densely hairy; the lower surface is densely hairy. The margin is toothed and covered with fine hairs (ciliate), and the teeth are tipped with a tuft of hairs (comose). The leaflet stalks are long and hairy.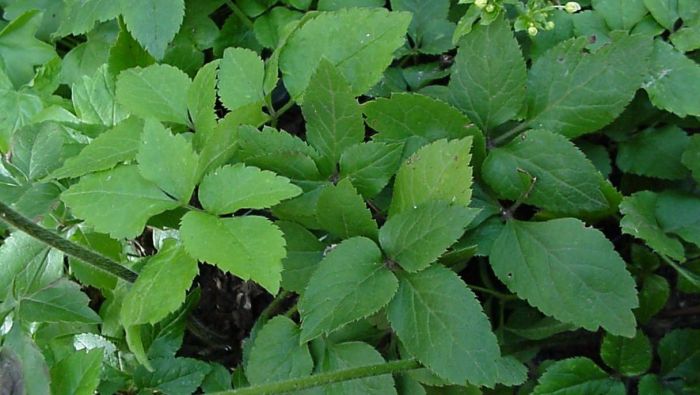 The flowers are in a much-branched inflorescence, 3–6 times compound, containing 20–200 flowers. Flowers are small, 8–18 mm in diameter, white to greenish white, bracts leaf-like. Flowering occurs in summer, from October to March. The fruit is a small, ± 6 × 3 mm, dark, fleshy berry.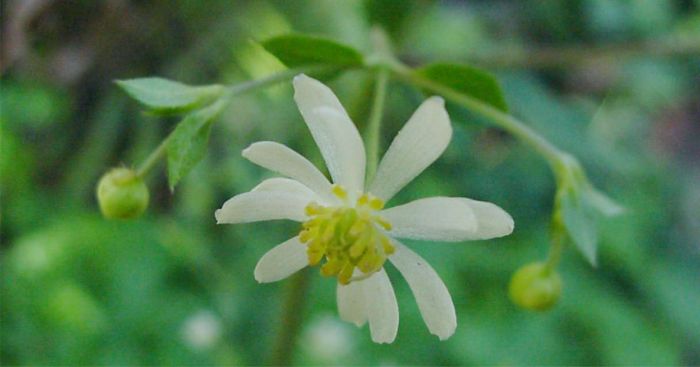 This species is similar to Anemone transvaalensis, however, the latter species has fewer leaves, leaflets are 60 × 20 mm, hairless, the inflorescence is leafless, and the flowers are larger, 30 mm in diameter.
Conservation Status
Status
Anemone bracteata is assessed as Vulnerable (VU) on the Red List of South African Plants. According to the Red List of South African plants website, this species is common in traditional medicine markets and very rare in the wild. A decline of more than 30% over the past 15 years (3 generations) is estimated as a result of heavy trade pressure. The area of occupancy is less than 2 000 km², and severely fragmented subpopulations occur in isolated sites and continue to decline.
Distribution and habitat
Distribution description
Anemone bracteata is endemic to South Africa and is distributed in KwaZulu-Natal and Eastern Cape. Naturally found in the understory of coastal forest and at the edge of seeps and vleis in grassland, at altitudes ranging from 350–1 400 m.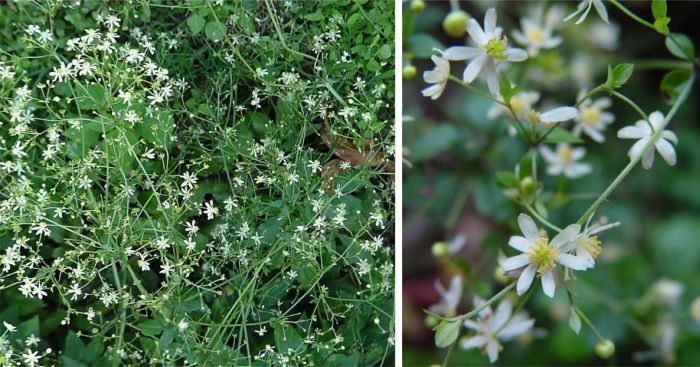 Derivation of name and historical aspects
History
The genus Anemone derives its name from nahamea, a corrupted name for the Greek god Adonis, who was killed while hunting wild boar on Mount Olympus, his blood causing red Anemone coronaria plants to spring up. The specific epithet bracteata is derived from the Latin bractea, and means 'with bracts', referring to the leaf-like bracts.
Anemone bracteata was previously known as Knowltonia bracteata. The genus Knowltonia was proposed by Salisbury, in 1796, for the southern African species of Ranunculaceae previously referred to as Adonis L. However, it was noted that Knowltonia was most closely related to Anemone. The genus was subsequently formally included in Anemone as section Knowltonia by Prantl, in 1891, followed by Burtt Davy, in 1912. Later South African botanists, misinterpreting the morphology, reinstated it as a separate genus. Knowltonia was retained as a distinct genus on the basis of its compound inflorescences of relatively small flowers and berry-like fruits, compared to the larger flowers and dry fruits of Anemone. Phylogenetic analysis of plastid and nuclear DNA sequence data has now confirmed that Knowltonia belongs in the genus Anemone.
Anemone belongs to the Ranunculaceae, also known as buttercup family. The genus Anemone has about 200 species distributed throughout the world, predominantly in the north temperate zone with only about 30 species in the south temperate zone. Previously, in southern Africa there were 3 species recognized, but currently, since the genus Knowltonia was moved to Anemone, there are 17 species.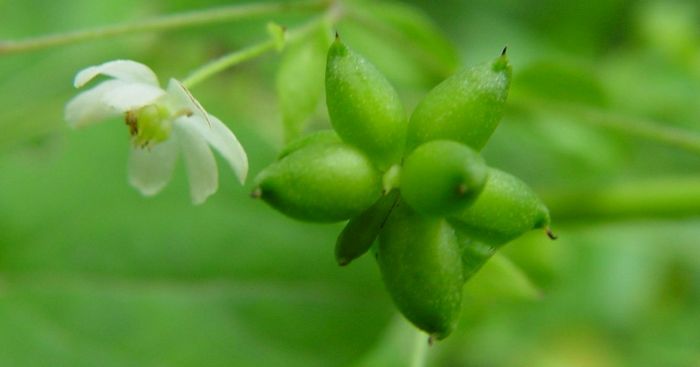 Ecology
Ecology
Anemone bracteata has an underground rootstock; it can survive burning by fire, which can encourage new, seasonal growth.
Uses
Use
Members of the Ranunculaceae contain a toxic, irritant oil, which has prompted people to experiment with the medicinal uses of the plants. The early settlers at the Cape recognized the southern African Anemone as similar to European herbs such as Helleborus and it quickly became a popular herb with numerous uses. One was to use the leaves as a plaster over aching backs and joints. The burning sensation often causing blisters, was considered beneficial for treating arthritis and rheumatism (Van der Walt 2008).
Anemone bracteata is traditionally used to treat lice known as izintwala in isiZulu, a sexually transmitted disease believed to be transmitted by sorcery.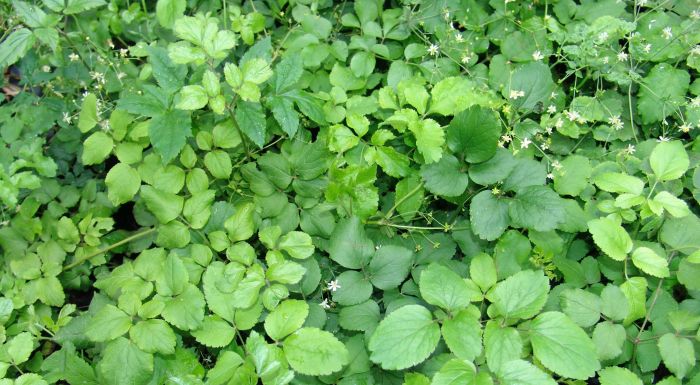 Growing Anemone bracteata
Grow
Anemone bracteata is propagated by seed and division. Seed is best sown in spring or summer, in a moist but well- drained soil. Seed trays should be kept warm and exposed to light to induce germination.
This species is still unknown in cultivation; it will make a good addition in the garden as an understory plant with other shade loving plants such as Clivia and Plectranthus. Mature plants have an underground rootstock which indicates that this species can withstand dry periods.
References
Manning, J.C. & Goldblatt, P. 2013. A taxonomic review of the dry-fruited species of Anemone (Ranunculaceae) in southern Africa. Bothalia 43,1: 1–13.
Manning, J.C., Goldblatt, P. & Hoot, S.B. 2009. The genus Knowltonia subsumed within Anemone. Bothalia 39,2: 217–240.
Pooley, E. 1998. A field guide to wild flowers Kwazulu-Natal and the eastern region. Natal Flora Publications Trust, Durban.
Rasmussen, H. 1979. The genus Knowltonia (Ranunculaceae). Opera Botanica 53. Stockholm.
Van der Walt, L. 2008. Anemone vesicatoria (L.f.) Prantl (Ranunculaceae). PlantZAfrica. Online. http://pza.sanbi.org/anemone-vesicatoria.
Williams, V.L., et al. 2008. Anemone bracteata (Harv. ex J.Zahlbr.) J.C.Manning & Goldblatt. National Assessment: Red List of South African Plants version 2020.1. Accessed on 2021/07/09
Credits
Lungisani Zondi
Walter Sisulu National Botanical Garden
July 2021
Acknowledgments: the author thanks Geoff Nichols for providing the images.
Plant Attributes:
Plant Type: Perennial
SA Distribution: Eastern Cape, KwaZulu-Natal
Soil type: Sandy, Loam
Flowering season: Early Summer
PH:
Flower colour: Green, White
Aspect: Shade, Morning Sun (Semi Shade)
Gardening skill: Easy
Special Features:
Drought resistant
Good potplant
Medical plant
Horticultural zones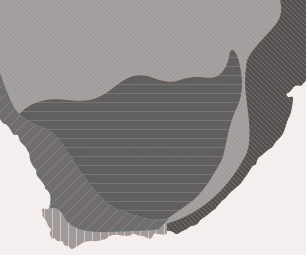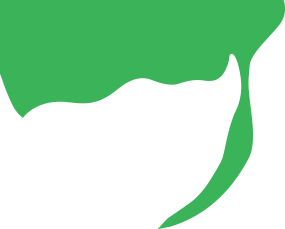 Zone 1 Coastal summer rainfall, frost free
Zone 2 Coastal winter rainfall, frost free
Zone 5 Bushveld summer rainfall, Light frost
Google QR Code Generator