Antidesma venosum E.Mey. ex. Tul.
Family: Phyllanthaceae
Common names: Tasselberry (Eng.), Voëlsitboom, Tosselbessie (Afr.); isiBangamlotha, Isiqutwane, Umhlabahlungulu, Umhlalanyoni (isiZulu); modulane (Northern Sotho), Kgôbê-tsabadisana, Moingwe, Segagama (Setswana), Mufhala-khwali (Tshivenda), Umtyongi (isiXhosa)
SA Tree No: 318
Introduction
This is an evergreen to semi-deciduous shrub or small tree with a dense, rounded crown, flowers in long, thin catkins that attract insects and insect-eating birds, and blood-red fruits.
Description
Description
Antidesma venosum is an evergreen to semi-deciduous tree or shrub from 0.55 up to 15 m tall, with a dense, roundish crown. Old stems are buff-grey in shade and pale grey in sunny habitats. Middle age branchlets are glabrous and brown to grey-brown with scattered pale grey lenticels. New twigs are very hairy, green becoming pale brown with age. Bark is channeled longitudinally, soft and very hairy, scattered with pale grey lenticels.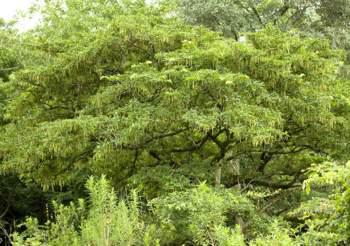 Leaves simple, alternate, more or less spirally arranged, with rounded or bluntly pointed tips, about 150 mm long and 70 mm broad. Leaf blade leathery, dark glossy green, lower surface is covered with rusty hairs and has prominent venation looping along margin, paler green below with midrib raised and margins smooth. Leaf stalk hairy, up to 6 mm long.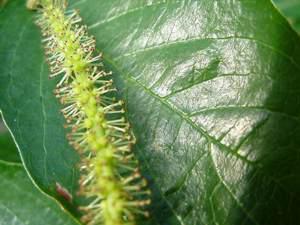 Flowers are small and unpleasantly scented, but showy and distinctive. Male flowers are produced in long, thin catkins which are found at the ends of newly grown twigs. Female flowers are produced in thin but shorter catkins at the ends of twigs. Flowering time is in early summer, from October to January. Fruits are very small, almost oval, ±10 mm in length and 8 mm in diameter, with a soft exocarp and fleshy, edible mesocarp, pale yellow to blood-red, turning black when ripe. Fruiting time is in late summer to autumn, from January to May.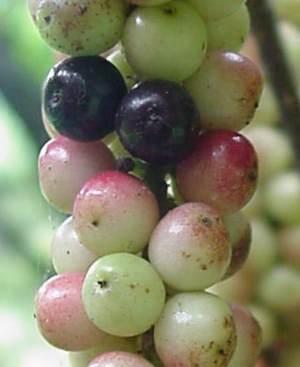 Conservation Status
Status
The IUCN Red List status for Antidesma venosum is LC (Least Concern) as is not over exploited commercially or medicinally.
Distribution and habitat
Distribution description
Antidesma is native to the so called Old World Tropical countries. It consists of about 100 species with the highest number in the South-East Asian region. There are four species of Antidesma found distributed in southern tropical Africa; Angola, Zambia, Zimbabwe, Malawi and Mozambique, extending through to southern Africa.
Antidesma venosum occurs at an altitude from 7 to 1220m in coastal areas, on sandy soils and is restricted to moist bushveld and wooded grassland, sand forest and at margins of evergreen and damp forests, where it can reach up to 15m in height. The species occurs in four provinces in South Africa and in Namibia, Botswana and Swaziland. In South Africa, it is found along the coastal belt, in the eastern regions of South Africa, from the Eastern Cape through KwaZulu-Natal, extending further north to Mpumalanga and Limpopo.
The species cannot cope with frost and is thus suitable for frost-free areas only.
Derivation of name and historical aspects
History
Antidesma was thought to be derived from the Greek anti- and desmos, meaning 'in place of a band', in reference to the bark being used to make rope however it was intended by Johannes Burmann to mean 'against poison', in reference to some species being used to protect agains snakebite. The species name venosum is a Latin word, meaning 'conspicuously veined'.
Species in the Phyllanthaceae are most numerous in the tropics, with many in the South Temperate Zone, and a few ranging as far north as the middle of the North Temperate Zone. The members of this family occur in several vegetation types, especially in rainforest, savanna and associated ecosystems.
Ecology
Ecology
The unpleasantly scented flowers attract butterflies and other insects which in turn attract insect-eating birds, bringing about pollination.
Uses
Use
Antidesma venosum is of economic value. This species is a very decorative, neat shade tree and is perfectly suitable for larger gardens and bird parks. The tree is also used as a screen plant in a shrubbery. The wood is used for building huts. The plant is not sensitive to moderate degrees of cold and therefore may be freely recommended as an ornamental tree in coastal frost- free areas.
Different plant parts are used medicinally; a root extract is used for the treatment of heart diseases; an infusion of roots and leaves is taken for the treatment of coughs; a leaf infusion is taken for an upset stomach.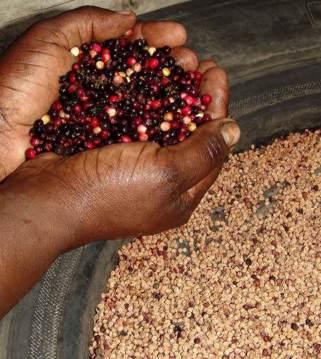 Growing Antidesma venosum
Grow
The tree is easily propagated from seed, transplants well and is relatively fast growing, with a growth rate of 800-900 mm per year.
The black fruits should be washed, dried in the shade and sown in seedling trays filled with a mixture of river sand and compost. The seeds should be covered with a thin layer of mixture (sand and compost) and kept moist in a warm place. Seeds usually germinate between 10 - 20 days, with a germination rate of 70 - 80 %. The seedlings should be transplanted into nursery bags with sandy soil and compost when reaching the 3-leaf stage.
References
Coates Palgrave, M. 2002. Keith Coates Palgrave Trees of southern Africa, edn 3. Struik, Cape Town.
Germishuizen, G., Meyer, N.L., Steenkamp, Y. & Keith, M. 2006. A checklist of South African Plants . South African Botanical Diversity Network Report No. 41. SABONET, Pretoria.
Jackson, W.P.U. 1990. Origins and meanings of names of South African plant genera. University of Cape Town.
Leistner, O.A. (ed.). 2005. Seed plants of southern tropical Africa: families and genera. Southern African Botanical Diversity Network Report No. 26. SABONET, Pretoria
Raimondo, D., Von Staden, L., Foden, W., Victor, J.E., Helme, N.A., Turner, R.C., Kamundi, D.A. & Manyama, P.A. (eds) 2009. Red list of South African plants. Strelitzia 25. South African National Biodiversity Institute, Pretoria.
Van Wyk, B. & Van Wyk, P. 1997. Field guide to trees of southern Africa. Struik Publishers, Cape Town.
Van Wyk, P. 1974. Trees of the Kruger National Park. Purnell, Cape Town.
Venter, F. & Venter, J. 1996. Making the most of indigenous trees. Briza Publications, Pretoria.
Credits
Sifiso Mnxati
KwaZulu-Natal Herbarium
September 2014
Plant Attributes:
Plant Type: Shrub, Tree
SA Distribution: Eastern Cape, KwaZulu-Natal, Limpopo, Mpumalanga
Soil type: Sandy, Loam
Flowering season: Early Summer
PH: Acid, Neutral
Flower colour: Green
Aspect: Full Sun
Gardening skill: Average
Special Features:
Attracts birds
Attracts butterflies
Fragrant
Hedge/screen
Medical plant
Useful plant
Horticultural zones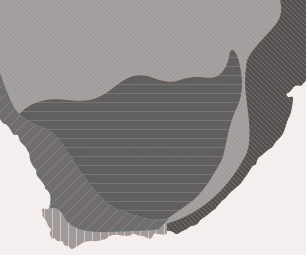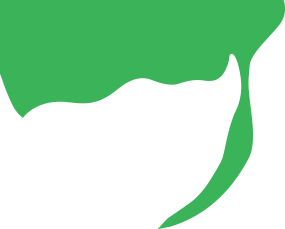 Zone 1 Coastal summer rainfall, frost free
Zone 2 Coastal winter rainfall, frost free
Zone 5 Bushveld summer rainfall, Light frost
Google QR Code Generator