Babiana fragrans (Jacq.) Steud.
Family: Iridaceae
Common names: fragrant blue babiana (Eng.); bobbejaantjie, bobbejaanuintjie (Afr.)
Introduction
A beautiful dwarf perennial with blue, cinnamon-scented flowers in spring, that is an attractive garden subject and can be planted in a sunny rockery.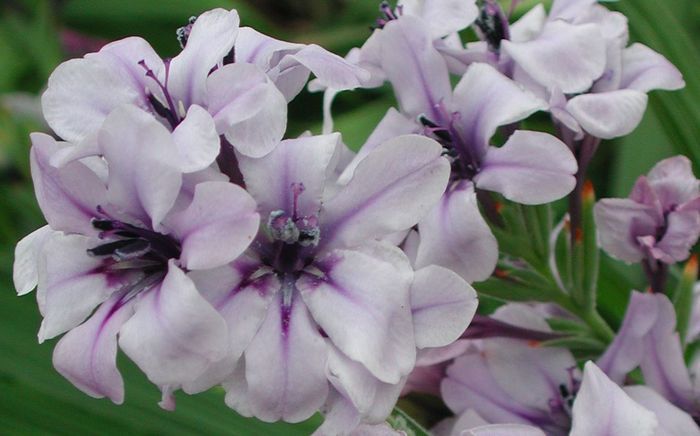 Description
Description
Babiana fragrans is a  deciduous, cormous geophyte, with an erect habit and branched stems, 70–200 mm tall. It has hairy, pleated, dagger-shaped leaves that sprout from the corm in mid to late winter. It has strongly sweet-scented, long-lasting, zygomorphic, violet to pale blue flowers, that occur on a branched inflorescence in winter to spring (July–September).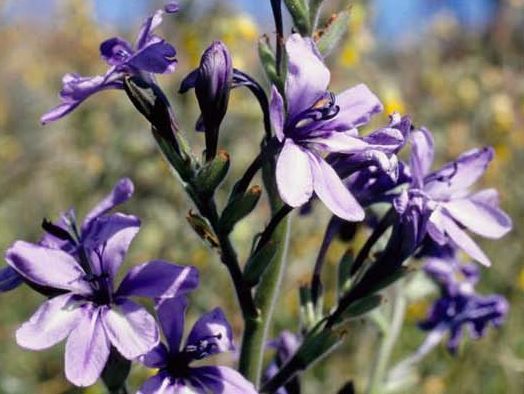 Each flower has a 18–25 mm long tube that flares out to 6 lobes; the lower 3 lobes are smaller and paler than the upper 3 and often have yellow markings. Flowers are followed by small, rounded seed capsules; its seeds are easily dispersed around the parent plant, as they are shaken out of the capsules by wind, and the species can easily self-seed.
Conservation Status
Status
Babiana fragrans is assessed as Near Threatened (NT) in the Red List of South African plants. It was a very common species, but it has lost a lot of habitat in the low-lying areas between Stellenbosch, Paarl and Cape Town and in the Ceres Valley, because of urban development, agricultural expansion and invasive alien plants. It is now only known from 14–20 locations.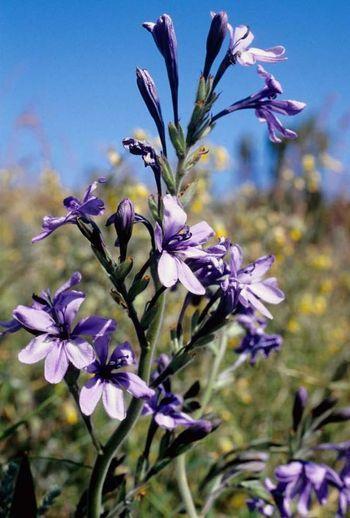 Distribution and habitat
Distribution description
Babiana fragrans is a South African endemic species that is commonly found in fynbos on sandstone, granite and clay slopes, in low-lying areas on the west coast of the Western Cape, between Ceres and the Cape Peninsula. In its native habitat, it thrives in a well-drained, sunny to partially shaded position. It is fast growing, drought tolerant and requires an acidic pH soil. It can tolerate temperatures up to 5ºC, and must be kept warmer in a frosty region.
Derivation of name and historical aspects
History
Babiana belongs to the Iris family. The name Babiana is derived from the Dutch baviaantje, meaning 'little baboon' because baboons were seen preferentially eating the corms of these plants. The species name fragrans, means 'fragrant', referring to the flowers that have a pleasant and sweet smell.
Ecology
Ecology
Babiana species are commonly called bobbejaantjie (little baboon) or bobbejaanuintjie (baboon's little onion), because baboons eat the corms of this species, and so do porcupines, guinea fowl, francolin and spurfowl. The species defends itself from these animals, by growing deeply in the soil. Even if it is planted shallowly, they will eventually pull themselves down to a greater depth. They are visited, and pollinated, by bees, beetles and butterflies.
This is a winter-growing plant that survives the hot, dry summer of its habitat, by going dormant underground.
Uses
Use
The bulb is edible and was eaten by people in the past. It has ornamental value for its attractive blue, pleasantly scented flowers.
Growing Babiana fragrans
Grow
Seeds must be sown in autumn (March), planted in a sifted mixture of soil/sand and compost (50/50), and covered with soil that is equal in depth to the diameter of the seed. It must be planted in a deep seed tray because, as the seedling grows, it will pull itself down. To maximize percentage germination, the seeds can be leached, scarified or soaked. Soil must be kept moist until germination, which will take 6 weeks or longer. During germination, seeds must receive less light intensity, higher temperature and more moisture or relative humidity. Seedlings should not be allowed to dry out. Low concentrated liquid fertilizer can be used every 3 months.
In cold climates, propagation of seeds must be done in a cool greenhouse, because the young plants are susceptible to cold.
Another method of propagation is by corms. After flowering, the plant must not be uprooted or divided until they are in dormancy. Corms must be divided while dormant and replanted in autumn. Cut the stems off the corms and let their necks dry after discarding the old corm. Pick off the baby cormlets that may have formed around the base of the new corm. They can be stored dry in a labelled cardboard box or paper bag over the summer.
The plant thrives in a full sun position, and well-drained, acidic soil. It is not frost hardy. It needs water in autumn, winter and spring, and to be kept dry in summer. It is best suited to a sunny rockery in a winter-rainfall region. It is also suitable for containers.
References
Duncan, G. 2010. Grow bulbs. A guide to the cultivation of bulbs of South Africa and neighboring countries. Kirstenbosch Gardening Series. South African National Biodiversity Institute, Cape Town.
Eliovson, S. 1980. Wild flowers of southern Africa. MacMillan. Pretoria.
Goldblatt, P. & Manning, J. 2000. Cape Plants. A conspectus of the Cape flora of South Africa. Strelitzia 9. National Botanical Institute, Pretoria & Missouri Botanical Garden, Missouri.
Hobbs, J. & Hatch, T. 1994. Best bulbs for temperate climates. Timber Press, Portland.
Leistner, O.A. (ed.). 2000. Seed plants of southern Africa: families and genera. Strelitzia 10. National Botanical Institute, Pretoria.
Manning, J. & Goldblatt, P. 2012. Plants of the Greater Cape Floristic Region 1: the Core Cape Flora. Strelitzia 29. South African National Biodiversity Institute, Pretoria.
Smith, C.A. 1966. Common names of South African plants. Memoirs of the Botanical Survey of South Africa No. 35. Government Printer, Pretoria.
von Staden, L. & Raimondo, D. 2008. Babiana fragrans (Jacq.) Steud. National Assessment: Red List of South African Plants version 2017.1. Accessed on 2018/11/14
Credits
Refilwe Maria Malatji
Pretoria National Botanical Garden
November 2018
 
Plant Attributes:
Plant Type: Bi/Annual
SA Distribution: Western Cape
Soil type: Sandy, Clay, Loam
Flowering season: Spring, Winter
PH: Acid
Flower colour: Blue
Aspect: Full Sun
Gardening skill: Average
Special Features:
Drought resistant
Fragrant
Good potplant
Edible plant
Horticultural zones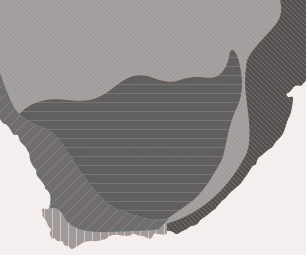 Zone 2 Coastal winter rainfall, frost free
Zone 3 Winter rainfall Karoo, light frost
Google QR Code Generator