Babiana nervosa (Lam.) Goldblatt & J.C.Manning (= Babiana stricta (Aiton) Ker Gawl.)
Family: Iridaceae
Common names: baboon flower, babiana (Eng.), bobbejaantjie, bobbejaanuintjie, katjetie (Afr.)
Introduction
The baboon flower is noted for its distinctive vivid and opulent colours that are almost fluorescent. This species was until 2014 known as Babiana stricta.
Description
Description
Babiana nervosa is a deciduous, perennial, clump-forming corm that grows 100–200 mmm in height. The corm is rounded and covered in thickly matted, reddish tunics. The stem is velvety, simple or branched. The leaves are hairy, ribbed, dark green, erect, lance-shaped and spreading like a fan. The flowers are blue to mauve, purple to pink, cream-coloured to pale yellow, often with contrasting purple, mauve or white marks. The anthers are arrow-shaped, usually dark blue to black. The flowers appear in spring (August to October) and are fragrant. The flower stems produce about 6 flowers which are 50 mm apart. Plants bloom for 3 weeks in spring and grow well in pots. The black seeds are produced inside capsules and are protected by a hard covering.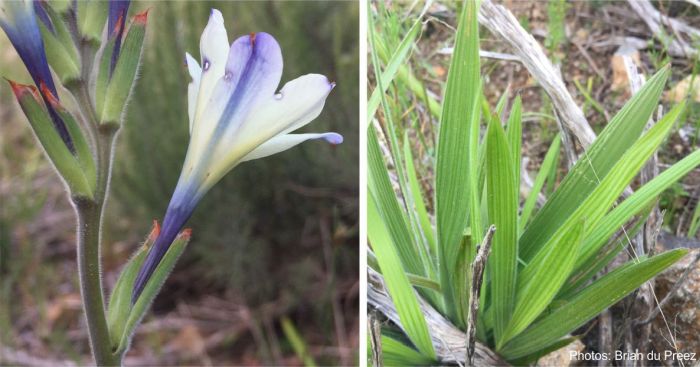 Conservation Status
Status
Babiana nervosa is assessed as Near Threatened (NT) in the Red List of South African Plants. Although it is a relatively widespread species, it only occurs on moist clay soils and has lost nearly half of its population to crop farming and urban expansion. The population continues to decline, and the remaining wild habitat is being degraded by invasive alien grasses.
Distribution and habitat
Distribution description
Babiana nervosa is indigenous to the Western Cape, where it grows in seasonally waterlogged clay or gravely soils in renosterveld and fynbos, between Piketberg, the Cape Peninsula, Worcester and Swellendam.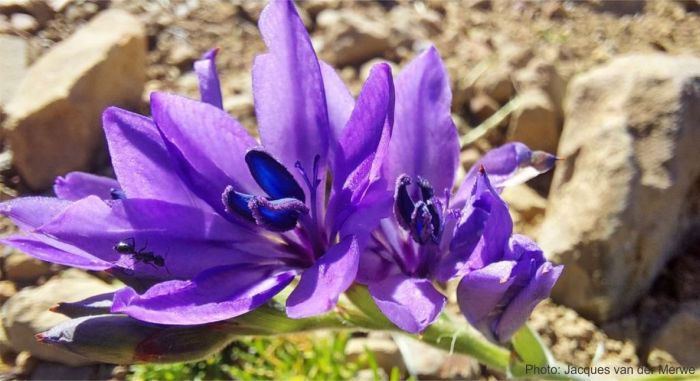 Derivation of name and historical aspects
History
The name Babiana is derived from an Afrikaans word bobbejaan, meaning baboon in English, referring to them being a favoured food of baboons. The specific epithet nervosa means 'veined', referring to the prominent veins on Babiana leaves. Its old name stricta means 'upright' or 'erect'.
This species was previously known as Babiana stricta and is now known as Babiana nervosa. Its name has changed because it was discovered that the specimen named Gladiolus nervosus by Lamarck in 1788, is the same species as the specimen named Gladiolus strictus by Aiton in 1789, which was moved into the genus Babiana by Ker Gawler in 1803. According to the rules of botanical nomenclature, the older name, Babiana nervosa, is the valid name.
In their 2007 revision, Manning and Goldblatt do not recognise any varieties and reclassified three previously recognised varieties as separate species. Babiana nervosa has many hybrids and there are also many different cultivars, most of the babianas available to gardeners are probably hybrids of Babiana nervosa and B. angustifolia.
Ecology
Ecology
Babiana nervosa is adapted to a winter rainfall climate. It is leafless during the dry, hot summers, sprouts leaves in autumn and grows during the rainy winter, flowers in spring, dies back and goes dormant in early summer.
The species is food for the baboons, they dig up the corms from the soil and relish them. Corms are also eaten by birds such as spurfowl and guinea fowl.
The flowers are visited by hopliine beetles, nectar-feeding horseflies and various bees, including honeybees.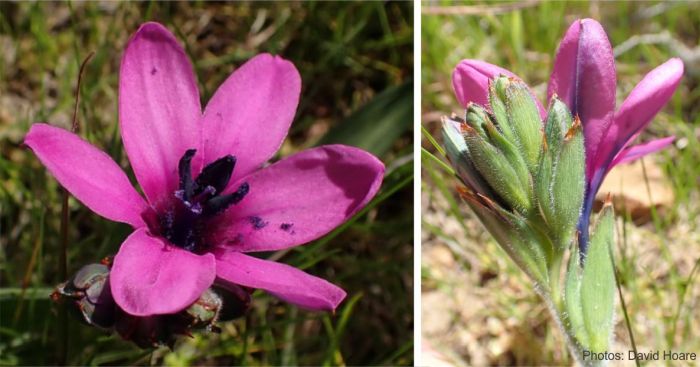 Uses
Use
Babiana nervosa can be grown in pots and makes for a lovely display on sunny patios. In the garden it is best suited to sunny rockeries.
There are no recorded medicinal uses. The corms were eaten by people in the past.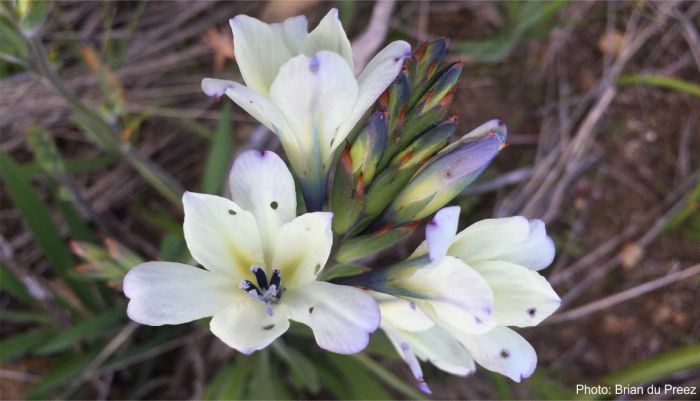 Growing Babiana nervosa
Grow
Propagation of Babiana nervosa can be done by means of seed and division of corms. Division of corms is accomplished by removing the offsets which form on the mother plant Corms are lifted from the soil after flowering, separated, stored in a cool, dry place and planted in autumn. In cold climates where the winter temperature drops to -7°C dig up the corms and store them over winter season and plant them in spring. Plant corms 8–10 cm deep, about 5 cm apart, in well-drained sandy to loamy soil, enriched with kraal manure and compost to. Plant in full sun to encourage flowering.
Seed is sown seed in autumn, germination will occur in 6 weeks.
Ensure regular watering, keep the corms moist at the root level in winter and spring, but keep dry during summer. Feeding of the corms should be done once in a month after the corms have started flowering and when the leaves start to die back. The corm is susceptible to thrips and also red spider mites that mostly attack the leaves.
References
Barnhoorn, F. 2005. Growing bulbs in southern Africa. Struik Publishers, Cape Town.
Du Preez, B. 2021. Observation of Babiana nervosa on iNaturalist. Online. https://www.inaturalist.org/observations/95464661.
Duncan, G. 2013. Babiana villosa (Aiton) Ker Gawl. (Iridaceae). PlantZAfrica. Online. http://pza.sanbi.org/babiana-villosa.
Goldblatt, P. & Manning, J. 2007. A revision of the southern African genus Babiana, Iridaceae: Crocoidea. Strelitzia 18. South African National Biodiversity Institute, Pretoria.
Goldblatt, P. & Manning, J.C. 2014. Nomenclatural adjustments in African plants 1. Bothalia 44(1) 9 pages.
Helme, N.A. & Raimondo, D. 2008. Babiana stricta (Aiton) Ker Gawl. National Assessment: Red List of South African Plants version 2020.1. Accessed on 2022/02/21
Hoare, D. 2021. Observation of Babiana nervosa on iNaturalist. Online. https://www.inaturalist.org/observations/100160591.
Horstmann, A. 2006. Observation of Babiana nervosa on iNaturalist. Online. https://www.inaturalist.org/observations/10819345.
Kirsten, K. 2006. Down to earth garden plants & flowers. Struik Publishers, Cape Town.
Goldblatt, P. & Manning, J. 2000. Cape Plants. A conspectus of the Cape flora of South Africa. Strelitzia 9. National Botanical Institute, Pretoria & Missouri Botanical Garden, Missouri.
Pienaar, K. 2000. The South African What flower is that? Struik, Cape Town.
Smith, C.A. 1966. Common names of South African plants. Memoirs of the Botanical Survey of South Africa No. 35. Government Printer, Pretoria.
Van der Merwe, J. 2021. Observation of Babiana nervosa on iNaturalist. Online. https://www.inaturalist.org/observations/97243271.
Credits
Ofentse Naanyane
Pretoria National Botanical Garden
and Alice Notten
Kirstenbosch National Botanical Garden
March 2022
Acknowledgements: The authors thank Alan Horstmann, Brian du Preez, David Hoare and Jacques van der Merwe for making their images available via iNaturalist.
Plant Attributes:
Plant Type: Bulb
SA Distribution: Western Cape
Soil type: Sandy, Clay, Loam
Flowering season: Spring
PH: Acid
Flower colour: Blue, Purple, Pink, Cream, Mauve/Lilac
Aspect: Full Sun
Gardening skill: Easy
Special Features:
Fragrant
Good potplant
Feeds honeybees
Horticultural zones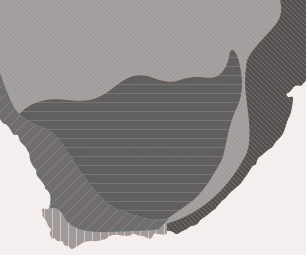 Zone 2 Coastal winter rainfall, frost free
Zone 3 Winter rainfall Karoo, light frost
Google QR Code Generator