Babiana noctiflora J.C.Manning & Goldblatt
Family: Iridaceae
Common names: night-scented baboon flower, night bobbejaantjie (Eng.); aandbobbejaantjie (Afr.)
Introduction
A night-scented bobbejaantjie that is rare in fynbos, with yellow flowers that are adapted to their night-flying moth pollinators by remaining open and scented all night.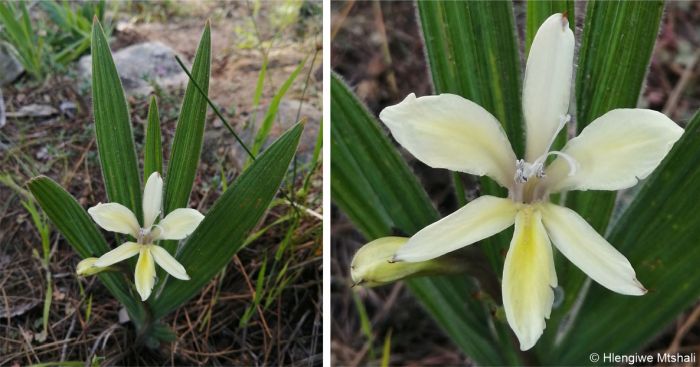 Description
Description
Plants of Babiana noctiflora grow to be 180–300 mm high. They have a tall, but inclined stem of up to 300 mm long and an inclined spike. The stems usually have 2 to 4 branches that are flexed outward, and are also velvety to silky hairy. The leaves are lanceolate, pleated and softly hairy, reaching to around the middle of the spike. The spike is inclined and bears 4 to 8 flowers. The bracts are green with dry, rust-coloured tips. They are silky hairy and are 12–15 mm long.
The flowers are long-tubed, violet-scented, pale to creamy yellow with deep yellow lower petals and they are zygomorphic, meaning they are bilaterally symmetrical. The tepals are unequal; the dorsal petals are 27–32 mm long and are inclined towards the ground; the lower tepals are 22–25 mm long and join the upper laterals for approximately 5 mm. The stamens are unilateral, the filaments arched,  28–30 mm long, and the anthers are 6–7 mm long. The ovary is densely hairy and the style divides below or opposite the base of the anthers, the branches approximately 4.5 mm long and expanded at the apex. 
This species resembles Babiana odorata with regards to them both having broad leaves and pale yellow flowers but B. noctiflora can be distinguished by its taller stem with larger flowers that stand out in having a very elongated perianth tube, 33–50 mm long, compared with 10–14 mm in B. odorata. It is also later flowering, blooming in late spring, from mid-September to mid-October, which contrasts with the winter to early spring flowering of B. odorata in July and August.
Conservation Status
Status
This species was previously listed as Endangered (EN) under criteria D (2006), due to its small geographic range. It is, however, currently being updated to be listed as Endangered (EN) under criteria B (2021), due to its very small population.
Historically, this species has lost habitat to vineyards and fruit orchids, a loss of 47% of its habitat is calculated using landcover data in GIS mapping. There is ongoing slow decline in habitat quality because of invasive alien plant species.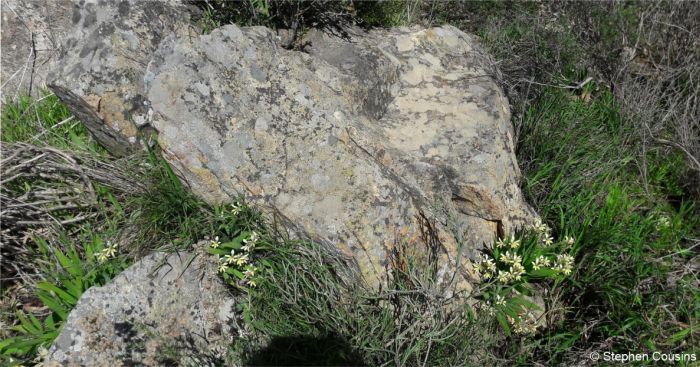 Distribution and habitat
Distribution description
Babiana noctiflora is a narrow endemic of the Western Cape Province of South Africa. The species is known from a very restricted range, with an extent of occurrence (EOO) of 65 km2, and an area of occupancy (AOO) of 28 km2 (2021 assessment). It is known from four locations on the Paardeberg mountain range and one location near Malmesbury. It occurs on granite outcrops, in fynbos.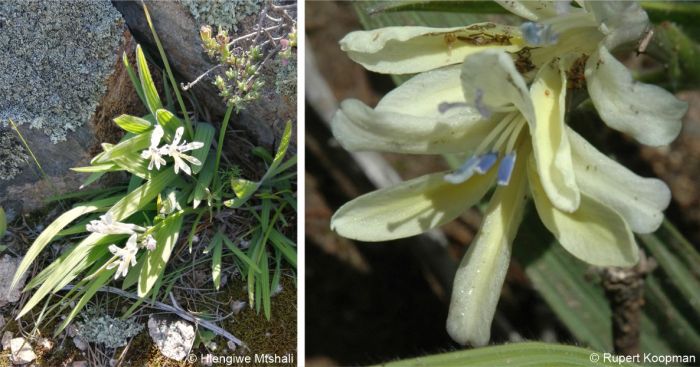 Derivation of name and historical aspects
History
Babiana noctiflora belongs to the family Iridaceae. There are 66 accepted genera in this family, with a total of 2 244 species worldwide.
The genus name Babiana is derived from the Dutch baviaantje, meaning 'little baboon', as baboons were seen eating the corms of these plants. This genus is made up of about 80 species, most of which are endemic to the Cape Provinces of South Africa. The species name noctiflora means 'night-blooming', as the flowers remain open at night for their moth pollinators. This is how the species got its common names, baboon flower and night bobbejaantjie.
Ecology
Ecology
The flower is pollinated by the night-flying moths, Syngrapha cicrumflexa. Babiana noctiflora has adapted to these pollinators by staying open and scented all night.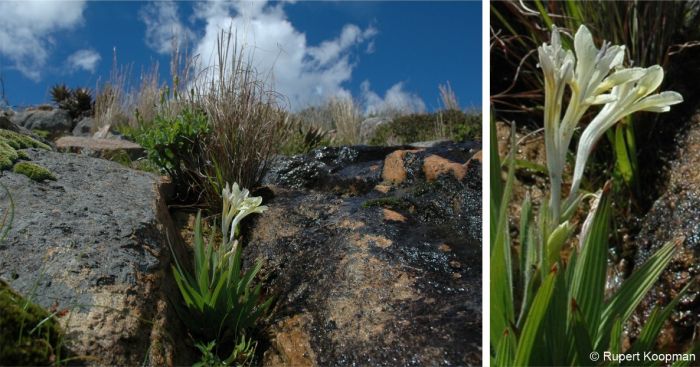 Uses
Use
Plants in the genus Babiana are used by gardeners around the world as ornamental plants because of the variety of flower shapes, beautiful colours and scented flowers, and its attractive leaves. They are planted in garden beds or pots and are used in flower bouquets. Babiana stricta, for example, is cultivated widely as an ornamental.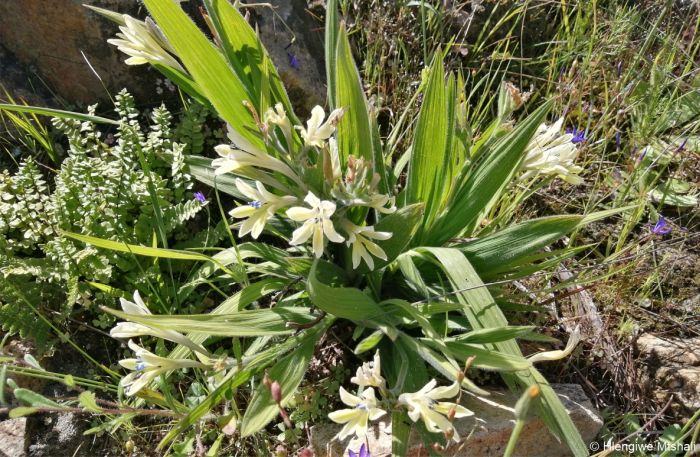 Growing Babiana noctiflora
Grow
Babiana are hardy plants and if neglected, they can still survive. This makes growing them easy. They originated in a temperate climate, which makes them resistant to heat and drought.
Corms are planted in autumn, from the middle of April to late May, with 8 cm soil over them, generally about 5 cm apart, in well-drained, sandy, composted potting soil. The corms can be left undisturbed in the soil for several years, or they can be lifted in early summer and stored in a cool, dry place until next autumn. Division is by offsets, which form on mature corms.
Babiana can also be multiplied by seeds sown in autumn; germination should take about 6 weeks. To obtain pure seeds from container-grown plants, containers should be isolated and flowers hand pollinated. Sow thinly into deep pots or raised beds; this is to prevent overcrowding and damping-off. Keep the soil moist but not soggy until germination. Seedlings should remain undisturbed for 2 years before being potted into permanent containers or planted in the garden. Flowering may commence during the second season but are usually expected during the third year.
Babiana thrive in temperate, winter-rainfall climates, actively growing during the wet season and dormant in the dry, summer months. They can tolerate cold conditions, but they need to be protected from heavy frost. They can also tolerate dry conditions. They need regular watering during their growing season, but they can tolerate some periods of drought. They may need additional watering close to flowering time, their regular rainfall in habitat is 2.5 cm a week in the growing season. They can tolerate dry soil more than being over-watered, which causes stress and leads to disease or rot.
They require full sun for flowering and can occur in a variety of soils, including those with a high sand content. However, they do better in rich, well-drained, sandy loam. Soil drainage can be improved by raising flower beds or adding compost.
As the growing season starts, bulbs can use all-purpose fertilizer. The bulblets (above the bulb) can be saved for faster multiplication and stored in a dry, well-ventilated location.
When in bloom, cut flowers for beautiful bouquets.
In the garden they can be grown in pots and containers, also borders and rockeries. They grow well between shrubs and amongst perennials at the path edge. They grow best in clumps, that should be dug up and replanted every couple of years.
For the most part, they are disease and pest resistant. The corms can be infested by mealy bugs and affected by fungal rotting when cultivated in insufficiently well-drained soil. Red spider mites can occur underneath the leaves during dry spells.
If they are grown in garden beds, the bed should be lined with wire mesh to deter mole rats from eating them.
References
Garden Express. Babiana Growing Guide. Accessed on 01 Oct 2021. https://www.gardenexpress.com.au/growing-guide/babiana-growing-guide/
Gardening in South Africa. Baboon flower, Bobbejaantjie – Babiana. Accessed on 01/10/21. https://www.gardeninginsouthafrica.co.za/bulbous-plants/baboonflowerbobbejaantjie-babiana
Gardening Know How. Babiana Bulb Growing: How to care for baboon flowers. Accessed on 01/10/21. https://www.gardeningknowhow.com/ornamental/bulbs/baboon-flower/how-to-care-for-baboon-flowers.htm
Goldblatt, P. & Manning, J. 2007. A revision of the southern African genus Babiana, Iridaceae: Crocoidea. Strelitzia 18. South African National Biodiversity Institute, Pretoria.
Goldblatt, P. & Manning, J.C. 2020. Iridaceae of southern Africa. Strelitzia 42. South African National Biodiversity Institute, Pretoria.
iNaturalist. Observation of Babiana noctiflora by Ismail Ebrahim. Accessed on 17 Sept. 2021. https://www.inaturalist.org/observations/71830742
Manning, J.C., Goldblatt, P., Low, A.B. & Raimondo, D. 2006. Babiana noctiflora J.C.Manning & Goldblatt. National Assessment: Red List of South African Plants version 2020.1. Accessed on 2021/09/17
Yates. How to grow Babiana. Accessed on 01 Oct 2021. https://www.yates.com.au/plants/flowers-and-ornamentals/babiana/how-to-grow-babiana/
Credits
Tamanna Patel
Threatened Species Unit
November 2021
Acknowledgements: the author thanks Hlengiwe Mtshali, Stephen Cousins and Rupert Koopman for images, additional information and proof reading.
Plant Attributes:
Plant Type: Bulb
SA Distribution: Western Cape
Soil type: Sandy
Flowering season: Spring
PH: Acid
Flower colour: Cream, Yellow
Aspect: Full Sun
Gardening skill: Easy
Special Features:
Drought resistant
Fragrant
Good potplant
Horticultural zones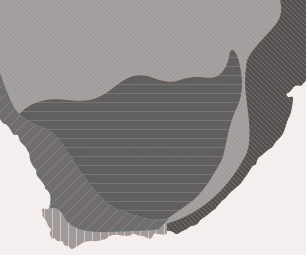 Zone 2 Coastal winter rainfall, frost free
Google QR Code Generator