Berkheya purpurea (DC.) Mast.
Family: Asteraceae
Common names: purple berkheya (Eng.); bloudisseldoring (Afr.); Sehlohlo (SS)
Introduction
A prickly thistle, Berkheya purpurea turns into a surprisingly beautiful perennial when flowering in midsummer.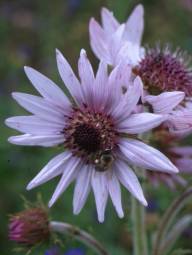 Description
Description
A fast-growing, long-lived perennial, Berkheya purpurea has a long, single taproot and forms a dense clump of very prickly foliage tight on the ground. The large green leaves arranged in a rosette are up to 250 mm long with wavy, very spiny edges. The upper surfaces of the leaves are almost shiny, whereas the cobwebby undersides are covered with long, soft, white hairs. Smaller leaves are produced along the single flowering stem; these leaves diminish in size upwards and their bases continue down the stem forming broad spiny wings running down the stem-an interesting feature of Berkheya purpurea.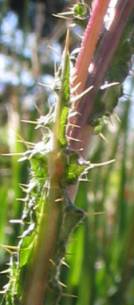 The strong flower stem is produced in summer (December to April) in the centre of the plant, and it can stand up to a metre tall. The flowers are produced on short side branches, shooting from the top third of the main flower stem. The short side branches usually form only one bud, but they sometimes divide further to carry another 2 to 3 buds. The flower buds open from the top down. They are protected by large, spiny green bracts which fold open with the flowers to form a flat shield at the back and close again after flowering to protect the seed heads. The long and soft outer ray florets of the large daisy flowers, are pale to deep mauve, whereas the inner disc florets in the centre are dark purple, contrasting with the delicate white pollen. The flowers are very rarely white. Each flower lasts a few days and a single plant can have up to 15 flowers open at one time.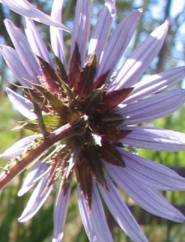 Conservation Status
Status
Distribution and habitat
Distribution description
Berkheya purpurea grows naturally along streams and on steep, grassy mountains slopes 1 525 to 3 050 m above sea level, from the mountains in the Eastern Cape to the Drakensberg in KwaZulu-Natal, Lesotho and the border of the Free State. This is a summer rainfall area where snow and frost are common in winter at the higher altitudes. Often found in large groups on the mountain slopes, a natural sweep of Berkheya purpurea in full flower is quite a spectacular sight.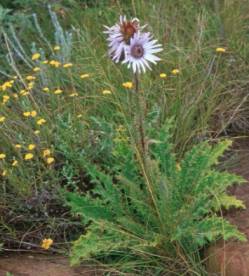 Derivation of name and historical aspects
History
Perennials or shrubs in the genus Berkheya are often thistle-like. Of the 75 species in the genus, about 71 species are indigenous to South Africa. The German botanist Ehrhart founded the genus Berkheya in 1788, who named it in honour of the Dutch botanist, Jan le Francq van Berkhey (1729-1812). Berkheya purpurea was first described and named as Stobaea purpurea in 1838 by the French botanist A.P. de Candolle, from a plant specimen collected in 1833 by J.F Drège in the Witteberg. The name was changed to Berkheya purpurea, by M.T. Masters in 1872 (Batten 1986).
Ecology
Ecology
Bees, the main pollinator in the garden, frequently visit the flowers.
Uses
Use
Berkheya purpurea is one of the prettiest summer perennials for colour display in the garden.
Growing Berkheya purpurea
Grow
At Kirstenbosch Berkheya purpurea is used in mixed plantings with other perennials, succulents and bulbs flowering at the same time. Some of the bulbs are Agapanthus inapertus, Eucomis autumnalis, Gloriosa superba and perennials Orphium frutescens, Chironia linoides, Geranium multisectum and Vernonia glabra. Purple berkheya is best displayed in groups at the front of herbaceous borders and in rockeries.
For healthy growth and good flowering, grow them in full sun and well-prepared beds with plenty of compost and good drainage. Once established, the plants are quite tough and can survive with less water than many other summer perennials, but for lush growth they need to have a good watering once a week in summer.
New plants are easy to propagate from seed. The seed ripens within a few weeks after flowering, falling out of the centre of the old flowerheads. At Kirstenbosch we sow the seed soon after collecting, into a seed tray in the nursery. The seed tray is filled with a well-drained potting mix and the seed lightly covered with river sand or fine-milled bark. The seed usually germinates very well, within 2 to 3 weeks after sowing. The seedlings are potted into small pots as soon they are easy to handle and grown on for 2-3 months before planting out into the garden. The best time to plant is in late spring (September/October) when Berkheya purpurea begins its growth cycle. Older plants tend to go slightly dormant over winter, but shoot with great vigour every summer to give a better show every year.
References
Batten, A. 1986. Flowers of southern Africa. Frandsen Publishers, Sandton.
Hilliard, O.M. 1977. Compositae in Natal. University of Natal Press, Pietermaritzburg.
Leistner, O.A. (ed.). 2000. Seed plants of southern Africa : families and genera. Strelitzia 10. National Botanical Institute, Pretoria.
Pooley, E. 1998. A field guide to wild flowers of KwaZulu-Natal and the Eastern Region. Natal Flora Publications Trust, Durban.
Credits
Liesl van der Walt
Kirstenbosch National Botanical Garden
January 2005
Plant Attributes:
Plant Type: Perennial
SA Distribution: Eastern Cape, Free State, KwaZulu-Natal
Soil type: Sandy, Loam
Flowering season: Early Summer, Late Summer, Autumn
PH: Acid, Neutral
Flower colour: Purple, Mauve/Lilac
Aspect: Full Sun, Afternoon Sun (Semi Shade)
Gardening skill: Easy
Special Features:
Feature plant
Feeds honeybees
Horticultural zones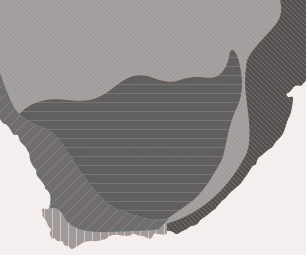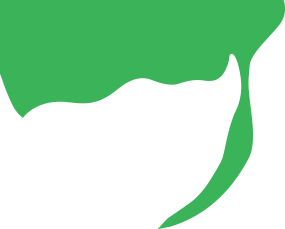 Zone 1 Coastal summer rainfall, frost free
Zone 2 Coastal winter rainfall, frost free
Zone 3 Winter rainfall Karoo, light frost
Zone 4 Summer rainfall Karoo and Highveld, Frost in winter
Zone 5 Bushveld summer rainfall, Light frost
Google QR Code Generator