Berzelia cordifolia Schltdl.
Family: Bruniaceae
Common names: Potberg kolkol, heart-leaf berzelia (Eng.); kolkolbossie (Afr.)
Introduction
A small, upright shrub with clusters of ball-shaped, white flower heads in spring.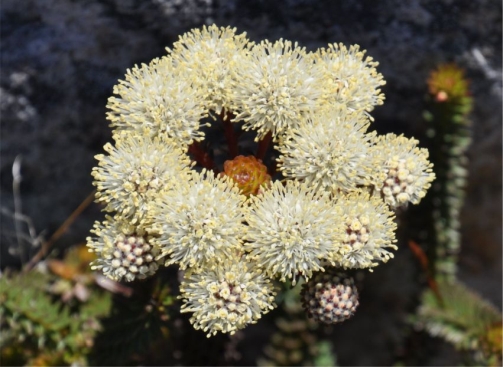 Description
Description
Berzelia cordifolia is an evergreen shrub that grows about 0.6 m tall, with erect branches that are hairy when still young. The leaves are short, reflexed, subcordate to ovate (almost shaped like a heart or egg shaped). These 4 mm long, coriaceous (leathery) leaves have broad petioles that are persistent (do not fall). The margins of the leaves are maroon on young leaves and become pale when older. These leaves are callous (hardened) at the tip, with a black, short, sharp point at the tip.
The flower heads are white to pale sulphur-yellow, solitary, at the tips of the branches, rounded (shaped almost like a small ball) and scaly. The stalks of the flower heads grow upwards, each to approximately the same height of up to 25 mm long, so that they are presented in a flattish cluster (corymbose). In each corymb there is more than 2 flower heads and as many as 12. The receptacle, where the flowers are attached, is covered with rough, thick, shaggy hairs. Bracts are hairy, obtuse, having a shape of a hood, with a hard, short, sharp point or tip. Petals are pure white, spreading, with a rectangular to spoon-like shape, broad at the apex and narrow at the base. The sulphur-yellow anthers are linear-oblong (in a straight rectangular shape). Berzelia cordifolia flowers in spring, from September to October. The gibbous fruits remain intact, keeping their tight, ball-like shape, and do not release the seeds even in maturity.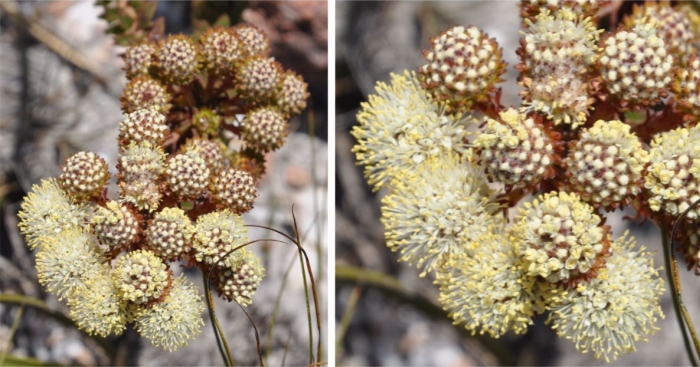 Conservation Status
Status
Berzelia cordifolia is assessed as Vulnerable (VU) on the Red List of South African Plants. The threats include alien invasive plant species and coastal housing development. 
Distribution and habitat
Distribution description
Berzelia cordifolia occurs in the Western Cape, from the Potberg in the De Hoop Nature Reserve to the Breede River Mouth at Cape Infanta, growing on sandstone and limestone slopes in Potberg Sandstone Fynbos, Albertinia Sand Fynbos, De Hoop Limstone Fynbos and Potberg Ferricrete Fynbos habitats.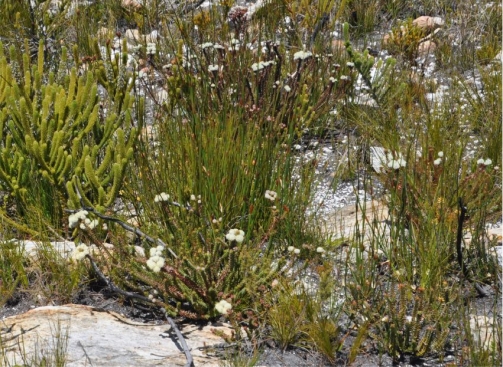 Derivation of name and historical aspects
History
The Bruniaceae family is named after Corneille de Bruin who was a Dutch traveler in Russia and in the Levant in the late eighteenth century, it might also be in commemoration of a ship's surgeon and plant collector Dr Alexander Brown, who worked in the East Indies around 1690. Bruniaceae is a family of 12 genera (Brunia, Berzelia, Nebelia, Lonchostoma, Thamnea, Pseudobaeckea, Raspalia, Staavia, Tittmannia, Audouinia and Linconia) and 77 species that are endemic to southern Africa.
The genus Berzelia is named after the Swedish chemist, physician, and founder of chemical symbols, Jons Jacob Berzelius (1779–1848). This genus consists of 15 species including Berzelia abrotanoides, B. albiflora, B. lanuginosa, B. stokoei and others. The species name cordifolia is taken from the Latin words cordi, meaning 'heart' and folium, meaning leaf, this refers to the subcordate-ovate leaves that are shaped almost like a heart.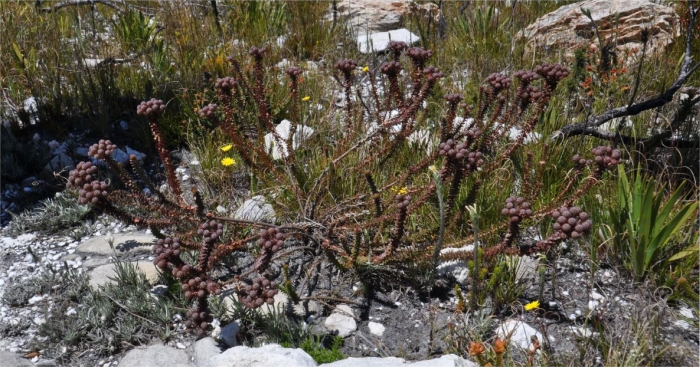 Ecology
Ecology
Berzelia flowers are pollinated by insects such as bees, flies and beetles, and other crawling insects help in the pollination of this plant. Berzelia cordifolia, like many species occurring in the fynbos biome with a naturally fire-driven system, have the ability to resprout after fire.
Uses
Use
Some species of Berzelia are used in the cut flower industry. Berzelia cordifolia works well planted among other fynbos plants in the garden. There are no records of medicinal uses of any species of Berzelia.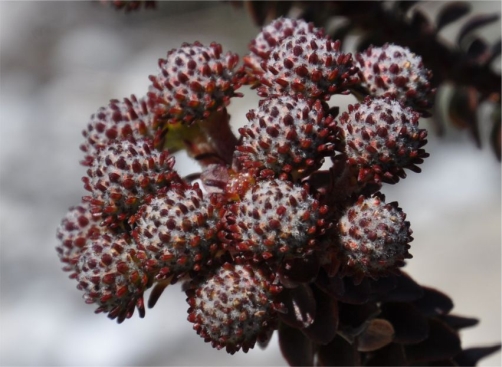 Growing Berzelia cordifolia
Grow
Berzelia cordifolia is suitable for outdoor cultivation in warm, dry and frost-free climates and is ideally suited to fynbos gardens. Grow plants in a well-drained, lime-free medium that is rich in organic matter, in a position in full sun to partial shade with cool, well-ventilated conditions.
Berzelia cordifolia can be propagated from both seed and cuttings. The seeds should undergo the smoke treatment which will stimulate the breaking of dormancy. Sow the seeds in a well-drained, moist medium that works well for fynbos plants, such as 30% sand and 70% fine-milled bark, in a sowing tray and put the trays in shade. Make sure your trays are kept moist but not soaking wet. Sowing of seeds should be done in autumn(February to April).
Take softwood or semi-hardwood cuttings, use a rooting medium of bark and polystyrene or perlite, treat your cuttings with rooting hormone to stimulate rooting . Place the trays with your cuttings on heated beds and irrigate your cuttings with mist irrigation system.
References
Claßen-Bockhoff, R., Oliver, E. G., Hall, A. V. & Quint, M. 2011. A new classification of the South African endemic family Bruniaceae based on molecular and morphological data. Taxon 60(4): 1138–1155.
Dummer, R.A. 1912. An enumeration of the Bruniaceae. The Journal of Botany British and Foreign, Volume L, Supplement II, pp. 1–35.
Huxley, A.J. 1992. The New Royal Horticultural Society Dictionary of Gardening. Macmillan & Co., London.
Manning, J. & Goldblatt, P. 2012. Plants of the Greater Cape Floristic Region 1: the Core Cape Flora. Strelitzia 29. South African National Biodiversity Institute, Pretoria.
Notten, A. 2004. Berzelia albiflora(E.Phillips) Class.-Bokh. & E.G.H.Oliv. (Bruniaceae). PlantZAfrica. Online. http://pza.sanbi.org/berzelia-albiflora.
Sonder, O.W. 1862. Bruniaceae. in Harvey, W.H. & Sonder, O.W. (eds) Flora capensis Vol. 2: 309-324. Accessed via Biodiversity Heritage Library. https://www.biodiversitylibrary.org/item/15233#page/317/mode/1up.
Tuckeldoe, R. 2005. Berzelia lanuginosa (L.) Brongn. (Bruniaceae). PlantZAfrica. Online. http://pza.sanbi.org/berzelia-lanuginosa.
Turner, R.C. 2006. Berzelia cordifolia Schltdl. National Assessment: Red List of South African Plants version 2020.1. Accessed on 2023/01/02.
Wilman, V. 2012. Berzelia abrotanoides (L.) Brongn. (Bruniaceae). PlantZAfrica. Online. https://pza.sanbi.org/berzelia-abrotanoides.
Credits
Mane Somtshu
Kirstenbosch National Botanical Garden
January 2023
Acknowledgements: the author thanks Siphesihle Sibiya for assisting her and Alice Notten for the photos.
Plant Attributes:
Plant Type: Shrub
SA Distribution: Western Cape
Soil type: Sandy
Flowering season: Spring
PH: Acid
Flower colour: White, Cream, Yellow
Aspect: Full Sun
Gardening skill: Challenging
Special Features:
Feeds honeybees
Horticultural zones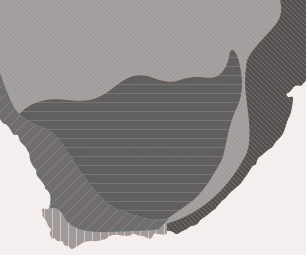 Zone 2 Coastal winter rainfall, frost free
Google QR Code Generator