Bowkeria cymosa MacOwan
Family: Stilbaceae
Common names: northern shellflower, escarpment shellflower (Eng.); noordelike skulpblombos, platorand-skulpblombos (Afr.); luchwimi (Siswati)
SA Tree No: 672
Introduction
A bushy shrub or small tree for sun or semi-shade, with dark green foliage and sprays of unusual, shell-like, white flowers in summer; a good backdrop for the flower border.
Description
Description
A scrambling, bushy shrub or small tree that grows about 3 m tall, but can reach 6–10 m high. The bark is brown and the leaves, arranged in whorls of three, are lanceolate to oblong, with a long leaf base and the apex narrowly tapering. The upper surface is shallowly wrinkled, with or without fine hairs. The undersurface is a paler green, finely hairy or woolly, with net-veining very prominent and noticeable. The leaves become smoother with age. The flowers resemble a sea shell, hence its common name. They are 2-lipped, strongly pouched with a slit-like mouth, white with reddish to yellowish streaks in the throat, in few-flowered, branching, axillary sprays, in summer (November to April). The fruit is a woody capsule that is formed inside the persistent calyx, in late summer to winter (from March to June), splitting to release numerous, small seeds.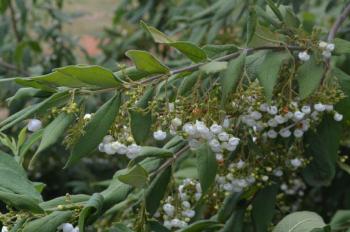 This plant may be confused with Buddleja salviifolia (sagewood), as their leaves have a similar appearance to some extent, but the leaves of the latter are usually opposite and pale grey to whitish on the undersurface, and the flowers are very different.
Conservation Status
Status
Bowkeria cymosa is Red Listed as Least Concern (LC), as evaluated against the 5 IUCN Criteria, according to Raimondo et al. (2009)
Distribution and habitat
Distribution description
It is found in the Limpopo and Mpumalanga Provinces of South Africa, and in Swaziland, and occurs infrequently in moist places on hill slopes, in mountain grassland and the edges of subtropical forest, at 610–1 980 m altitude.
Derivation of name and historical aspects
History
The genus Bowkeria is named after Col. James Henry Bowker (1822–1990) and his sister Mary Elizabeth, later Mrs F.W. Barker, both South African naturalists and plant collectors. The species name cymosa indicates that the spray of flowers has a structure in the form of a cyme, which is a flat-topped or convex inflorescence in which the central main stem and each side branch end in a flower, and the central main stem on each branch opens first. Tomatoes are a good example of a plant that has inflorescences that are structured in the form of cymes.
Bowkeria has only 3 species, and all of them are endemic in southern Africa. Until recently it belonged in the large snapdragon family, Scrophulariaceae, but recent molecular studies have resulted in it being moved to the Stilbaceae. The other 2 species are: Bowkeria citrina (yellow shellflower), a rare shrub from northern KwaZulu-Natal and Mpumalanga, with yellow flowers and lemon-scented foliage; and B. verticillata (southern shellflower) which has sticky, white, strongly scented flowers borne singly and occurs in the Eastern Cape, KwaZulu-Natal and Free State, and in Lesotho.
Ecology
Ecology
The flowers of Bowkeria cymosa produce oil which attracts many insects, particularly Rediviva bees, that use oil as food for their larvae.
Uses
Use
No records exist of any medicinal uses for the plant, but it can be planted successfully as a garden ornamental and pruned into a more compact form, and it can be grown in containers.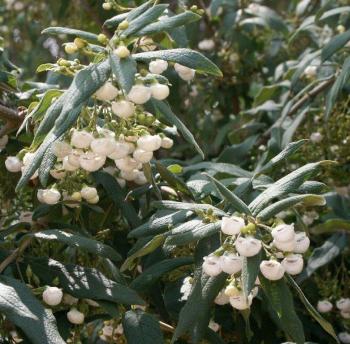 Growing Bowkeria cymosa
Grow
It is frost hardy and grows well in moist areas. For the best results, plant it in well composted soil in full sun or semi-shade. It creates an attractive backdrop for the mixed border, and when planted with bulbs, such as plants from the Amaryllidaceae family.
It can be propagated from seeds that can be sown all year round. Sow seeds by sprinkling them on the surface of a growing medium, and press lightly. The sowing mix can be a general sowing mix, or a mixture of coir, sand or perlite. Place seed trays in a position that receives plenty of light, but not direct sun and keep it constantly moist. Seeds take 3 to 6 weeks to germinate. It can also be propagated from semi-hardwood cuttings taken in spring to late summer (September to February) or in autumn (March to May). The cuttings should be at least 100 mm long, and treated with rooting hormone to help stimulate rooting. Cuttings can be placed in a well-drained medium, in a well-ventilated area, under mist unit with no direct sunlight.
References
Boon, R. 2010. Pooley's trees of eastern South Africa, a complete guide. Flora & Fauna Publications Trust, Durban.
Coates Palgrave, K. 2002. Trees of southern Africa. Struik, Cape Town.
Foden, W. & Potter, L. 2005. Bowkeria cymosa MacOwan. National Assessment: Red List of South African plants version 2017.1. Accessed on 2017/08/15.
Hiern, W.P. 1904. Flora capensis, vol 4, page 121, accessed via JSTOR Global Plants http://plants.jstor.org/stable/10.5555/al.ap.flora.floc010822?searchUri=filter%3Dname%26so%3Dps_group_by_genus_species%2Basc%26Query%3Dbowkeria
Jackson, W.P.U. 1990. Origins and meanings of names of South African plant genera. University of Cape Town.
Palmer, E. & Pitman, N. 1972. Trees of southern Africa . Balkema, Cape Town.
Pooley, E. 1993. The complete field guide to trees of Natal, Zululand and Transkei. Natal Flora Publication Trust, Durban.
Raimondo, D., Von Staden, L., Foden, W., Victor, J.E., Helme, N.A., Turner, R.C., Kamundi, D.A. & Manyama, P.A. (eds) 2009. Red list of South African plants. Strelitzia 25. South African National Biodiversity Institute, Pretoria.
Angiosperm Phylogeny Group (2009). An update of the Angiosperm Phylogeny Group classification for the orders and families of flowering plants: APG III. Botanical Journal of the Linnean Society. 161 (2)
Credits
Tumelo Mofokeng
Pretoria National Botanical Garden
September 2017
Plant Attributes:
Plant Type: Shrub, Tree
SA Distribution: Limpopo, Mpumalanga
Soil type: Sandy, Loam
Flowering season: Autumn
PH:
Flower colour: White
Aspect: Full Sun, Morning Sun (Semi Shade), Afternoon Sun (Semi Shade)
Gardening skill: Average
Special Features:
Good potplant
Hedge/screen
Feeds honeybees
Horticultural zones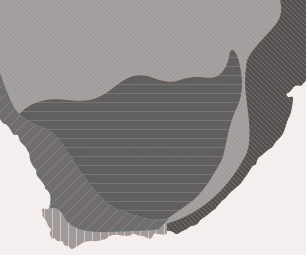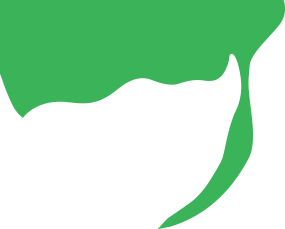 Zone 1 Coastal summer rainfall, frost free
Zone 2 Coastal winter rainfall, frost free
Zone 4 Summer rainfall Karoo and Highveld, Frost in winter
Zone 5 Bushveld summer rainfall, Light frost
Google QR Code Generator