Brassica L.
Family: Brassicaceae
Common names: mustard, cabbage, kale, rape
Introduction
Members of this genus are known as cruciferous vegetables, cabbages or mustard plants. Commonly used for food (cabbage, cauliflower, broccoli, Brussels sprouts and some seeds). The genus is important both for agricultural and horticultural crops, and also includes a number of weeds.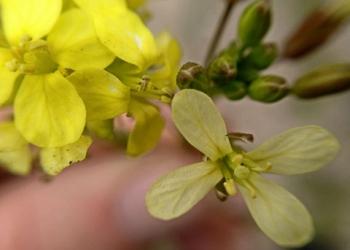 Description
Description
Annual to perennial herbs, glabrous or with simple hairs, frequently glaucous. Lower leaves lyrate-pinnatifid or sometimes only dentate or sinuate. Upper leaves usually entire, often sessile and amplexicaul. Sepals erect or spreading. Petals yellow, rarely clawed. With 6 stamens; filaments without appendages. Some species are cultivated plants, whereas others are troublesome weeds of fields, waste places, gardens and roadsides. Several species, depending on taxa, generally flower from May through October.
Tip on how to identify mustards: all you need to remember is "4 petals with 6 stamens – 4 tall and 2 short".
Conservation Status
Status
In South Africa, Brassica is not indigenous and thus is not evaluated in terms of the Red List of South African plants. Three species are naturalised in South Africa, but none are declared invasive weeds.
Many brassicas, with their ability to thrive in a wide range of climates and ecological conditions, are troublesome weeds, for example Brassica elongata Ehrh. is often found as a roadside weed and has been able to disrupt the ecosystem of several native plant habitats in North America, and therefore, is labelled as an invasive species.
Distribution and habitat
Distribution description
The genus consist about 40 species centred around the Mediterranean region, but with some representatives in Eastern Asia and central and western Europe. There are no species indigenous to South Africa, but 3 species are naturalised here. This includes a number of important vegetables and crop plants, some of which are cultivated in South Africa.
Ecology
Ecology
Species of Brassica are visited by a wide variety of insect species, including bumblebees, solitary bees, hoverflies and honey bees, which are regarded as the main pollinator, because of the number of pollen grains they carry on their legs.
Uses
Use
Brassica vegetables are of great economic importance throughout the world, utilised as a food source. For example B. oleraceae provides a large range of unique cole and cabbage types that include broccoli, cauliflower, Brussels sprouts, cabbage and others, and much of the product is locally consumed. Brassica rapa var. pekinensis (Chinese cabbage) and var. chinensis (leaf cabbage) are extensively grown as vegetables in China. Brassica alboglabra (Chinese kale) is among the ten most important market garden vegetables in some southern Asia countries, such as Thailand; and is also grown in China. Another species, B. juncea (leaf mustards) are consumed in great quantities in China.
Growing Brassica
Grow
Many members of this genus are widely grown as commercial crops and in vegetable gardens all over the world. Some make attractive garden plants and some are naturalised weeds. Most are easy to grow, preferring a fertile well-drained soil and full sun, but are affected by general garden pests and diseases, such as aphids, caterpillars, cabbage moth, powdery mildew, black spot and damping off.
Species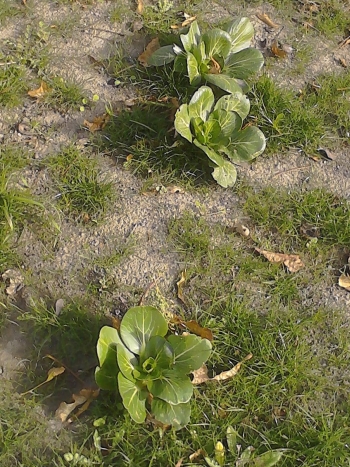 Brassica rapa L.
turnip, rape
Annual or biennial herbs with slender or stout tuberous taproots. Basal leaves lyrate-pinnatisect, upper stem leaves simple, obovate-oblong, almost cordate at the base, sessile, glabrous or nearly so. Racemes dense in flower, the open flowers generally overtopping the buds; lax in fruit. Flowers yellow, petals 6–10 mm long. Many forms have been in cultivation for centuries and the origin of the species is obscure. The different cultivars vary in colour and size of the seeds and in leaf shape and size. This species is naturalised in South Africa where it is widely distributed in Limpopo, Gauteng, Mpumalanga, Free State and the Eastern, Northern and Western Cape.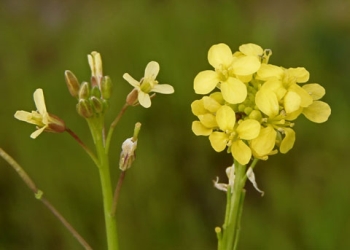 Brassica tournefortii Gouan
Saharan mustard
Erect, rather slender annuals up to 600 mm high. Basal leaves rosulate, petiolate, runcinate-pinnatisect, 4–12 jugate, up to 250 mm long, ciliate and densely hispid beneath. Upper leaves much smaller, sessile, oblong-lanceolate to linear, acute, entire or denticulate. Racemes terminal, at first dense, in fruit very lax. Flower pale yellow, sometimes tinged with mauve on fading. Fruiting pedicels erect to spreading or the lower ones almost recurved. Seeds globose, brown about 1 mm in diameter. The species is a native of the maritime Mediterranean region. Frequently collected in the Gordon's Bay and Strand area in the Western Cape; reported to be common or abundant on sand dunes and in disturbed places in the Eastern, Northern and Western Cape.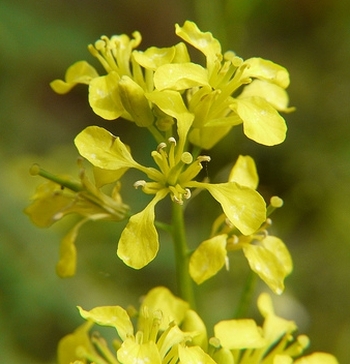 Brassica juncea (L.) Czern. & Coss.
Chinese mustard
Annual herbs up to 1 m high, with slender ascending branches. Stem hispid near the base but glabrous above. Lower leaves lyrate-pinnatisect, with 1 or 2 pairs of small, broad, lateral lobes and a large, ovate or obovate terminal lobe. Upper leaves are glabrous, smaller, simple, entire or dentate, shortly petiolate. Racemes terminal, dense in flower, lax in fruit. Flowers yellow, petals obovate, 7–9 mm long, almost 3 mm broad, shortly clawed. The fruiting pedicel is slender. Seeds globose, 16–24, brown, in one row. The seed coat is reticulately pitted. Native of southern and eastern Asia. Widespread as an established weed in the tropics and subtropics and as a casual weed in many parts of Europe and in the Eastern Cape, Free State, KwaZulu-Natal, Limpopo and the Western Cape in South Africa.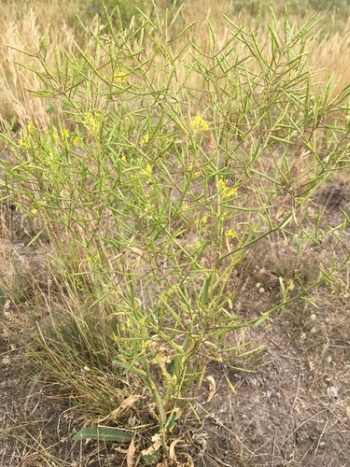 Brassica elongata Ehrh.
long-stalked rape, elongated mustard
The stems extend out from the base and are branched basally. The basal leaves are obovate to elliptic and their margins are sub-entire to dentate. The cauline leaves are oblong or lanceolate that are up to 100 mm long. Inflorescence is a terminal raceme. This species is native to parts of central and eastern Europe, Morocco and is naturalised in many parts of the world, including South Africa, Australia and North America. Genetically the species is a close cousin to B. napus (rapeseed) and secondary to B. oleracea (kale).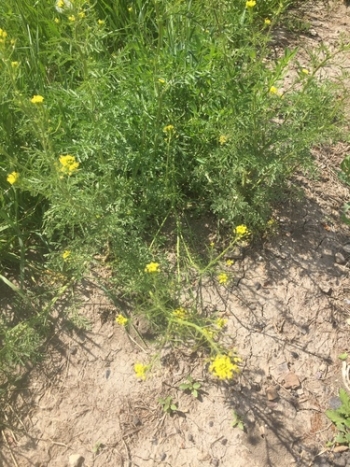 Brassica napus L.
rapeseed, canola
This is a bright yellow flowering member of the Brassicaceae. It is cultivated mainly for its oil-rich seed, the third largest source of vegetable oil in the world, and is also consumed as a vegetable in China. Wild forms of B. napus have been reported to occur on the beaches of Gothland, Sweden, the Netherlands and Britain. It is thought that B. napus is a hybrid of B. oleracea and B. rapa, the wild species found on the coast of northern Europe.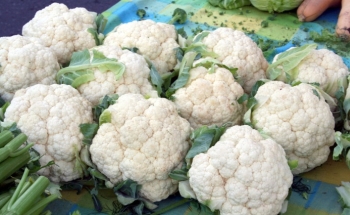 Brassica oleracea L.
wild cabbage, cabbage, broccoli, cauliflower
The wild species of Brassica oleracea is a tall biennial plant, forming a stout rosette of large leaves in the first year. Leaves are glabrous, fleshier and thicker than other species of Brassica. Racemes are 1–2 m tall, bearing numerous yellow flowers. It is the species of plant that includes many cultivars which are common foods, including cabbage, broccoli, cauliflower and Brussels sprouts. It is known as wild cabbage in its uncultivated form, native to coastal southern and western Europe.
References
Leistner, O.A. 2005. Seed plants of southern tropical Africa: families and genera. Southern African Botanical Diversity Network Report No. 26. SABONET, Pretoria
Marais, W. 1970. Cruciferae. In L.E. Codd, B. de Winter, D.J.B. Killick & H.B. Rycroft, , Flora of southern Africa volume 13. Government Printer, Pretoria.
Penn Veterinary Medicine Computer Aided Learning, Poisonous Plants, Genus: Brassica. http://research.vet.upenn.edu/PoisonousPlantsofPA/Brassica/tabid/5413/Default.aspx. Accessed on 14 November 2017, 01:01.
Rahman, M. & McVetty, P.B. 2011. A review of Brassica seed color. Canadian Journal of Plant Science.91: 437-446
Rakow, G. 2004. Species origin and economic importance of Brassica. In: Pua, E.C. & Douglas, D.J. (eds). Biotechnology in Agriculture and Forestry, Vol. 54, pp 3-11: Brassica. Springer, Berlin, Heidelberg.
Plant Attributes:
Plant Type:
SA Distribution:
Soil type:
Flowering season:
PH:
Flower colour:
Aspect:
Gardening skill:
Special Features:
Horticultural zones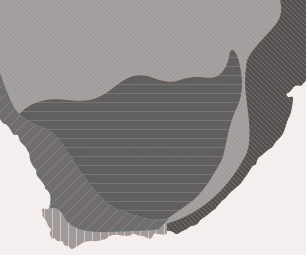 Google QR Code Generator