Bulbine ramosa Van Jaarsv.
Family: Asphodelaceae
Common names: Badspoort bulbine (Eng.); badspoortkopieva (Afr.)
Introduction
Bulbine ramosa is an obligatory cliff-hugger, with bright green, ascending, pencil-like, tapering leaves and a solitary inflorescence of yellow flowers in spring, from the quarzitic sandstone cliff faces in Badspoort, Western Cape. Best grown in containers.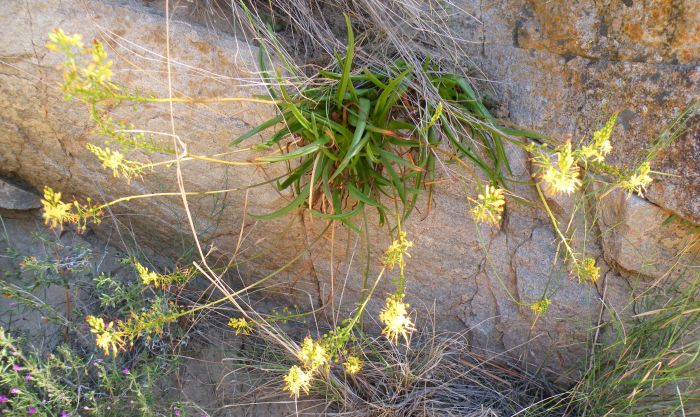 Fig. 1. The Badspoort bulbine (Bulbine ramosa) in full flower in December 2016 on a sheer cliff ledge in the Badspoort, southeast of Calitzdorp, Western Cape.
Description
Description
The plants with dividing rosettes, forming clusters up to 120 mm in diameter. The roots are fleshy and 3–5 mm in diameter. The short stems arise from a swollen, rounded, basal tuber, 5–30 mm in diameter, with golden-brown, only slightly fibrous tunics. Each rosette with 6–8 leaves, the older leaves spreading, firm, persistent. The leaf blade is linear to triangular-lanceolate, 80–110(–220) ´ (7–)10–15(–23) mm, ascending spreading and slightly sickle-shaped, the upper surface flat, sometimes rounded (convex) when fully swollen (turgid) or concave or slightly channelled during dry periods. The lower surface is convex. The surface is smooth and bright green and faintly striate, leaf sap clear, and not a lubricant. Leaf margin is entire and the leaf tip is acute with a short sharp point (mucro).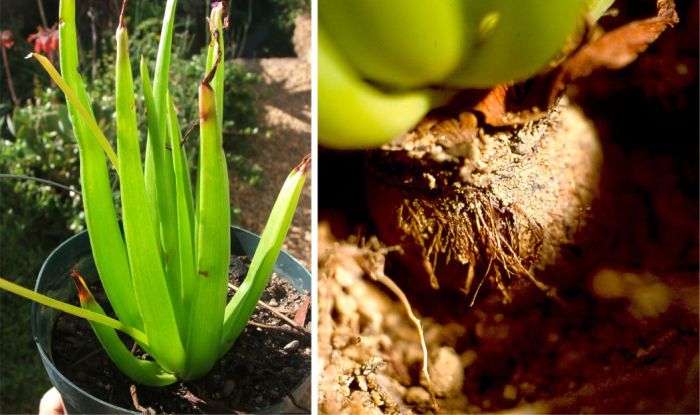 Fig. 2. (LEFT) A close-up of the leaves of Bulbine ramosa in cultivation, note the faintly striate leaves. (RIGHT) The rounded tuber of Bulbine ramosa.
The inflorescence (one or two per head), 300–470 mm tall and laxly flowered. The peduncle is flattened at the base and 3–4 mm wide, becoming rounded (terete) tapering to about 2 mm in diameter; bracts membranous, withering, lower bracts triangular, acuminate, 2–3 ´ 1 mm, the flower stalks rounded, 11–15 mm long. The flowers (20–35) are borne in the distal third of inflorescence, slightly drooping, 12–20 mm apart. The perianth is yellow, star-shaped (stellate), 18 mm in diameter, the outer tepals elliptic, up to 9 ´ 3 mm, the ends obtuse, the inner tepals up to 9 ´ 6 mm, the ends obtuse. The stamens (male part) up to 6 mm long and the anthers oblong, up to 1 mm long, yellow. The ovary rounded, up to 1.5 mm in diameter. The style (female part) is erect, terete, up to 6.5 mm long, yellow and the small stigma, head-like (capitate). The fruiting capsule is rounded and about 4 ´ 3 mm. The seeds elliptic, oblong, up to 1.5 mm long and grey-black. Flowering occurs in late spring (November).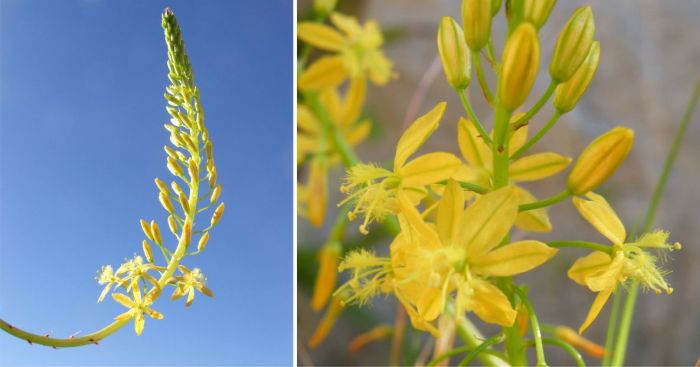 Fig. 3. The Badspoort bulbine (Bulbine ramosa) in flower in cultivation (LEFT) and a close-up of the flowers in habitat at Badspoort (RIGHT).
Conservation Status
Status
Although the population is as yet only known from a single habitat south of Calitzdorp in the Klein Karoo, the plant grows on sheer south-facing cliffs and is thus well protected and safeguarded by its difficult to reach habitat, and its distribution falls within a greater conservation region. Consequently it is not threatened and is assessed as Least Concern (LC) in the Red List of South African plants.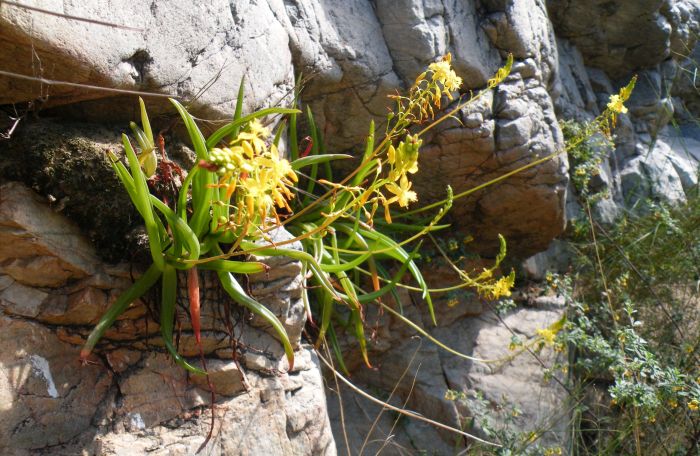 Fig. 4. Bulbine ramosa in flower in November 2016, on a ledge of Witteberg quartzite at Badspoort.
Distribution and habitat
Distribution description
Bulbine ramosa is known only from Badspoort, Western Cape. The Olifants River, which drains parts of the Klein Karoo, has dissected the local mountains into a deep, short gorge just before it joins the Gouritz River. It grows on sheer south-facing cliffs of the north bank of the river. The average daily maximum temperature is about 26ºC and the average daily minimum about 9ºC. Rainfall in winter and summer, ranging from 200–300 mm per annum. The plant grows at an altitude of about 400–600 m and the associated vegetation is Western Gwarrieveld of the Succulent Karoo Biome (Mucina et al. 2006). The succulent shrub, Crassula arborescens is dominant on these cliffs, becoming conspicuous with their silvery colour. Associated cliff dwellers include Albuca thermarum, Adromischus triflorus, Bulbine spongiosa, Crassula badspoortense, C. perforata and C. rupestris, Drosanthemum badspoortensis, Haworthia rycroftiana, Curio ficoides, Tridentea choanantha and Tylecodon leucothrix. The geology consists of quartzitic sandstone of the Witteberg Group (Cape Supergroup). The substrate has many fissures, ledges and crevices, ideal for establishment of plants.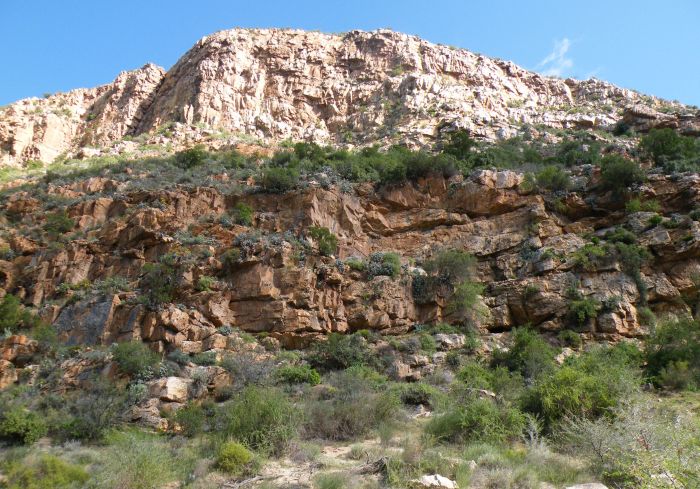 Fig. 5. The sheer south-facing cliffs along the Badspoort, habitat of Bulbine ramosa.
Derivation of name and historical aspects
History
Bulbine ramosa was named by the author in the magazine Aloe in an article by Braam van Wyk and the author in 2003. It was named for its dividing nature, ramosa, meaning 'branching'. It was collected by the author as part of a study investigating cliffs throughout South Africa for obligatory cliff-dwelling succulents.
Bulbine ramosa is at once distinguished by its bright green dividing rosettes forming small clusters. Its globose tubers and thick roots up to 5 mm in diameter, are also distinct. Unlike the juice of many other species of Bulbine, the leaf sap of this species is not a lubricant. Bulbine frutescens has aerial branches, with aerial, stilted roots, and without a tuberous base or swollen roots, and the leaf sap is a good lubricant.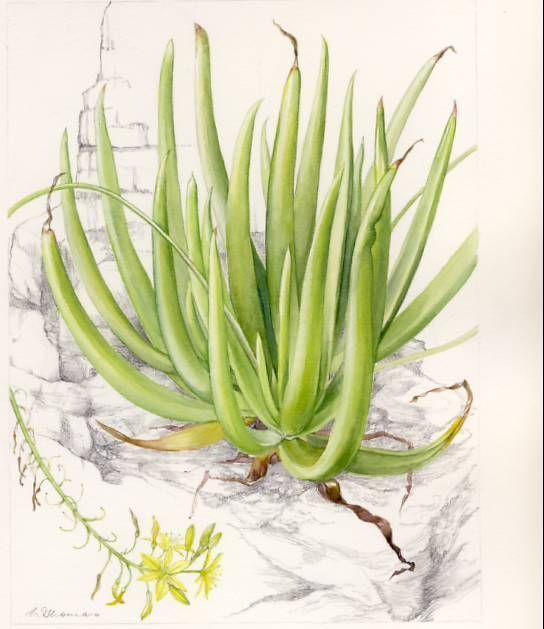 Fig. 6. The Badspoort bulbine (Bulbine ramosa) illustration by Vicki Thomas.
Ecology
Ecology
Plants grow in a relatively safe, cliff-face environment, lacking larger herbivores and also partially protected from fires. The flowers are pollinated by insects and the fruiting capsule ripens during summer, and seeds dispersed by wind.
Bulbine ramosa divides, forming small but dense clusters. The continual division and filling of crevices represents an efficient vegetative backup dispersal strategy. Individual branches of the clusters will root and continue to grow, maximising survival (vegetative backup).
Uses
Use
No medicinal or cultural uses have been recorded.
Growing Bulbine ramosa
Grow
Bulbine ramosa can be grown with relative ease from either seed or dividing the plants. It is a cliff-habitat specialist and it is best to grow it as a containerized plant under controlled conditions. In the Klein Karoo, rain can occur at any time of the year, therefore, plants can be watered in winter and summer, but best to protect it from frost in winter. Compared to other species of Bulbine, plants are slower growing. The young plant starts solitary, and continues dividing, forming small, dense clusters.
The soil should be sandy and well-drained, as is found in its natural habitat. They will react to any fertiliser but organic fertilisers are best, such as compost (well broken down). As a pot plant, it is best on a balcony or window sill. Plants at Babylonstoren Farm are grown in handmade clay pots, by the artist Ronnie van der Walt.
Divide plants at any time of the year, and plant in a shallow tray in a sandy mixture (e.g. peat, sand and polystyrene) and keep moist. Rooting is within 3 weeks and once well rooted, transfer to individual containers. Place container in a shady position, but with full light. The south side of a building is ideal.
Sow seed in spring or summer in a sandy medium. First moisten the substrate with a fine rose. Cover the seed lightly with a thin layer of sand. Keep moist and in a shady position.  Germination is usually within 3 weeks and the young seedlings are relatively fast growing. Transplant seedlings to individual containers once large enough to handle.
Plants are relatively disease free but slugs and snails can sometimes be a problem.
References
Mucina, L. & Rutherford, M.C. (eds) 2006. The vegetation of South Africa, Lesotho and Swaziland. Strelitzia 19. South African National Biodiversity Institute, Pretoria.
Van Jaarsveld, E.J. & Forster, P.I. 2001. Bulbine. In U. Eggli, Sukkulenten Lexicon (Band 1). Einkeimblattrige Pflanzen (Monocotyledonen). Ulmer, Stuttgart.
Van Jaarsveld, E.J. & Van Wyk, A.E. 2003. Four new cliff-dwelling Bulbine taxa (Asphodelaceae) from the Eastern and Western Cape. Aloe 40(1): 4–7.
Williamson, G. 2000. Four new, succulent Bulbine species (Asphodelaceae) from the Western and Eastern Cape Provinces of the Republic of South Africa. Bradleya 18: 31–40.
Manyama, P.A. & Kamundi, D.A. 2006. Bulbine ramosa Van Jaarsv. National Assessment: Red List of South African Plants version 2020.1. Accessed on 2021/04/01
Credits
Ernst van Jaarsveld
Kirstenbosch National Botanical Garden (Retired 2015)
Babylonstoren Farm
Extraordinary senior lecturer and researcher,
Department of Biodiversity and Conservation, University of the Western Cape
April 2021
 
Plant Attributes:
Plant Type: Succulent
SA Distribution: Western Cape
Soil type: Sandy
Flowering season: Spring, Early Summer
PH: Acid, Neutral
Flower colour: Yellow
Aspect: Shade, Morning Sun (Semi Shade), Afternoon Sun (Semi Shade)
Gardening skill: Average
Special Features:
Drought resistant
Good potplant
Horticultural zones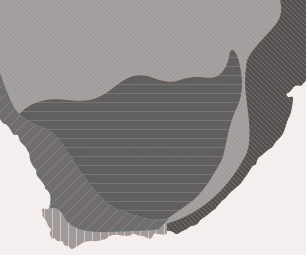 Zone 1 Coastal summer rainfall, frost free
Zone 2 Coastal winter rainfall, frost free
Google QR Code Generator