Capparis tomentosa Lam.
Family: Capparaceae
Common names: woolly caper bush (Eng.), wollerige kapperbos, wag-'n-bietjie (Afr.), inkunzi-ebomvu, iqwaningi, umqoqolo, ukhokhwana, umabusane (isiZulu), imfishlo, intshihlo, intsihlo, umpasimani (isiXhosa), gwambadzi, muoba-dali (Tshivenda), motawana (Setswana), nkawa (Xitsonga)
SA Tree No: 130.1
Introduction
Capparis tomentosa is a decorative garden plant that is used for hedging in many rural communities in South Africa. Its most popular common name, wag-'n-bietjie (wait a minute), describes the use of the plant as a security barrier because of its hooked spines.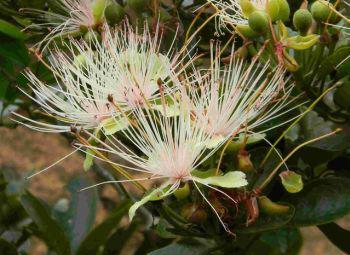 Description
Description
Capparis tomentosa is a spiny, much-branched shrub or small tree, with an upright trunk and climbing, pubescent branches. Leaves are elliptic, elliptic-oblong or ovate, 26–70 mm long and 13–80 mm wide, with tips usually round with a sharp point, light green to greyish green, soft and velvety. Hooked and sharp spines are found in the axils of the leaves.
Flowers are fragrant with pale yellowish green petals, that surround a tuft of white or pink stamens, that grow up to 30 mm long.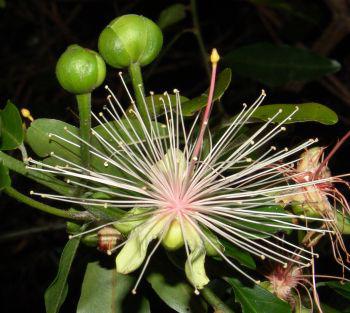 The flowers develop into red, globose, pendulous fruits, that grow up to 50 mm in diameter. Seeds are dark brown, ovoid to kidney shaped and 1–15 mm long. The seeds are surrounded by a juicy, white to pinkish pulp. The plants flower in spring and early summer, from August to November. Flowers open in the morning and start to fade in the middle of the day. Fruits are produced in summer, from December to March.
Conservation Status
Status
Distribution and habitat
Distribution description
Capparis tomentosa is indigenous to the Eastern Cape, KwaZulu-Natal, Mpumalanga and Limpopo Provinces. It grows in arid, sandy plains, mountain slopes, forests; river banks and coastal bush.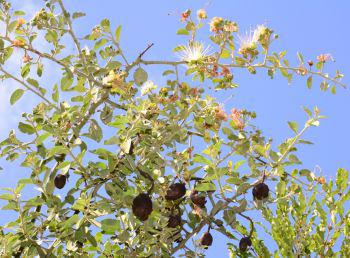 Derivation of name and historical aspects
History
Capparis is the Latin word for the edible fruit of a caper bush. The species name tomentosa is derived from the Latin word tomentose, meaning 'woolly'. This describes the woolly coat formed by closely pressed hairs on the leaves.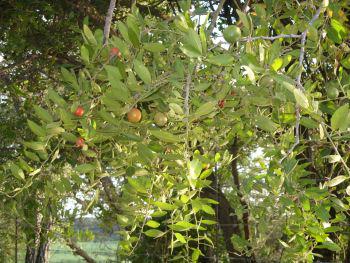 Ecology
Ecology
Capparis tomentosa prefers to grow on ant hills in deciduous bushlands and woodland savannas. The plant is an important food source for Lepidoptera species (moths and butterflies), as they feed on a narrow variety of plant during their larval stages. The leaves are also food for game, however, they have also been reported to cause toxicity in livestock. The fruits are consumed by humans and monkeys. This species is also important for the production of honey, as the flowers attract bees.
Uses
Use
Capparis tomentosa is an important medicinal plant in many indigenous communities throughout South Africa. The roots play a vital role in sexual and reproductive health. They are used to cure HIV opportunistic infections, such as tuberculosis, Herpis zoster and Herpis simplex and chronic diarrhoea. The roots are also used as an infusion to assist with sterility, threatened abortion, gonorrhoea, syphilis and also to stop bleeding after childbirth.
Other plant parts also play an important role in traditional medicine. Decoctions of the roots, leaves and bark can be used to treat coughs, fever, and asthma. Treatment should be taken in small quantities, as large doses can cause toxicity to the patient. Powdered roots can also be applied to wounds, abscesses and snakebites. The smoke inhaled from burning powdered bark, can be used for bronchitis, chest pains and headaches.
The fruits are eaten by people. The plant is often planted as a barrier hedge. This plant is a good one bee-keepers to plant as the flowers attract honey bees.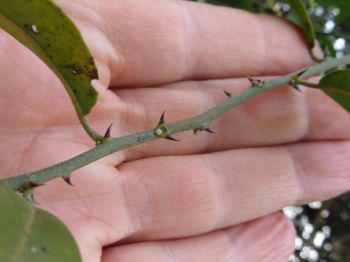 Growing Capparis tomentosa
Grow
Capparis tomentosa can be propagated from seeds and stem cuttings. To propagate the plant from seeds, collect the fruits when they are ripe. Cut the fruit in half and separate the seeds from the pulp, by rubbing the inside of the fruit against a strainer and rinse them with water. Soak the clean seed in water for 3 to 5 days. Sow the seeds 30 mm deep into a potting medium, consisting of 1 part potting mix and 3 parts perlite. Cover the tray and place in a dry area. Water the medium daily and wait for the plants to germinate. When the plants have at least 4 leaves, transplant them into a pot containing the same germination medium.
To propagate the plant from stem cutting, cut stems of 80 mm length and dip them into rooting powder. Make stem cutting in areas that contain buds. Plant the cutting in the same medium that you would use for seed germination. The best time to grow the plant from cuttings, is from February to April.
References
Ahmed, O.M.M. & Adam, S.E.I. 1980. The toxicity of Capparis tomentosa in goats. Journal of Comparative Pathology 90 (2): 187–195.
Aweke, G. 2013. Capparis tomentosa Lam. In G.H. Schmelzer & A. Gurib-Fakim (eds). Prota 11 (2): Medicinal plants/Plantes médicinales 2. PROTA, Wageningen, Netherlands.
Buwa, L.V. & Van Staden, J. 2006. Antibacterial and antifungal activity of traditional medicinal plants used against venereal diseases in South Africa. Journal of ethnopharmacology 103 (1): 139–142.
Chinsembu, K.C. & Hedimbi, M. 2010. An ethnobotanical survey of plants used to manage HIV/AIDS opportunistic infections in Katima Mulilo, Caprivi region, Namibia. Journal of ethnobiology and ethnomedicine 6 (1), 1.
Fici, S. 1993. Taxonomic and chorological notes on the genera Boscia Lam., Cadaba Forssk. and Capparis L. (Capparaceae) in Somalia. Webbia 47 (1): 149-162.
Giday, M., Teklehaymanot, T., Animut, A. & Mekonnen, Y. 2007. Medicinal plants of the Shinasha, Agew-awi and Amhara peoples in northwest Ethiopia. Journal of Ethnopharmacology 110 (3): 516–525.
iSpot southern Africa http://www.ispotnature.org/species-dictionaries/sanbi/Capparis%20tomentosa?nav=search
Kisangau, D.P., Lyaruu, H.V., Hosea, K.M. & Joseph, C.C. 2007. Use of traditional medicines in the management of HIV/AIDS opportunistic infections in Tanzania: a case in the Bukoba rural district. Journal of Ethnobiology and Ethnomedicine 3 (1): 1.
Lamessa, D. & Addi, A. 2009. Identification and evaluation of bee plants in arid and semiarid agro-ecological zones of southeast zones of Oromia. ESAP Proceedings.
Orwa, C., Mutua, A., Kindt, R., Jamnadass, R., & Anthony, S. 2009. Agroforestree Database:a tree reference and selection guide version 4.0. (http://www.worldagroforestry.org/sites/treedbs/treedatabases.asp). Accessed: 08 Sep 2016.
Plant propation and care manual. Capparis sandwichiana. http://www.huihawaii.org/uploads/1/6/6/3/16632890/plant_foster_parent_handbook_final_draft_for_pdf.pdf. Accessed: 08 Sep 2016.
Ramezani-Gask, M. et al 2008. A comparison of different propagation methods of common Caper-bush (Capparis spinosa L.) as a new horticultural crop. International Journal of Plant Developmental Biology 2: 106–110.
Steenkamp, V. 2003. Traditional herbal remedies used by South African women for gynaecological complaints. Journal of Ethnopharmacology 86 (1): 97–108.
Credits
Lerato Hoveka
National Herbarium, Pretoria
October 2016
 
Plant Attributes:
Plant Type: Climber, Scrambler, Shrub, Tree
SA Distribution: Eastern Cape, KwaZulu-Natal, Limpopo, Mpumalanga
Soil type: Sandy, Loam
Flowering season: Spring
PH: Acid, Neutral
Flower colour: Green, White, Pink, Cream
Aspect: Full Sun
Gardening skill: Average
Special Features:
Attracts birds
Attracts butterflies
Fragrant
Poisonous
Hedge/screen
Edible plant
Medical plant
Useful plant
Feeds honeybees
Horticultural zones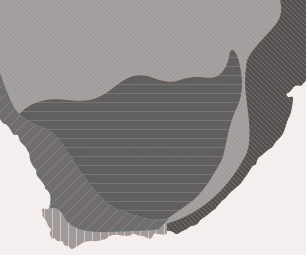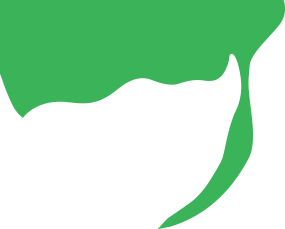 Zone 1 Coastal summer rainfall, frost free
Zone 5 Bushveld summer rainfall, Light frost
Google QR Code Generator