Carpobrotus deliciosus (L. Bolus) L.Bolus
Family: Aizoaceae
Common names: delicious sour fig, sweet sour fig (Eng.); suurvy, perdevy, gaukum (Afr.); igcuthuma (Xho.)
Introduction
A flat-growing, rapidly spreading, evergreen, succulent-leaved perennial with large, purple-pink flowers in spring and edible fruits, Carpobrotus deliciosus grows in many types of soils and forms a thick mat that covers the soil completely. It is drought-resistant and fire-retardant, making it a tough, ornamental groundcover that also helps prevent soil erosion and stops the spread of wild fires. The leaf juice is mildly antiseptic and can be used to soothe burns, wounds and eczema. This species is hermaphrodite, meaning it has both male and female organs present, and is native to South Africa, growing in the Western and Eastern Cape and KwaZulu-Natal provinces.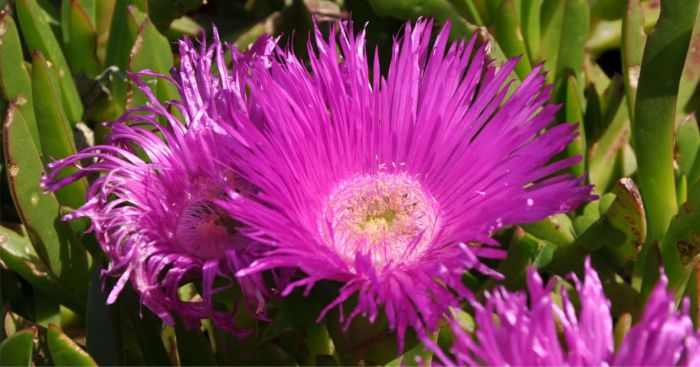 Description
Description
Carpobrotus deliciosus is a robust, evergreen, succulent, perennial plant that grows 100 to 200 mm tall, with long, thick, trailing stems that root at the nodes. The leaves are succulent, almost straight, 12–18 mm in diameter, triangular in cross-section. The flowers are 60–80 mm in diameter, purple, pink or white with yellow stamens in the centre. Flowering is in late winter, spring and early summer (June to October). The flowers are rich in nectar and pollen. Fruits are globose, fleshy and indehiscent.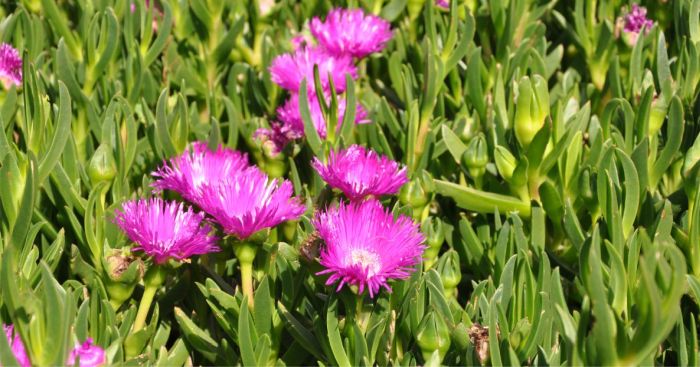 Conservation Status
Status
Carpobrotus deliciosus is Red Listed as Least Concern (LC), it is not at risk of extinction.
Distribution and habitat
Distribution description
Carpobrotus deliciosus is native to South Africa, it occurs in the Western and Eastern Cape provinces from the Riversdale district to southern KwaZulu-Natal. It grows on sand dunes and in rocky grassland, in zones with warm temperatures and a Mediterranean climate.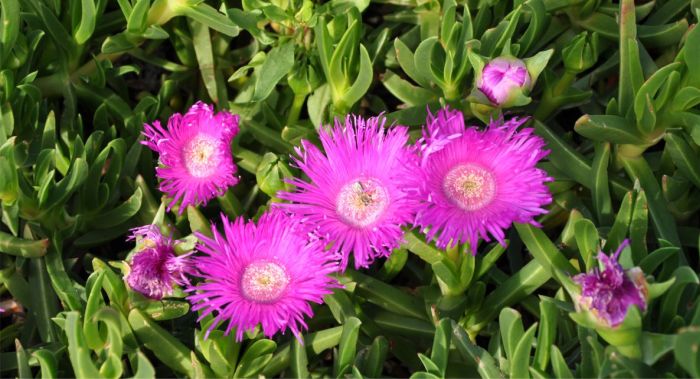 Derivation of name and historical aspects
History
The name Carpobrotus is from Greek, in which, karpos means 'fruit' and brotos means 'edible'. The species name deliciosus means 'delicious', referring to the tasty fruits.
Carpobrotus deliciosus is part of the Aizoaceae family. The genus Carpobrotus currently has 14 accepted species with 8 of them located in South Africa, 5 in Australia and 1 in South America. Other species featured on PlantZAfrica are: Carpobrotus edulis, sour fig, C. quadrifidus, West Coast sour fig and C. dimidiatus, Natal sour fig.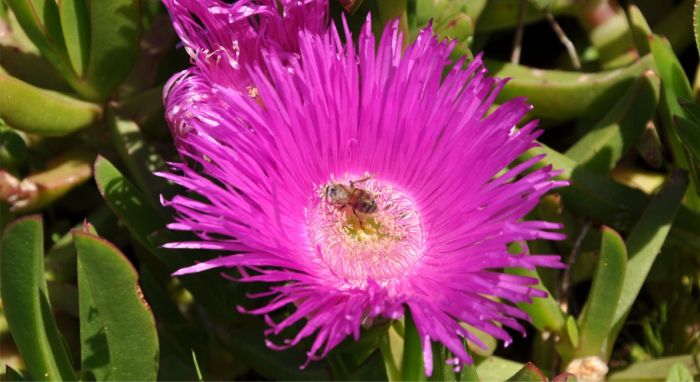 Ecology
Ecology
Carpobrotus deliciosus flowers are rich in nectar and they attract many pollinating insects, including honey bees. The fruits are eaten by many animals. The leaves are eaten by tortoises. The clumps provide shelter for many small creatures and other plants.
It is often seen growing on sandy slopes and sand dunes along the coast, where it acts as a sandbinder, stabilizes the soil and prevents erosion. It is moderately fire retardant due to the soapy liquid that is stored in its fresh, succulent leaves, and because it doesn't catch fire easily, it has the ability to survive wildfires and large dense mats may slow or even stop the spread of a fire.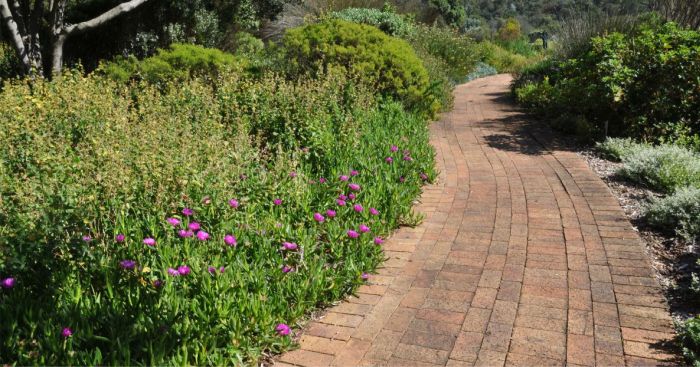 Uses
Use
Carpobrotus deliciosus is cultivated for its edible fruits and for both ornamental purposes as well as for its ability to prevent soil erosion in sandy soils. The edible fruits are sweet and juicy when ripe, are said to be thirst-quenching, and can also be used to make jams, preserves and syrups. It can be planted as a soil stabilizer in sandy soils, and it is good plant to stabilize slopes in landscapes. It also helps soften the hard concrete of retaining walls. When grown as a groundcover it also suppresses weeds. 
It can also be used as a fire retardant, planted in the zone nearest the house in fire-prone areas.
The leaf juice is highly astringent and mildly antiseptic, and can be used as a gargle to soothe a sore throat and treat infections of the mouth or throat, or taken as a medicine to treat stomach complaints. The leaf juice or leaf pulp can be applied to the skin to soothe and treat burns, wounds, insect stings as well as rashes and itchy skin conditions.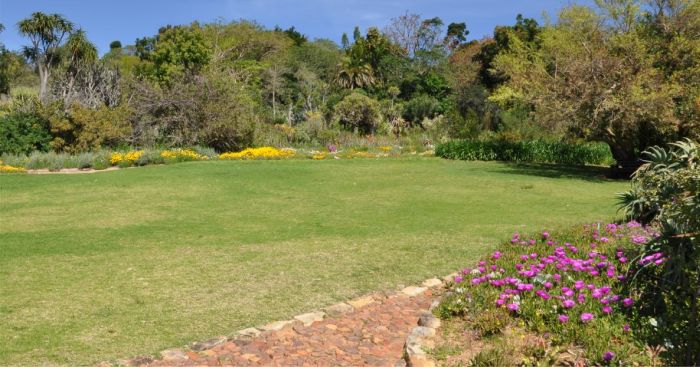 Growing Carpobrotus deliciosus
Grow
Propagate Carpobrotus deliciosis by asexual (cuttings, removing rooted side branches) and sexual (seed) methods. A well- drained soil mixture is most important. Take tip cuttings using clean secateurs. Plant in well-drained, sandy soil, in a cool and light position and keep moist, don't let the soil dry out but avoid overwatering. Planting season is all year round. A rooting hormone can be used but is not required. Sow seeds in spring, early summer or autumn, in sandy well-drained soil. Keep warm and moist (but not wet), in a well-ventilated spot. Prick out and pot up when the seedlings are large enough to handle.
Carpobrotus deliciosus is easy to grow and performs best in well–drained, composted, sandy soil, in full sun. When established, Carpobrotus deliciosus is drought resistant. This species is able to tolerate short cold periods but is not frost resistant and can be damaged by temperatures lower than 1°C and will thus only grow well outdoors in coastal or warm, frost-free areas. It is wind resistant and moderately fire resistant. This rapidly spreading succulent groundcover roots as it spreads.
In a garden, it is best suited to sandy flats or slopes or a sunny rockery and can be used as a low-maintenance, water-wise groundcover, in a herbaceous flower border, as an edging plant or on dry retaining walls or gabions. It is suitable to plant underneath trees for weed control, but it will not flower as freely as plants growing in full sun. In fire-prone areas, it can be planted in the zone nearest the house as part of a fire-prevention strategy. This plant is ideally suited to coastal gardens.
Snails often affect Carpobrotus deliciosus and can be treated using traps or salt sprays.
References
Carter, B.O.1932. Illustration of Carpobrotus deliciosus (L.Bolus) L. Bolus. University of Cape Town Libraries Digital Collections. Online. https://digitalcollections.lib.uct.ac.za/collection/islandora-22964.
Dold, A.P. & Cocks, M.L. 1999. Preliminary list of Xhosa plant names from the Eastern Cape, South Africa. Bothalia 29,2: 267-292.
Ebedes, G. 2021. Carpobrotus deliciosus. Plantbook. Online. https://www.plantbook.co.za/carpobrotus-deliciosus/. Accessed 28 August 2021.
Goldblatt, P. & Manning, J. 2000. Cape Plants. A conspectus of the Cape flora of South Africa. Strelitzia 9. National Botanical Institute, Pretoria & Missouri Botanical Garden, Missouri.
Malan, C. & Notten, A.L. 2006. Carpobrotus edulis (L.) L.Bolus (Aizoaceae). PlantZAfrica. Online. http://pza.sanbi.org/carpobrotus-edulis.
Manning, J. 2001. Eastern Cape wild flower guide. Botanical Society of South Africa, Cape Town.
Moriarty, A. 1997. Outeniqua, Tsitsikamma and Eastern Little Karoo. South African Wildflower Guide 2, Botanical Society of SA, Cape Town.
Notten, A.L. 2006. Fireproof your garden. Veld & Flora June: 97–99. Available at http://pza.sanbi.org/sites/default/files/info_library/fireproof_garden.pdf.
Plants of the World Online. 2022. Carpobrotus N.E.Br. Online. https://powo.science.kew.org/taxon/urn:lsid:ipni.org:names:328405-2. Accessed on 10 Mar 2022.
Practical Plants. Carpobrotus deliciosus Sweet Hottentot Fig. Online. https://practicalplants.org/wiki/Carpobrotus_deliciosus. Accessed 28 August 2021.
Raimondo, D., Von Staden, L., Foden, W., Victor, J.E., Helme, N.A., Turner, R.C., Kamundi, D.A. & Manyama, P.A. (eds) 2009. Red list of South African plants. Strelitzia 25. South African National Biodiversity Institute, Pretoria.
Smith, C.A. 1966. Common names of South African plants. Memoirs of the Botanical Survey of South Africa No. 35. Government Printer, Pretoria.
Credits
Anam Cimi and Alice Notten
Kirstenbosch National Botanical Garden
March 2022
Plant Attributes:
Plant Type: Ground Cover, Scrambler, Succulent
SA Distribution: Eastern Cape, KwaZulu-Natal, Western Cape
Soil type: Sandy, Loam
Flowering season: Spring, Early Summer, Winter
PH: Acid, Neutral
Flower colour: Purple, White, Pink
Aspect: Full Sun
Gardening skill: Easy
Special Features:
Drought resistant
Edible plant
Medical plant
Useful plant
Feeds honeybees
Pioneer plant
Horticultural zones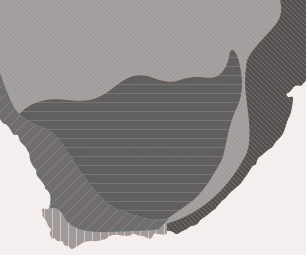 Zone 1 Coastal summer rainfall, frost free
Zone 2 Coastal winter rainfall, frost free
Google QR Code Generator