Chasmanthe floribunda 'Duckittii'
Chasmanthe floribunda 'Duckittii' (= Chasmanthe floribunda (Salisb.) N.E.Br. var. duckittii G.J.Lewis ex L.Bol.)
Family: Iridaceae
Common names: yellow cobra lily, yellow chasmanthe, Duckitt chasmanthe (Eng.); geelpiempiempie, geelkapelpypie, geelsuurkanolpypie, geelpypie (Afr.)
Introduction
Chasmanthe floribunda ''Duckittii' is an attractive deciduous, winter-growing, cormous geophyte with fresh green sword-shaped leaves and spikes of canary yellow long-tubed flowers during winter to early spring.
Description
Description
A corm is a bulb-like, shortened, swollen underground stem with one or more regenerative buds on it, enclosed by dry, scale-like leaf bases called tunics. Like a true bulb, it is a food store for the plant. Dormant during the summer, the corms resprout in autumn (March-April) with the onset of cooler wet weather, the leaves growing to a height of 0.4-1 m. Showy spikes of tubular yelow flowers are borne in winter to spring (July-Sept). The fruit is a capsule of large, rounded orange seeds.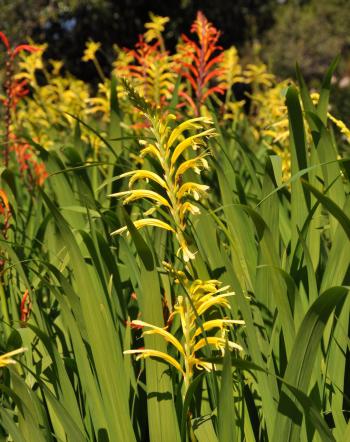 Conservation Status
Status
Rare. This variety is found at only a few locations in the vicinity of the town of Darling in the Western Cape.
Distribution and habitat
Distribution description
Chasmanthe is a purely South African genus with three species, Chasmanthe aethiopica, Chasmanthe bicolor and Chasmanthe floribunda, all of which occur only in the Cape flora.
Chasmanthe floribunda plants form small colonies and prefer sunny, well watered sites. In nature they are found in dampish spots on rocky outcrops. This particular variety with its distinctive yellow flowers is only found in a few locations in the vicinity of Darling. The most common and widespread form of Chasmanthe floribunda has orange-red flowers and is found in coastal and montane flora on sandstone and granite soils from the Bokkeveld mountains to Hermanus.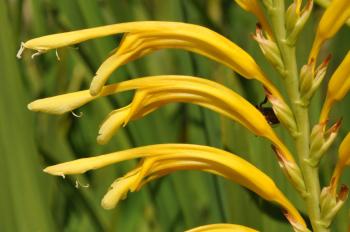 Derivation of name and historical aspects
History
The genus name Chasmanthe is derived from the Greek chasme meaning gaping and anthos meaning flower, alluding to the shape of the corolla. The species name floribunda is Latin for many-flowered, or producing abundant flowers. Chasmanthe floribunda 'Duckitti' was named in honour of the Duckitt family of Darling. They created wildflower reserves and have been instrumental in the operation of the spring wildflower shows in Darling.
Chasmanthe floribunda was initially classified as Pentamenes floribunda and may be found by that name in the older botanical literature. Until recently, two varieties were recognised: Chasmanthe floribunda (Salisb.) N.E.Br. var. floribunda and Chasmanthe floribunda (Salisb.)N.E.Br. var. duckittii G.J.Lewis ex L.Bol.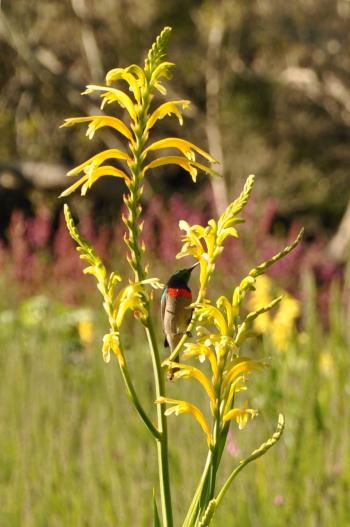 Ecology
Ecology
Chasmanthe flowers are pollinated by sunbirds.
Uses
Use
Chasmanthe floribunda 'Duckittii' is a popular garden plant, and is effective planted in groups in mixed beds and borders or en masse. A large bed of it can be found at the main entrance to Kirstenbosch. They can also be found in a bed just above the Waterwise Garden. In both cases they are interplanted with either evergreen or deciduous species of Agapanthus, as they complement each other very well. The Agapanthus is a summer grower with flowers in mid to late summer, while the Chasmanthe is a winter grower, with flowers in mid-winter to early spring. Thus, when the Chasmanthe is underground, the Agapanthus is there to fill the gap, and vice versa.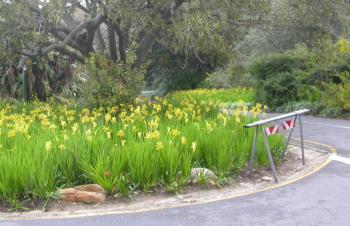 Growing Chasmanthe floribunda 'Duckittii'
Grow
Chasmanthe floribunda is easy to cultivate and is useful in the garden in that it will grow equally well in full sun or semi-shade. It is also known not to be subject to any serious pests or diseases.
The corms should be planted 3-5 cm deep and are best left undisturbed for several years. Corms that have been lifted and replanted will take at least a season to re-establish themselves and often will not flower the season after replanting. Chasmanthe requires a well-drained, well-composted soil, and will tolerate summer irrigation during the plants' dormant period, provided the soil is well-drained. The plants must be well-watered during autumn and winter which is their growing-season. Chasmanthe floribunda is tender to half-hardy and requires protection in very cold climates. It is considered unsuitable for permanent outdoor cultivation in climates colder than USDA zone 10 (-1 to 4 oC / 30 - 40 oF).
Propagation is by offsets and seed. Chasmanthe floribunda increases itself naturally by producing cormlets (small corms / offsets / daughter corms) around the base of the parent corm, which can be removed during the dormant period and replanted in early autumn. If left undisturbed they will grow up around the parent forming cormlets of their own so that in time a single plant can form a dense colony. Another curious habit is that the corm of a single plant, having flowered the previous season, will split to form two plants the following season. This is another means by which they proliferate to form dense colonies. Colonies can be lifted during the dormant period, divided and replanted in early autumn.
Seed is sown in autumn (March- May), in trays deep enough to give sufficient room for the growth of the developing rootstock; a 10-cm deep tray is recommended. The medium must be well-drained and should be kept moist but not wet. The trays must be kept in a semi-shaded position for the first season. The young corms can be planted out into the garden at the beginning of their second season, when some of them may flower for the first time.
References
Duncan, G., personal communication.
Du Plessis, N. & Duncan, G. 1989. Bulbous plants of southern Africa, a guide to their cultivation and propagation. Tafelberg, Cape Town.
Goldblatt, P. & Manning, J. 2000. Cape Plants. A conspectus of the Cape flora of South Africa. Strelitzia 9. National Botanical Institute, Pretoria & Missouri Botanical Garden, Missouri.
Hilton-Taylor, C. 1996. Red Data List of Southern African Plants. National Botanical Institute, Pretoria
Jackson, W.P.U. 1990. Origins and meanings of names of South African plant genera . University of Cape Town.
Credits
Jacqueline Esau & Alice Notten
Kirstenbosch National Botanical Garden
July 2001, updated March 2016
Plant Attributes:
Plant Type: Bulb
SA Distribution: Western Cape
Soil type: Sandy, Clay, Loam
Flowering season: Spring, Winter
PH: Acid, Neutral
Flower colour: Yellow
Aspect: Full Sun, Morning Sun (Semi Shade)
Gardening skill: Easy
Special Features:
Attracts birds
Feature plant
Good potplant
Feeds honeybees
Horticultural zones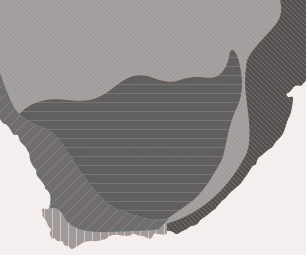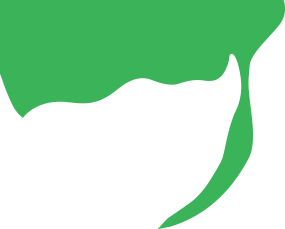 Zone 1 Coastal summer rainfall, frost free
Zone 2 Coastal winter rainfall, frost free
Zone 3 Winter rainfall Karoo, light frost
Zone 5 Bushveld summer rainfall, Light frost
Google QR Code Generator