Cineraria geifolia (L.) L.
Family: Asteraceae
Common names: geum-leaved cineraria
Introduction
A cheery, floriferous, spring-flowering ground cover, widespread from the coastal shores to higher altitudes inland and it is easy to grow, making it a good garden ornamental candidate with very good landscape potential, and ideal for coastal and fynbos gardens.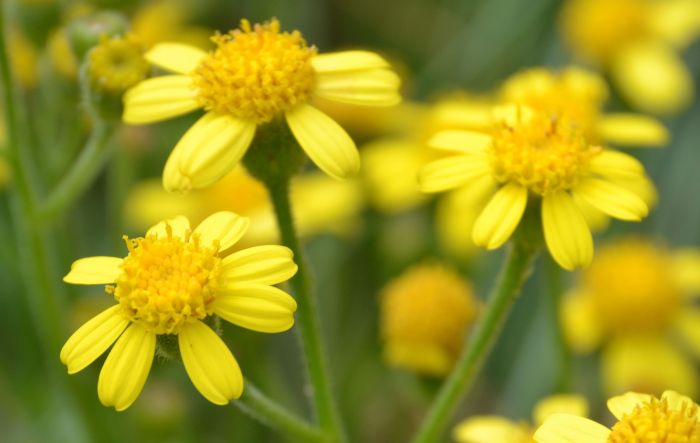 Description
Description
Cineraria geifolia is a sprawling, semi-herbaceous perennial, between 220 and 600 mm tall. The kidney-shaped (reniform) leaves are variable, having either blunt or deep lobes, and shallowly toothed or crenate margins.
Flower heads are radiate, in terminal corymbs, with yellow ray- and disc-florets; involucral bracts are hairy or glabrous. Flowering time is in winter and spring (from August to October). Fruiting is in spring and early summer (from October to early November).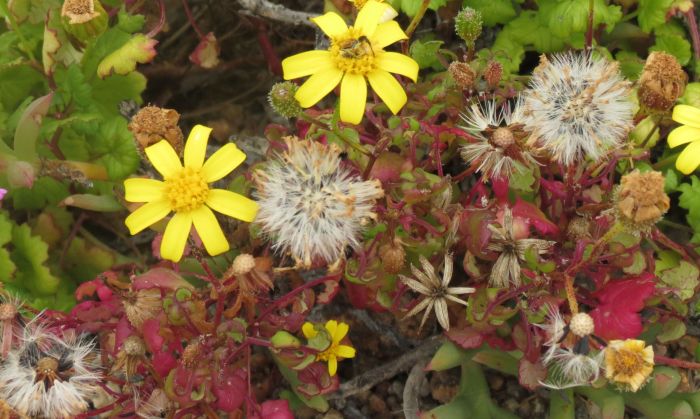 Conservation Status
Status
Given its wide distribution-range, Cineraria geifolia has no known threats and, therefore, has been accorded a conservation-status of Least Concern (LC) according to the Red List of South African plants.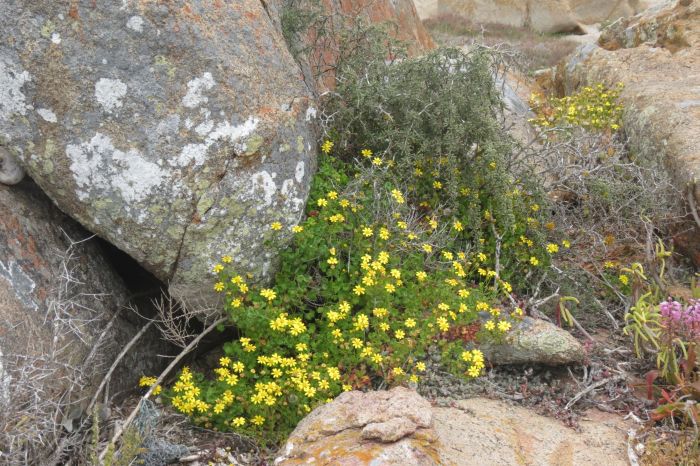 Distribution and habitat
Distribution description
Cineraria geifolia is found in the Western Cape, on dunes, in rocky crevices and other sheltered places along the shoreline, from St Helena Bay on the West Coast to Cape Infanta, close to Swellendam, in the east, and among bushes at higher altitudes. Previously, this species was thought to occur further north in the Eastern Cape, Free State and KwaZulu-Natal, however, Cron in her 2005 thesis, considers the specimens from the Drakensberg in the Eastern Cape, Free State, Lesotho and KwaZulu-Natal to be Cineraria erodioides. 
Derivation of name and historical aspects
History
The genus name Cineraria is derived from the Latin word cinerarius, which was used to describe the grey or ash-coloured leaves of the first known species. The species name geifolia means 'leaves (folia) resembling Geum', a genus in the Rosaceae. 
Cineraria belongs in the daisy family (Asteraceae), which consists of roughly 1 535 genera and 25 000 species, represented all over the world. Ninety-one percent (32 out of 35) of all species of Cineraria are confined to southern and subtropical Africa, 27 out of the 32 can be found in South Africa, and 17 of these species are endemic to South Africa. The KwaZulu-Natal Midlands, where 9 species can be found, is considered to be the centre of diversity for this genus. The most widespread species, C. deltoidea, has a distribution-range from South Africa to Ethiopia.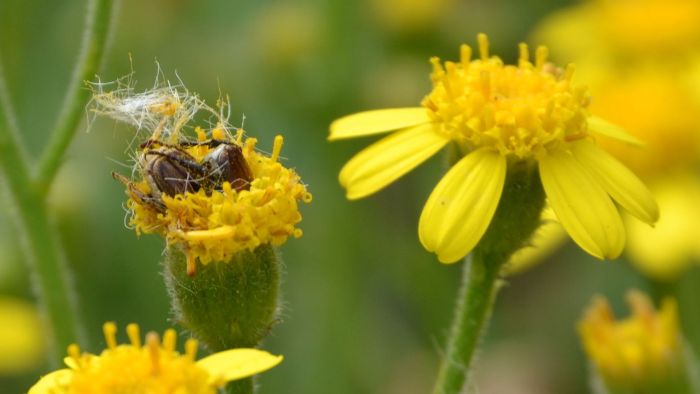 Ecology
Ecology
Bees and beetles were observed frequenting the flowerheads during flowering.
A more glabrous form of this species is found high up on the mountains, close to the coast.
Cineraria geifolia, with its unpleasant smelling leaves when crushed, can often be found on disturbed soils.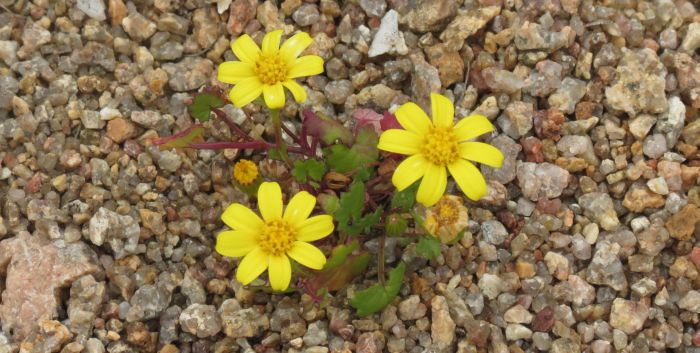 Uses
Use
No medicinal or traditionally economic uses have been reported.
This species has very good ornamental potential. 
Growing Cineraria geifolia
Grow
Cineraria geifolia can be easily propagated vegetatively. Cuttings can be taken at any time of the year. Remove two-thirds of the leaves, cut below a node and dip in a rooting hormone suitable for herbaceous perennials. Place cuttings in a moist, well-draining medium, such as riversand or peat, and place on a heated bench in a mist unit. Home-made contraptions can also be utilized for rooting, provided enough moisture is available. Cuttings must also be placed in a slightly shady area. Rooting will take no longer than 2–3 weeks, after which cuttings can be hardened-off. This is basically reducing water and placing the cuttings in an open and more exposed area. Rooted cuttings can be potted after 2–3 weeks, following hardening-off. 
To date, no success has been achieved with seed propagation. To ensure successful germination, it is advisable to look into some form of seed pre-treatment, such as a smoke-treatment or the after-ripening of seed. Sow seed in autumn. 
Companion plants, given its wide-distribution range, can vary significantly. In a fynbos garden, a list of suitable companion species may include: Othonna dentata, Pelargonium capitatum, P. fulgidum, P. gibbosum and P. cucullatum, Arctotis revoluta and A. hirsuta, Lampranthus aureus and L. bicolor, Coleonema album, Agathosma thymifolia, Senecio elegans, Tetragonia decumbens, Arctotheca calendula, Didelta carnosa, Dimorphotheca pluvialis, Bonatea speciosa, Colpoon compressum, Chasmanthe aethiopica, Zantedeschia aethiopica, Sideroxylon inerme and Cleretum bellidiforme. 
Cut plants back in early spring to prolong the life-span of the plant and ensure a neat appearance. Plants grown from cuttings can also be cut back ever so slightly, to produce a bushier plant.
No knowledge is available on the susceptibility of the species to frost.
References
Bohnen, P. 1986. Flowering plants of the southern Cape. The Sill Bay Trust, Still Bay.
Cron, G.V. 2005. Cineraria L. (Senecioneae, Asteraceae) – its taxonomy, phylogeny, phytogeography and conservation. PhD thesis. University of the Witwatersrand, Johannesburg.
Cron, G.V. & Victor, J.E. 2005. Cineraria geifolia (L.) L. National Assessment: Red List of South African plants version 2020.1. Accessed on 2020/10/22.
Curtis-Scott, O., Goulding, M., Helme, N., McMaster, R., Privett, S. & Stirton, C. 2020. Field guide to the Renosterveld of the Overberg. Struik Nature, Cape Town.
Germishuizen, G. & Meyer, N.L. (eds) 2003. Plants of southern Africa: an annotated checklist. Strelitzia 14. National Botanical Institute, Pretoria.
Lawrence, E. & Notten, A. 2002. Cineraria saxifraga. PlantzAfrica. Online. http://pza.sanbi.org//cineraria-saxifraga.
Levyns, M.R. 1966. Guide to the flora of the Cape Peninsula. Ed. 2. Juta, Cape Town.
Manning, J. & Goldblatt, P. 2012. Plants of the Greater Cape Floristic Region 1: the Core Cape Flora. Strelitzia 29. South African National Biodiversity Institute, Pretoria.
Maytham Kidd, M. 1983. Cape Peninsula. South African Wild Flower Guide 3. Botanical Society of SA, Cape Town.
Plantillustrations.org, epithets, geifolius, -a, -um. http://plantillustrations.org/epithet.php?id_epithet=268302%3C/div%3E%3Cdiv%20class=
Stearn, W. 2002. Stearn's dictionary of plant names for gardeners. Timber Press, Portland, Oregon.
Credits
Roger Oliver
Kirstenbosch National Botanical Garden
November 2020
Plant Attributes:
Plant Type: Ground Cover, Perennial
SA Distribution: Western Cape
Soil type: Sandy, Loam
Flowering season: Spring, Winter
PH: Acid, Neutral
Flower colour: Yellow
Aspect: Full Sun, Morning Sun (Semi Shade), Afternoon Sun (Semi Shade)
Gardening skill: Easy
Special Features:
Attracts butterflies
Drought resistant
Good potplant
Feeds honeybees
Horticultural zones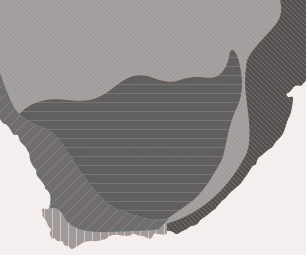 Zone 2 Coastal winter rainfall, frost free
Google QR Code Generator