Coleonema aspalathoides Juss. ex Don
Family: Rutaceae
Common names: confetti bush
Introduction
Coleonema aspalathoides forms a dense upright shrub, 0.5 - 1 m tall. Bright pink, star-shaped flowers, 8-10 mm in diameter, are borne singly but in profusion during mid-winter to early spring, bringing colour to the garden during June, July and August.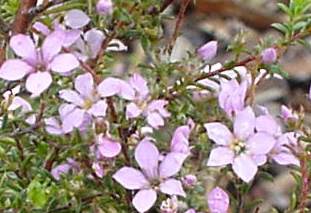 Description
Description
Coleonema aspalathoides is an attractive evergreen aromatic shrub. The leaves are needle-like, dark green and aromatic, but not as strongly scented as some of the other buchus. The branches are smooth and reddish-brown in colour. The fruit capsules ripen during October and November and when ready, the capsules expel the seed with surprising force. This phenomenon is known as ballistic dispersal.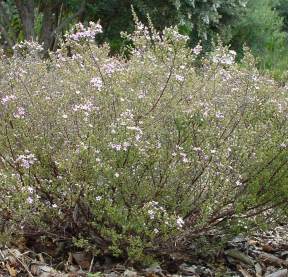 Distribution and habitat
Distribution description
Coleonema aspalathoides occurs in mountain fynbos in the winter-rainfall region of South Africa, on the lower to middle sandstone slopes from Bredasdorp (Potberg) in the south-west to Humansdorp (Zuurberg) in the east.
Derivation of name and historical aspects
History
Coleonema aspalathoides belongs to the Rutaceae family which also includes the Cape chestnut, Calodendrum capense, and the citrus fruits. The common characteristic is the presence of oil glands, visible as tiny dots, on the leaves and fruits.
There are 8 species in the genus Coleonema, all of them found in the Western and Eastern Cape. The other species include:
C. album, known as Cape may or white confetti bush, 1-2 m tall, fine pleasantly aromatic leaves, masses of white flowers in winter-spring, also suitable for coastal gardens, bonsai and containers. It is also known as aasbossie (in English this means bait bush) because fishermen use the leaves to clean their hands of the foul smell of red bait.
C. calycinum, 1-1,5 m tall, fine rum-scented foliage, white flowers in spring.
C. juniperinum, koorsbos (fever bush), a shrublet to 50 cm with resin-scented foliage and white flowers in winter. This plant, in conjunction with other local plants, is used to treat fever in the Nieuwoudtville area.
C. nubigenum, dense rounded shrub to 1m, coconut-scented foliage and white flowers.
C. pulchellum, also called confetti bush, grows to a height of 1m and has pungent sweet-smelling foliage and is covered with miniature pink flowers from winter to spring, makes a good low hedge and is also suitable for coastal gardens, bonsai and containers.
C. pulchrum, willowy shrub to 1,5 m, turpentine scented foliage, pink flowers in spring.
C. virgatum upright shrub to 1m, pink or white flowers in winter-spring.
Uses
Use
Although not used currently, coleonemas are known to have been used in the past as perfumes and diuretic medicines.
Growing Coleonema aspalathoides
Grow
Coleonema aspalathoides is easy to grow and requires a sunny position with well-drained soil, enriched with well-decomposed compost (leaf mould). It will benefit from an annual mulching, which suppresses weed growth and keeps the soil temperature even, requires moderate watering and responds well to slow-release fertilizer like 3:1:5. Pinching of young growth and light pruning after flowering will encourage bushiness. Coleonema aspalathoides can be considered hardy to light frost (short periods down to -5 °C) but is not suitable for permanent outdoor cultivation in regions that experience prolonged periods at freezing temperatures.
Coleonema aspalathoides occurs naturally in mixed mountain fynbos and is ideally suited to the fynbos garden, grown with typical fynbos plants such as proteas, ericas, restios, pelargoniums, vygies and many other indigenous plants. It is also a good container plant, and is an interesting addition to the mixed border or the rockery. It is also useful as a filler for flower arranging.
Propagation is by seed or cuttings. Fresh seed should be sown in mid-autumn (April). Germination occurs in 4 to 6 weeks with an average success rate of 40%. Cuttings have the advantage of producing a larger plant that will reach flowering size sooner than seedlings. Tip cuttings, 50-70 mm long, should be taken from the current year's growth in spring (September). Prepare the cuttings by making a clean cut below the node and removing one third of the foliage. Dip the base of the cutting in a rooting hormone such as Seradix 2. Firmly place the cuttings in a medium of 50% bark and 50% polystyrene. Ideally these cuttings should now be placed in an well-aerated propagation unit with bottom heat of 24C and intermittent mist. Rooting occurs in 9 to 11 weeks and a weaning period of 2 weeks is recommended. Carefully pot the rooted cuttings into well-drained humus enriched potting medium (e.g. 2 parts leaf mould : 1 part coarse sand). Plants will be ready for planting into the garden in 7 to 8 months. Feed regularly but sparingly with a well-balanced fertilizer. Yellow leaves can be treated with an application of iron chelate.
References
Goldblatt, P. & Manning, J., 2000, Cape Plants, A Conspectus of the Cape Flora of South Africa, NBI, Pretoria & Missouri Botanical Garden Press, Missouri
van Wyk, B.E., Gericke, N., 2000, People's Plants, Briza Publications, Pretoria
Kirstenbosch Horticultural Notes
Credits
 Norma Jodamus & Alice Notten
Kirstenbosch National Botanical Gardens
July 2001
Plant Attributes:
Plant Type: Shrub
SA Distribution: Eastern Cape, Western Cape
Soil type: Sandy, Loam
Flowering season: Spring, Early Summer
PH: Neutral
Flower colour: Pink
Aspect: Full Sun
Gardening skill: Easy
Special Features:
Good potplant
Horticultural zones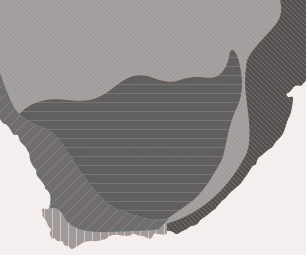 Zone 2 Coastal winter rainfall, frost free
Zone 3 Winter rainfall Karoo, light frost
Google QR Code Generator