Cotula pruinosa (DC.) Jakoet & Magee
Family: Asteraceae
Common names: yellow bachelor buttons, yellow turban buttons (Eng.); ganskos (Afr.)
Introduction
Cotula pruinosa is a yellow flowered annual that occurs in the winter rainfall region of South Africa.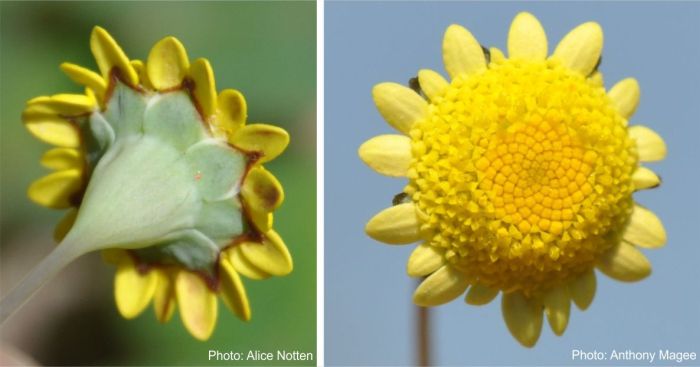 Fig. 1. The flowerhead of Cotula pruinosa. Photos Alice Notten and Anthony Magee
Description
Description
Annual herb, 60–520 mm tall. Leaves alternate, decreasing in length towards the upper part of the plant, 2- or 3-pinnatisect. Flowerhead solitary, 5–20 mm in diameter, peduncles becoming prominently inflated when in fruit; 2 or 3 series of bracts; 3- to 5-nerved. There are three types of florets in the flowerhead: disciform florets, in the outer most series; ray-like florets called pseudo-rays (which are modified disc florets where one of the lobes is elongated forming the pseudo-ray), follow the series of disciform florets and are yellow; and the disc florets, in the inner series and are also yellow. The disc floret fruits have a band of myxogenic cells, on the inner face of the fruit, these are specialized cells that become mucilaginous when wet. Flowering time is usually from late winter to mid spring but can occur in summer during favourable conditions.
Fig. 2. The pseudo-ray floret of Cotula pruinosa, note the elongated lobe that is roughly twice the length of the other three lobes. Photo Anthony Magee
Cotula pruinosa can be confused with C. turbinata and C. duckittiae. In the past, C. pruinosa was considered to be the yellow flowered form within C. turbinata, however, C. pruinosa differs from C. turbinata not only in the flower colour (C. turbinata has white pseudo-rays whereas C. pruinosa has yellow), but also the disc floret cypselae. The disc floret cypselae of C. pruinosa have myxogenic cells present on the inner side surrounding the fertile portion and they are absent in C. turbinata. The myxogenic cells are also present in C. duckittiae. Cotula pruinosa differs from C. duckittiae in having yellow disc florets and pseudo-rays whereas in C. duckittiae they are usually orange (rarely golden yellow). There are other characteristics that can separate these two species from each other, such as the flattened receptacle in C. duckittiae (slightly convex in C. pruinosa) and the elongated lobe of the pseudo-rays is four times the length of the other lobes in C. duckittiae (two times the length in C. pruinosa).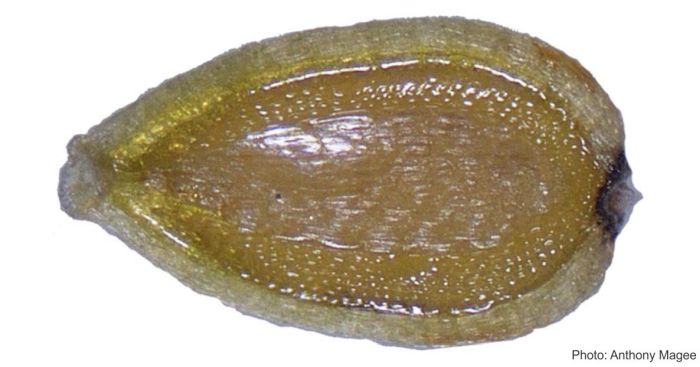 Fig. 3. The disc floret fruit of Cotula pruinosa, note the band of myxogenic cells. Photo Anthony Magee
Conservation Status
Status
Cotula pruinosa is a widespread species. Currently, it does not have a Red List status because it has, until recently, been synonymous with Cotula turbinata. Cotula turbinata is listed as Least Concern and C. pruinosa, which is more widespread than C. turbinata, will mostly likely be given the same status.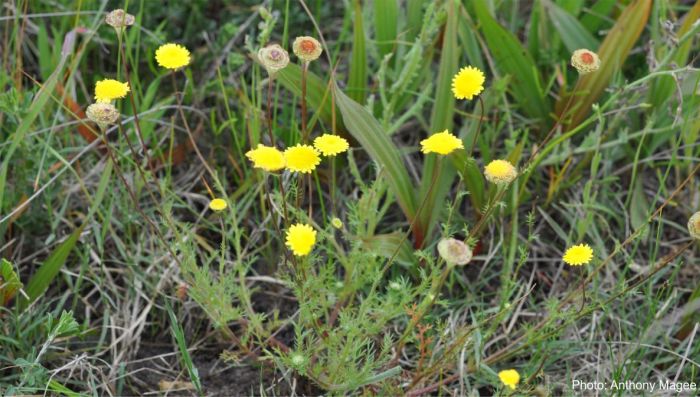 Fig. 4. Cotula pruinosa, growing in a field. Photo Anthony Magee
Distribution and habitat
Distribution description
Cotula pruinosa occurs in the Western Cape from Clanwilliam to Struisbaai. It usually occurs in deep coastal sands and at the base of rocky outcrops.
Derivation of name and historical aspects
History
The genus name Cotula is derived from the Greek word kotule, meaning 'cup'. It could be referring to the receptacle of the flowerhead which is cup-shaped. The specific epithet pruinosa means 'frosted', perhaps referring to the soft hairs on the leaves and stems.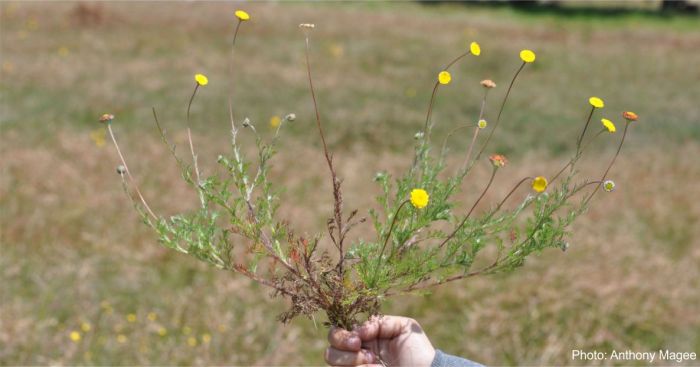 Fig. 5. The large form of Cotula pruinosa. Photo Anthony Magee
Ecology
Ecology
Cotula pruinosa is one of about 9 species in the genus Cotula that have apically swollen peduncles. It is not known what purpose these apically swollen peduncles have, but it most likely aids in seed dispersal, where they could possibly be acting as a shaker in the wind thus dispersing the seeds. The myxogenic cells on the seeds produce a slimy substance, called mucilage, when they come into contact with water, which improves the absorption and retention of water and aids germination. At Kirstenbosch, the flower heads are visited by bees and beetles.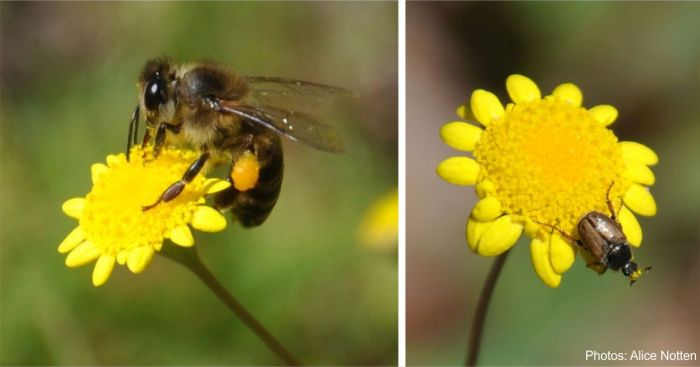 Fig. 6. Flowerheads of Cotula pruinosa are visited by bees and beetles at Kirstenbosch. Photos Alice Notten
Uses
Use
There are no known uses of Cotula pruinosa but it could be an attractive garden plant.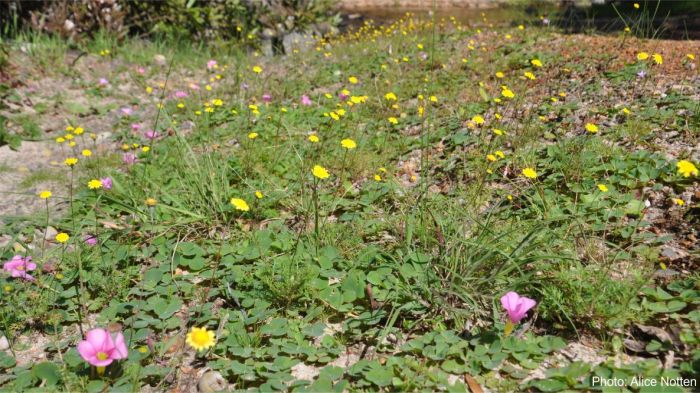 Fig. 7. Cotula pruinosa growing wild, with Oxalis purpurea, in Kirstenbosch. Photos Alice Notten
Growing Cotula pruinosa
Grow
Cotula pruinosa is not propagated or cultivated at Kirstenbosch, but it grows wild in the natural area around the Garden. It could be propagated in the same way as C. turbinata . Sow seeds in autumn in well-drained soil in full sun or partial shade. It is best suited to a winter-rainfall climate, where the seeds germinate in autumn, grow during the cool, rainy winter and flower in spring, and outside of its natural distribution, it would require a frost-free climate with water throughout the winter and spring months. In cold climates with frost in winter and mild summers, it could be sown in spring to grow and flower in summer.
Cotula pruinosa has no known pests or diseases.
References
Jakoet, A; Mucina, L & Magee, R. 2019. The pseudo-radiate buttons: A taxonomic revision of the Cotula turbinata group (Asteraceae; Anthemideae) and the description of two new species. South African Journal of Botany 121: 292–293.
Magee, A.R. 2011. Oncosiphon suffruticosum (L.) Källersjö (Asteraceae). PlantZAfrica. Online. http://pza.sanbi.org/oncosiphon-suffructicosum.
Quattrocchi, U. 1999. CRC World Dictionary of plant names: common names, scientific names, eponyms, synonyms, and etymology. CRC Press, New York.
Raimondo, D., Von Staden, L., Foden, W., Victor, J.E., Helme, N.A., Turner, R.C., Kamundi, D.A. & Manyama, P.A. (eds) 2009. Red list of South African plants. Strelitzia 25. South African National Biodiversity Institute, Pretoria.
Credits
Aarifah Jakoet
Compton Herbarium
April 2022
Acknowledgements: the author thanks Anthony Magee and Alice Notten for the images.
Plant Attributes:
Plant Type: Bi/Annual
SA Distribution: Western Cape
Soil type: Sandy, Loam
Flowering season: Spring, Early Summer
PH: Acid
Flower colour: Yellow
Aspect: Full Sun
Gardening skill: Average
Special Features:
Feeds honeybees
Horticultural zones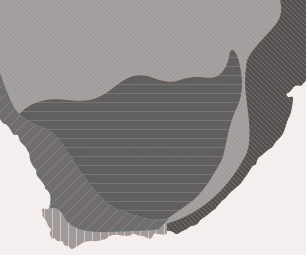 Zone 2 Coastal winter rainfall, frost free
Google QR Code Generator