Cotyledon tomentosa subsp. ladismithiensis
Cotyledon tomentosa Harv. subsp. ladismithiensis (Poelln.) Toelken
Family: Crassulaceae
Common names: Ladismith bear's paw
Introduction
Cotyledon tomentosa subsp. ladismithiensis is a medium-sized shrub, with succulent, hairy leaves and stems. It occurs in rock outcrops, shallow soil and is drought and light frost tolerant, suitable for rockeries and water-wise gardens.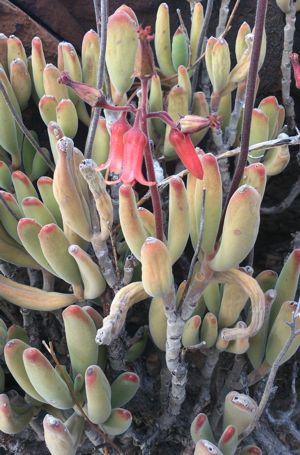 Description
Description
Cotyledon tomentosa subsp. ladismithiensis is an evergreen, perennial, succulent shrub, growing up to 1 m in height, including the inflorescence. It has a fibrous root system and the stem is 5–20 mm in diameter. Leaves are epetiolate (no leaf stalk), decussately or oppositely arranged, elliptical in shape and covered with white, short hairs, occasionally with 1–3 teeth at the tips.
Inflorescence is 160 mm long.  Flowers are cup-shaped with 5 fused petals, usually 15 mm long, orange, turning reddish when it has finished flowering; pedicel (flower stalk) about 20 mm long. Flowering from winter to spring (June to September). Seeds are very small, forming in August.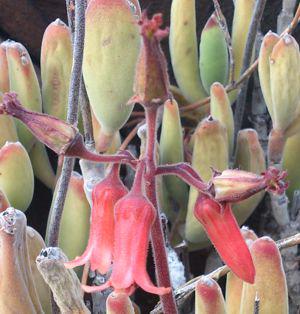 Conservation Status
Status
Records show that the population of this species has never been more than 50 plants in all locations that are known.This species is listed as Vulnerable (VU) on the Red List, meaning it is facing a high risk of becoming extinct. The decline in population is caused by trampling animals and illegal harvesting for horticultural purposes.
Distribution and habitat
Distribution description
Cotyledon tomentosa subsp. ladismithiensis is endemic to Ladismith and surrounding areas in the little Karoo region, Western Cape. Its distribution is so localized and it  is found on shale outcrops on the Swartberg Mountain between Calitzdorp and Ladismith, Laingsburg (near Buffels River and Floriskraal Dam), Warmwaterberg and Muiskraalkop. Often found in shallow soil in full sun. Temperatures are high, with a maximum daily temperature of between 27 and 35ºC in summer (November to January), but can sometimes reach 40 degrees. The winters are very cold (May to July), with the temperature sometimes reaching freezing point. Rainfall mostly occurs in winter, ranging between 125–300 mm per annum.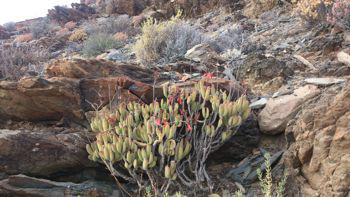 Derivation of name and historical aspects
History
The specific epithet tomentosa meaning 'dense woolly covering' referring to the short hairs on the leaves of this species; the subspecific epithet ladismithiensis refers to Ladismith, where this subspecies is endemic.
Cotyledon tomentosa subsp. ladismithiensis was discovered by Mr N.S. Pillans between Ladismith and Laingsburg. It was named Cotyledon tomentosa by Von Poellnitz in 1936 in the Yearbook of the German Cactus Magazine. It was made into a subsp. by Toelken, in Bothalia in 1977. The genus Cotyledon has a wide distribution up to Ethiopia and the Arabian Peninsula in North-east Africa, but most species are found in the Western Cape and Eastern Cape (South Africa), with a number of species endemic in these regions, such as C. adscendens, C. pendens, C. eliseae and C. woodii. Cotyledon orbiculata var. orbiculata was the first succulent species that was found from southern Africa by Dr Heurnius early in 1624.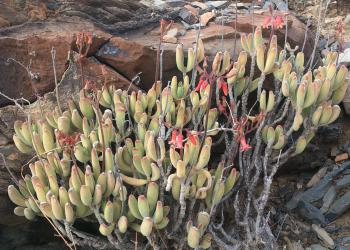 Ecology
Ecology
Cotyledon tomentosa subsp.  is pollinated by bees and birds that feed on the nectar. Seeds are wind-dispersed in summer in order that they are ready for the rainy season. Its leaves store water so that the plants can survive the dry, hot, summer season. Its leaves are covered with short hairs that protect them from direct sunlight. The shallow, fibrous roots  grow in shallow soil between rocks and are adapted to capture moisture.
Uses
Use
There are no cultural or medicinal uses that have been recorded for this species. It is commonly used for landscaping and as a pot plant.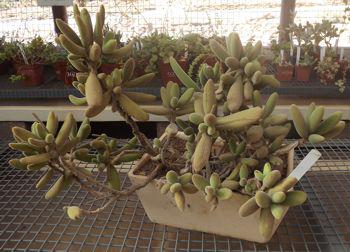 Growing Cotyledon tomentosa subsp. ladismithiensis
Grow
Cotyledon tomentosa subsp. ladismithiensis is easily grown in rockeries, water-wise gardens and containers. It grows well in well-drained soil in full sun, but can also grow in semi-shaded areas. It is commonly attacked by aphids on the young shoots and inflorescence, but this is easily controlled by a pesticide application.
it is easily propagated by stem cuttings. Fill the seed tray with coarse bark at the bottom of the tray (to improve drainage) and river sand on top as a medium. Make sure that the trays and secateurs are sterilized. Take cuttings about 15 cm long and remove some of the leaves (at least 2 or 3 leaves per cutting); and use a rooting hormone. Cuttings must be placed in a warm spot with the temperature between 22 to 27 degrees Centigrade, with a good relative humidity, and the medium must be kept moist.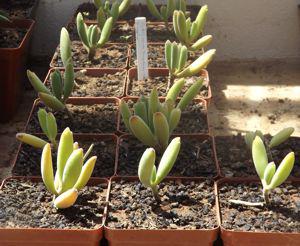 To grow from seed, sow seed in April ( autumn). Fill the seed tray with coarse bark at the bottom of the tray (to improve drainage) and river sand on the top as medium, and water before sowing. Scatter seeds evenly. Do not cover the seeds; place them in a warm spot and keep the medium moist. Water from the bottom by placing seedtray in a shallow container which can be filled with water or use fine spray (mist spray) to prevent disturbing and washing the seeds away. Seeds start to germinate from 3–4 week after sowing and take 8 to 10 months to reach a size for transplanting.
References
Court, D. 2000. A revised Succulent Flora of southern Africa. Balkema, Rotterdam.
Van Jaarsveld, E.J., Koutnik, D. & Bodley, E. 2004. Cotyledon and Tylecodon. Umdaus Press, Hatfield, Pretoria.an
Van Wyk, A.E. & Smith, G.F. 2001. Regions of floristic endemism in South Africa. A review with emphasis on succulents. Umdaus Press, Hatfield, Pretoria
Vlok, J. & Schutte-Vlok, A. 2010. Plants of the Klein Karoo. Umdaus Press, Hatfield, Pretoria.
Website:http://www.llifle.com/Encyclopedia/SUCCULENTS/Family/Crassulaceae/27066/Cotyledon_tomentosa_subs._ladismithiensis.
Website: Red List of South African plants: http://redlist.sanbi.org/species.php?species=3834-77
Credits
Ntuthuko Mabuya
Karoo Desert National Botanical Garden
February 2015
Plant Attributes:
Plant Type: Shrub, Succulent
SA Distribution: Western Cape
Soil type: Clay
Flowering season: Winter
PH: Acid
Flower colour: Red, Orange
Aspect: Full Sun
Gardening skill: Easy
Special Features:
Attracts birds
Drought resistant
Good potplant
Indoor plant
Horticultural zones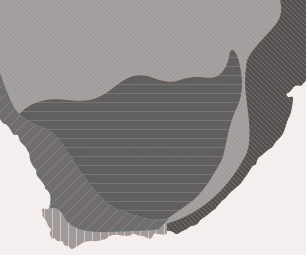 Zone 2 Coastal winter rainfall, frost free
Zone 3 Winter rainfall Karoo, light frost
Zone 4 Summer rainfall Karoo and Highveld, Frost in winter
Google QR Code Generator