Crocosmia paniculata (Klatt) Goldblatt
Family: Iridaceae
Common names: zigzag crocosmia (Eng.); waaierlelie (Afr.); khala-ea-bokone, moloke (Sesotho); undwendwi, umlunge (Zulu)
Introduction
Crocosmia paniculata is a robust, deciduous geophyte with sculptural, zig-zag flower spikes and attractive, pleated leaves that make it a strong accent plant for mixed borders and rockeries in temperate gardens.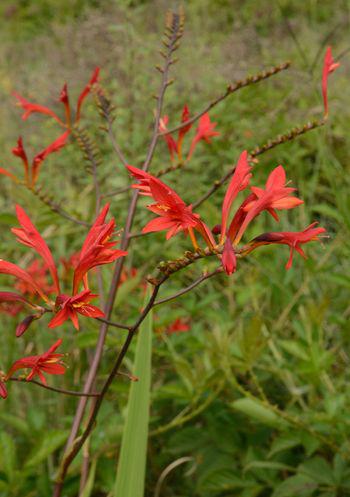 Description
Description
Deciduous geophyte, 1.0–1.5 m tall. Leaves in a basal fan, lance-shaped and strongly pleated, mostly 35–50 mm wide, reaching to the base of the flowering spike. Stem erect or more usually inclined, zig-zag with with 3 to 6, strongly spreading branches (these sometimes also branched). Flower spikes arching outwards ± horizontally or slightly deflexed, with 18–25 flowers in two rows on the upper side; floral bracts leathery, purplish green and drying from the tips, the outer 6–10 mm long. Flowers strongly two-lipped, deep orange to red, sometimes flushed brownish outside, the lower three tepals with a dark red median streak extending down the tube, ± trumpet-shaped; floral tube narrow below abruptly expanded into a cylindrical upper part, curved, 33–40(–50) mm long; upper tepal largest, extending horizontally, ovate, 14–18 × 8–10 mm, other tepals spreading, 10–11 × 4–6 mm, upper lateral and lower median tepals triangular. Stamen filaments arching beneath the upper tepal, 25–40 mm long. Style dividing opposite the anthers, with 3 slender braches, each forked ± halfway. Capsules subglobose and 3-lobed, slightly rough textured. Seeds ovoid-angular, 1 to 3 per chamber, ± 3 mm in diameter, dark reddish brown.
Conservation Status
Status
Distribution and habitat
Distribution description
Restricted to the eastern escarpment of southern Africa, from central KwaZulu-Natal through Lesotho and northeastern Free State to Mpumalanga and Swaziland, and into the eastern highlands of Zimbabwe; occurring in rough grassland, usually in moist situations along streams and drainage lines. It is suited to cultivation in temperate and subtropical climates with summer rainfall, and is frost tolerant in winter when dormant.
Derivation of name and historical aspects
History
Crocosmia from the Greek kronos, 'crocus', the source of commercial saffron, and osme, 'scent'. The dried flowers produce an orange dye; paniculatus, from the botanical term for a branched inflorescence.
Crocosmia paniculata is one of a small genus of 8 species of Iridaceae restricted to sub-Saharan Africa. DNA sequence analysis suggests that it is closely allied to Freesia. The genus is notable horticulturally for the many striking hybrids that have been produced, primarily using C. aurea, C. masoniorum and C. paniculata. These are popular among northern hemisphere gardeners for their stately form and flamboyant colouring.
Ecology
Ecology
The orange, trumpet-shaped flowers are adapted to pollination by sunbirds, which forage for nectar held at the base of the slender floral tube. The curved beaks of the birds fit snugly in the curved floral tube, and the anthers are precisely positioned to dust the top of the bird's head with pollen, which is picked up by the stigmas of the next flower visited. The hard, round seeds may be dispersed by fruit-eating birds that mistake them for small, reddish berries, but this is not yet known.
Uses
Use
Crocosmia paniculata is an attractive species that was evidently a favourite among early gardeners in the midlands of KwaZulu-Natal and the adjacent Eastern Cape, where clumps of a distinctive variant with smaller, bright red flowers can be found around old homesteads or abandoned settlements. It was first recorded in cultivation in Great Britain in 1884, from plants that had been collected in Mpumalanga. The first record of the smaller, red-flowered form dates from 1909, from around Pietermaritzburg in KwaZulu-Natal, where it can still be found today along roadsides and plantations.
The species is recorded as being used traditionally to treat dysentery and infertility.
Growing Crocosmia paniculata
Grow
This species is reasonably cold-hardy, but is unlikely to withstand freezing. In cold regions, either lift the corms in winter or mulch the soil for insulation. If purchased dry, plant the corms well before growth commences in spring, in order that they can hydrate adequately before temperatures rise. Plants grow best in reasonably fertile, friable soils, and in suitable climates, can be left undisturbed to multiply and form large clumps. Climates with hot dry summers, encourage the red spider, which render the leaves unsightly, and the species is best grown in more temperate conditions with moisture during the summer growing season. The main period of growth is in spring and early summer, with flowering taking place in summer. Plants can be expected to die back after flowering in late summer or autumn, and if thinning is necessary, it should be done then or in early spring just before growth resumes. Sow seeds in autumn or spring within 1 or 2 years of harvesting.
Crocosmia paniculata works best as an accent plant when left to form large clumps through natural division, when the pleated leaves are seen to best advantage. It is suited to mixed borders and streamsides.
References
Goldblatt, P., Manning, J. & Dunlop, G. 2004. Crocosmia and Chasmanthe. Timber Press, Portland (OR).
Pooley, E. 1998. A field guide to wild flowers Kwazulu-Natal and the eastern region. Natal Flora Publications Trust, Durban.
Credits
John Manning
Compton Herbarium
April 2017
Plant Attributes:
Plant Type: Bulb
SA Distribution: Free State, KwaZulu-Natal, Mpumalanga
Soil type: Loam
Flowering season: Late Summer
PH: Acid, Neutral
Flower colour: Red, Orange
Aspect: Full Sun
Gardening skill: Easy
Special Features:
Attracts birds
Feature plant
Wet sites
Horticultural zones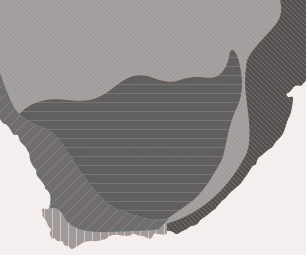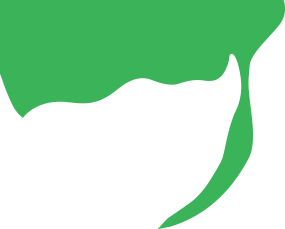 Zone 1 Coastal summer rainfall, frost free
Zone 4 Summer rainfall Karoo and Highveld, Frost in winter
Zone 5 Bushveld summer rainfall, Light frost
Google QR Code Generator