Delosperma lydenburgense L.Bolus var. lydenburgense
Family: Mesembryanthemaceae
Common names: Lydenburg vygie (Eng.); klipvygie, rotsvygie (Afr.)
Introduction
This flat-growing ground cover or small shrub with its purple flowers can take full sun and is an attractive plant for gardens in warmer climates.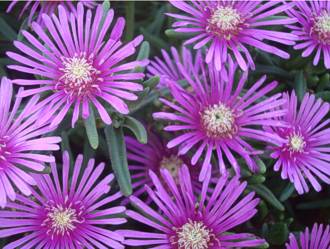 Description
Description
Delosperma lydenburgense is a small shrub or ground cover that grows flat on the ground, sometimes with curving tips, and produces small tubers from the rootstock. The leaves are usually soft and tender and highly variable in shape, from triangular to cylindrical. The purple flowers are borne from spring to summer and are followed by the fruit capsules, which have four to six locules and pale-coloured wings on the valves and no covering membrane.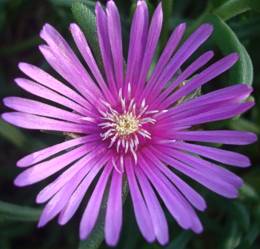 The leaves have a glistering appearance, protecting them against damage by the high light intensity.
Conservation Status
Status
Delosperma lydenburgense is not threatened and has a status of Least Concerned (LC) (Raimondo et al. 2009).
Distribution and habitat
Distribution description
Delosperma lydenburgense occurs in Lydenburg Montane Grassland in the Mpumalanga Province at about 750-2000 m. Soils here are mainly derived from quartzite, shale, lavas and dolomites. Plants are subject to occasional frost, orographic precipitation and mist for the better part of the year.
Derivation of name and historical aspects
History
The name Delosperma is derived from the Greek word delos, which means visible, and sperma which means seed, alluding to the fact that the capsule has no covering membrane and that the seeds are exposed when the capsule opens. The epithet lydenburgense refers to the town of Lydenburg in Mpumalanga where its natural habitat is.
Ecology
Ecology
Bees have been observed as frequent visitors of the flowers. It is therefore quite possible that they are pollinators of the klipvygie.
Uses
Use
There is no record of the klipvygie being used medicinally or culturally.
In KwaZulu-Natal, other members of the genus are of significance because they are believed to bring good luck and are used as magical plants. In the horticultural industry this species is used as an ornamental.
Growing Delosperma lydenbergense
Grow
Delosperma lydenburgense is easily propagated from cuttings. Select soft, young material from a healthy plant and root in a well-draining, sandy medium. Keep the medium moist. Cuttings normally root very quickly and will flower the same season.
The plant occurs naturally in the summer-rainfall area of South Africa. However, it does equally well in areas receiving winter rainfall, where it should perhaps be grown on sunny rockeries, in slightly sloping areas or as a pot plant. It also seems to do well in semi-shade. The klipvygie makes for a dazzling display if grown en masse or interplanted with other colours complementary to its bright purple flowers.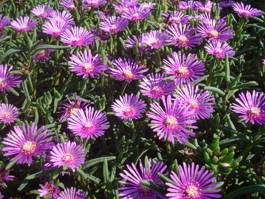 A selection of companion plants can include: Dimorphotheca jucunda, D. spectabilis, Vernonia natalensis, Wahlenbergia undulata, Gerbera ambigua, Agapanthus inapertus subsp. inapertus, A. inapertus subsp. intermedius, Aloe dyeri, A. gracilifolia, Crassula vaginata and Khadia alticola.
References
Burgoyne, P. 2005. Plant of the Week: Delosperma. PlantZAfrica.com (http://www.plantzafrica.com/plantcd/delosperma.htm).
Court, D. 2000. Succulent flora of southern Africa. Balkema, Rotterdam.
Germishuizen, G. & Meyer, N.L. 2003. Plants of southern Africa: an annotated checklist. Strelitzia 14. National Botanical Institute, Pretoria.
Mucina, L. & Rutherford, M. 2006. The vegetation of South Africa, Lesotho and Swaziland. Strelitzia 19. South African National Biodiversity Institute, Pretoria.
Raimondo, D. et al. in prep. Interim Red Data List. South African National Biodiversity Institute, Pretoria. (www. sanbi.org).
Smith, G.F. et al. 1998. Mesembs of the world. Briza, Pretoria.
Van Jaarsveld, E., Van Wyk, B. & Smith, G. 2000. Succulents of South Africa: a guide to regional diversity. Tafelberg, Cape Town.
Credits
Khangela Baloyi & Roger C. Oliver
Pretoria National Botanical Garden
November 2009
Plant Attributes:
Plant Type: Ground Cover, Succulent
SA Distribution: Mpumalanga
Soil type: Sandy, Clay, Loam
Flowering season: Spring, Early Summer
PH: Acid, Neutral
Flower colour: Purple, Mauve/Lilac
Aspect: Full Sun
Gardening skill: Easy
Special Features:
Drought resistant
Feeds honeybees
Horticultural zones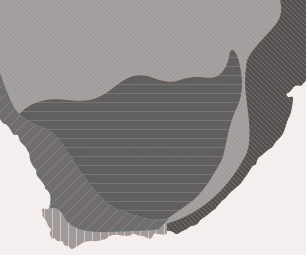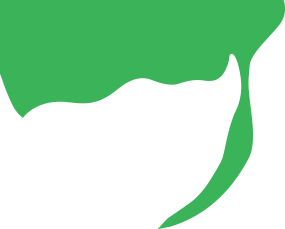 Zone 1 Coastal summer rainfall, frost free
Zone 2 Coastal winter rainfall, frost free
Zone 3 Winter rainfall Karoo, light frost
Zone 4 Summer rainfall Karoo and Highveld, Frost in winter
Zone 5 Bushveld summer rainfall, Light frost
Google QR Code Generator