Delosperma saxicola Lavis
Family: Aizoaceae
Common names: Tsitsikamma cliff vygie, Tsitsikamma cliff mesemb (Eng.); Tsitsikamma vygie (Afr.)
Introduction
A rare endemic of the coastal cliffs of the Tsitsikamma National Park. Its mat-forming habit makes it a great ground cover, especially for seafront, water-wise, fynbos gardens, and it is covered in pink to white flowers in spring and summer, that attract honeybees.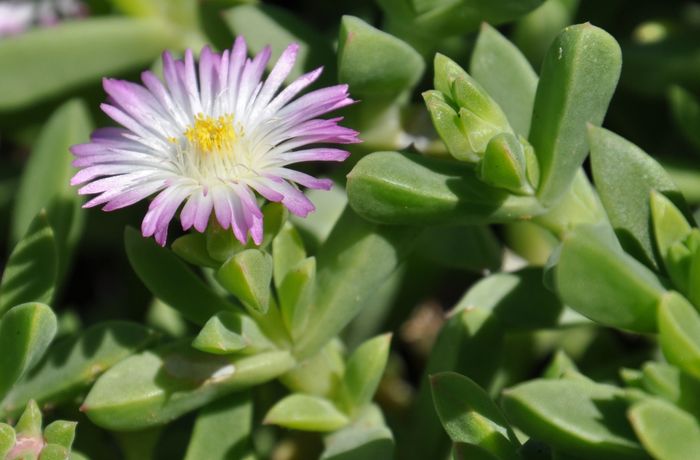 Description
Description
Delosperma saxicola plants have a much-branched, sprawling to mat-forming habit and can grow to about 300 mm in diameter and about 40–50 mm high. The roots are fibrous. The branches are flaccid when young, 2–3 mm in diameter, the nodes about 4–8 mm apart, minutely hairy at first, becoming hairless (glabrescent) and somewhat woody with age. The leaves grow in opposite pairs, crowded and closely packed because of the short internodes; they are triangular in cross section, oblanceolate, dorsiventrally viewed, 14–19 × 6–8 mm, greyish green, distinctly keeled, up to 6 mm deep; surface minutely hairy, becoming hairless; the tip acute, ending in a short sharp appendage (apiculate). Flowers often solitary, 20–24 mm in diameter; pedicels 5 mm long. Receptacle obconical. The petals about 8 × 1 mm, white, light pink, or apices pinkish.
Capsule top-shaped, fragile, 5 mm in diameter. Seed globose, 1 × 0.8 mm in diameter, surface tuberculate.
Conservation Status
Status
Delosperma saxicola is assessed as Rare on the Red List of South African plants, because it is only known from one river mouth, growing on sea-facing cliffs.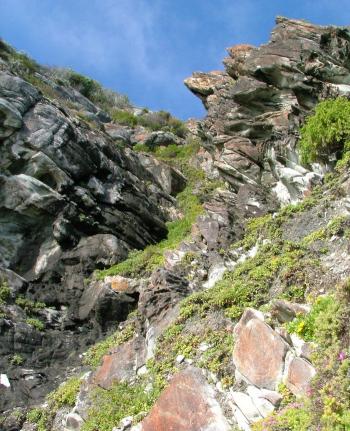 Distribution and habitat
Distribution description
Delosperma saxicola is endemic to coastal cliffs of the Tsitsikamma National Park, in the Western Cape (Altitude: 50–100 m). Although locally common, it is a rare endemic. It grows on exposed, vertical to near vertical, coastal (sea-facing), quartzitic, sandstone cliffs (Table Mountain Group, Cape Supergroup). The aspect is south-facing. Plants are rooted in crevices of ledges, occasionally drooping over the rock faces. Temperatures are moderate and an average daily maximum of 25ºC has been recorded. The average daily minimum temperature for the region is 12–14ºC. Rainfall occurs in winter and summer, ranging from 700–800 mm per annum.
Derivation of name and historical aspects
History
Delosperma saxicola was named by Mary Lavis (later O'Connor-Fenton) in the Journal of South African Botany in 1969, from plants collected by Elsie Esterhuyzen (1912–2006) at the Tsitsikamma National Park. Elsie was an intrepid mountaineer, botanist and plant explorer from the Bolus Herbarium, University of Cape Town. This species was rediscovered in November 2004, when the author and colleagues, after several attempts, eventually found the plant on cliffs at the mouth of a river along the coast in the Tsitsikamma National Park.
The genus Delosperma was created in 1925 by N.E. Brown to accommodate a group of shrubby to sprawling mesembs (more than 100 species) of mainly summer rainfall regions of South Africa and further north to tropical northeast Africa, as well as the Yemen and Saudi Arabia. One of their defining characteristics lies within its fruiting capsules, of which the seed cavities or locules are without covering membranes. Therefore, the seeds are visible and hence the genus name Delospema, delos meaning 'visible', and sperma meaning 'seed' (Clark & Charters). The species name pertains to its rocky habitat; saxum meaning 'rock', and cola meaning 'dweller'.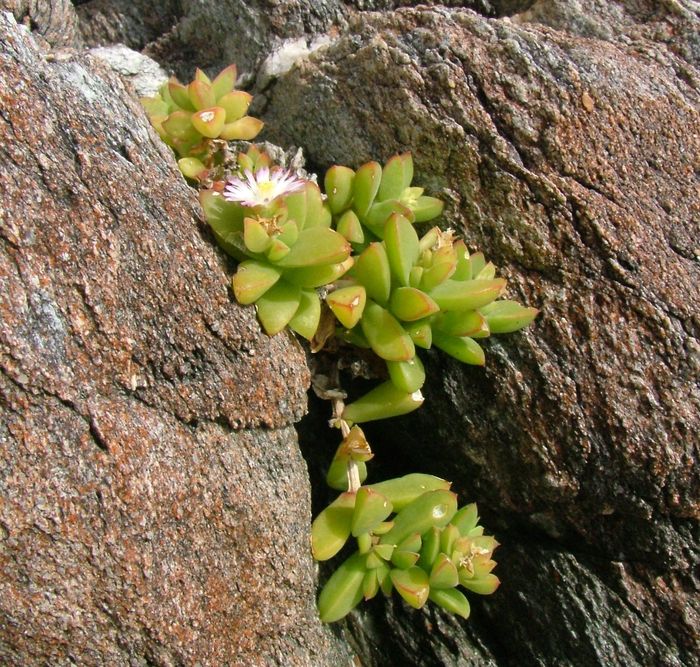 Delosperma saxicola is related to D. patersoniae to the east and D. litorale to the west. It is immediately distinguished from these two coastal species by its somewhat shorter leaves that are densely (almost imbricate) arranged, with short internodes. The last two named, are procumbent, forming large mats and the internodes are much further apart.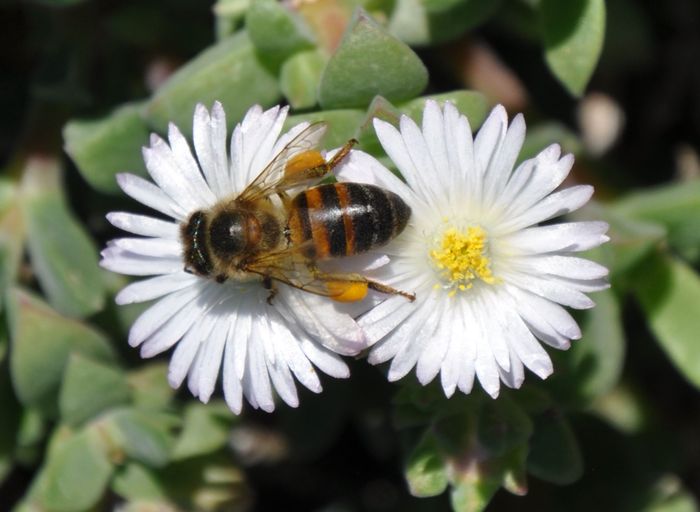 Ecology
Ecology
Delosperma saxicola plants grow in Fynbos in full sun. The flowers are pollinated by insects, such as honeybees. The small capsules are hygrochastical, the expanding keels push open the cell lids and the exposed seed are washed out by falling rain drops. The plants grow in shallow soil with little competition from other plants and the succulent, water-storing nature of the leaves, enables the plant to survive during the dry periods. The hairs on the younger parts is an adaptation to the windy conditions of the coast.
The associated vegetation is Tsitsikamma Sandstone Fynbos of the Fynbos Biome (Mucina et al. 2006). Plants which share the habitat of Delospema saxicola include Crassula orbicularis, Drosanthemum candens, Gazania rigens var. leucolaena, Lobelia cuneifolia, Oedera imbricata and Passerina sp.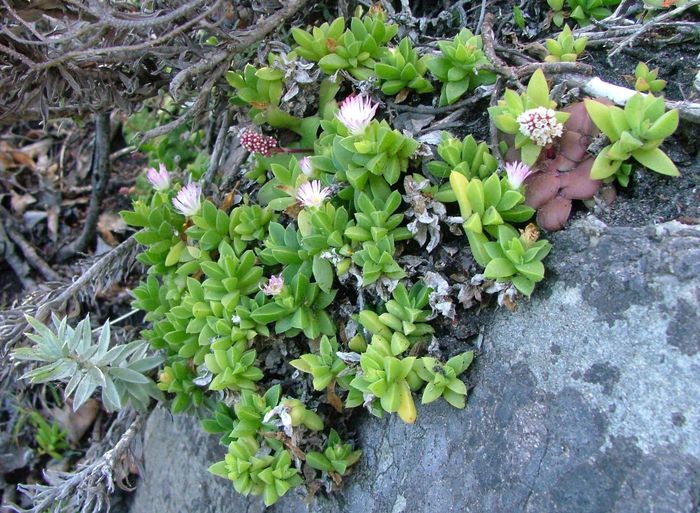 Uses
Use
The main use of the plant is ornamental. It is easily grown and taken up in ornamental horticulture, especially useful for difficult seafront gardens.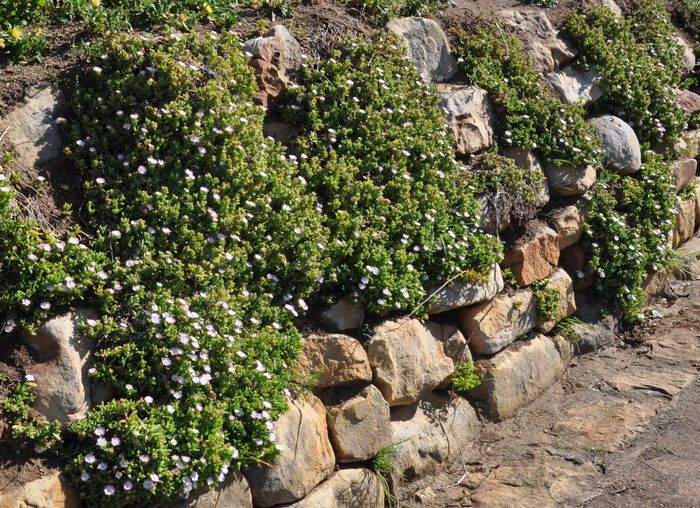 Growing Delosperma saxicola
Grow
Delosperma saxicola is easily grown and cultivated and best for coastal seafront Fynbos gardens (Van Jaarsveld 2010). Best used as a ground cover on steep embankments or rockeries, in full sun. This is a fast-growing plant, that will flower during the first season. It is adapted to grow on mineral-poor, acidic soil. The plant is easily grown in containers but best in strong light. Scale insects can sometimes be troublesome. Many species of Delosperma are popular in cultivation today and grown worldwide.
Plants grow well in a general succulent mixture, such as 2 parts sand, 1 part garden loam and 1 part well broken-down compost. It is adaptable to other soils, but good drainage is essential.
In the coastal South African climate, cuttings can be established in situ almost throughout the year, but best in spring or winter. Cuttings of about 5–8 cm length can be planted; remove the lower leaves and plant the stems to a depth of about 1–2 cm. Keep moist until well rooted.
References
Clarke, H. & Charters, M. 2016. The illustrated dictionary of southern African plant names. Flora & Fauna Publications Trust, Jacana, Johannesburg.
Hartmann, H.E.K. 1991. Mesembryanthema. Systematics, biology and evolution of some South African taxa. Contributions from the Bolus Herbarium. No. 13: 75–157.
Hartmann, H. 2001. Aizoaceae A-E. In Eggli, U. & Hartmann, H.E.K. (eds.) Handbook of succulent plants. Springer, Heidelberg, New York
Lavis, M. 1969. Notes on the genus Delosperma (Mesembrieae). Journal of South African Botany 35: 145–147.
Mucina, L. & Rutherford, M.C. (eds) 2006. The vegetation of South Africa, Lesotho and Swaziland. Strelitzia 19. South African National Biodiversity Institute, Pretoria.
Van Jaarsveld, E.J. 2010. Water wise gardening. Struik, Cape Town.
Credits
Ernst van Jaarsveld
Kirstenbosch National Botanical Garden (Retired 2015)
Babylonstoren Farm
Extraordinary senior lecturer and researcher,
Department of Biodiversity and Conservation, University of the Western Cape
September 2019
Plant Attributes:
Plant Type: Ground Cover, Succulent
SA Distribution: Western Cape
Soil type: Sandy, Loam
Flowering season: Spring, Early Summer, Winter, Sporadic/All year
PH: Acid, Alkaline, Neutral
Flower colour: White, Pink
Aspect: Full Sun
Gardening skill: Easy
Special Features:
Drought resistant
Good potplant
Feeds honeybees
Horticultural zones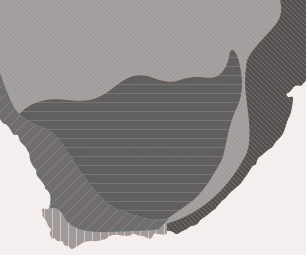 Zone 2 Coastal winter rainfall, frost free
Zone 3 Winter rainfall Karoo, light frost
Google QR Code Generator