Dietes flavida Oberm.
Family: Iridaceae
Common names: wood iris, wild iris (Eng.)
Introduction
An irid with attractive leaves that is a rewarding garden plant. It has fans of long, narrow and very erect, bluish-green leaves and occasional flowers in spring and throughout summer. Each flower lasts for one day, but it is followed by other buds opening up.
Description
Description
Dietes flavida is a clump-forming perennial with a rhizomatous rootstock. It grows 0.5–0.7 m tall, and can reach up to 1.2 m. Leaves are narrow, lanceolate, 300–500 × 15–22 mm, glaucous.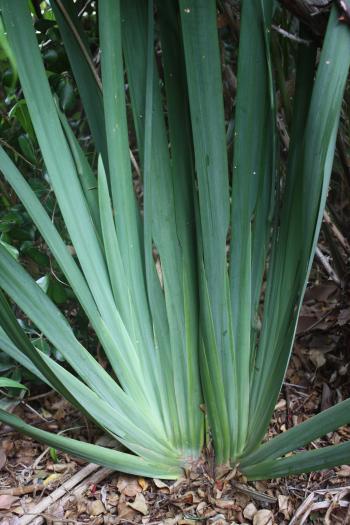 Stems branching irregularly, bearing long, laminate leaves below and reduced, sheathing, bract-like leaves above. Stem bracts are 30–50 mm long. The inflorescence is a rhipidium, meaning that each successive flower pedicel is produced in a zig-zag pattern, in the same plane, up the stem. The flowers have spathes 40–50 mm long, the outer spathe is about half as long as the inner, obtuse to emarginate. In spring and at regular intervals throughout the summer, it produces pale yellow flowers with brownish markings. A flower lasts for less than eight hours. The outer tepals have brown nectar guides at the base of the limbs and are spotted on the claws. The outer tepals are 30–40 mm long; the claws are 15 mm long; limb horizontal, 15–17 mm wide. The inner tepals are smaller, up to 38 mm long. The filaments of the stamens are free and broadened at the base, 4–6 mm long, and the anthers are 5–6 mm long. The ovary is 10–14 mm long; the style 2–3 mm long with branches that are 8 mm long and 3–4 mm wide and crests that are 5–10 mm long and acute.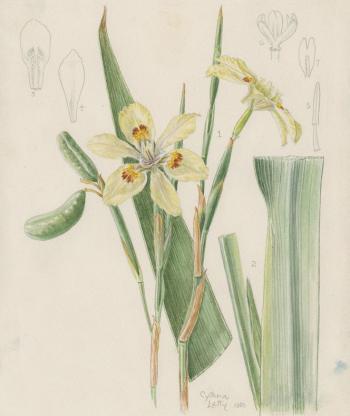 The seed capsules are drooping, narrowly ovoid, 30–35 mm long, smooth. It dehisces irregularly when mature, meaning that it does not split along the partitions.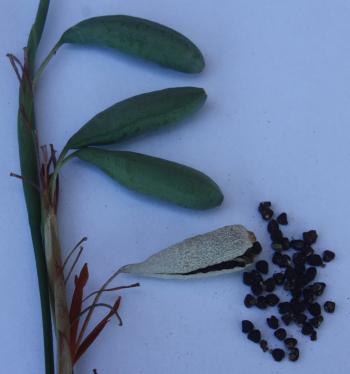 It may be confused with Dietes iridoides, also commonly called wood iris or wild iris, but can be distinguished by its cream-coloured to yellow flowers and its drooping, smooth-walled seed capsules.
Conservation Status
Status
Distribution and habitat
Distribution description
In South Africa, Dietes flavida occurs in KwaZulu-Natal, Mpumalanga and the Eastern Cape. It also occurs in Swaziland and Mozambique. The natural habitat of this species is in forest margins and lightly shaded areas.
Derivation of name and historical aspects
History
The name Dietes is derived from the Greek dis, which means 'twice' and etes, which means 'an associate' drawing attention to the position of this genus between Moraea and Iris, which are its two relatives. The species name flavida, from the Latin flavus, meaning 'yellow'.
Species of Dietes are commonly called wild iris. They are also known as fortnight lily, African iris, Cape iris and butterfly iris, in different regions of the world.
The genus Dietes, of the family Iridaceae, was described in 1866, and was first placed within the genus Moraea, but was later reclassified because of their rootstock which is a rhizome, whereas species of Moraea grow from a corm. Both Dietes and Moraea differ from the genus Iris as their flowers have 6 free tepals that are not joined into a tube at their bases.
Dietes are only found growing naturally in southern Africa and on the Lord Howe Island between Australia and New Zealand. There are 6 species of which 5 occur in southern Africa. In South Africa they are distributed in KwaZulu-Natal, Mpumalanga, Eastern Cape, Limpopo and Western Cape Provinces. The only non-African species is D. robinsoniana which is found on Lord Howe Island. Of the 5 South African species, 3 of them are common in gardens namely, D. grandiflora, D. iridoides and D. bicolor. Dietes flavida is occasionally grown, whereas D. butcheriana is still largely unknown.
Ecology
Ecology
Dietes flavida is probably pollinated by bees because of its showy and attractive flowers.
Uses
Use
Dietes flavida has no medicinal properties. The striking evergreen fan of leaves make it an ideal plant for mass planting or mixed planting. They can also be used in difficult corners of the garden, as well as soil stabilizers, due to their strong root system.
Growing Dietes flavida
Grow
Dietes flavida can be propagated by dividing the clumps in autumn after flowering or in early spring, before active growth takes place. The older sections of the rhizome can be cut back and foliage trimmed down to about a half. The replanting should be done as soon as possible and be kept wet until the plants are established.
In general species of Dietes have a very hard seed coat. Germination takes a while and it can be erratic, taking a few years with some species. Seeds can be sown as soon as they are ripe in a well-drained medium in deep trays and placed in a shaded position and kept moist. Young seedlings should be transplanted and established individually in small planting bags, before they are planted out into the garden.
Grow Dietes flavida in very lightly shaded to full sun position. It is a compact plant and can be grown where lack of space is a problem. They will produce ample foliage and flower less in a shady spot. They will grow in the poorest of soils, but for best performance, plant them in rich soil with ample compost supplied regularly and water liberally, particularly in summer.
Although members of Dietes are not often subject to pests or diseases, the flowers may be eaten by beetles. Should your Dietes flavida be attacked by insect pests, combat with environmentally friendly insecticides, which is highly recommended as harsh chemicals will destroy the natural enemies such as lady birds that feed on certain pests.
References
Duncan, G.D. 1993. Wild irises for the garden. Veld & Flora 79 (3): 74–76.
Goldblatt, P. 1993. Fora zambesiaca, Vol 12, Pat 4. Annals of Missouri Botanical Garden Vol. 68 No.1 (1981) pp.132–153.
Stern, M. 2002-06. Dietes bicolor (Steud.) Sweet ex Klatt. (Iridaceae). PlantZAfrica. Internet 4 pp. Accessed 10 Feb 2017. http://pza.sanbi.org/dietes-bicolor
Wikipedia: Dietes. Accessed 10 Feb 2017 https://en.wikipedia.org/wiki/Dietes
Wild Flower Nursery: Dietes flavida. Accessed 10 Feb 2017. http://wildflowernursery.co.za/indigenous-plant-database/dietes-flavida/
Credits
Nomama Mei
Kirstenbosch National Botanical Garden
February 2017
Plant Attributes:
Plant Type: Bulb
SA Distribution: Eastern Cape, KwaZulu-Natal, Mpumalanga
Soil type: Sandy, Loam
Flowering season: Spring, Early Summer, Late Summer
PH: Neutral
Flower colour: White, Cream, Yellow
Aspect: Shade, Morning Sun (Semi Shade), Afternoon Sun (Semi Shade)
Gardening skill: Easy
Special Features:
Drought resistant
Feature plant
Good potplant
Horticultural zones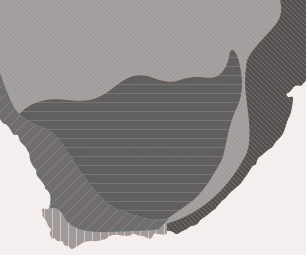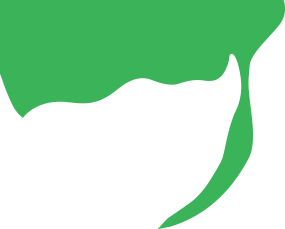 Zone 1 Coastal summer rainfall, frost free
Zone 2 Coastal winter rainfall, frost free
Zone 5 Bushveld summer rainfall, Light frost
Google QR Code Generator