Dimorphotheca sinuata DC.
Family: Asteraceae
Common names: Namaqualand daisy, African daisy (Eng.); gousblom, jakkalsblom, botterblom, namakwalandse madeliefie (Afr.)
Introduction
This showy annual creates sheets of brilliant orange when it flowers in Namaqualand in early spring, drawing visitors from near and far. This particularly attractive species of the genus Dimorphotheca, is a member of the daisy family.
Description
Description
Dimorphotheca sinuata is an upright to sprawling annual that grows up to 300 mm tall. The leaves are slender, oblanceolate, light green when mature, reaching up to 80 mm long, with shallowly lobed or toothed margins. Larger indented narrow leaves are present close to the base of the plant. The stems are reddish and are often covered by the masses of leaves around them.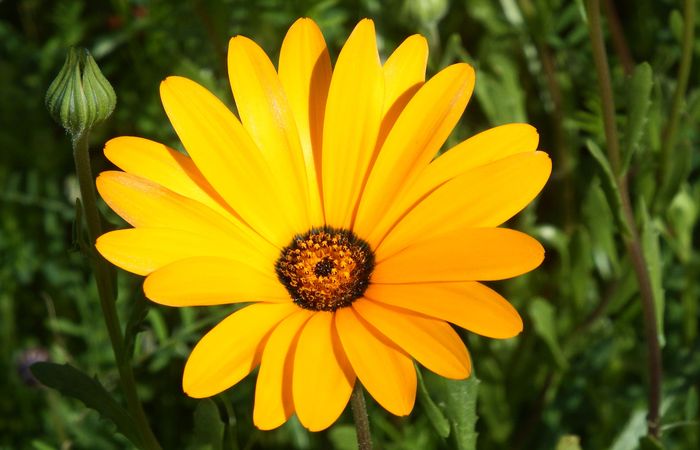 The remarkably large flowerheads are orange or yellow to beige and have orange or yellow centres, depending on the locality. Around the centre at the bottom of the ray florets is a narrow, greenish purple ring. The flowerheads are deeply cup-shaped, up to 80 mm across and are borne singly at the tip of a branch. The flowering time is mainly from mid-winter to mid-spring (August to October).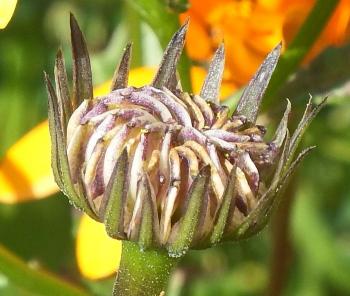 The seeds that appear soon after the flowers wilt, are brownish with papery wings, and they are easily blown away by the wind, so they need to be collected as early as possible.
Conservation Status
Status
Covering a wide distribution area in which it faces no specific threats, the Red List status of the Namaqualand daisy is Least Concern (LC).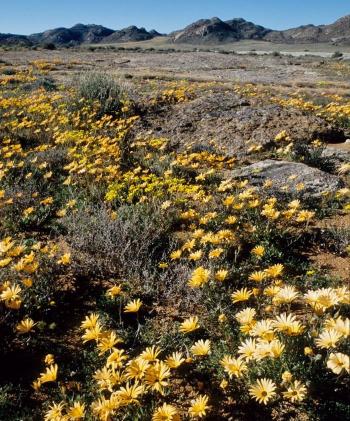 Distribution and habitat
Distribution description
Dimorphotheca sinuata grows naturally in the winter-rainfall region of the country from Namaqualand in the Northern Cape to Saldanha Bay in the Western Cape, usually in sandy or disturbed places. It is also found in Namibia.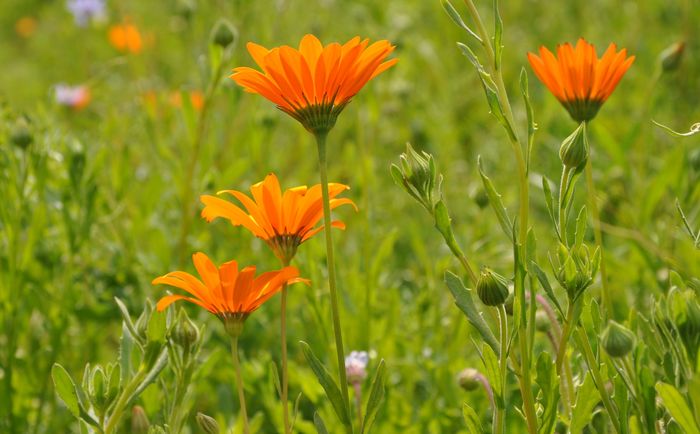 Derivation of name and historical aspects
History
The genus name Dimorpotheca means 'fruits with two forms' and is derived from Greek dis, meaning 'two', morphe, 'shape or form' and theka, 'a fruit', referring to the different kinds of seeds produced by the ray and the disc florets in some species, where the fruits formed by the ray florets are wingless and stick-like and the fruits formed by the disc florets are flattened and 2-winged. The specific epithet sinuata means 'wavy edged' or 'sinuous' and is in reference to the leaf margins. 
Asteraceae is one of the largest families of the flowering plants in the world and includes many medicinal, food and ornamental plants. It contains predominantly herbaceous plants, although there are almost 40 species in southern Africa that reach tree size. Family members are characterised by daisy-like flowers. Well-known members are sunflowers, chrysanthemums, everlastings, blackjacks and cosmos. 
Dimorphotheca is a southern African genus and is found in South Africa (Western and Northern Cape) and Namibia. It consists of 15 species. Those featured on PlantZAfrica include Dimorphotheca pluvialis, D. jucunda, D. cuneata, D. tragus and D. ecklonis (=Osteospermum ecklonis).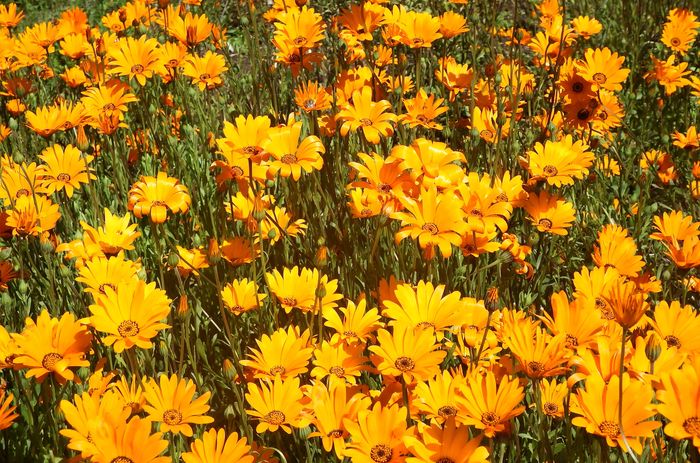 Ecology
Ecology
Annual plants complete their lifecycle, from germination, flowering to seed-production and seed-dispersal, in one season. As a spring-flowering annual, this species will survive the unfavourable, hot and dry, environmental conditions of summer as seed and germinate when conditions are suitable after rain in autumn. During autumn the temperatures are much lower and as this is the beginning of the rainy season, it results in the availability of more moisture in the soil. 
The Namaqualand daisy is regarded by many to be a pioneer on disturbed soil. 
The Namaqualand daisies need full sun to open and they always face the sun. 
Despite not being known for having a fragrance, some species in the genus possesses a fresh scent.
Dimorphotheca pluvialis is another attractive spring-flowering annual, closely related to D. sinuata. In the wild, partially sterile hybrids between D. pluvialis and D. sinuata are found where these 2 species co-occur.  
Some species in the genus Dimorphotheca are capable of producing 2 types of seeds, namely disc and ray floret seeds; this is a trait often found in the daisy family. This phenomenon is known as polymorphism and seeds often differ morphologically and physiologically. It is particularly common in species that occur in disturbed areas and those from unpredictable environments. Polymorphism also manifests itself through the colour of the seed and the seeds can display different germination traits. Within D. sinuata, disc floret seeds germinate more prolifically as opposed to the ray floret seeds, which show more dormancy and are considered to provide back-up and protection against unpredictable climatic conditions, extinction and serve as the seed reserve in the seed bank. The ray and disc achenes have tubercled and flattened shapes respectively. 
The striking orange flowerheads attract butterflies into the garden. Bees love this plant as they collect the nectar from the flowers.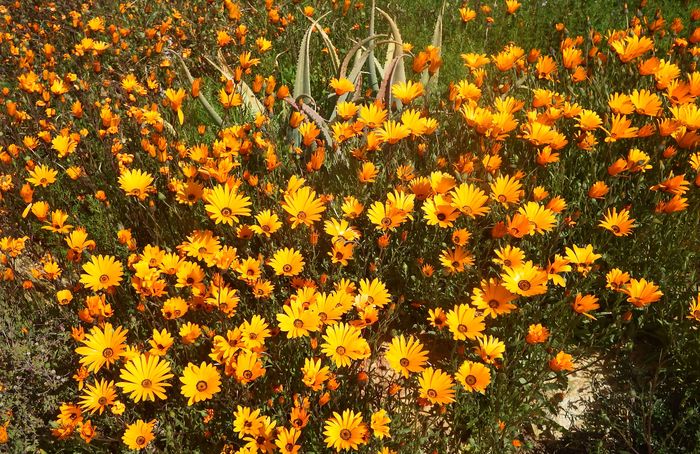 Uses
Use
There are no known medicinal properties of this plant.
This species is widely used as an ornamental and is one of the most spectacular annuals when in bloom. It is a chief protagonist in the annual Namaqualand spring floral extravaganza. 
Growing Dimorphotheca sinuata
Grow
The African daisy is easily grown from seeds. In mild, winter-rainfall areas they may be sown in late autumn or early winter (April–May). They can be sown directly in prepared beds, on a calm day when the wind will not blow the papery seeds away. For best results, prepare the beds with compost and remove clods and stones to make a fine bed. They also grow very well in poor, sandy soils. Sow thickly and rake lightly to cover the seeds to prevent them being blown or washed away. Keep beds moist to trigger germination. Seeds take 4 to 10 days to germinate. Seedlings can be thinned or pricked out when they are about 5 cm tall. Young plants must also be kept moist until they reach the height of about 10 cm. They take approximately 3 months to flower. Seed is widely available in nurseries and supermarkets in South Africa. Selected forms of Namaqualand daisies are available for cultivation in a variety of shades, such as orange, cream, yellow and salmon.
Namaqualand daisies are one of the loveliest garden plants and will bring colour to any garden. They are useful for rock gardens, dry banks and the front row of borders. They are, however, not good for cut flowers as they close on cloudy days and remain closed indoors. 
This species will perform well with other companion plants, which may include: Tylecodon paniculatus, Cotyledon orbiculata, Lampranthus aureus and L. filicaulis, Aloe arenicola and A. maculata, Roepera morgsana, Osteospermum moniliferum, Salvia lanceolata and S. aurea, Felicia elongata, Arctotis acaulis, A. fastuosa and A. hirsuta, Felicia tenella and F. heterophylla, Heliophila coronopifolia, Carpanthea pomeridiana, Oncosiphon suffruticosum and O. grandiflorum, Ursinia cakilefolia, U. anthemoides, U. nana and U. calenduliflora and Senecio elegans.
References
Beneke, K., Van Rooyen, M.W. & Theron, G.K. 1993. Fruit polymorphism in ephemeral species of Namaqualand: VI. Journal of Arid Environment 24: 345–360.
Beneke, K., Van Rooyen, M.W. & Theron, G.K. 1993. Fruit polymorphism in ephemeral species of Namaqualand: VII. Journal of Arid Environment 25: 233–247.
Beneke, K., Von Teichman, I., Van Rooyen, M.W. & Theron, G.K. 1992. Fruit polymorphism in ephemeral species of Namaqualand. I. South African Journal of Botany 58(6): 448–455.
Capon, B. 2005. Botany for gardeners. Briza Publications, Pretoria.
Eliovsen, S. 1972. Namaqualand in flower. Macmillan, Johannesburg.
Joffe, P. 1993. The gardener's guide to South African plants. Tafelberg Publishers, Cape Town.
Koekemoer, M., Steyn, H.M. & Bester, S.P. 2015. Guide to Plant Families of southern Africa. Strelitzia 31. 2nd ed., 2nd print. South African National Biodiversity Institute, Pretoria, South Africa.
Le Roux, A. & Schelpe, E.A.C.L.E. 2005. Namaqualand. South African Wild Flower Guide 1. 3rd ed. Botanical Society of South Africa, Cape Town.
Manning, J. & Goldblatt, P. 2012. Plants of the Greater Cape Floristic Region 1: the Core Cape Flora. Strelitzia 29. South African National Biodiversity Institute, Pretoria.
Pienaar, K. 1994. The ultimate southern African gardening book. Southern Book Publishers, Halfway House, Gauteng.
Pienaar, K. & Smith, G.F. 2011. The southern African what flower is that? An essential guide to garden plants. Struik, Cape Town.
Van der Spuy, U. 1971. Wild flowers of South Africa for the garden. Hugh Keartlands Publishers, Johannesburg.
Visser, L. 1993. Saadontkiemingstudies van geselekteerde Namakwalandse efemeerspesies. M.Sc-dissertation. University of Pretoria, Pretoria.
Credits
Mhlonishwa D. Dlamini
Walter Sisulu National Botanical Garden
July 2002
Updated and expanded by Roger Oliver
Kirstenbosch National Botanical Garden
August 2020
Plant Attributes:
Plant Type: Bi/Annual
SA Distribution: Northern Cape, Western Cape
Soil type: Sandy
Flowering season: Spring, Early Summer, Winter
PH: Acid, Neutral
Flower colour: Yellow, Orange
Aspect: Full Sun
Gardening skill: Easy
Special Features:
Attracts butterflies
Feeds honeybees
Horticultural zones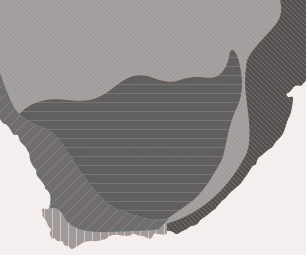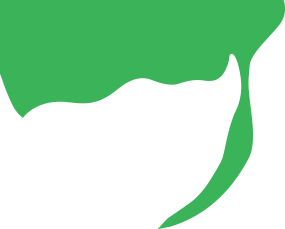 Zone 1 Coastal summer rainfall, frost free
Zone 2 Coastal winter rainfall, frost free
Zone 3 Winter rainfall Karoo, light frost
Zone 4 Summer rainfall Karoo and Highveld, Frost in winter
Zone 5 Bushveld summer rainfall, Light frost
Google QR Code Generator