Dimorphotheca tragus (Aiton) B.Nord.
Family: Asteraceae
Common names: ox-eye daisy, Cape marigold, Namaqualand daisy, African daisy (Eng.); jakkalsbossie (Afr.)
Introduction
A perennial herb, with thinly scattered, toothed leaves and bright daisy flowers, which create an attractive sight in spring.
Description
Description
Dimorphotheca tragus is a spreading, perennial herb, with many stems arising from a leafy crown and grows 200–450 mm high. The leaves are oblong and narrow, up to 70 mm long, with sparsely toothed, rough margins.
Flower heads consist of about 15, white or yellow to orange ray-florets surrounding purple disc florets. They are borne singly on long thin stalks and have a diameter of 40–60 mm. The involucral bracts are in two rows and are long and narrow, ending in a pointed tip.
Flowering time is spring and early summer and is followed by the seeds, correctly termed cypselas (dry, indehiscent, single-seeded fruits), which are typically of two types, one flattened with a papery wing and the other stick-like.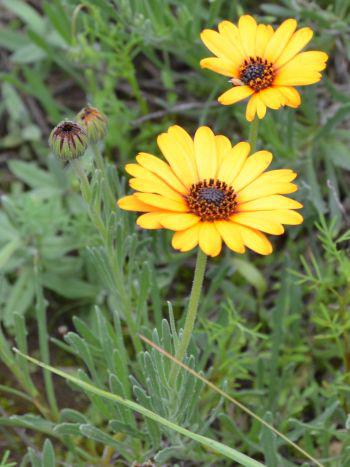 Conservation Status
Status
According to the Red List of South African Plants, accessed on 10 October 2016, this species is not threatened and has a conservation status of Least Concern (LC).
Distribution and habitat
Distribution description
Dimorphotheca tragus is endemic in the Northern and Western Cape Provinces in South Africa. It occurs on sandy, rocky hills and mountain slopes in the Richtersveld, Namaqualand, Klipkoppe and Knersvlakte, and it is also found in the Calvinia area.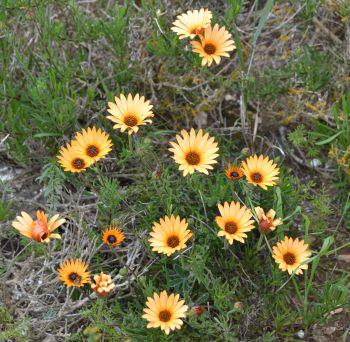 Derivation of name and historical aspects
History
The genus name Dimorphotheca, meaning 'fruits of two forms' is derived from the Greek words, di  meaning '2', morpho meaning 'shape' and theca meaning 'fruit', which refers to the dimorphic cypselae and the variation in seeds that are produced by ray and disc flowers.
The species name tragus, comes from the Greek word tragos, meaning 'goat', but the reason for this name is not known.
Dimorphotheca is a member of the Asteraceae family and a genus of 19 species in southern Africa, of which 7 occur in Namaqualand.
This species was formerly known as Castalis tragus.
Ecology
Ecology
Dimorphotheca tragus can tolerate drought which enables it to survive dry and windy environments, therefore, it requires less watering and is well suited to water-wise gardens.
Its bright yellow or orange florets attract butterflies and bees in the garden.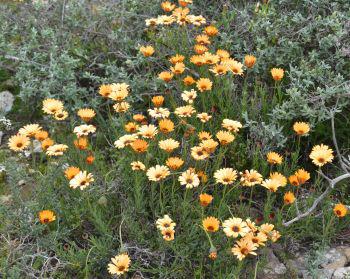 Uses
Use
No cultural uses have been reported. It is said to be poisonous to stock if ingested.
Growing Dimorphotheca tragus
Grow
Dimorphotheca tragus should preferably be propagated from seed, which is easier and the best method to use. Sow seeds in autumn. The growing medium must be slightly moist before sowing. Cover the seeds with fine-milled bark and water them. The medium must never dry out completely but never be soaking wet. Seedlings will emerge after a week. Watering must be average to prevent damping off. Seedlings can be transplanted after about 4 to 6 weeks, when they have developed the second set of true leaves.
This species can also be propagated from cuttings. Take the cuttings from spring to summer and treat with a rooting hormone, like Seradix 2. Plant in a well-drained medium. Rooting takes place in about 2 to 3 weeks.
This species requires a full sun position and a well-drained and sandy soil.
It is excellent when planted in groups with other herbaceous annuals and perennials, where their bright flowers make the bed more attractive. Recommended companion plants include include Dimorphotheca pluvialis and D. sinuata, Senecio littoreus and Ursinia calenduliflora. Leonotis leonurus, Nemesia strumosa, Chasmanthe floribunda and Metalasia muricata can be used as background plants, as they enhance and add a good value to the structure and texture to the fynbos garden.
References
Goldblatt, P. & Manning, J. 2000. Cape Plants. A conspectus of the Cape flora of South Africa. Strelitzia 9. National Botanical Institute, Pretoria & Missouri Botanical Garden, Missouri.
Joffe, P.1993. The gardener's guide to South African plants. Tafelberg Publishers, Cape Town.
Le Roux, A. 2005. Namaqualand. South African Wild Flower Guide 1. Botanical Society of South Africa, Cape Town.
Foden, W. & Potter, L. 2005. Dimorphotheca tragus (Aiton) D.C. National Assessment: Red List of South African Plants version 2015.1.
Smith, C.A. 1966. Common names of South African plants. Memoirs of the Botanical Survey of South Africa No. 35. Government Printer, Pretoria.
Stearn, W. 2002. Stearn's dictionary of plant names for gardeners. Timber Press, Portland, Oregon.
Credits
Ramadimetja Junia Maleka
Kirstenbosch National Botanical Garden
October 2016
 
Plant Attributes:
Plant Type: Bi/Annual, Perennial
SA Distribution: Northern Cape, Western Cape
Soil type: Sandy
Flowering season: Spring
PH: Acid, Neutral
Flower colour: Purple, White, Yellow, Orange
Aspect: Full Sun
Gardening skill: Easy
Special Features:
Attracts butterflies
Drought resistant
Good potplant
Feeds honeybees
Horticultural zones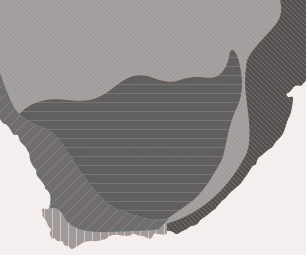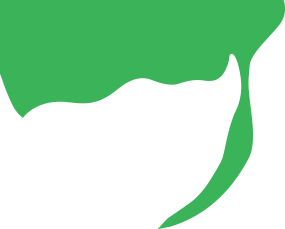 Zone 1 Coastal summer rainfall, frost free
Zone 2 Coastal winter rainfall, frost free
Zone 3 Winter rainfall Karoo, light frost
Zone 4 Summer rainfall Karoo and Highveld, Frost in winter
Zone 5 Bushveld summer rainfall, Light frost
Google QR Code Generator