Dioscorea brownii Schinz
Family: Dioscoreaceae
Common names: none
Introduction
Dioscorea brownii, a little known, unusual and rare member of the yam family is found only in southern KwaZulu-Natal. It is unique amongst the dioscoreas for its erect habit and annually renewed tuber.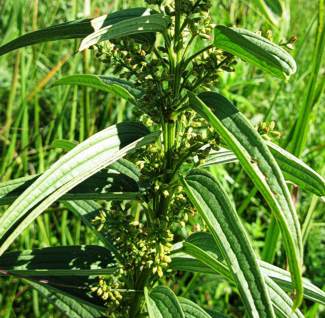 Description
Description
Unlike other members of this genus, Dioscorea brownii is not a climber, but an erect perennial herb, up to 1 m high. The tuber has a conical crown, below which spread three to five finger-like processes which are annually renewed, rather than the tuber continually increasing in size as in other species of the genus. The dark green, ± 100 mm long lanceolate leaves are spirally arranged on the straight stem. Male and female flowers are borne from December to February on separate plants, with the male plants sometimes branching. The small yellowish green male flowers with six oblong tepals occur in dense branched inflorescences. The female flowers are about 2 mm long, elongating in fruit. The fruit is about 20 mm long with three wings which dry to a papery consistency and a short beak and persistant perianth.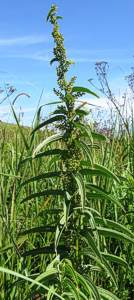 Conservation Status
Status
Dioscorea brownii is listed as Vulnerable (Raimondo et al. in press.). The grasslands in which it is found have been severely transformed and fragmented by commercial forestry and agriculture, and remaining patches are frequently degraded by inappropriate grazing and fire regimes.
Distribution and habitat
Distribution description
Dioscorea brownie has a narrow distribution in mistbelt and montane grasslands in southern KwaZulu-Natal at altitudes between 900 and 1450 m. Habitat preference is the probable cause of the rarity of this species as it is found in rank, tall Micanthus capensis dominated grassland near forest margins in doleritic soils.
Derivation of name and historical aspects
History
The genus Dioscorea is named for Pedanios Dioscorides, a herbalist in the first century AD. Originally collected in 1883 by William Tyson near Kokstad, only in February 1975 did Olive Hilliard and Bill Burt find the first female flowers at Ngele, which allowed a full description of the species. There are ± 18 species in this genus, all of which are climbers except D. brownii.
Ecology
Ecology
Little is known about the ecology of this rare species.
Uses
Use
While there appear to be no records of Dioscorea brownii in traditional usage, the dioscoreas have many uses ranging from the manufacture of steroids and hormones, to contraceptives, soporifics and fish poisons.
Growing Dioscorea brownii
Grow
This family of plants is relatively easy to grow from seed and maintain in cultivation.
We have harvested seed of Dioscorea brownii and successfully raised plants at the KwaZulu-Natal and Lowveld National Botanical Gardens. The seed is borne in stiff, papery capsules which need to be rubbed together to release the seeds. Since the male and female flowers occur on different plants, a group of at least five plants should be grown together to ensure seed set. Seed germinates well after about ten days in seedling mix. Once established, the seedlings should be planted into a well-drained soil. Unlike the other dioscoreas which are climbers, this species does not need support. Plants go dormant in the dry winter months and should be left undisturbed.
References
Abbott, T. 1998. The rediscovery of Dioscorea brownii, an unusual and rare relative of the yams. Plantlife 18: 29.
Hilliard, O.M. & Burtt, B.L. 1976. Notes on some plants of southern Africa chiefly from Natal. Notes from the Royal Botanic Garden, Edinburgh 34: 283-285.
Nichols, G. 2005. Growing rare plants, a practical handbook on propagating the treatened plants of southern Africa. Southern African Botanical Diversity Network Report No. 36. SABONET, Pretoria.
Pooley, E. 1998. A field guide to the wild flowers of KwaZulu-Natal and the Eastern Region. Natal Flora Publications Trust, Durban.
Raimondo, D., Von Staden, L., Foden, W., Victor, J.E., Helme, N.A., Turner, R.C., Kamundi, D.A. & Manyama, P.A. (eds). In press. Red List of South African plants. Strelitzia.
Scott-Shaw, C.R. 1999. Rare and threatened plants of KwaZulu-Natal and neighbouring regions. KwaZulu-Natal Nature Conservation Service, Pietermaritzburg.
Van Wyk, B-E.; Van Oudtshoorn, B. & Gericke, N. 1997. Medicinal plants of South Africa. Briza Publications, Pretoria.
Credits
Isabel Johnson
KwaZulu-Natal National Botanical Garden
May 2009
Plant Attributes:
Plant Type: Perennial
SA Distribution: Eastern Cape, KwaZulu-Natal
Soil type: Loam
Flowering season: Early Summer, Late Summer
PH:
Flower colour: Green, Yellow
Aspect: Full Sun
Gardening skill: Challenging
Special Features:
Horticultural zones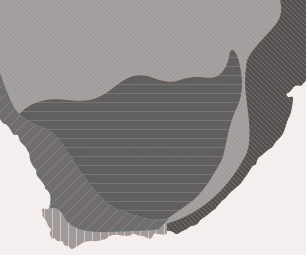 Zone 1 Coastal summer rainfall, frost free
Google QR Code Generator